Dispute Hartford Parking Tickets Easily

Getting a parking ticket doesn't have to be the end of the world. With , it doesn't even have to mean paying a fine anymore. Our robot-lawyer has contested and won hundreds of thousands of parking tickets across the country, and yours could be next!
Keep on reading to discover everything you need to know about fighting a parking ticket in the city of Hartford!
Paying a Parking Ticket In The City of Hartford Made Fast & Easy
You can pay your parking ticket through the Hartford Parking Authority's official website. Just follow these easy instructions:
Click on the blue icon which reads

"Pay your parking citation online"

You will be redirected to a payment page. Make sure that you are using a browser that's not safari (for example google chrome.) Safari is not supported by the website.

Enter your payment details. You will need a US credit card

Once the payment has been submitted you will get a receipt.

That's it! Your citation has officially been paid.
Alternative Ways of Paying Your Citation in Hartford
The Hartford Parking Authority has a service through which you can pay using one of their official phone lines, all you have to do is call the following number:

860-308-1451
Alternatively, you can go to their office in person and pay in cash. You can find the offices for parking management in the following address: 1 Asylum Street, 2nd floor, Hartford, CT 06103.
Note: If you choose to go to their office and pay in cash, the office asks that you please have the exact change ready.
How Much Is a Parking Ticket in Hartford, Connecticut
A parking citation in the city of Hartford can cost anywhere from $25 to $125 depending on the severity of the violation and how many previous penalties you've received. If you want to find out how much a parking citation might be in the city of Hartford, you can click here to see a table with all of their official fees.
How Much Time Will DoNotPay Actually Save Me?
If you're constantly busy, time might be your biggest concern when it comes to fighting that pesky parking ticket. Well, we're happy to say that

can spare you up to an entire workday worth of hassle.

's robot-lawyer does everything for you, from figuring out the laws and regulations in your city, to writing the perfect contestation letter and even sending it. All you have to do is sit back and wait for your parking ticket to get overturned!
I'm Worried About My Car Insurance - Will it Increase?
Parking citations are considered non-moving violations, this means that they have no influence over you status as a driver and therefore don't alter your insurance whatsoever.
The only scenario in which your insurance could be affected is if you leave your parking ticket unpaid- this could damage your credit score and by default increase your car's insurance.
How To Contest Your Hartford Parking Ticket
Follow these easy steps to contest your parking ticket quickly and effectively:
Go to

and log-in to your account

Click the Parking Ticket feature and upload a photo of your ticket

Tell us what's wrong with the ticket (why don't you deserve it?)

Enter the state your ticket was issued in

Have us mail the ticket for you or send it yourself
That's it! Our generated appeal will be strong and contain the appropriate state laws that apply to your case. Wait a few weeks for the decision!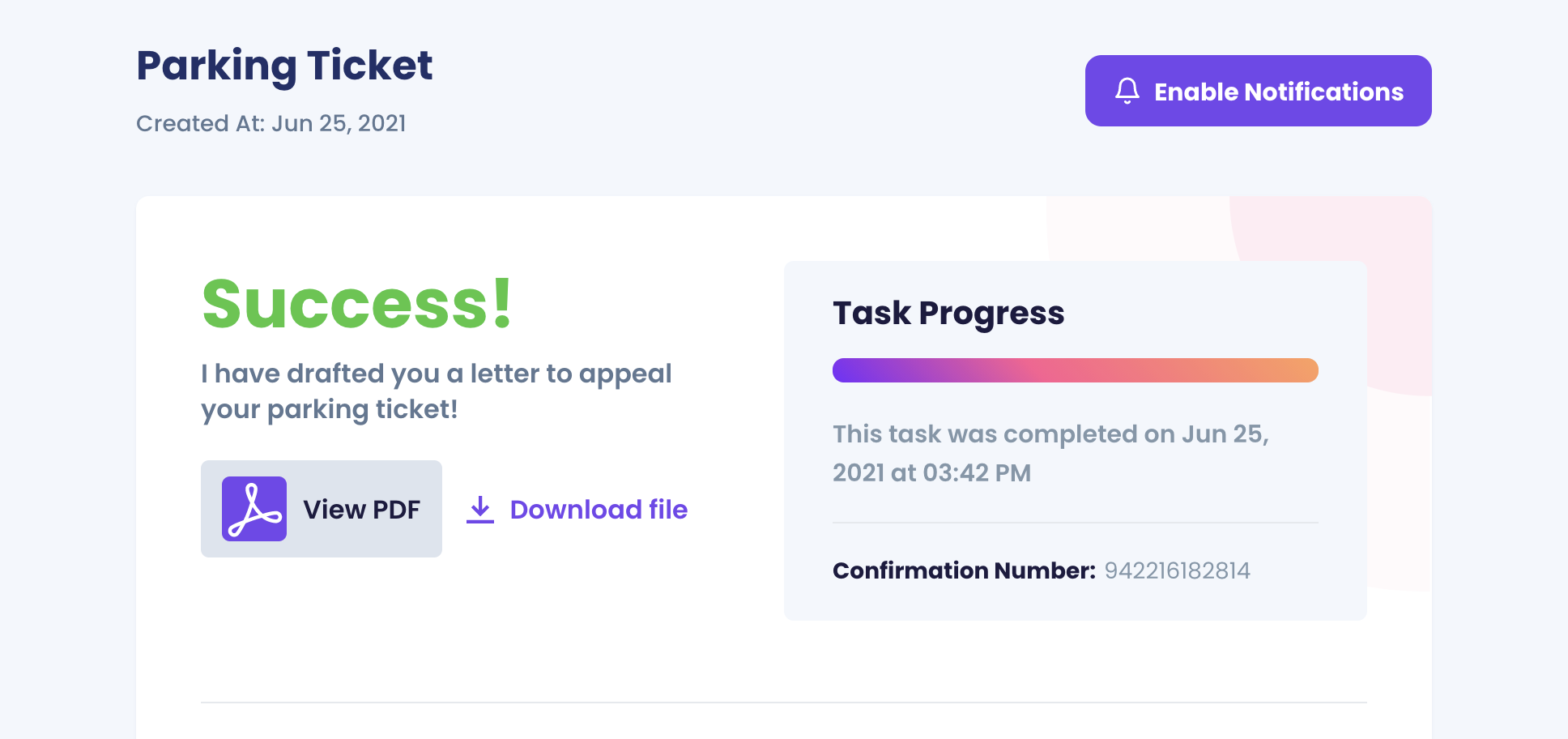 To Summarize
| | |
| --- | --- |
| There are consequences for leaving your parking tickets unpaid. | Yes. The consequences can vary from having your license revoked, to having your fines double or triple, and even getting your car booted. It's important to act quickly after receiving a fine to avoid these issues. |
| can help you contest a parking ticket in just a few minutes | DoNotPay has already contested hundreds of thousands of parking tickets successfully. |
| Disputing your citation is worth the hassle | Yes. The hassle of contesting the ticket is nothing compared to having to pay a fine on your own. |
| You don't need a lawyer to contest your parking ticket | Attorneys aren't necessary when it comes to this procedure, and hiring one can turn out to be incredibly expensive - so we don't recommend it. |
| You can pay your parking ticket | Yes, you can choose to pay the fine online. Just make sure you have a valid US credit card. |
| DoNotPay's services work for parking tickets in the city of Hartford | Yes, and any other city in the US as well. Our robot-lawyer will automatically know the laws and regulations of your state and city. |
More DoNotPay Does