Dispute Handicap Parking Tickets Without a Lawyer
Do I need to Pay Parking Tickets I Receive While Driving Out Of State?
Yes, you do. Out-of-state parking tickets can increase just like local ones.
They can be sent to collections agencies
They could affect your credit score
The city could increase the fine the longer the ticket goes unpaid
Your license could get blocked or you could be barred from renewing your registration.
But don't worry, DoNotPay is happy to help you contest out-of-state parking tickets just like local ones!
Do I Have To Pay Tickets I Get In A Rental Car?
Contrary to popular belief, it's actually even more important to pay for your tickets for rental cars. In your own life (with your own car) your only responsibility is to yourself, however, when you receive a ticket in a rental agency's car, the agency is liable as well. As such, they often charge you an additional administrative fee because they will have to pay the ticket on your behalf. These fees are added on top of the price of the fine itself and any other fees you could incur from delaying your payment. You have also already provided your payment information to the company, so they are able to do this without hassle on their part. So paying your ticket (or disputing it using ) as fast as possible is the best move to ensure your fines don't go up.
Here are some commonly used rental car agencies and how they recommend you pay your rental car parking tickets:
If you used Alamo, they will most likely charge your credit or debit card automatically because they already have that payment information. However, if you would rather pay your fine with a different card or by mail, you can fill out a form on the website or mail your payment and citation number (which can be found in the letter Alamo sent you regarding your fine) to Alamo Rent-a-Car Citations at PO Box 4033289 in Atlanta, GA (30384-3328).
If you used Enterprise, they will also directly charge your credit or debit card on file automatically, or you can follow this link and fill out a form to pay using an alternate card. You can also pay by phone using a credit card by calling 1 (800) 935-0112 (US toll-free) or 800 0910 1111 (international toll-free). Paying by mail is also an option, you just need to mail your payment and citation number to Enterprise Citations at PO Box 4033289 in Atlanta, GA (30384-3328).
If you used Hertz, their policy is to always automatically charge your credit or debit card on file. They pay the parking fine immediately on receipt of notification and will charge for the amount of the traffic fine with an additional administration fee.
What Happens If I Don't Pay My Ticket?
The penalties for unpaid parking tickets are strict, but there is never any possibility you may face jail time for unpaid parking (unlike other traffic citations).
But even if you don't go to prison, there are other ways unpaid parking tickets can make your life difficult.
Here are some of the penalties you may face:
You could end up being forced to go to court
The fine may increase with every day you don't pay your ticket(s)

It may also get automatically deducted from your end-of-year tax refund

The parking agency could lobby to have your credit score impacted
Your case could get sent to a collection agency
Your car could get booted
Your car could get towed
Your car could get seized by the state and auctioned off to pay the fines (rarely)
Will DoNotPay Help Me Fight Parking Tickets From Private Companies?
Yes, will not only help you fight parking tickets you receive from the government but also tickets from any and all private parking companies.
| | |
| --- | --- |
| Impark? | Yes! |
| ABM Parking Services? | Absolutely! |
| Standing Parking Services? | For sure! |
| Parking Company of America? | Definitely! |
| Diamond Lot? | You bet! |
| ACE Parking? | Uh-huh! |
| Laz Parking? | 100%! |
| Any other companies? | YES! All of them! |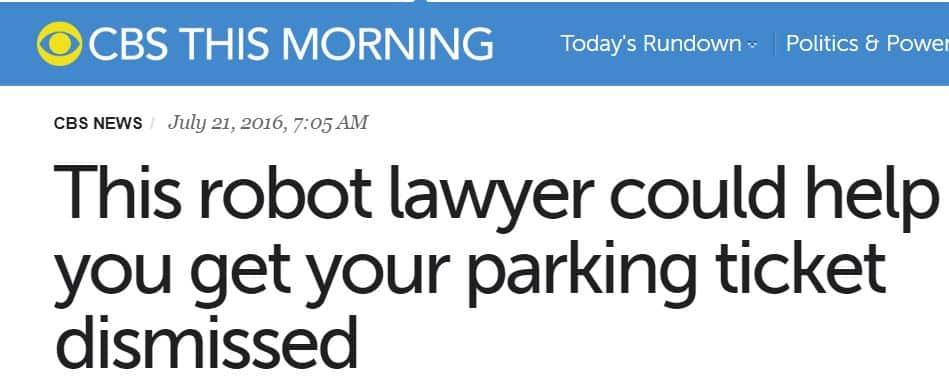 Can My Car Insurance Go Up?
The answer will most often be no.
At least not directly. Because a parking ticket is a non-moving violation, they won't change your insurance rates.
They also won't go on your records. Meters in the United States are not attached to driver's licenses or license plates and do not get reported to the DMV or car insurance companies.
In short, your insurance company doesn't really care about your parking tickets. This information does not increase or decrease your likelihood of getting into a car accident or filing a car insurance claim, so they are of no interest to the insurance company.
However, there is one way your parking ticket might end up affecting your insurance premiums.
And that is if you don't pay your parking tickets and they go to collections.
Unpaid parking tickets can actually affect your credit score, which some car insurance companies use to decide on whether to insure you and to modulate the cost of your insurance.
But that's only a slight possibility. In some states (for example, California) car insurance companies are actually forbidden from using your credit score to determine the cost of your car insurance.
Fight your Citation in Five Easy Steps with DoNotPay
It's easy, follow along with the steps below to see how you can get started disputing your handicap parking ticket in less than 120 seconds!
Access via our website, or download the app for iPhone.
Fill out our form with the details of your citation, and include a picture of the citation itself if you can!
The robo-lawyer will send you an automated letter that has all of our your city's applicable legislation.
Our software will handle the letter delivery for you if you wish, making it much quicker!

Wow! What Else Can DoNotPay Do?
Other than assisting you with fighting your parking ticket, we've expanded our range of services. can help you out for free with the following tasks:
Getting you an appointment with the DMV faster
Seek compensation for delayed flights
Provide you with virtual credit cards to avoid unnecessary charges
Beating speeding and traffic tickets
To Summarize:
| | |
| --- | --- |
| Do I need a lawyer to dispute a parking ticket? | No |
| Do I have to pay for out-of-state parking tickets? | Yes |
| Do I have to pay for tickets I received in a rental car? | Yes, and there might be an extra administrative fee. |
| What happens if I don't pay a parking ticket? | You definitely won't go to jail, but the penalties are strict and range from increased fines to possible court appearances. |
| Will DoNotPay Help Me Fight Parking Tickets From Private Companies? | Yes |
| Can my car insurance go up? | Probably not |