How to Beat a Greensboro Parking Ticket

is ready to outline the ways in which you can pay or appeal your parking tickets from Greensboro, North Carolina. Read for your very own guide for payments and appeals!
I Got a Parking Ticket from Greensboro
The Greensboro parking department allows you to pay your ticket within 45 days of issuance without late fines increases. However, you can only appeal your ticket within 10 days of the ticket's issuance.
What Happens if I Don't Pay My Ticket?
After 45 days, a late fee of $25 USD will be added to any and each unpaid ticket.
After 90 days, an additional late fee of $10 USD will be added. This is particularly generous. Most other locations enforce late fees after 14 or 30 days from issuance, so keep this in mind if you are traveling out of state.
If you leave your tickets unpaid indefinitely, consequences can multiply fast. Other consequences may include:
Your registration being blocked from renewal

The fine paid for by your tax return

Your credit score decreasing

A booted car and a fee to have it removed

A towed vehicle and a fee to retrieve it

Your car being taken away by the state and sold

Your debt being sent to collections
It's always better to try and get your parking ticket off your back as soon as you can, as late fees aren't fun. Check out our detailed instructions below for paying or appealing your parking ticket.
How to Pay or Appeal your Greensboro Parking Ticket
You can pay your Greensboro parking ticket by any of the different methods below.
Want to appeal your ticket? Keep scrolling to see how appeals work in Greensboro and how can simplify the process.
Paying Online

https://www.greensboro-nc.gov/services/online-payments-services/online-payments

Paying In Person

Melvin Municipal Office Building or at the

Kitchen Operations Center

, 2602 S. Elm-Eugene St.

Paying by Drop Box

Accessible 24/7

No CASH

Kitchen Operations Center,

2602 S. Elm-Eugene St. left of the building's front entrance,

By Mail

[No Cash Accepted]

City of Greensboro Collections Division - Parking Violations

PO Box 3136

Greensboro, NC 27402-3136
How to Dispute Your Greensboro Parking Ticket
While you can pay your ticket within 45 days, appeals in Greensboro must be made within 10 days of ticket issuance. How to register your appeal:
Print and fill out the Parking Citation Appeal Form, or the Handicap Parking Citation Appeal Form.
You will receive communication back within two weeks. If you don't see anything in the mail after two weeks, feel free to reach out to the Police Enforcement office at 336-373-2648.
Do I Need to Pay a Parking Ticket from a Rental?
You are not obligated to personally pay fines you get in a rental car, as the rental company will pay the fine on your behalf, with your existing credit card information on file. However, you may be charged an extra administrative fee by the rental company. For Hertz, this administrative fee often comes out to about $35 USD.
If you're hoping to avoid the administrative fee and have already paid your ticket, make sure to find out if you should file a Proof of Payment form with your rental company, so you do not get double charged.
Company
Outcome
Alamo

Your card will be charged automatically. If you want to use a different card, you can fill out this form

By Mail: Alamo Rent-a-Car Citations PO Box 4033289 Atlanta, GA 30384-3328

Enterprise

Your card will be charged automatically. If you want to use a different card, you can fill out this form.

To Pay By Mail: Enterprise Citations PO Box 4033289 Atlanta, GA 30384-3328

Hertz
Your card will be charged automatically.

You will be charged for the citation immediately after it is forwarded to Hertz.
Appeal Your Greensboro Parking Ticket with DoNotPay
will have your parking tickets overturned in record time, and we have all the tools to prepare you for your appeal (and even a hearing if you are required to attend court). Follow these easy steps to start:
Sign-up for a

account

Start your appeal by clicking on the Parking Tickets product
Upload a photo of your ticket
Tell us why the ticket is incorrect or should be overturned

Submit further evidence
That's it! DoNotPay can mail your appeal letter as well!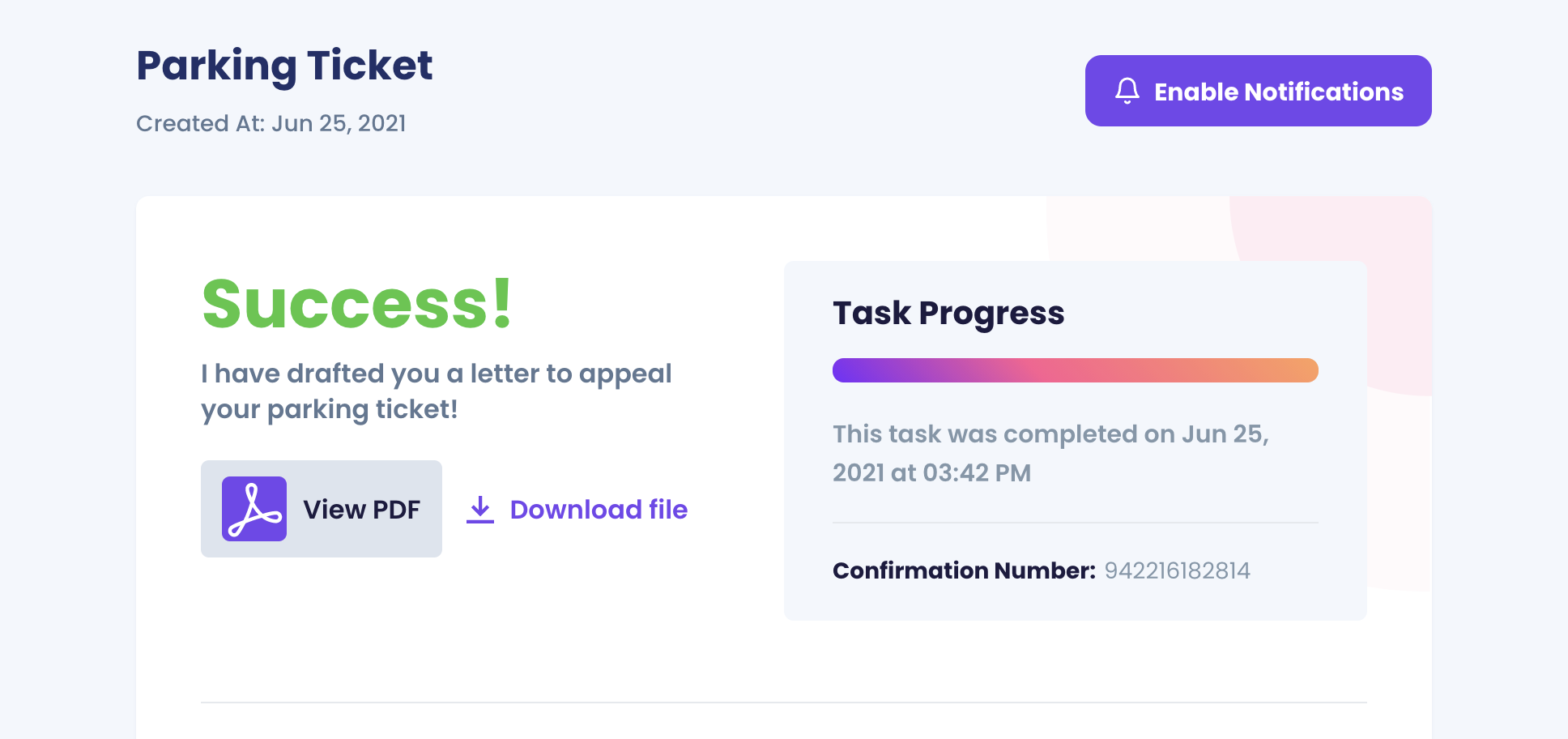 We're revolutionizing everyday tasks to make them as easy as possible, and to beat bureaucracy. Let us help you out with other everyday tasks. Just grab your to-do list, and check our list of services below to see what we can do for you.
What Else Can DoNotPay Help With?