The Freedom of Information Act, 5 U.S.C. §552 Explained
For many people, dealing with specific sections within a particular law may be burdensome and unnecessary. The situation changes once they can benefit from it, and getting access to public records is the perfect example of such a scenario.
The goal of this mini-guide is to clarify the meaning of the Freedom of Information Act, 5 U.S.C. §552. Besides getting familiar with its ins and outs, we will teach you how it can help you get any public info you need with DoNotPay before you know it.
What Does 5 U.S.C §552 Mean?
The abbreviation 5 U.S.C §552 refers to Section 552 of Title 5 of the U.S. Code, also known as the Freedom of Information Act (FOIA).
The FOIA is a federal law introduced in 1966, which guarantees access to unreleased government-related records. All public agencies must be ready to provide such information upon request and make their activities clear and transparent.
Title 5, named "Government organization and employees," covers sections 102 to 10210.
What Does Section 552 of the Title 5 Contain?
Section 552, named "Public information; agency rules, opinions, orders, records, and proceedings," contains the entire FOIA text. It serves to:
Define public records

Highlight agencies' main duties regarding public records

Define request processing

fees

List nine FOIA

exemptions

Determine the general FOIA

request processing time

Provide more information on

appeals

and complaints
How Can You Use the FOIA To Request Public Records?
The FOIA can help you demand the necessary public information. All U.S. states have their variations of the same law, which is why it's best to take a look at your state's FOIA handbook. It contains specific criteria you need to align with when submitting your request.
What Does the FOIA Request Have To Contain, and How Can You Submit It?
You can check out the table below to see what your petitions should or shouldn't contain:
You Should
You Shouldn't

Provide your full name

Disclose contact information, such as your email address and home or mobile phone number

Provide a clear description of the records you are interested in

Sign your request

Disclose the reason for demanding the records in question

Provide any other personal information except for the full name and contact details

Write incomprehensible and confusing descriptions
You can write your petition manually, use a request form if available, or print out a FOIA request template if your state's manual contains it.
The request methods depend on the particular agency that should provide the desired information. Each institution proposes several ways to contact them and submit your petitions. The following table shows the general availability of the common options:
| | |
| --- | --- |
| Can You File a FOIA Request Via | Yes/No |
| Fax | Yes |
| Email | Yes |
| Chat | No |
| Phone | Yes |
| Letter | Yes |
| In Person | Yes |
| Online Form | No |
Learn How To File FOIA Requests Fast Using DoNotPay
Despite its thoroughness, the FOIA can be too complicated for people who aren't legally-savvy.
To help you avoid misunderstandings and file a FOIA request fast, DoNotPay has come up with a great feature. Its main purpose is to create a petition letter on your behalf and mail it directly to the agency whose records you want to access.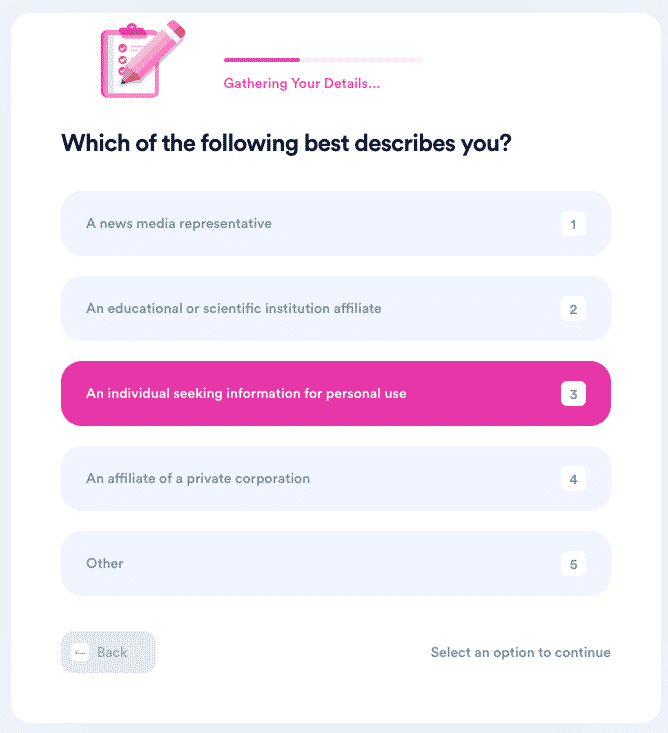 The procedure is super quick—all you should do is follow the instructions below:
Log in to DoNotPay using your preferred

Locate the

FOIA

feature

Select

State Agency

or

Federal Agency

Disclose the institution name and include the description of the information you want to access

Choose whether you want a fee waiver or expedited process
Once your letter reaches the agency, the officials will process your request and get in touch with you. You can use this procedure to collect the records on yourself or someone else from any state or federal institution and save your time and nerves!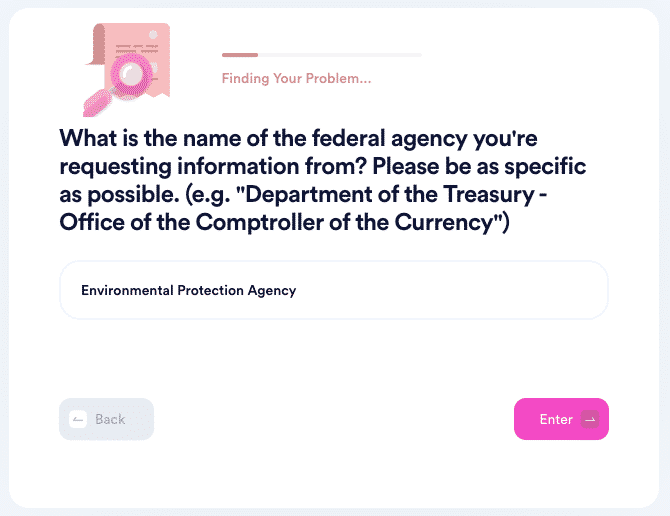 You Pick an Agency—DoNotPay Sends a FOIA Request in Your Name
We have developed a solid database of acts and laws that lets us do all the grunt work for you. Searching for specific instructions or spending hours figuring out how to write a petition should remain in the past. You don't need to be a law expert to file successful FOIA requests—you have !
We can get in touch with institutions, such as:
Internal Revenue Service (IRS)

U.S. Department of Defense (DOD)
If you aren't a requester, but you want to know more about the FOIA, we have much more in store for you! Read our articles about FOIA training, request status checks, and other useful aspects of this law.
Discovering DoNotPay Will Make Your Day
If you feel overwhelmed by tons of paperwork flooding every area of your life, you can finally breathe out and let go of that stress. DoNotPay is the world's first robot lawyer that handles your bureaucratic chores for you.
Some of the benefits that come with our service include:
Why Get a Lawyer When You Have DoNotPay?
Our agenda has one major goal—provide easy legal access to anyone who needs it. Every new feature we come up with relies on AI technology that simplifies bureaucratic procedures and saves you time and money.
If you're wondering how to navigate tasks like contacting imprisoned friends and family members or reducing your property taxes, DoNotPay has the answers. Our service cuts through the red tape even if you need to deal with stalking and harassment, claim forgotten assets the proper way, or secure compensation for crime victims.