How to Fight FFXIV Monthly Fees
Final Fantasy is one of the most popular franchises worldwide. With over 30 games to experience, it has drawn more than 20 million players. However, it does come with a continuing cost.
To continue the enjoyment of Final Fantasy, a monthly fee is required. This expense adds up over time – can the fee ever be waived or changed?
You may explore options on your own to reduce or waive , but DoNotPay offers a quick, simple way to handle the details for you.
How Much Are the Fees?
Generally,  requires that you sign up for a particular tier of membership and that you choose a subscription length:
Entry Tier Membership
30 days – Max of 1 character per server – Max of 8 characters total: $12.99
Standard Tier Membership
| | | |
| --- | --- | --- |
| 30 days | Max of 8 characters per server | Max of 40 characters total: $14.99 |
| 90 days | Max of 8 characters per server | Max of 40 characters total: $13.99 |
| 180 days | Max of 8 characters per server | Max of 40 characters total: $12.99 |
Legacy Tier Membership
Legacy prices are only available for game users who paid for 90 cumulative days between January 6, 2012, and the start of Final Fantasy XIV: A Realm Reborn Beta testing.
| | | |
| --- | --- | --- |
| 30 days | Max of 8 characters per server | Max of 40 characters total: $9.99 |
| 90 days | Max of 8 characters per server | Max of 40 characters total: $8.99 |
| 180 days | Max of 8 characters per server | Max of 40 characters total: $7.99 |
How Can I Fight the Monthly Fee?
Free Trial
Use the game's free trial to avoid fees for up to 200 game-playing hours. The FFXIV trial can be played from  "A Realm Reborn" right through to the end of the "Heavensward" expansion. Experience many hundreds of main story quests, side quests, and 10 raids. This free option carries you up to Level 60.
Choose a Longer Billing Cycle
When you first sign up to play the game or make a subscription commitment, consider changing the default billing cycle of 30 days. Selecting a longer billing cycle will reduce your subscription fee. Choose 60 or 90 days to enjoy a reduced fee via prepayment.
Buddy Passes
Some Final Fantasy XIV packages include a registration code that will allow a holder to invite a friend to try the game for a limited time. Use this option to enjoy some gameplay as a new player with no immediate fees.
Dispute Fees
If you would care to dispute any fee charges, contact Final Fantasy:
Notify the company's legal department in writing.
Describe your reason for the dispute, and propose a resolution that will satisfy you.
Send it to Square Enix, Inc., Attn: Legal Dept., 999 N. Sepulveda Blvd. 3rd Floor, El Segundo, CA 90245.
You may then engage in a dialogue for 60 days in an attempt to resolve the issue.
Coupon Codes
There are times when you may receive a chance to redeem a promotion code for Final Fantasy XIV. These promotions have a limited timeframe, so be sure to use them quickly.
Visit the Final Fantasy XIV Mogstation website
Log in using the Square Enix ID and password for your account
Scroll down to the Registration Codes area
Click Enter Item Code
Contact FFXIV Support
Visit Support online and indicate that you feel your fees should be reduced or waived.
Can I Fight Monthly FFXIV Fees in Some Simpler Way?
Waiving gameplay subscription fees can be a tedious effort with many steps to follow. A handy alternative is DoNotPay. Our product can simplify the entire process, and we are confident you will find it to be:
Quick - You will not need to spend hours attempting to solve this problem
Easy - No struggling to fill out long, tedious forms or keep track of multiple steps
Successful - You may rest assured we will make the best case for you
Here's How You Can Use Donotpay to Appeal Fees:
1. Search "appeal fees" on DoNotPay, choose the Fight and Waive Fees product, and select the type of fee you want to appeal.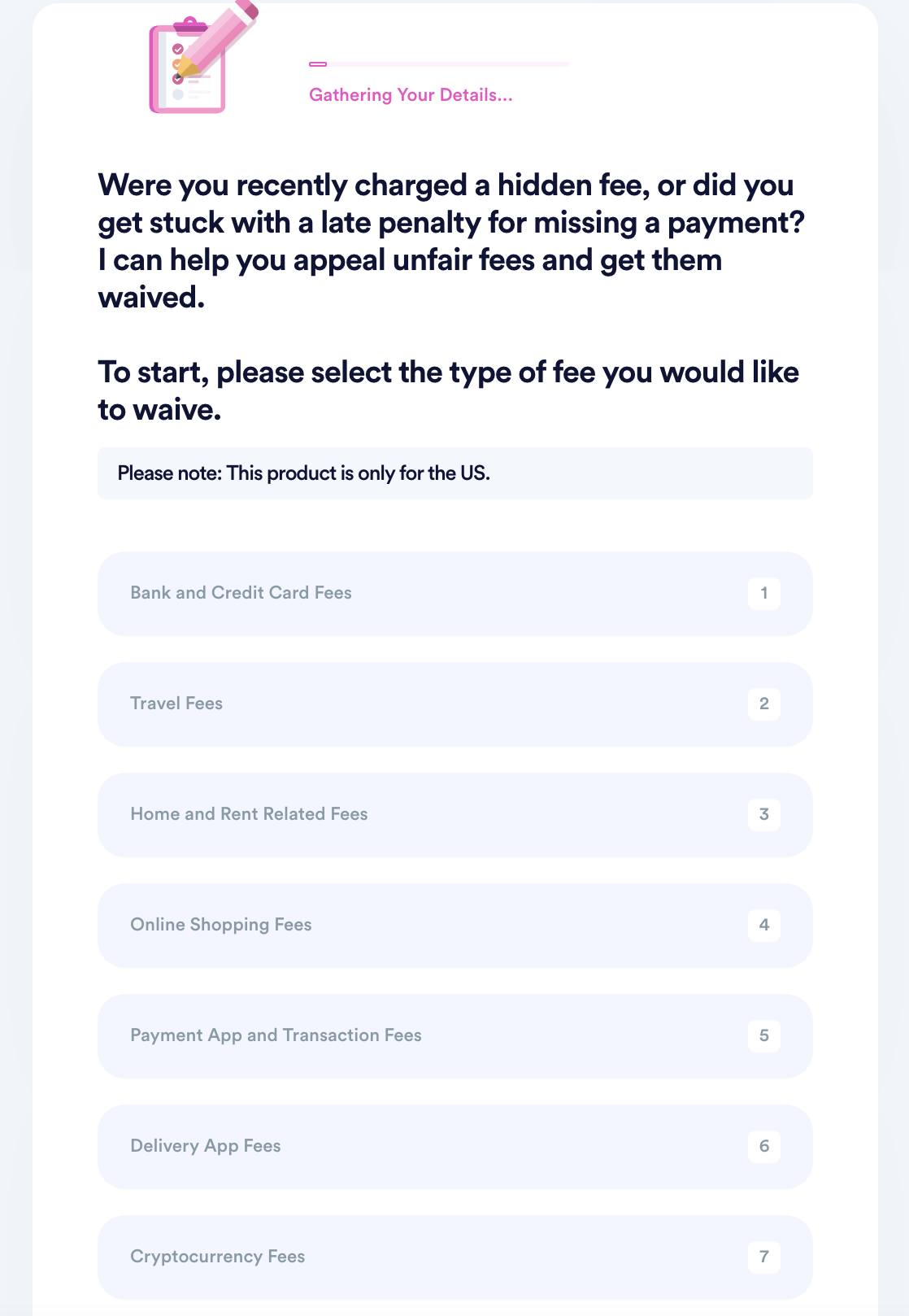 2. Select the merchant you want to appeal fees for and enter the details of your transaction, including an associated account if you have one.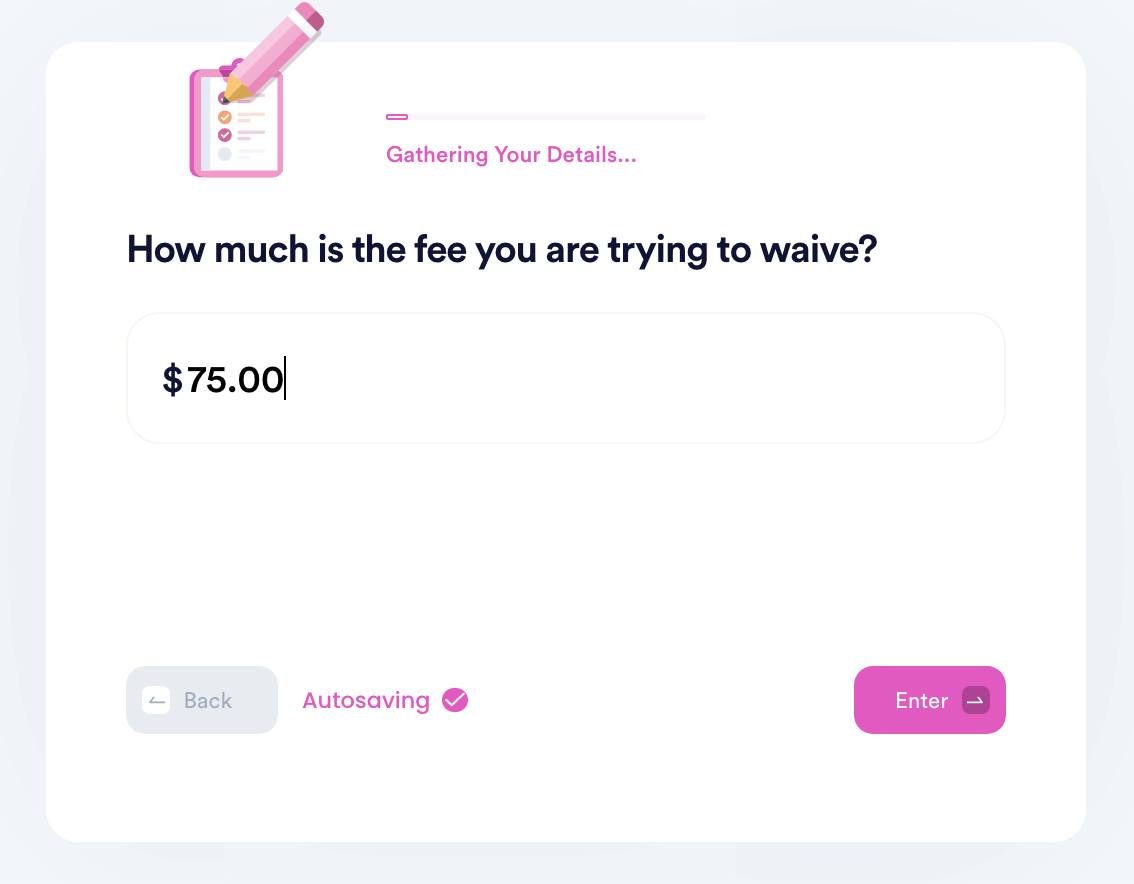 3. Submit your case! DoNotPay will generate the best argument for your case and make sure your fee waiver request gets sent to the merchant for processing.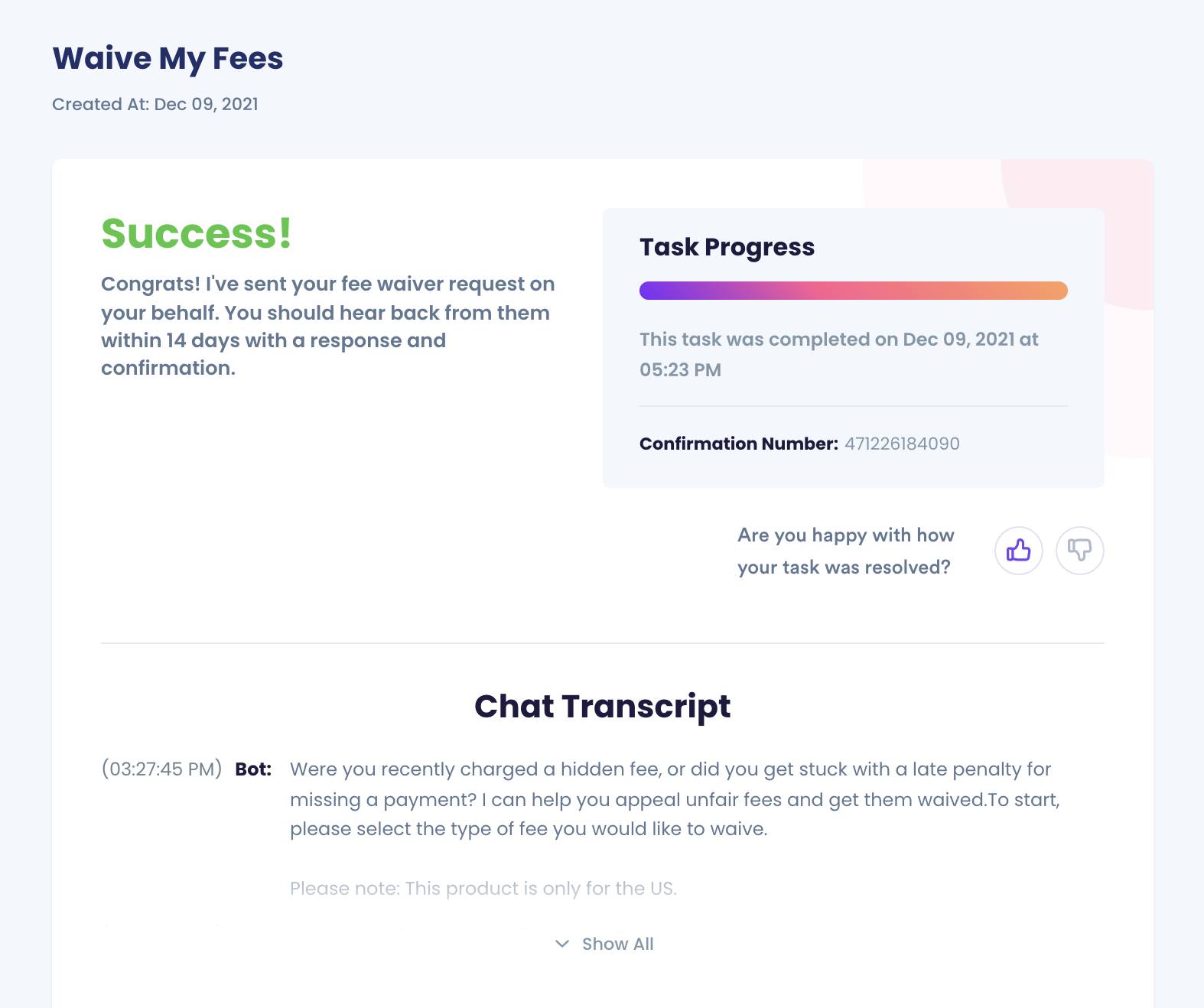 What Else Can DoNotPay Do?
Consider reviewing these related articles for areas in which we can provide help:
Robinhood fees

Shopify fees

And many more!
DoNotPay can give you an easy, automated way to help with a wide list of problems. We offer many additional products to help simplify your life, including (but not limited to):
Our products can hand you easy, automated ways to deal with recurring gameplay fees, and they can certainly help with other tedious and annoying tasks we encounter in life. Let us help!