Get Your FedEx Field Parking Tickets Overturned

DoNotPay has overturned more than 160,000 parking tickets, and we've only just started! Let our Robot Lawyer deal with your parking tickets, and much more!
This article will go over how you can get parking tickets from FedEx Field and what to do when you get a ticket near the stadium.
How Much Does it Cost to Park in FedExField?
FedEx Field Stadium is the home stadium for the NFL's Washington Football team, also formerly known as the Washington Redskins. It is located in Maryland, 5 miles from Washington DC. Tickets to the game and parking tickets are sold separately. Here are the average prices for parking tickets:
Red Zone Lot: $55

Green Zone Lot: $60

Blue Zone Lot: $65

RV + Bus Lot: approximately $100
Where Can I Park in FedEx Field?
Parking lots are distributed into colored lots. You can either purchase a season permit or single-day parking pass through this website. Disabled parking is limited to the Orange, Green, and Purple lots; to park in a handicapped space, your permit must be visible and clear.
If you wish to tailgate, the Washington Football team recommends parking in the Red lot. The Red lot has spacious parking and opens 1 hour earlier than the other lots. It is also separated from other lots to reduce traffic.
Didn't come prepared? You can pay on-site by going to the Gray lot. The lot is next to Brightseat Rd. If you want to avoid driving altogether, the Metro is an option! Get off on Morgan Boulevard Station to arrive. Use this Metro trip planner for assistance.
I Got a Ticket Outside of FedEx Field
Did you end up parking in uncertainty? Whether you wanted to avoid paying parking fees or just weren't sure about your parking options that day, don't worry - you can still appeal the ticket. Head over to the Prince George County, Maryland website and take a look at their options to appeal.
If you want to appeal or pay your ticket, here are your options:
Option
How

Online

Submit your payment

here

. Credit card and debit card transactions will be charged a $3 processing fee.

In-Person

Go to the Revenue Authority Office at

1300 Mercantile Lane

Suite 108

Largo, MD 20774

Because of the COVID-19 pandemic, cash will not be accepted. You can use credit/debit card, check, or money order

Mail

You will need to mail your payment to:

The Revenue Authority

3540 Crain Highway

Suite 182

Bowie, MD 20716

By Phone

Call 855-743-2090 and be ready to be charged a $3 fee
Do You Need a Lawyer to Dispute a Parking Ticket?
Absolutely not! 's software is designed to make the process of disputing parking tickets as easy as possible.
We're here to try and alleviate the cost of legal fees and specialized aid, and make these services more accessible. Stick with us and learn how to pay your FedEx Field parking tickets, how to pay tickets in a rental car, and how to use DoNotPay to make the appeal process as simple as possible.
What If I Don't Pay for a Parking Ticket?
While it may be easy to ignore your tickets at first, ticket fines can increase steadily and significantly over a short time period if they remain unaddressed. Appeals or payment will pause or end the time period in which you must make payment, so if you wish to appeal the ticket without having the fines increased for lateness, it is important to do so as quickly as possible.
The most common consequence of unpaid parking tickets are simple fine increases, which is why it is important to check the fine increase schedule for the area in which you've received the citation.
Most commonly, these increases take place after 14 days or 30 days of the ticket's issuance.
Other consequences can include:
Your credit score decreasing

The fine being taken out of your tax return

Your car being booted, and having to pay for it to be removed

Your car being towed, and having to pay for its return

Your car being claimed and auctioned by the state

Your registration being blocked

Your case being sent to a collections agency
Long story short, do not ignore your parking tickets!
Do I Have to Pay Tickets I Get in a Rental Car?
Yes. Rental car companies will often pay your fine on your behalf, with an added administrative fee (as they already have your payment information). This will end any chance you have of appealing your ticket, so if you wish to appeal it, you should act quickly. If you have already paid your ticket, make sure to check your provider's website (if they do not appear below) to see if you should submit a proof of payment to ensure you are not double charged.
Dispute Your Ticket with DoNotPay
Disputing your traffic citation has never been easier with . Learn how you can do it:
Go to

and sign-in

Go to the Parking Tickets icon and provide a photo of your ticket
Tell us what's wrong with the ticket

Provide additional evidence

Have DoNotPay mail the appeal letter
That's it! The ticket appeal will be mailed for you. Wait a few weeks to hear a response!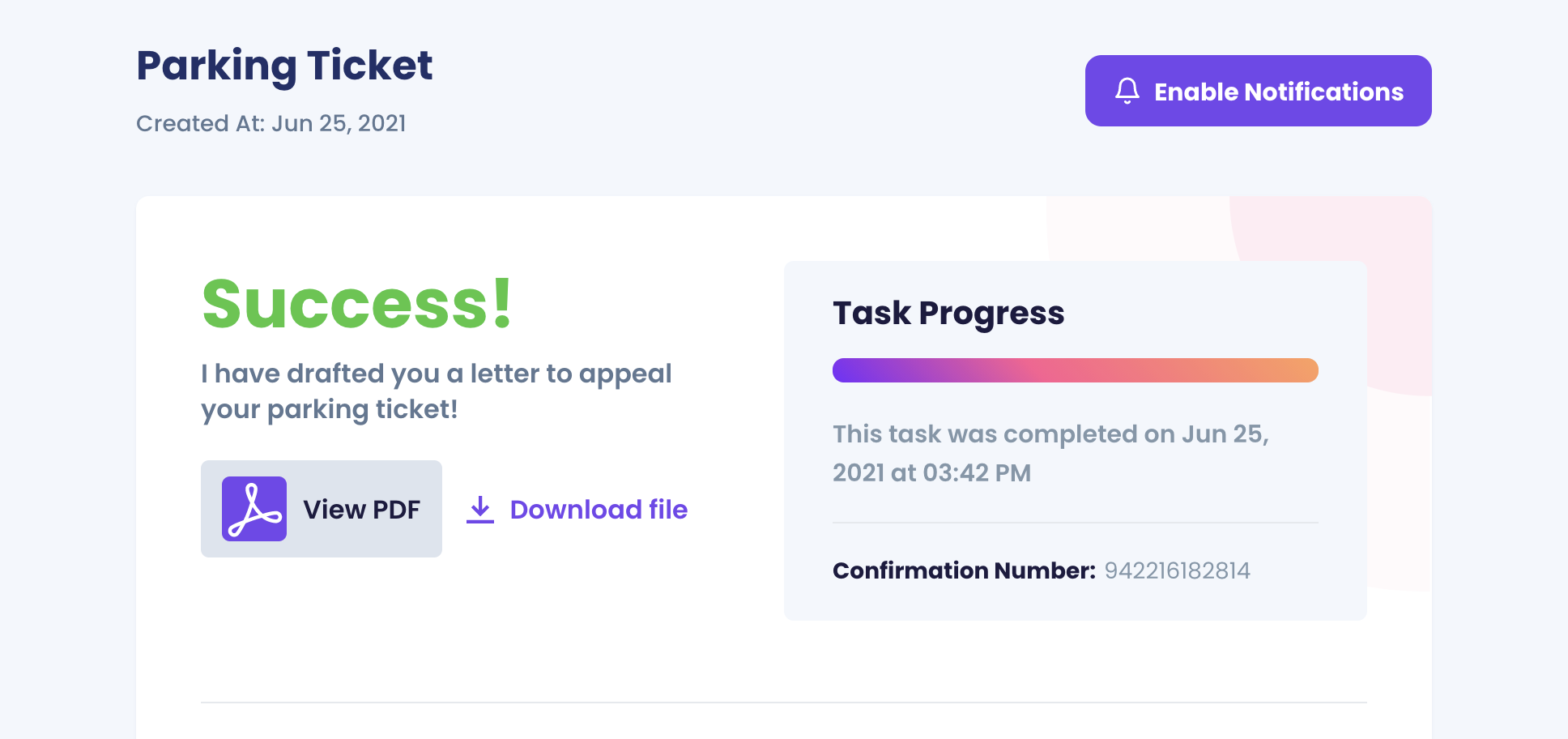 DoNotPay Can Help With…
And more!