Beat a Fairfax County Parking Ticket

Receiving a parking ticket can be a stressful situation, and paying the fine that comes afterwards is even worse. Luckily, contesting your parking ticket in Fairfax County has never been easier or faster!
can spare you the time and money that goes into paying your ticket! With just a few minutes of your time, you can contest a citation at your leisure!
Keep on reading to discover more!
What Could Happen If I Don't End Up Paying My Ticket?
Not paying your parking ticket can bring about serious consequences, so it's better to stay on top of the deadline and choose whether you want to contest or pay as fast as possible.
Here are some of the issues that could arise if you don't pay your parking citation on time:
The original fees can double or triple due to late fines, leaving you to pay much more than the original amount.

A court can issue an order for you to pay by a certain date and if you miss the deadline they can officially revoke your driver's license, as well as authorizing authorities to stop you if they see you driving.

Your car could end up booted and not be released until you have officially settled your parking ticket.
How Much Does A Parking Ticket Lawyer Cost In Fairfax County?
Hiring a lawyer to help you with a parking ticket dispute can be incredibly expensive. On average, an attorney can charge an hourly fee of $100 to $1000. So although you could technically hire a lawyer to assist you, it's not necessary and we don't recommend it.
Contesting your ticket doesn't have to mean spending tons of money or using your time searching for someone to help you. By using , you can avoid the hassle of seeking legal counsel altogether and dispute your ticket on your own.
Would A Parking Ticket Affect My Car Insurance?
Luckily, parking citations do not affect your car insurance whatsoever. This is because a citation is considered a non-moving violation, which means that it does not have an impact on your status as a driver.
The only exception to the rule is if you accumulate late fees on your tickets, this can lead to your credit score being hurt and your car insurance increasing as a result. We recommend contesting your parking ticket as quickly as possible to avoid both the fees and the damage to your credit score.
How To Pay Your Fairfax County Parking Ticket
When it comes to paying your parking ticket, Fairfax county allows you to pay quite effortlessly through their official website for transportation and parking.
Just follow these easy steps and your ticket will paid in no time at all:
Go to the

Fairfax official government website

Select the option for

"Pay Parking Ticket Now"

Make sure you have the necessary information on hand, such as the license plate number for your vehicle, your phone number/email address, and the citation number (which you can find on your parking ticket)

You will be redirected to a secure page where you can enter your payment details.

Once the payment has been approved you will see a receipt and be sent an email confirmation.

That's it! Your citation should appear as paid on the official website and any record of the ticket should now be erased.

If your vehicle was booted or towed as a result of late citation fees then it should be released within 1-2 business days.
Let DoNotPay Contest Your Ticket In 120 Seconds!
has beaten hundreds of thousands of parking tickets, check out this article by the BBC on our robot-lawyer's success: "'Robot lawyer' fights parking tickets."
Here's how it works:
Create an account on

Go to the Parking Tickets icon
Upload a photo of your ticket and provide the ticket number

Tell us what is wrong with the ticket

Tell us which state the ticket was issued in
That's it! From there, will create an appeal letter for you! It will be detailed and formal and include the relevant state laws to back your case!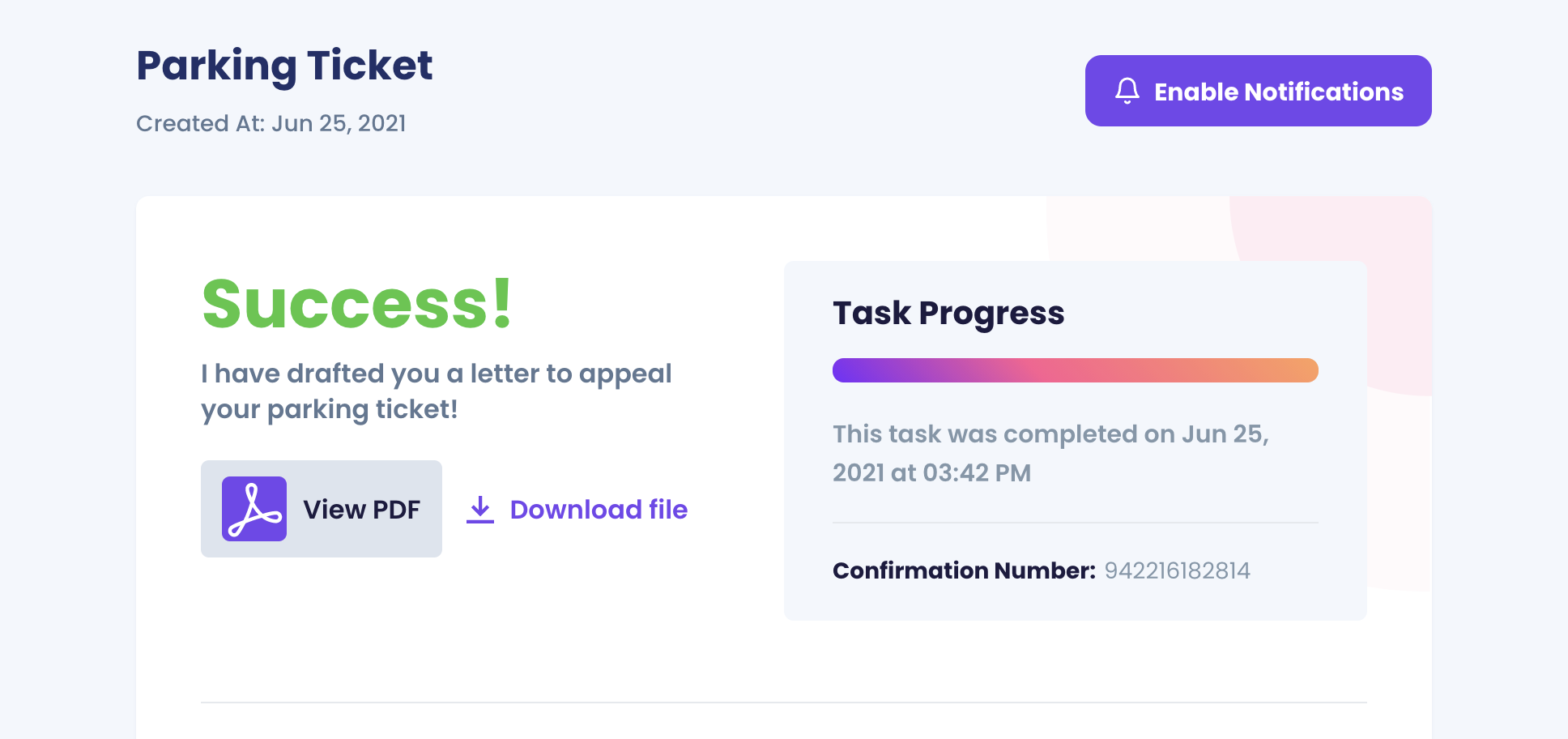 To Summarize
| | |
| --- | --- |
| Is it possible to contest a parking ticket? | Yes |
| Does contesting a parking ticket require legal help? | No |
| How much would a lawyer cost you? | Between $100 and $1000 per hour |
| Is disputing a citation worth the trouble? | Yes |
| Can help you contest your parking ticket? | Yes |
| How long would it take to dispute a ticket on your own? | A whole work day |
| Are there consequences for leaving a ticket unpaid? | Yes |
DoNotPay Can Help With More!