A Duluth Parking Ticket is Easy to Beat!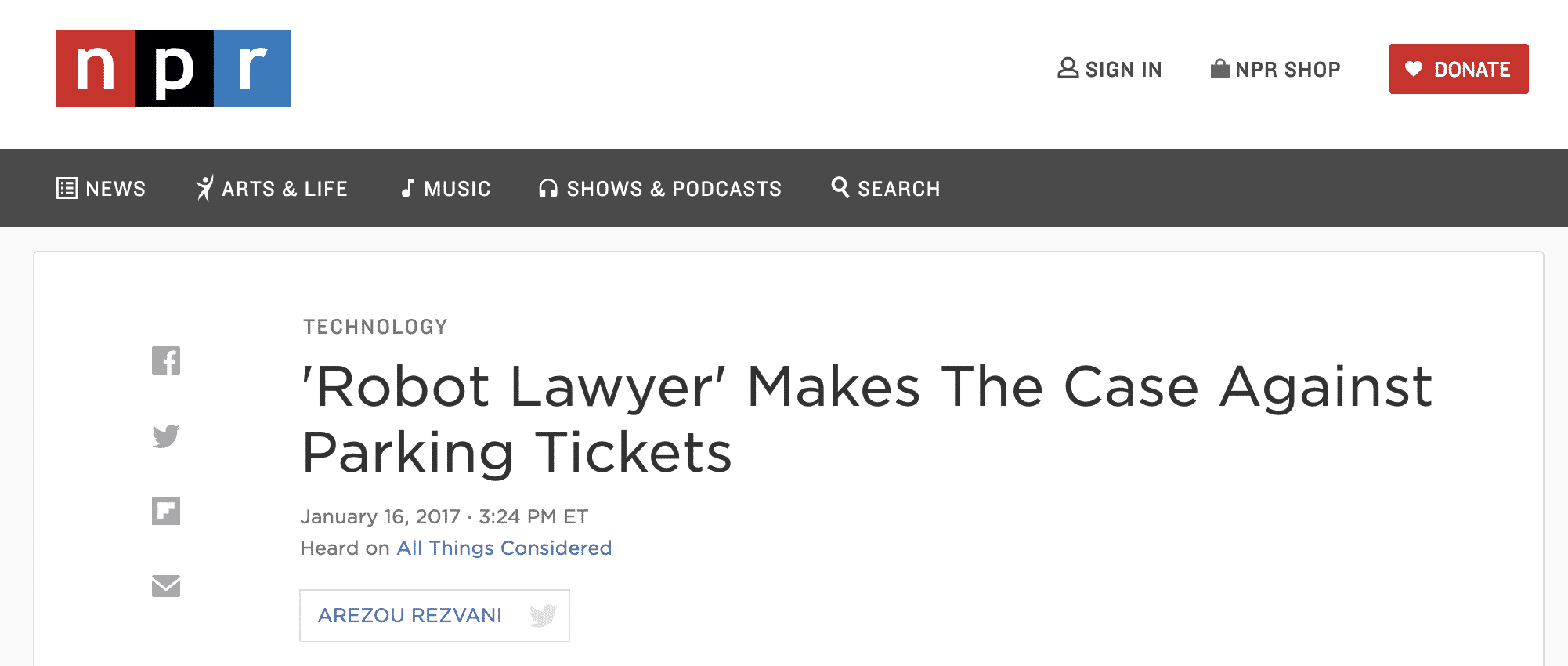 is an AI-powered robot lawyer that helps people dispute parking tickets in seconds. The Guardian published an article stating that DoNotPay has helped 160,000 people contest their parking tickets and overturned $4 million in fines.
If you received a parking ticket in Duluth, Minnesota, this article will provide you with all the information you need. Whether you want to appeal or pay the fine, we got you covered!
Parking Citation Penalties in Duluth
There are a number of traffic violations you can commit in Duluth that will lead to a parking ticket and a fine to pay. The following table offers an overview of the parking violations you can commit and the fine for each one:
Violation

Fine

Expired or Unpaid Meter Fines

$18

Your car is parked on:

An Alternate side (calendar parking) infraction

A 24-hour parking infraction

Resident permit parking zone

Parked facing wrong way

Parked on the front yard

Double parking

"No Parking" area - signposted

"No Parking" area - temporary signs

Feeding the meter: Going over the allotted time allowed for one vehicle by putting more funds

Aggravated meter: Occupying a metered space for more than two hours without paying

Parking over the line: Occupying two metered spaces

Backed into an angled parking space

Missing license plate

Parked in a loading zone

Parked in a truck zone

Parked in an alley

Parked on a boulevard (i.e., between street and sidewalk)

Parked on a sidewalk

Parked on a crosswalk

Parked Within intersection

Parked In front of driveway

Parked Within 7' of any driveway or alley

Parked Within 10' of fire hydrant

Parked Within 20' of crosswalk

Parked Within 20' of driveway entrance to fire station

Parked Within 30' of stop sign or traffic control device

Parked Within 50' of the nearest rail of a railroad crossing

Parked Within 75' of driveway entrance to fire station, when parked on the opposite side of the street and when properly signposted

Parked Alongside or opposite street excavation or obstruction

Parked On government property

Parked On bridge or in tunnel

Not parallel parked

Not within 12" of curb

Front wheels not turned to curb

Non-current license plate tabs displayed

$28

Parked on a fire lane

Keys left in the ignition of the car

Snow emergency infraction

Taxi stand

Unattached trailer

$32

Parked on a bus stop

Improper roadway clearance

$46

Parked in a space that is reserved for physically disabled people.

$200
For any inquiries regarding a parking citation in Duluth, you can contact the follow numbers:
Parking Office: 218-730-5470

Parking Permits: 218-730-5178

Parking Manager: 218-730-5177
How You Can Pay a Parking Ticket in Duluth, Minnesota
Pay online

Pay online

here

Pay through the phone

Call (866) 558-1419. Have your debit card or your credit card ready so that you can pay on the phone.

Pay through the mail

Send a check or a money order to

"Parking Violations Bureau,"

P.O. Box 77, Duluth, MN 55801-0077

Do not mail cash!

Pay in-person

Address: Ground Floor of City Hall, 411 West 1st Street, Duluth, MN 55802

Office Hours: Monday – Friday 8:00 AM – 4:00 PM
How to Appeal a Duluth Ticket on Your Own
Duluth city makes it easy for anyone to appeal a parking ticket. If you believe the ticket was issued to you by mistake, fill out the online form here. You will need to provide your ticket number, date the ticket was issued, your license plate number, and your personal information. You will also need to submit a written statement on why you believe the ticket needs to be overturned.
The Duluth Police Department will review the dispute and provide you with an update. You can also dispute your ticket in person by visiting the Duluth City Hall from 8AM-4PM. Go to this address if you would like to appeal: Ground Floor of City Hall 411 West 1st Street Duluth, MN 55802
Contest Parking Tickets in Duluth, Minnesota in Only 4 Steps!
If you aren't sure about your ability to dispute the ticket yourself, let DoNotPay appeal it for you! Artificial Intelligence has never been so useful! Here's how to do it:
Open the

website on your browser

Select the category "Ticket Disputes" and choose "Parking Tickets"
A series of questions will then be displayed about the your citation, which state you received it in, and why it should be overturned
Select whether you want DoNotPay to mail the letter for you or review it by selecting "Send the letter myself"
DoNotPay will automatically generate a letter written specifically for the state of Minnesota! Expect a decision from the traffic ticket issuer after 2 weeks!
DoNotPay Can Do So Much More!