How to Dispute a Double Parking Ticket
Traffic laws are set-up in states and cities to maintain safe driving conditions for the public. One of the most common rules found in all states is no double parking.
What constitutes double parking and what are examples of it? How can you avoid double parking? This article will go over the answers to these questions and provide state laws that explicitly mention double parking as a traffic violation. At the end, find out how can help you dispute your double parking ticket!
What Is Double Parking?
Double parking refers to illegal parking next to another legally parked vehicle or taking more than one parking spot. Here are some examples of what double parking will look like:
Parking next to a parked car that is parked legally in a metered spot. This can block the flow of traffic.

Incorrect parking that has the vehicle taking up more than one spot.

Parking in a spot that is not intended for parking because there was no space available.

Stalling while waiting for a parking spot to appear.
State Double Parking Laws
Here is a table that includes some state double parking laws:
| | |
| --- | --- |
| State | Code |
| Arizona | Arizona Revised Statutes Title 28. Transportation § 28-873 |
| California | Vehicle Code 22500 CVC |
| Florida | Florida State Uniform Traffic Control 316.1945 |
| Hawaii | Hawaii Traffic Code Article 13 |
| Idaho | Section 49-660 – Idaho State Legislature |
| Maryland | 2010 Maryland Code Transportation, Title 21 |
| Mississippi | 2013 Mississippi Code Title 63 |
| New Jersey | New Jersey Code Title 39 |
| Pennsylvania | Title 75 § 3353 |
There are specific rules set in place to allow commercial vehicles to double park in some states like New York and California when the driver needs to make a delivery, unload/load, or make a service call.
Why Is Double Parking Illegal?
Double parking is considered unsafe and is thus illegal for many reasons including:
Obstructs traffic

Can block another car from moving

Cars can suddenly brake and cause accidents

Going around the vehicle can cause accidents into the next lane
In congested areas such as New York city, double parking is a big inconvenience and can lead to a hefty $115 fine. In less congested areas, fines can be $20-$100.
How to Avoid Double Parking
It's important to obey traffic laws and ensure your actions do not hamper the flow of traffic or the safety of others. Here are some tips to keep note of to avoid double parking:
Set a clear plan when going somewhere. Will you need to park in that area? Is parking available near your destination? Make sure you prepare your parking situation in advance.

Consider public transportation or a gig car service if you don't need to bring your car.

Set out early to find parking in advance. If you have an appointment or event to go to, leave a little early to secure a spot.

If you need to make a quick trip somewhere but don't require parking, have a friend circle around the area and meet you again.
Appeal a Double Parking Ticket
If you believe your parking ticket was issued incorrectly, like this person, you should appeal it. Most cities, states, and university campuses have an appeals process set up online. They should also offer a way to appeal through physical mail or at times, through phone.
When you start an appeal, make sure you have all the information included, such as your citation number, your license plate number, and your contact information. You can also include photo evidence, so make sure to take photos of the scene if you can.
Appeals can only be made within a short period of time, usually 10-21 days after the citation is issued. Be quick on your feet before the deadline! If not, you will be liable to pay the fine.
How to Easily Appeal Your Double Parking Ticket With DoNotPay
Do you want to appeal your ticket but don't know where to start? Let the world's first robot lawyer help! has helped overturn over $4 million in traffic tickets in less than 5 years, and yours could be next! Here's how to get started:
Create a DoNotPay account and go to the Parking Ticket product.
Upload a photo of your ticket and provide the citation number.
Tell us which state the ticket was issued in.
Provide a reason for the appeal and upload photo evidence, if any.
Choose how you would like the appeal handled.
That's it! DoNotPay will generate an appeal letter on your behalf. It will contain the most relevant state traffic law to back your case.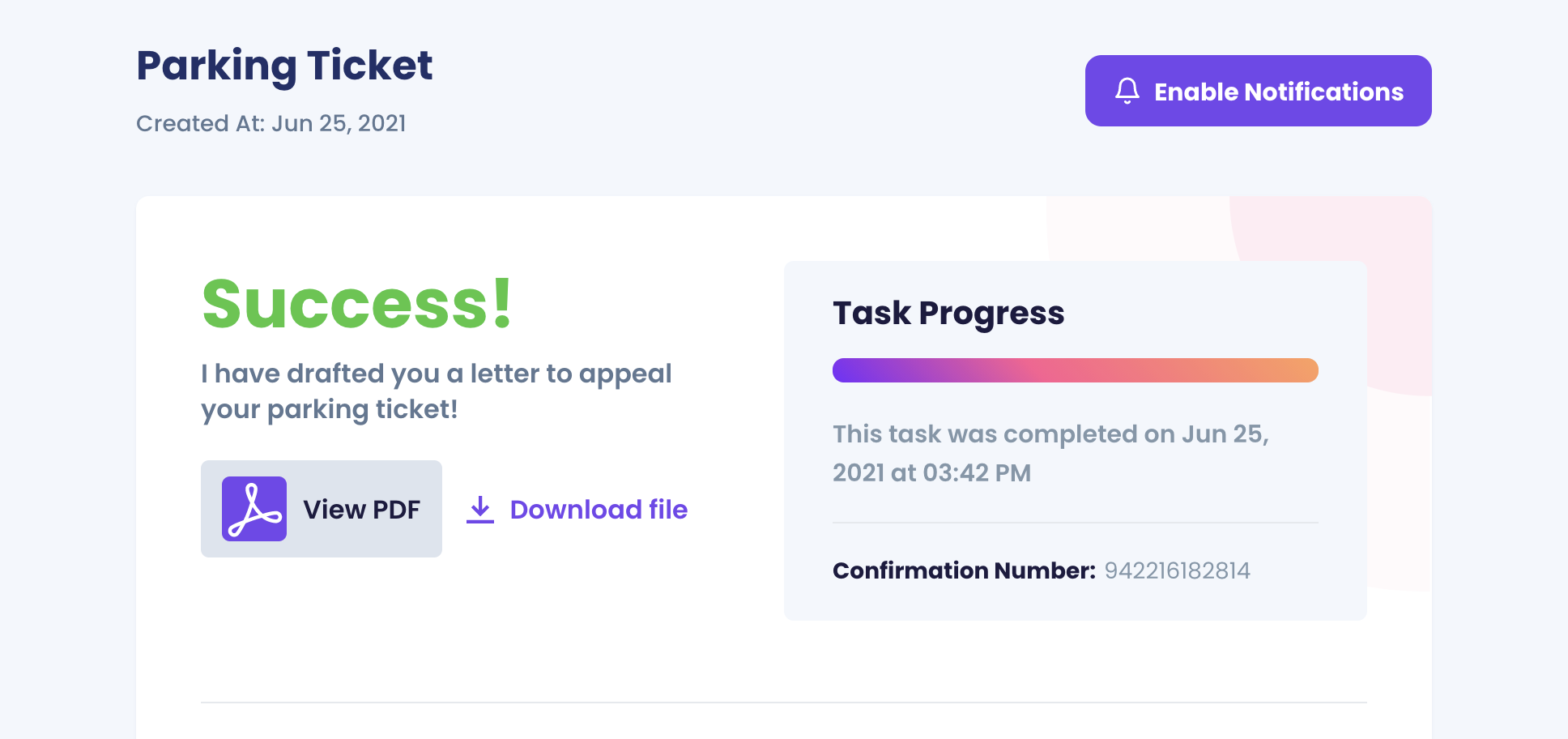 A Robot Lawyer and Assistant in One!
Here's a list of legal-related matters DoNotPay assists with:
Scan legal documents for hidden clauses

And more!
Here's a list of service-related things DoNotPay can help you with: