How to Waive Dog Adoption Fees
Adopting a dog is cheaper than buying a dog, but adoption fees can still be expensive. You could better use the money to buy food, toys, a water dish, a leash, and a bed for your new four-legged friend. Waiving dog adoption fees can help you spend your money more wisely.
 sometimes cover the costs of important medical procedures animal shelters perform before adoption, such as:
Medical Examinations
Microchipping
Vaccination
Deworming
Adoption fees may be negotiable, depending on the animal shelter. We can help you negotiate the adoption fee or continue further to learn how DoNotPay can appeal the fee for you.
What Are Dog Adoption Fees?
 typically range from $50 to $150, depending on the location and the dog. The fees can also be much higher if the dog needs special attention for medical or temperamental issues. While adoption is typically less expensive than buying a dog, it is not necessarily cheap. Knowing the breakdown of these fees can help you prepare for negotiation:
| | |
| --- | --- |
| Medical Examination | $50 |
| Distempering | $40 - $60 |
| Spaying/Neutering | $100 - $250 |
| Rabies Vaccination | $15 - $25 |
| Flea and Tick Treatment | $50 - $200 |
| Deworming | $25 - $50 |
| Heartworm Test | $15 - $30 |
| Identification Tag | $10 |
| Microchip | $50 |
Many shelters subsidize these fees, and you will not have to shoulder the cost alone. DoNotPay can help you appeal dog adoption fees easily through the mobile app or website.
Waive Dog Adoption Fees Yourself
Choose a Dog With Lower Adoption Fees
Many shelters do not charge a flat rate to adopt dogs. Some dogs are low maintenance and require a smaller adoption fee to cover their expenses. Animal shelters may also allow you to adopt a dog that has been rescued recently or has an immediate need of rehoming at a lower cost. However, the opportunity to adopt at a reduced rate does not come around often. DoNotPay can help you appeal adoption fees after you have already picked out the dog of your choice.
Choose a Different Animal Shelter or Rescue
Animal shelters rely on grants, donations, and adoption fees to keep operations running. While some animal shelters get by on donations, others need the adoption fee to operate. The following two options can help you find the right animal shelter for your budget:
Certain shelters have more or less wiggle room when it comes to their adoption fee, so it pays to check all of your local rescues and animal shelters. While it is uncommon for shelters to have a surplus of donations, an animal shelter may be willing to work with you if they had a large donation recently.
Animal rescues that foster rescue dogs in generous dog lovers' homes, instead of a brick and mortar shelter often charge a smaller adoption fee. You may be able to enjoy a budget-friendly fee or even donate your time or home instead of paying the adoption fee by adopting a dog from such a dog rescue.
DoNotPay can help you waive adoption fees for any animal shelter. 
How DoNotPay Can Help You Appeal Dog Adoption Fees
It can be frustrating and time-consuming to find lower dog adoption fees, but you don't want to miss out on the chance to score the perfect dog for you. If you aren't a good negotiator, it can seem impossible to get the animal shelter to waive your dog adoption fees. DoNotPay is the world's first robot lawyer and is your one-stop-shop for appealing fees of all kinds.
Simply select the fees that you want to waive from our website or mobile app, and DoNotPay will send a fee waiver letter on your behalf. DoNotPay has helped users appeal dog adoption fees and much more.
Here's how you can use DoNotPay to appeal fees:
Search "appeal fees" on DoNotPay, choose the Fight and Waive Fees product, and select the type of fee you want to appeal.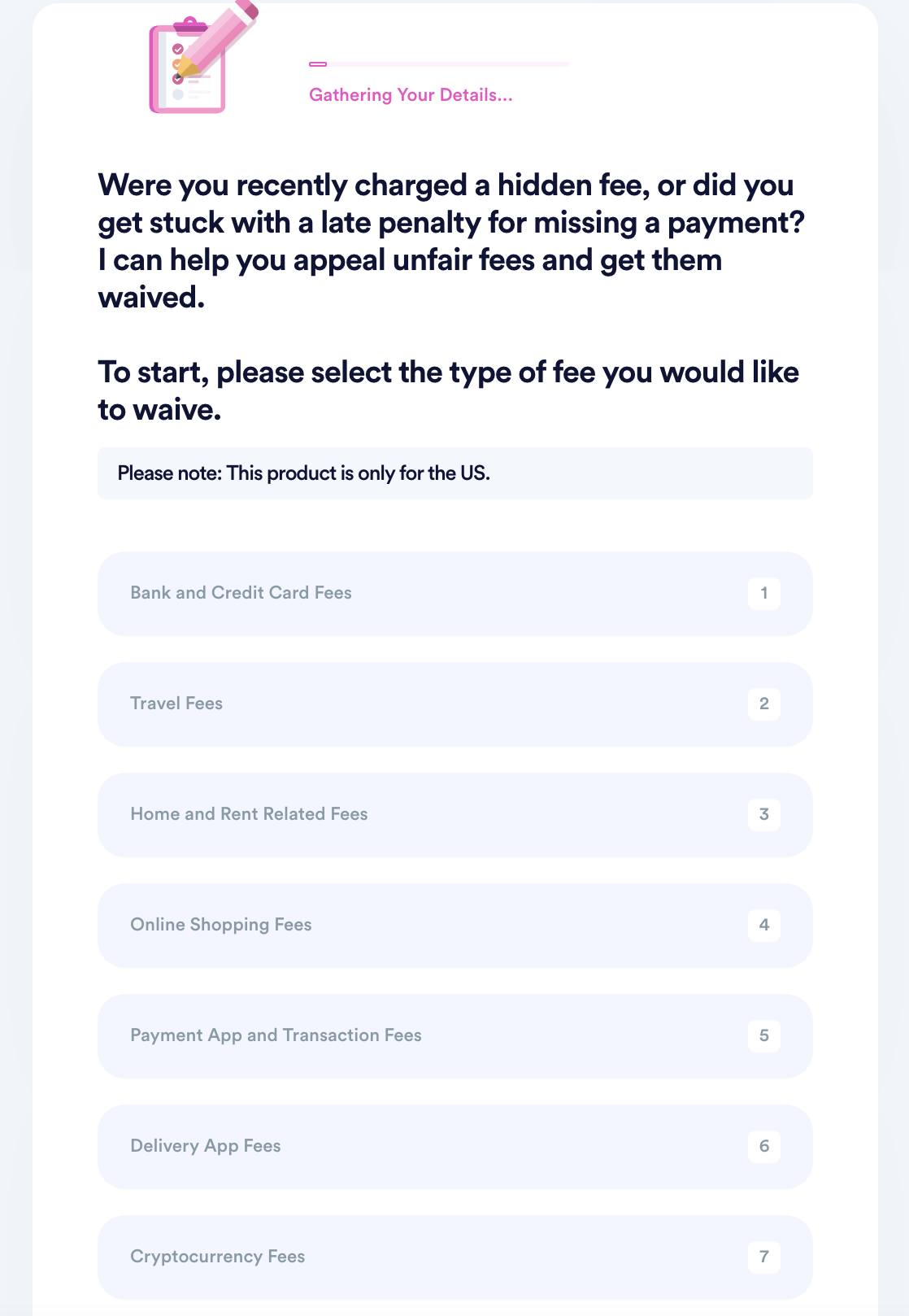 Select the merchant you want to appeal fees for and enter the details of your transaction, including an associated account if you have one.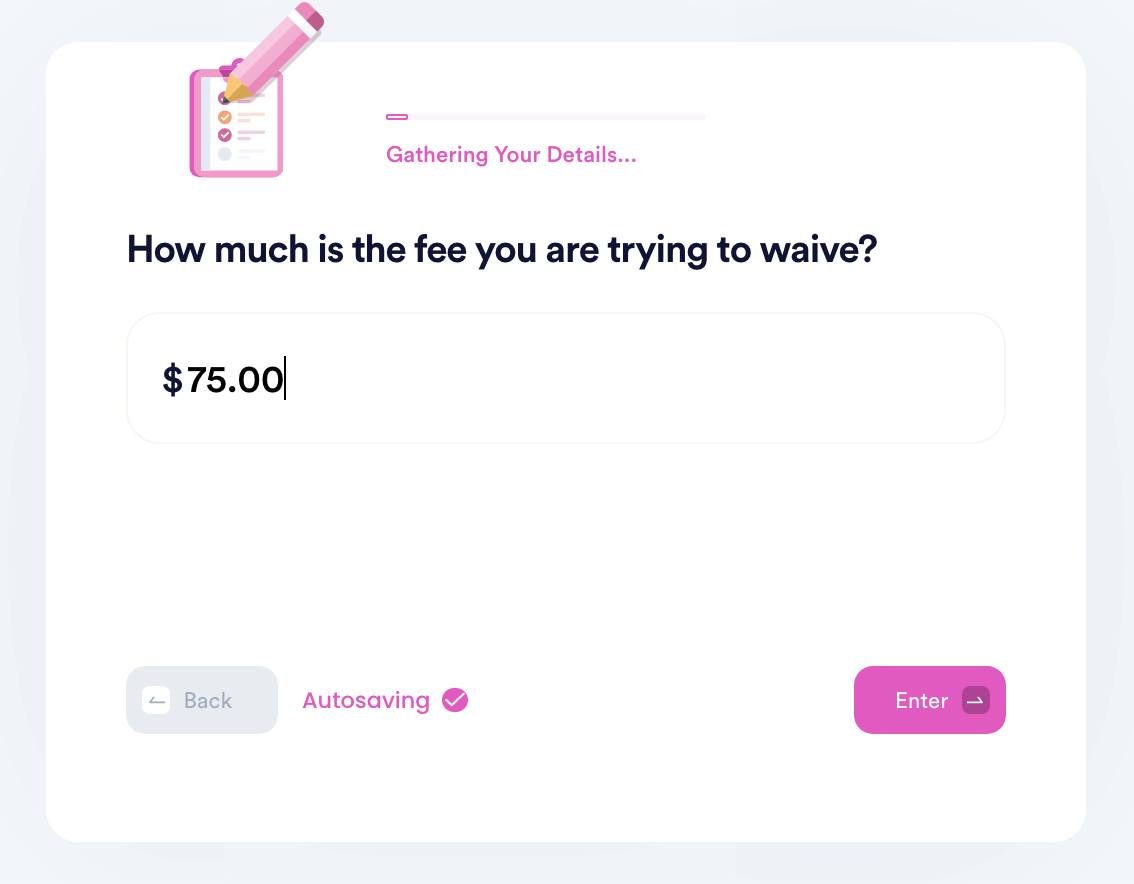 Submit your case! DoNotPay will generate the best argument for your case and make sure your fee waiver request gets sent to the merchant for processing.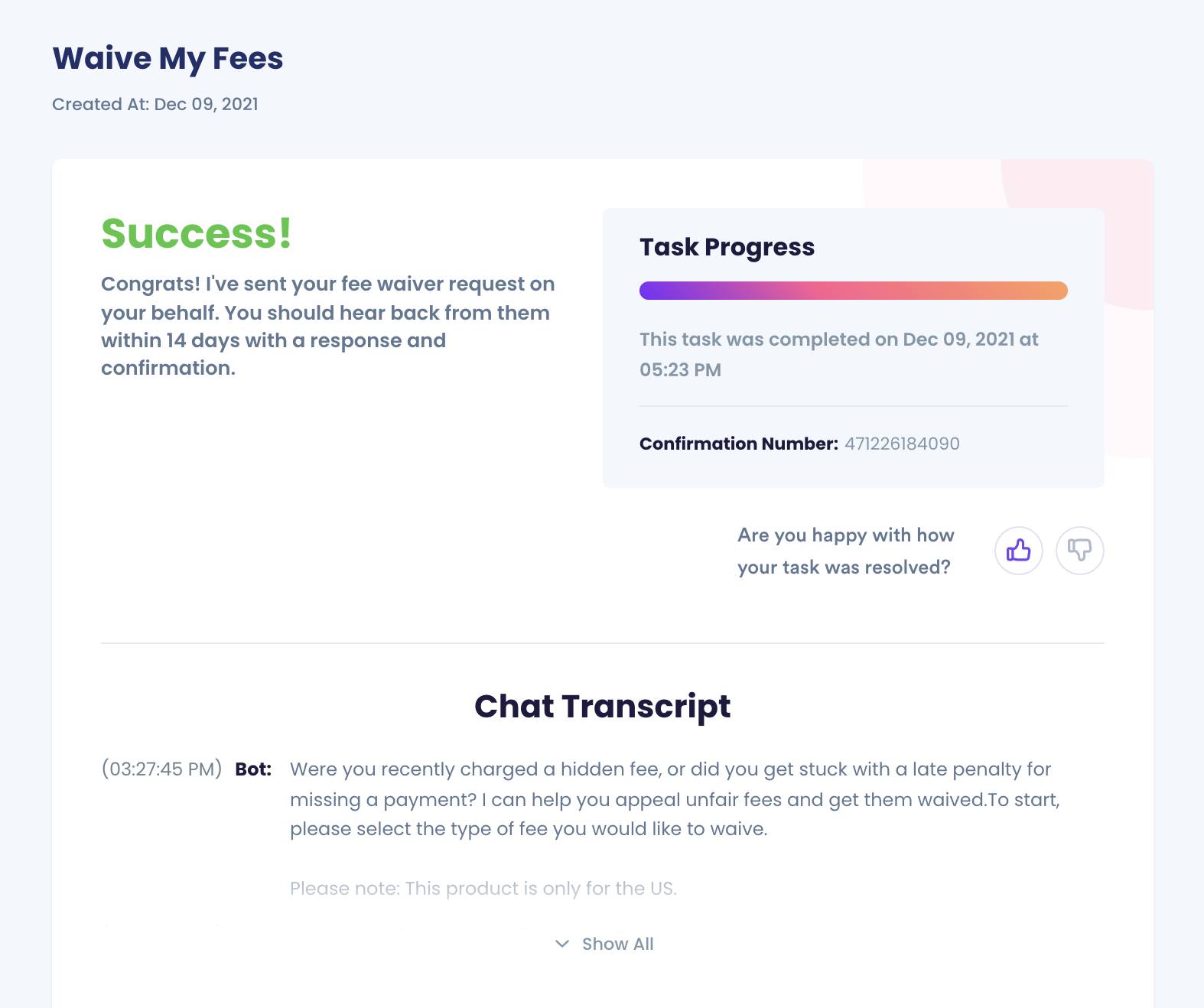 Why Rely on DoNotPay To Appeal Your Dog Adoption Fees?
DoNotPay is the only way to appeal adoption fees from the comfort of your mobile phone or web browser. DoNotPay makes it quick and easy with a high chance of success. When we send a letter to the animal shelter, we will make the best case to appeal the fees for you.
What Other Fees Can DoNotPay Help Me Waive?
DoNotPay allows you to waive and appeal fees from various services, exchanges, banks, organizations, and airlines. Our users have waived the following fees with help from DoNotPay:
Shopify Fees

Robinhood Fees
Sign up for DoNotPay and start waiving fees today!