How to Deal with a CSU Parking Ticket

Receiving a parking ticket is an upsetting and stressful experience, especially if you're a student. may help you decide whether or not your ticket should be challenged! If you received a CSU parking ticket, this article can help you navigate the appeals and payment process. More details may be found below! Continue reading!
What Is a Traffic Violation?
A traffic ticket is issued to someone who is operating a vehicle on a street or highway.

Usually, traffic tickets are not criminal offenses and do not result in prison or a trial if the ticket is paid. Such violations include:

Speeding

Expired parking meters

Driving a car with faulty equipment (ex: broken headlights)

Parking on ADA spots, bike lanes, or red curbs

There are two types of traffic violations, moving and non-moving.

Moving violations are issued when the driver violates traffic rules while driving

Non-moving violations are issued when the vehicle's position violates traffic rules while stagnant
Colorado State University Parking and Transportation
CSU's parking system is managed and funded entirely by the university, and does not use tax or tuition money to pay for its operating expenses. Revenue collected from parking permits and citations are used to sustain the university's parking department and maintain parking facilities.
There are 4 types of parking permits students can receive. Hourly and daily parking permits, residence hall parking permits, off-campus parking permits, and student resident parking permits. Click here to learn more about each type and the prices they are available for.
Understanding Common Traffic Citations at CSU
CSU's Parking and Transportation Services manages over 13,000 parking spots for 20,000 people commuting to campus. So what exactly counts as a traffic citation at Colorado State University? The table below shows some common violations and the fines given for each one:
| | |
| --- | --- |
| Violation | Fine |
| Parking in ADA Space | $150 |
| Parking on Red Curb | $75 |
| Double Parked - parked next to vehicle already parked on curb | $35 |
| License plate not visible | $35 |
| Loading zone violation - parked in loading zone longer than allowed | $75 |
| Misuse of parking permit | $125 |
| Parked in unrestricted area | $35 |
| Parked in restricted area | $45 |
| No permit parking | $45 |
| Parked Overtime | $30 |
| Parked in area reserved for game day parking | $100 |
| Parked in construction parking only | $45 |
Check out this link for all of the violations you can get slammed for at CSU. Surcharges
CSU Parking and Transportation Services will not dismiss safety violation penalties to provide access to campus.

This includes temporary parking in non-parking zones such as bike, red curb, and emergency vehicle lanes.

Parking in non-designated locations carries a greater fine owing to the danger to the institution.

In addition, parking in ADA spots without a permit or identification will result in a fine.
What To Do After Getting a Parking Ticket from CSU
Whether you're a student, faculty member, staff, or visitor of CSU, you'll need to take care of the citation issued by the institution fast. CSU gives you two options: you have 14 days to appeal or pay the ticket. If a ticket is not paid after 30 days, the debt will be added to your balance and will need to be cleared to graduate.
How to Appeal a CSU Ticket
There are two types of appeals you can pursue at CSU: simple and complex. A simple appeal is used for situations that fall into these three categories:
Citation is not related to ADA, bike lane, or other safety violations

Parked in correct location and was paying for the space at the time the ticket was issued

Parked correctly and has a valid permit; parking information was added incorrectly
All other appeals are considered a complex appeal and will be reviewed by an Appeal Board. If the appeal is dismissed, there will be an additional $10 processing fee added to the fine.
You can start your online appeal through this portal. You will need to have your citation # and license plate number on hand.
How to Pay for a CSU Ticket
You can pay for your ticket online as well. Students are able to transfer their citation balance to their student account. Due to COVID-19, checks and cash payments are not accepted. If you have any questions, you can email parking@colostate.edu.
How To Dispute Your Ticket with DoNotPay!
You can use DoNotPay to dispute your ticket! Save time and energy by having your very own robot lawyer handle your case! will generate your appeal and mail it to the traffic ticket issuer. Here's how to do it:
Create a

account and go to the parking tickets section
Provide us with information about your ticket

Upload photo evidence to back your claims

Tell us whether you want DoNotPay to mail your appeal for you
It's really that easy! Once the appeal is sent, wait for a response from the issuer!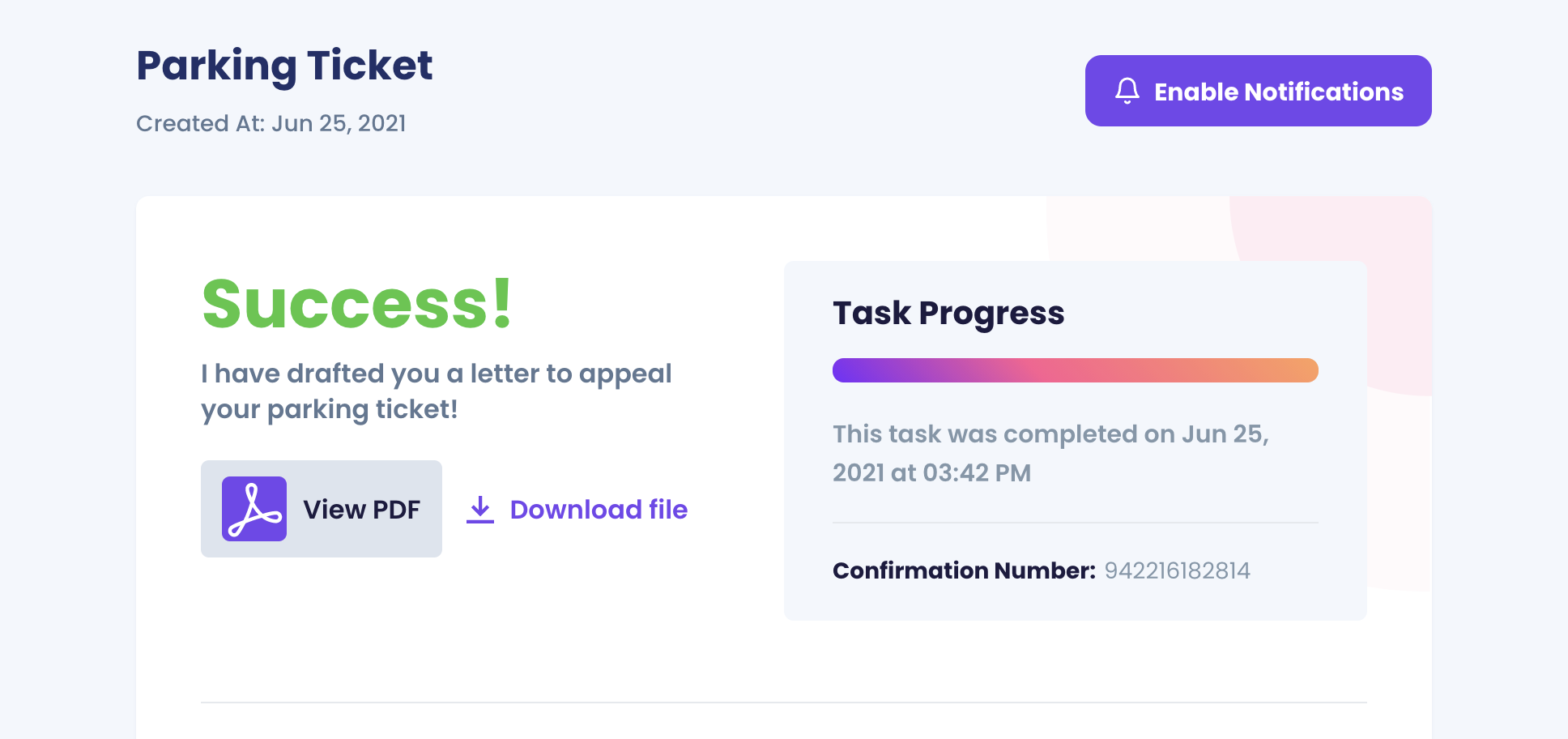 What Else Can DoNotPay Do?