How to Fight and Waive crypto.com Fees
We are familiar with traditional money such as U.S. dollars or Euros. Therefore, we understand traditional banking procedures, policies, and fees. In recent years, the popularity of cryptocurrency has skyrocketed and is becoming a mainstream alternative to traditional forms of currencies. However, we may have questions about the fees involved in a .
In the world we live in, fees are ubiquitous. Some fees we just accept without question, such as homeowner's association fees, bank fees, and baggage fees. Others, we may not expect, such as some types of Paypal fees, Etsy, or eBay charges. crypto.com is one of the fastest-growing cryptocurrency businesses in the world. However, it may be difficult to know what to do when faced with an unfair or unreasonable fee. That may be the perfect time to get help from the problem solvers at DoNotPay.
What Is Cryptocurrency?
Cryptocurrency is a system that allows you to purchase goods and services or trade them for profit. It has been around since 2009. Most people are familiar with the banking policies and fees associated with government-issued traditional money. However, cryptocurrencies are generally unregulated and are based on the rules of supply and demand.
Cryptocurrencies work using blockchain technology, which securely manages and records transactions. Unlike traditional money, banks and other financial institutions do not facilitate the activities. Instead, those who hold or own blockchain currencies can save it, send it to other users or trade it using digital transactions. Blockchain cryptocurrency exchanges are for-profit businesses. Therefore, they typically charge a  or commission for a transaction. Some exchanges also charge an inactivity fee if you don't make any transactions for a certain period of time.
What Is crypto.com?
crypto.com is a cryptocurrency and payment platform made up of various connected products and services, such as
crypto.com App (a mobile app that allows the user to access the full crypto.com system)
The non-custodial crypto.com wallet, which can be linked to your main crypto.com account for easy transfer of funds.
crypto.com Exchange: This is a crypto-to-crypto exchange.
MCO Visa Card
Crypto Credit: An instant loan product
Crypto Earn: A product that allows users to earn up to 18% interest p.a. on cryptocurrency deposits.
What Are crypto.com Fees?
Typically, fees may include:
Exchange Fees
Cryptocurrency exchanges make money by charging fees for trades made on their platform, particularly withdrawals. So obviously you want to choose an exchange with low fees. However, it is important to understand the difference between the terms maker and taker.  Maker fees are the fees charged to the person who puts the order on the book. Taker fees are charged to the person who takes an order off the book. Therefore, they are buying assets at a price already available on the exchange. They may have different fees.
Network Fees
Network fees, also known as gas, are the second type of fee when trading crypto on decentralized exchanges. Instead of being set by an exchange, they are set by and paid to the miner. The miner is someone on the network who actively verifies transactions and makes them part of the blockchain. Therefore, these fees vary and are affected by demand.
crypto.com Deposit Fees
There are no fees for depositing on the crypto.com exchange or mobile app. However, they take a 9% fee when you make a profit.
crypto.com Exchange Trading Fees
The crypto.com exchange operates a tiered fee structure. This means that they charge a different fee rate on the trades you make based on how much volume you trade. Therefore, the more you trade, the lower the fees.  For example, from $0 to $50K, the maker fees are .20%, and the taker fees are also 0.20%.
| | | |
| --- | --- | --- |
| Trading Volume | Maker Fee | Taker Fee |
| $0-$50K | 0.20% | 0.20% |
| $50K-$250K | 0.16% | 0.18% |
| $250K-$1M | 0.12% | 0.16% |
| $1M-$2.5M | 0.10% | 0.14% |
| $2.5M-$10M | 0.08% | 0.12% |
| $10M+ | 0.04% | 0.10% |
When withdrawing funds from the crypto.com exchange to an external address, there is a transaction fee, based on which crypto is being transferred from crypto.com.
How to Fight and Waive crypto.com Fees
It's important to remember that cryptocurrencies are still volatile and largely unregulated. Every time you move money in or out of crypto, there will probably be a fee. Try these steps:
Avoid Fees
It may require more homework upfront, but avoiding fees is generally easier than challenging them. Remember that if there are no transactions, there are no transaction fees. Once you've got your investments in crypto, avoid the temptation to move them.
After your first 30 days,  for credit/debit card crypto purchases via its app. If you pay using a credit card, your card issuer may also charge a cash advance fee if you use it to buy cryptocurrency.
Watch Out for Hidden Fees
Some apps state that fees are included in the rate, so basically, the fee is hidden. Or sometimes, the price for the crypto displayed in the app is consistent with other exchanges, except for the order confirmation page. These differences typically amount to about 4%.
Contact Customer Service
If you decide to challenge fees on your own, the first step is to contact the company's customer service at contact@crypto.com. Unfortunately, some reviews have mentioned "poor customer service," so you may have to wait a while.
Contact the U.S. Consumer Financial Protection Bureau (CFPB)
Take the following steps:
Submit a complaint
Explain the type of problem
Explain in detail what happened (do not include sensitive personal information.) Do include the dates, amounts, and other details about your complaint.
What company is the complaint about?
Who are the people involved?
Also, if you believe that your problem involves a scam or fraudulent activity concerning cryptocurrency, you can report it to
The FTC at ReportFraud
The Commodity Futures Trading Commission (CFTC) at CFTC
The U.S. Securities and Exchange Commission (SEC) at SEC
The cryptocurrency exchange company you used to send the money
What if You Can't Do It Yourself?
There's no easy way to deal with problem fees. It can be a lengthy, complicated, and frustrating process. Luckily, DoNotPay is here to help. Here's how you can use DoNotPay to appeal fees:
1. Search "appeal fees" on DoNotPay, choose the Fight and Waive Fees product, and select the type of fee you want to appeal.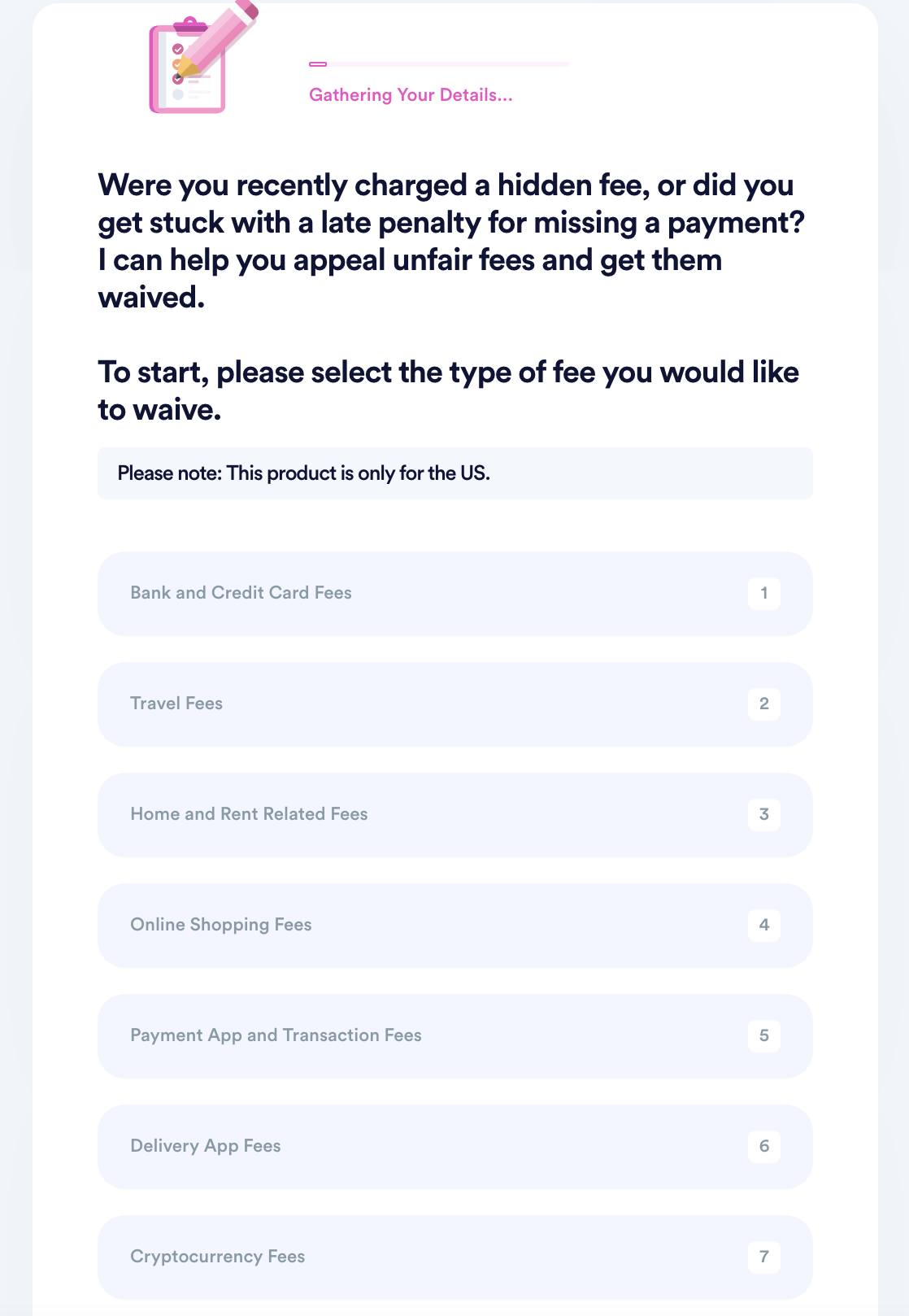 2. Select the merchant you want to appeal fees for and enter the details of your transaction, including an associated account if you have one.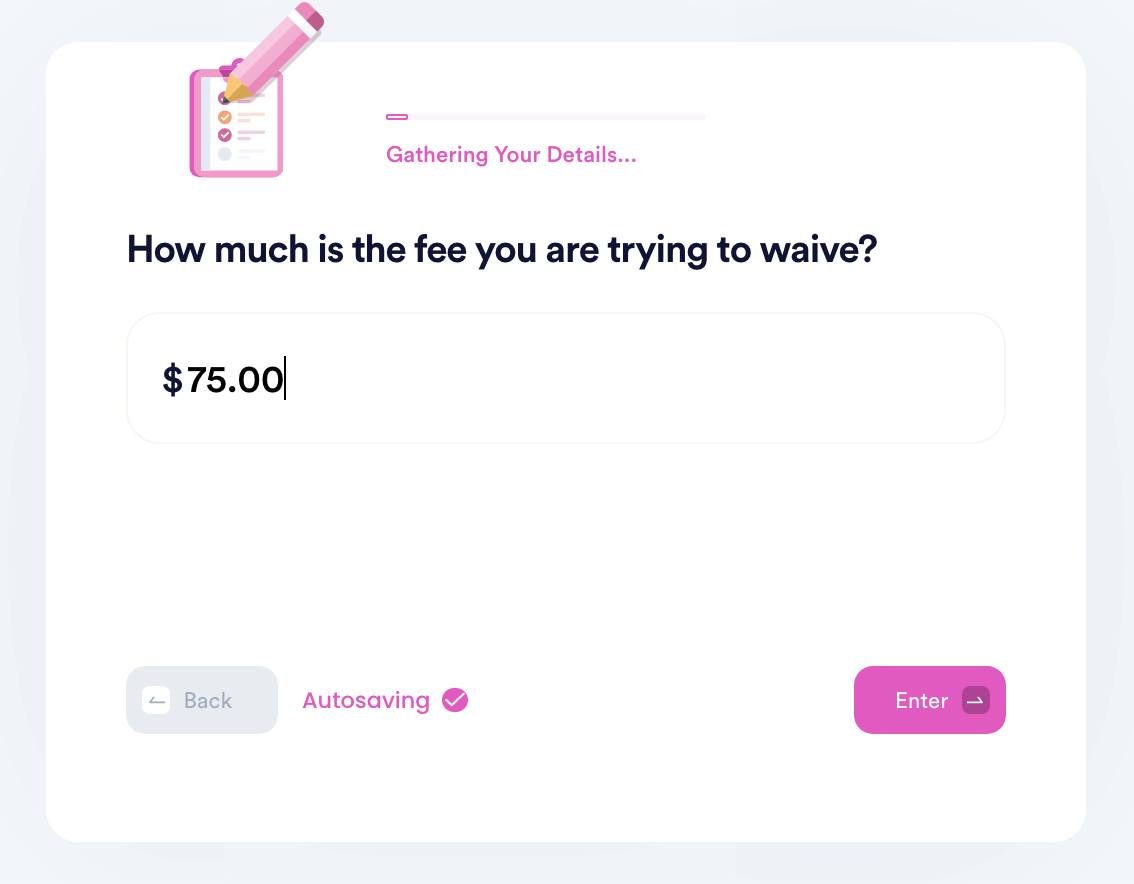 3. Submit your case! DoNotPay will generate the best argument for your case and make sure your fee waiver request gets sent to the merchant for processing.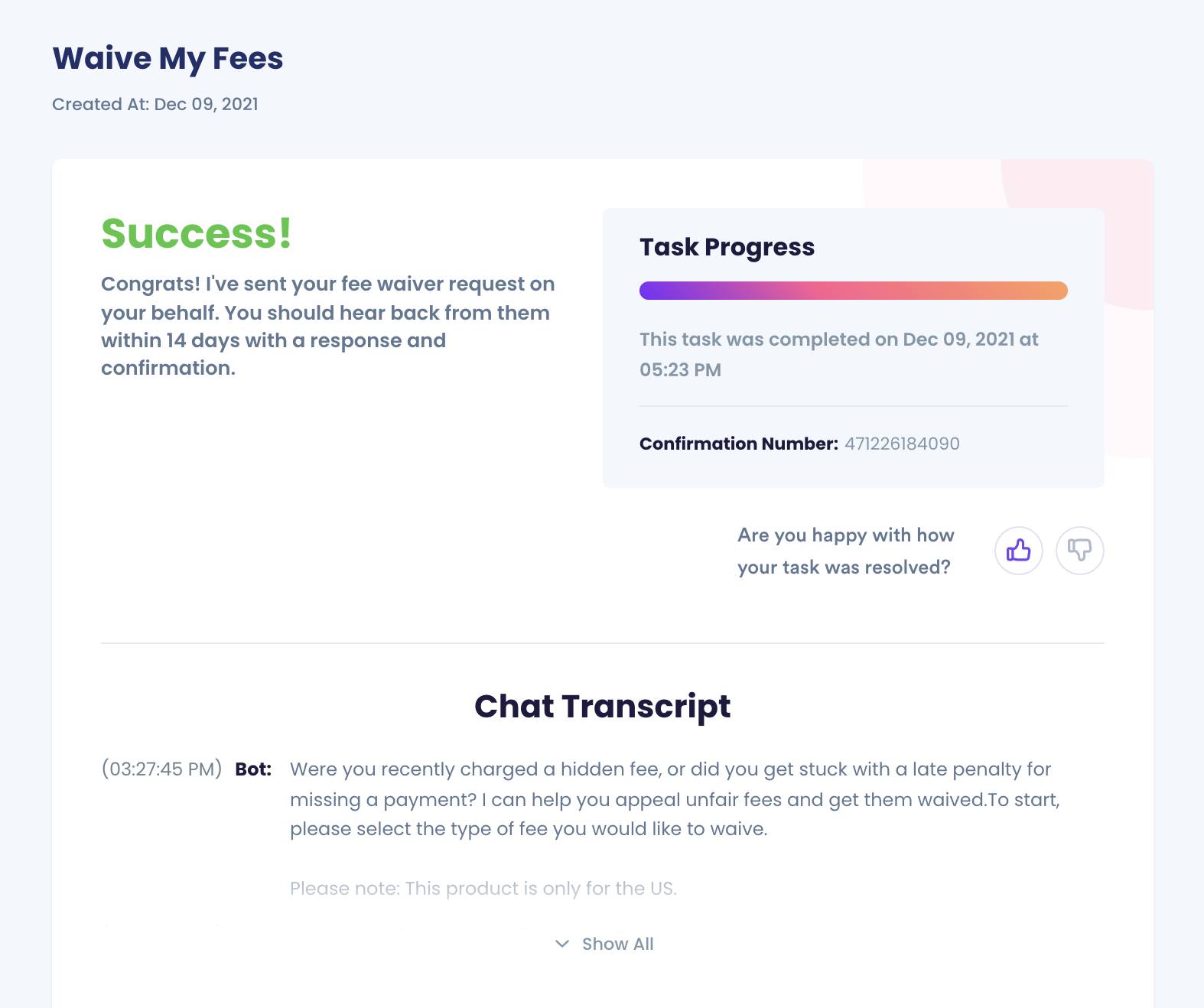 Why Use DoNotPay to Solve the Problem of How to Fight and Waive crypto.com Fees
Fees are frequently confusing or unexpected. Unfortunately, fees are a part of trading in cryptocurrency. A fee here and there can seem like a small matter at first, but they can definitely affect your profit, especially with small transactions. And they may be just one of many problems piling up on your desk, waiting for you to have the time to deal with them. However, inappropriate fees are simply unacceptable. You need an effective problem solver on your side. DoNotPay can help you solve any problem you may have with your cryptocurrency exchange quickly and easily.
What Else Can DoNotPay Do?
Today, there is an abundance of new products and new ways of doing business. Technology and innovation are exciting, but like all new things, there are unexpected problems.
DoNotPay can handle all kinds of problems. For example, you may incur baggage fees on your next flight. If you are involved in e-commerce, they can help with point of sale fees. You may need help with reducing your property taxes, appealing a banned account,  or simply filing an effective complaint. It's an exhilarating new world out there, but when you run into roadblocks, DoNotPay is there to help.