How to Appeal Cornell Parking Tickets
10 days - that's all you've got to decide whether to pay or appeal a parking ticket from Cornell University.
In this article, you'll learn all the ways you can save money by appealing your Cornell citation and other tips to help you avoid getting another ticket in the future. Afterwards, learn how can help speed up the process and get an appeal letter mailed to the university in minutes!
Cornell University Parking
All parking on school grounds is managed by the university's Transportation Services. If you end up receiving a ticket, you shouldn't ignore them. If you do, your debt may end up in a collection agency, affect your license renewal, and prevent you from graduating (if you're a student at Cornell).
Cornell Parking Permits
To park on campus year-round, you'll need a parking permit. Before you get one, make sure your vehicle registration details are complete and up to date.
Annual permits at Cornell are on the pricier side and cost around $750. You can choose to get a shared carpool permit with a friend to ease the financial burden. This enables you to own the permit and share its usage with another registered vehicle. Here's a list of some of the common permits offered at Cornell:
Permit type
Permit class and designated lot
Annual price
Commercial permit
B permits

are valid all day for parking at lot B of Vet College and after 2:30pm for lot A at the North Campus

$359.85

SC permits

are valid all day in designated lots around CISER, Campus Road, and lot B.

They are valid for A lot only after 2:30pm.

$752.86

Daily Commuter permits

are valid for designated lots depending on time of the day and availability.

No fixed rate. Subject to daily changes.

Resident permit
ND permits

are valid for residents of Cooperative housing, Program houses,

North Campus halls, and 411 & 508 Thurston Avenue.

$752.86

SW permits

are valid for residents of Sheldon Court, Sage Place, Eddy Gate, Schuyler House and

Cascadilla Hall.

The designated parking lots are at Schuyler House and Stewart & Williams Street.

$752.86

FH permits

are specifically for residents of Hasbrouck Apartments and are valid for the apartment lot.

$752.86

WD parking permits

are valid for residents of 112 Edgemoor Lane, Program houses,

West Campus House System, and Cooperative Housing areas.Designated parking locations can be found at the University Avenue lot and Edgemoor lane.

$752.86

Daily commuter permits

are subject to lot availability.

No fixed rate. Subject to daily changes.

Motorcycle, Scooter and Moped permit

Valid for all parking lots with designated spaces marked M.

$119.94
If you plan to get an annual permit, plan on paying for them early. This is because permits for ND, SC, SW, and WD are usually among the first to get sold out.
Cornell University Parking Laws
All Cornell parking laws stem from Sections 5708 and 5709 of New York traffic laws, which classifies violations as misdemeanors and specify a $50 fine or six-month jail time.
You can only drive 25 mph while on campus.

No parking against the flow of traffic on a one-way street.

Do not park in an area not designated as a "parking zone" and don't expect the "No parking sign" on such areas either.

No blocking of a fire hydrant, fire lane, emergency zone, crosswalk, sidewalk, driveway or doorway within the campus.

No parking on campus between 1 AM to 5 AM during winter periods.

No parking in handicapped spots without a permit.

Any unattended vehicle parked within the premises risks a citation if not promptly reported to.

Parking in front of a malfunctioning meter could still get you a citation.
How to Deal With the Ticket Yourself
You have 21 days from the date of the citation to pay for it. If you believe you are innocent, you must appeal the citation within 10 days.
Pay for the citation
You can pay the citation by:
Visiting Transportation Services at

116 Maple Avenue, Ithaca NY 14850

Mailing a check or money order

Calling 607-255-4600

Going online and logging in to your student account (

myparking.cornell.edu

)
Appeal the citation
You can appeal the citation by logging into your student account or creating a guest account here. Transportation Services does not accept oral appeals.
Have DoNotPay Handle Your Cornell Parking Ticket
can help you save up on pocket-draining fines and fees. All you'll need to do is:
Log-in to

and go to the Parking Ticket product
Upload a photo of your citation
Provide the reason that best describes the reason what's wrong with the ticket
Submit a statement and any relevant evidence
After that, you can have DoNotPay mail the appeal letter for you! The letter will contain a state law to back your claim.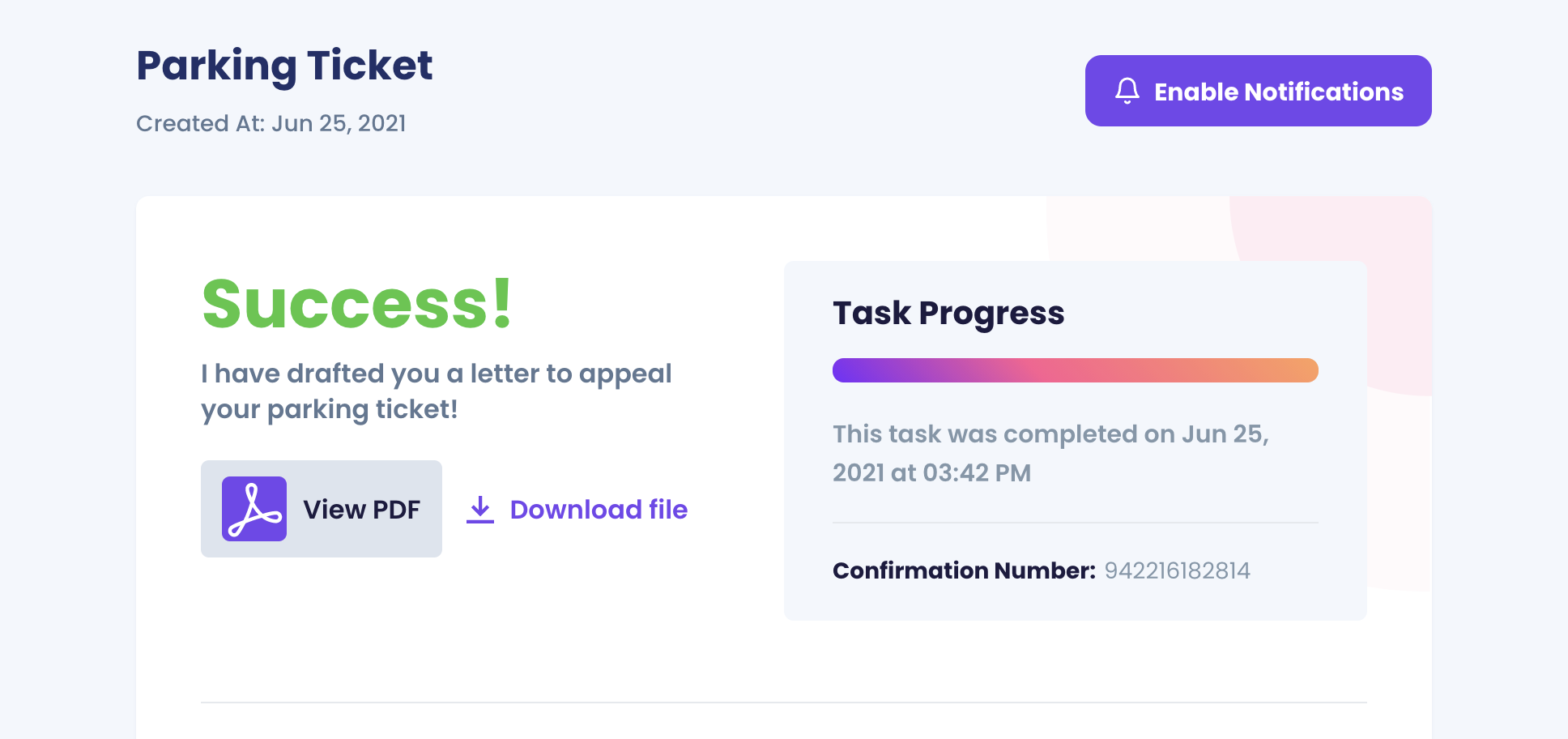 DoNotPay Can Do More
DoNotPay doesn't stop at helping you overturn parking tickets. Here's what else you can do: