Contest a Parking Ticket in Los Angeles And Win
Los Angeles city is notorious for its expensive parking tickets. Much of its citations are for expired tickets and street sweeping which may cost around $65 to $75. The city's officials say that the revenue goes to the city's general fund. In this article, we will provide you with all the information you need for contesting parking tickets in Los Angeles and what you can do to make the process easier and .

List of Los Angeles's Parking Fees
Finding a red and white envelope stuck to the windshield of your car can be a daunting experience. This is because parking tickets in LA are more expensive than in other states. It is so pricey that in 2014, Mayor Garcetti formed a reform group that will develop more equitable citation policies. Here below is the list of the parking tickets in Los Angeles:
| | |
| --- | --- |
| Parking Violation | Fees |
| NO PAID PARKING SESSION/NO PERMIT DISPLAYED | $65.00 |
| PERMIT IMPROPERLY DISPLAYED | $65.00 |
| EXPIRED PERMIT/PKG SESSION | $65.00 |
| PARKED IN A FIRE LANE | $80.00 |
| RED CURB | $80.00 |
| COIN METER EXPIRED | $65.00 |
| TIMED ZONE VIOLATION | $65.00 |
| VIOLATION OF POSTED SIGNS | $65.00 |
| UNDESIGNATED AREA | $65.00 |
| ZONE VIOLATION | $150.00 |
| REPORTED LOST/STOLEN PERMIT | $350.00 |
| COUNTERFEIT/ALTERED PERMIT | $350.00 |
| DISABLED ZONE/PARKED IN DISABLED SPACE | $421.00 |
| DISABLED ZONE-2ND VIOLATION | $625.00 |
| DISABLED ZONE-3RD VIOLATION | $825.00 |
| LOADING/UNLOADING ZONE VIOLATION | $65.00 |
| PARKED IN CROSSWALK | $65.00 |
| BLOCKING DRIVEWAY | $65.00 |
| SIDEWALK | $65.00 |
| BIKE LANE | $65.00 |
| OBSTRUCTING TRAFFIC | $65.00 |
| BUS ZONE | $250.00 |
| INVALID/EXPIRED TABS | $25.00 |
| DOUBLE PARKED | $65.00 |
| PARKED AT DISABLED CURB CUT | $421.00 |
| PARKED IN FRONT OF FIRE HYDRANT | $80.00 |
| PARKING NEAR RAMP FOR HANDICAPPED | $421.00 |
| PARKED IN RESERVED SPACE | $150.00 |
| INVALID PERMIT/PARKING SESSION | $65.00 |
| RESERVED LOT D | $150.00 |
| LICENSE PLATE NOT VISIBLE FROM DRIVE AISLE | $65.00 |
| OVERNIGHT PARKING NOT ALLOWED IN AREA | $65.00 |
| LICENSE PLATE NOT REGISTERED TO VIRTUAL PERMIT | $65.00 |
| SHARED PERMIT | $65.00 |
| PERMIT TIME LIMIT EXCEEDED | $65.00 |
| VEHICLE MUST BE ACTIVELY CHARGING | $65.00 |
| MISUSE OF DISABLED PLATE/PLACARD | $421.00 |
| VEHICLE PARKED IN TWO SPACES | $65.00 |
| WARNING TICKET | $00.00 |
How to Pay for a Citation in LA
Paying for a citation can be made online, via PayTix, in-person, by phone, or by mail. You may also use Visa and Mastercard but a $2 processing fee will apply. Payments not made before the due date will be charged an additional penalty fee and other sanctions. According to the California Vehicle Code, if you plan to contest your citation, you need to pay and also request an initial review within the statutory time limit. Here below are the ways on how to pay for a citation:
Through the LADOT app
By making a credit card payment through a phone call to (866) 561-9742 or (213) 623-7046 TTY
By paying in person at these offices:

312 W 2nd Street, Los Angeles, CA 90012
333 Wilshire Blvd., Suite 3337, Los Angeles, CA 90010
6309 Van Nuys Blvd., Suite 103, Van Nuys, CA 91401
1575 Westwood Blvd., Suite 100B, Los Angeles, CA 90024

By sending a mail to:
Parking Violations Bureau
P.O. Box 30247
Los Angeles, CA 90030
Contesting a Ticket in Los Angeles
Because of the pandemic, appealing a citation has changed where offices no longer accept in-person hearings. Instead, you may request a hearing by written declaration or by making a phone call for citations and impounds. To contest a ticket, the steps are as follows:
Visit ladotparking.org to request an initial review online.
Include important details such as:

Citation number
Your name
Your address

After you have received the initial review decision, you may request a hearing by:

Sending a mail to Parking Violations Bureau, PO Box 30420, Los Angeles CA 90030
Calling (866) 561-9742
Sending an email to ladothearings@lacity.org
What Happens to Unpaid Tickets?
What happens if you don't pay a parking ticket will vary depending on the city or state. Nonetheless, jail time is not a possibility when it comes to unpaid parking tickets. However, there are other consequences that you could face especially if you leave a parking ticket unpaid for a significant amount of time. Here are some possibilities of what could happen:
You may accrue penalty fees – One of these fees is a civil assessment which could cost up to $300.
Your car may get towed or booted – In some states, your car may be booted even if you only have as little as two outstanding tickets.
You may lose your car – Some states have been known to possess cars and put them up for auction.
Your case may go to collection agencies – Unpaid parking tickets may also be collected by collection agencies that are notorious for endless phone calls, letters, and visits.
It may affect your credit score – The Parking Violations Bureau may report your outstanding fees to the credit bureau and adversely affect your ability to apply for a loan or a credit card.
Contest Parking Tickets In Los Angeles In Less Than 120 Seconds
Filing an appeal may seem straightforward in theory but in practice, the process can be complicated. There are a lot of documents to draft and even more forms to fill out. That is where DoNotPay can help. We are the world's first robot lawyer and we help make the process of contesting tickets fast and easy. has been hailed as a bot champion against the government. All you have to do is:
Go to DoNotPay and answer a few questions.
The robot lawyer will generate an automatic letter written specifically for LA.
Press 'Send' and DoNotPay will send the letter on your behalf.
That's it. Now all you have to do is wait for a few days and find out if you won!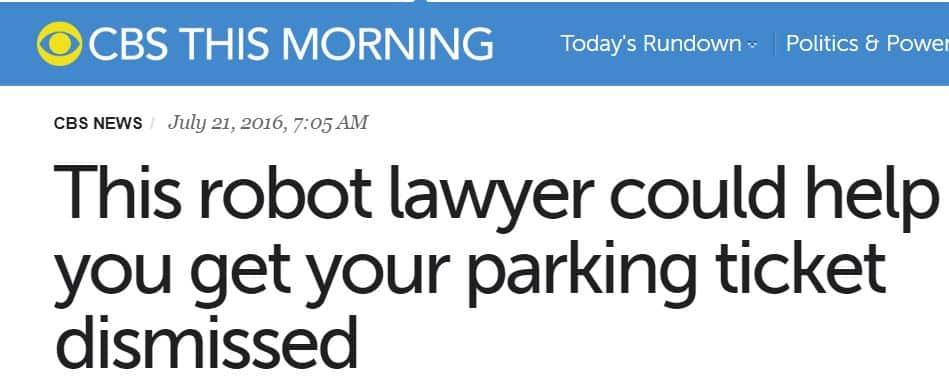 DoNotPay Can Do Way More