How to Contact Senator Ted Cruz
Getting in touch with the senator of your state can be an effective way to participate in the politics of your community, but it can also be hard to know where to start. That's why we've put together an article with everything you need to know about reaching out to the Senator of Texas, including phone numbers, emails, and office locations.
Senator Cruz and his office can help residents of the state of Texas with contacting federal agencies, applying for scholarships, and even planning visits to landmarks like the White House and the Supreme Court.
Who Is Senator Cruz?
Senator Rafael Edward Cruz was born in Calgary, Canada in 1970. He became a naturalized United States citizen in 2005.
He studied at Princeton University and graduated in 1992. He later attended Harvard Law School and got his law degree in 1995.
He is a member of the Republican party, and became Senator of Texas in 2013. His current term is due to end in 2024.
What Are the Best Ways to Get in Touch with the Senator of Texas?
What Services Can the Senator of Texas Help You With?
Getting a letter for the recognition for a significant accomplishment
Obtaining help with federal agencies
Planning visits to Washington DC, including tours of landmarks such as the White House, Supreme Court, Capitol Building, etc.
Reporting wrongdoing or misuse of power by a government agency
Finding Scholarships for University students
Getting experience through a high school / or university level internship
Resolving questions about the legislative and political processes in your state.
Where Is Senator Cruz's Office Located Exactly?
Although the senator conducts a lot of his principal duties from Washington DC, he has several other offices located throughout the state of Texas. All of the locations provide the same quality of service, so we recommend choosing whichever location is closest to you:
Place
Address & Phone Number
Central Texas
300 E 8th

Suite 961

Austin, TX 78701

Phone: (512) 916-5834

North Texas
Lee Park Tower II

3626 N. Hall St.

Suite 410

Dallas, TX 75219

Phone: (214) 599-8749

Southeast Texas
The Mickey Leland

Federal Building

1919 Smith St.

Suite 9047

Houston, TX 77002

Phone: (713) 718-3057

South/Central Texas
9901 IH-10W

Suite 950

San Antonio, TX 78230

Phone: (210) 340-2885

East Texas
305 S. Broadway

Suite 501

Tyler, TX 75702

Phone: (903) 593-5130

South Texas
200 S. 10th St

Suite 1603

McAllen, TX 78501

Phone: (956) 686-7339
Is Senator Ted Cruz Active on Social Media?
The Senator of Texas is active on various social media platforms, including Twitter, Facebook and Instagram. Although these platforms are not the best place to message or contact Senator Cruz, they are great for staying up to date with all the news on the state of Texas.
By following his social media accounts you can see the latest legislative decisions being made by the Senator, and stay informed about upcoming political events in your city/town.
You can follow Senator Cruz on any of the following accounts:
Why Contacting Senator Cruz Might Be Tricky: Phone Calls Vs. Writing an Email
Why calling gets you nowhere
Although at first instance a phone call might seem like a good idea, it's actually not as effective as you might imagine. The phone lines for Senator Cruz's offices are often very busy, so it can take a long time to get a hold of his staff.
Explaining the details of your case in the span of a single phone call can also be stressful, and you might forget to mention something important in the process. Lastly, there is no way to confirm that your message will be passed on to the senator accurately.
Writing the perfect email can be a challenge
Any email you send to a government representative should be formal and well structured, particularly because this helps your chances of being taken seriously. If you're writing about an issue related to a federal agency, for example, you have to be sure to use the correct terminology.
Making sure you express your point in a convincing way can be intimidating, and it can also take time to get your thoughts in order.
The good news is that DoNotPay can help you with writing the perfect email to your senator!
How Can DoNotPay Help You Contact Senator Cruz Faster?
DoNotPay can help you send a letter to any government representative quickly and effectively. Whether it's a state representative, your Mayor, Senator, or even the president, by answering a few questions and providing the details of your case, DoNotPay can help write the perfect email on your behalf.
Here's how it works:
1. Search the words "Contact Representative" or "Legislator" on and select the Contact Your Government Representative product.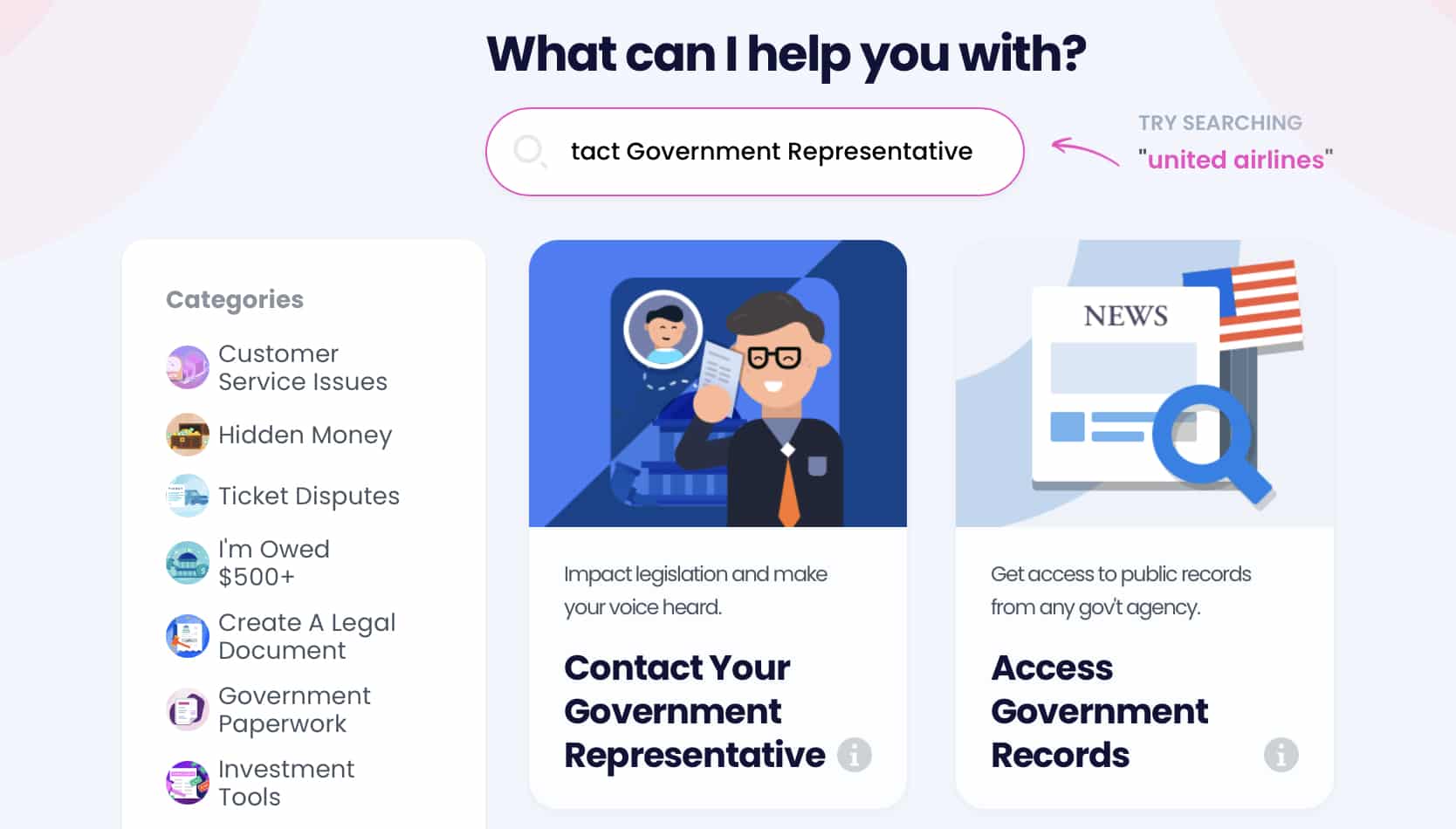 2. Select which representative you wish to contact, your Senator, Governor, President, Mayor, or House Representative.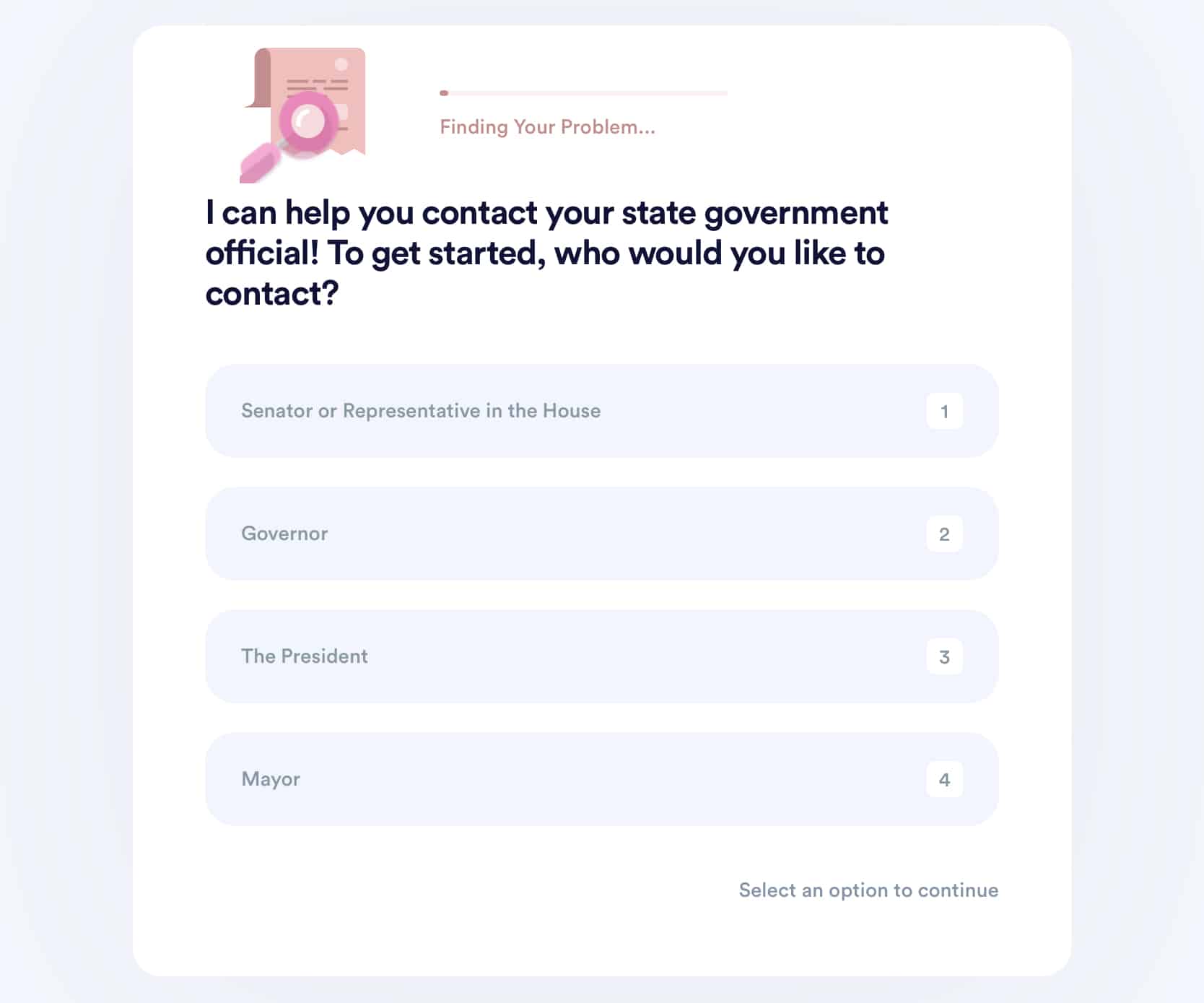 3. Briefly explain the issues you want to get across to them, or whatever bill you're concerned about. Give us details about your position and what action you wish for them to take.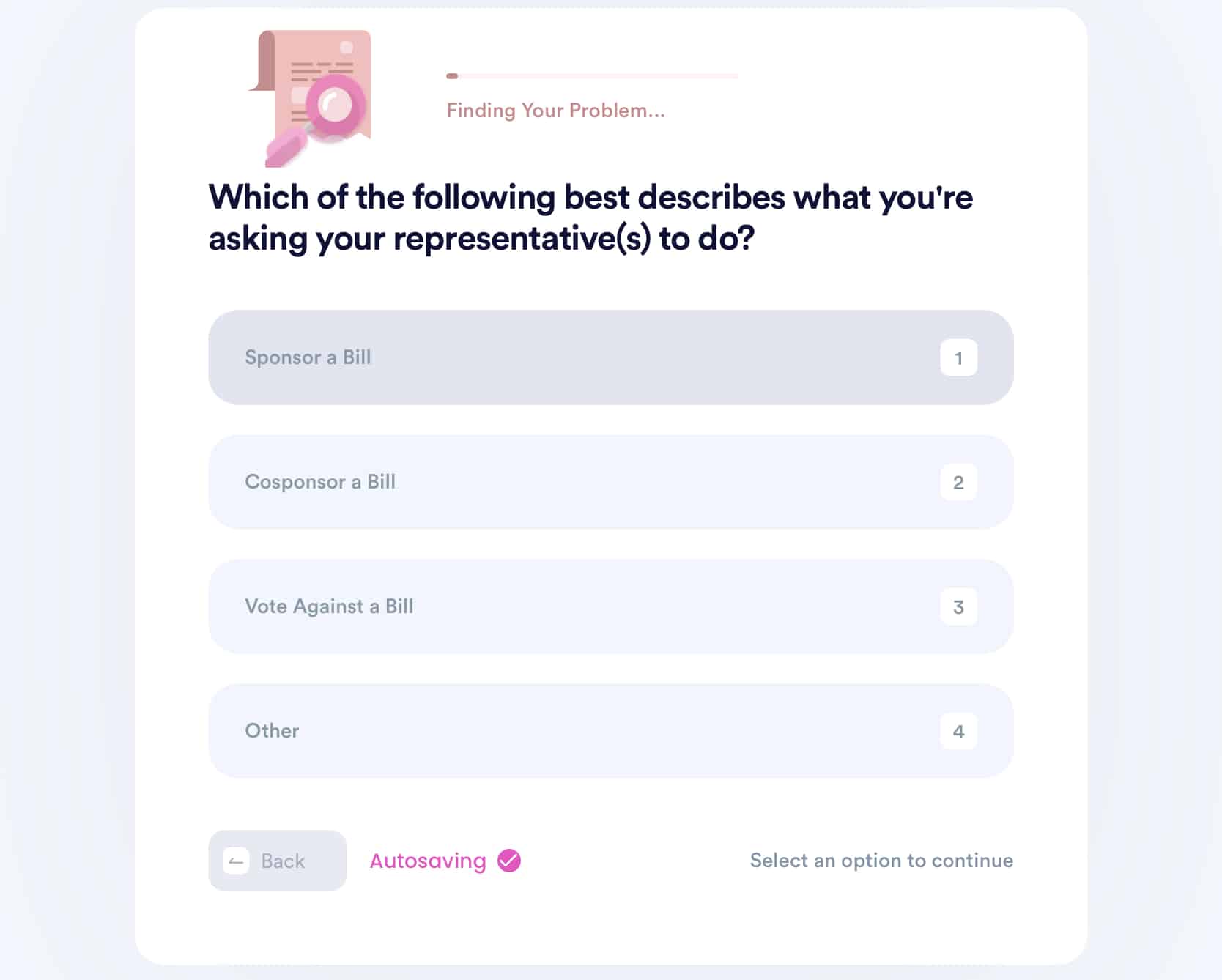 4. You're done! All you have to do is sit and relax while our bots create the perfect email. They'll fill out all the necessary forms on your legislator's website on your behalf.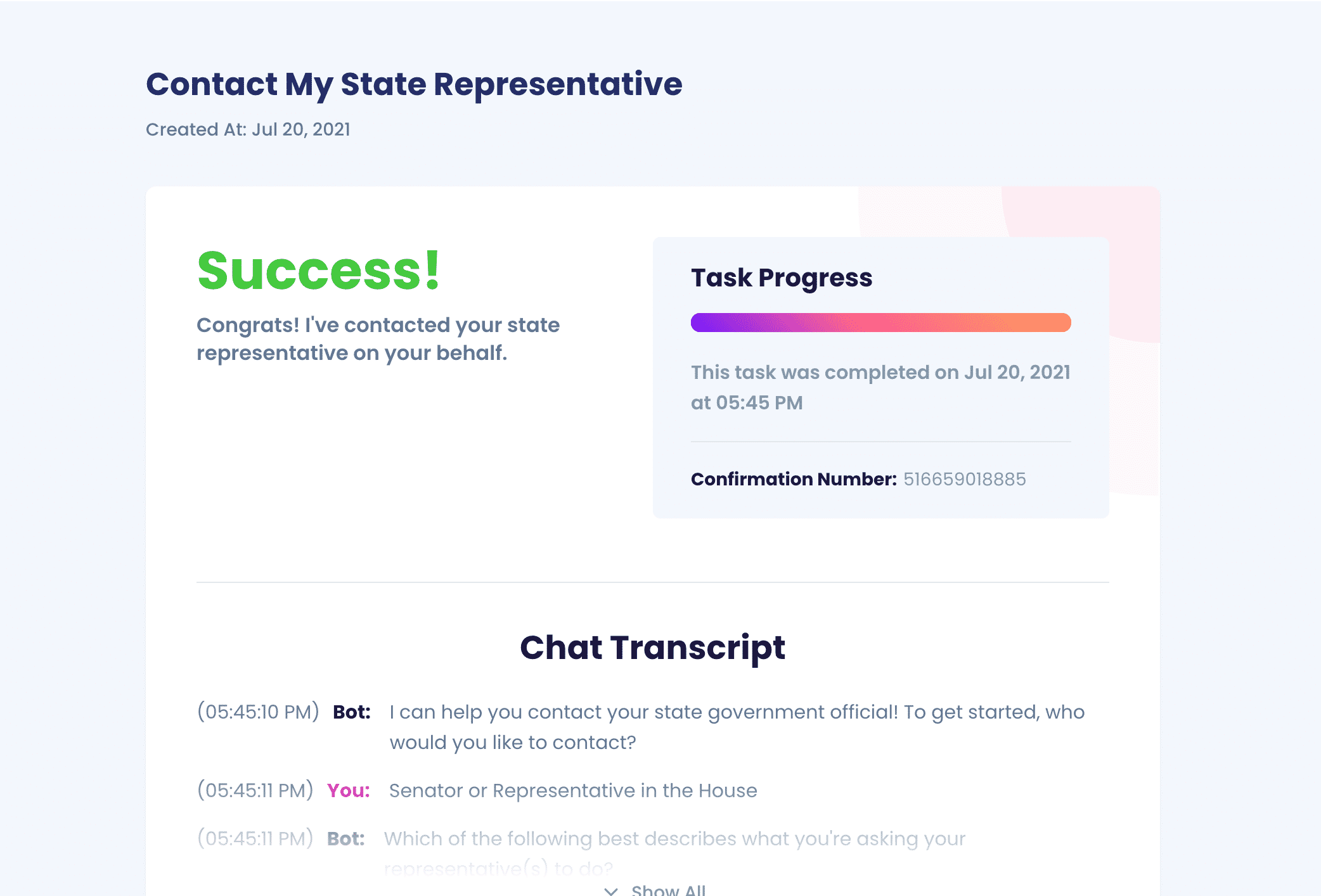 DoNotPay Can Help You With: