Contact Senator Lisa Murkowski with Ease
Being able to reach a government representative is fundamental in any democratic society. Contacting senator Lisa Murkowski will allow your voice to be heard and your thoughts and opinions on matters concerning the nation to be communicated.
The following article is a guide of how you can contact Senator Lisa Murkowski, and it will introduce you to , a reliable service that can contact U.S. government representatives on your behalf.
The main ways you can reach a senator, or any other government representative, are:
Visiting an office location
Contacting phone numbers
Through fax
By email
Contact forms found on his or her website
How to Contact Senator Lisa Murkowski
Senator Lisa Murkowski has seven different office locations, six of which are located in Alaska, and one in the Senate Office Building in Washington DC. Here is the address, phone number, and fax of each office location that you can reach the senator through:
Anchorage, Alaska: 510 L Street Suite 600 Anchorage, AK 99501, Phone Number: (907) 271-3735, Fax: (877) 857-0322
Fairbanks, Alaska: Courthouse Square 250 Cushman Avenue, Suite 2D Fairbanks, AK 99701, Phone Number: (907) 456-0233, Fax: (877) 857-0322
Juneau, Alaska: 800 Glacier Ave Suite 101 Juneau, AK 99801, Phone Number: (907) 586-7277, Fax: (877) 857-0322
Mat-Su Valley, Alaska: 851 E. WestPoint Drive Suite 307 Wasilla, AK 99654, Phone Number: (907) 376-7665, Fax: (877) 857-0322
Soldotna, Alaska: 44539 Sterling Highway, Suite 203, Soldotna, Alaska 99669, Phone Number: (907) 262-4220, Fax: (877) 857-0322
Ketchikan, Alaska: 1900 First Avenue Suite 225 Ketchikan, AK 99901, Phone Number: (907) 225-6880, Fax:(877) 857-0322
Washington, D.C.: 522 Hart Senate Office Building Washington, DC 20510, Phone: (202)-224-6665, Fax: (202)-224-5301
The following table offers an overview of the main ways you can reach Senator Murkowski:
State
Alaska
Political Party
Republican
Entered Office
20th of December 2002
Term Expires
3rd of January 2023
Main Mailing Address
522 Hart Senate Office Building

Washington, DC 20510

Main Phone Number
(202)-224-6665
Email Address
To send the senator an email, fill out the form here.
Website
http://www.murkowski.senate.gov/

Social Media
Services Offered by the Offices of Senator Lisa Murkowski
Get help with a Federal Agency
Flag Requests
D.C. Tour Requests
Federal Grants
Flag requests
Employment opportunities
Student Services
Share Your Opinion with Senator Lisa Murkowski
Senator Lisa Murkowski encourages residents of Alaska, and other states, to contact her to discuss certain issues regarding legislation and other matters of the nation. Her office is always open to those who wish to share their thoughts and opinions with her. The following list includes some topics that you can discuss with the senator:
Agriculture
Alaska Native Issues
Arts
Banking
Budget
Climate Change
Coast Guard
Communications
Defense
Economy
Education
Energy
Environment
Fisheries
Foreign Affairs
Forestry
Government Affairs
Homeland Security
Health
Housing
Immigration
Impeachment
Iraq
Judicial issues
Labor
Maritime Issues
Military
Mining
Post Office
Public Lands
Public Works
Science and Technology
Second Amendment Issues
Sequestration
Small Business
Social Issues
Social Security
Taxes
Trade
Transportation
Veterans
Welfare
Wildlife
Why It Can Be Difficult to Reach Senator Lisa Murkowski on Your Own
Many find it difficult to contact a government representative. Calling a senator is not recommended even if you follow a script because you will still suffer the long wait times. Writing an email is intimidating as it must be professionally presented, otherwise you risk that it will not be taken seriously.
DoNotPay helps millions of Americans voice their opinions to government representatives, without making them suffer through extended wait times and processing delays.
Let DoNotPay Contact United States Senator Lisa Murkowski for You!
DoNotPay can contact any representative of the United States government on your behalf in minutes! All you have to do is follow these simple steps:
1. Search "Contact Representative" on and select the product.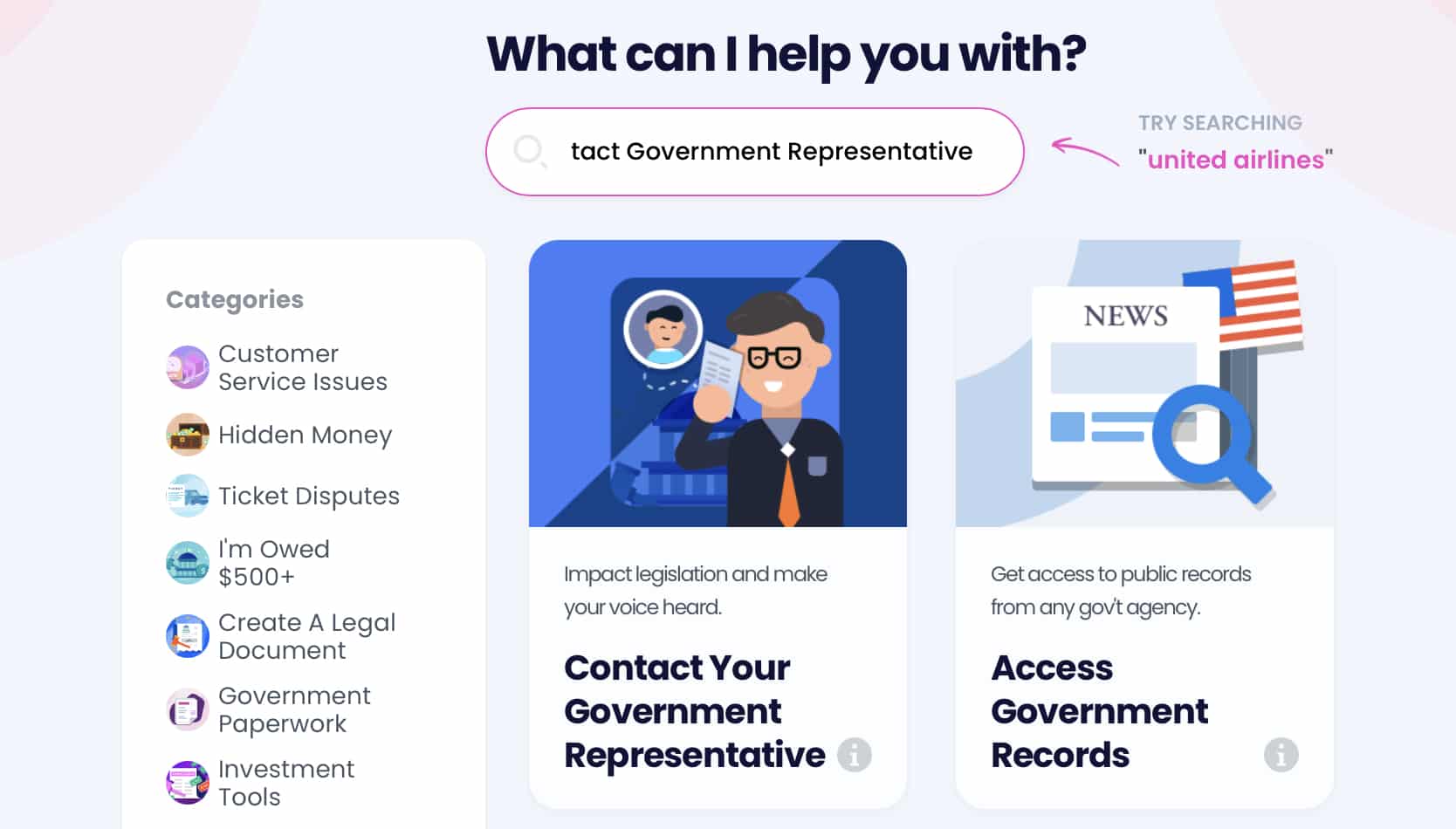 2. Choose whether you want to contact your Senator, House Representative, Governor, President, or Mayor.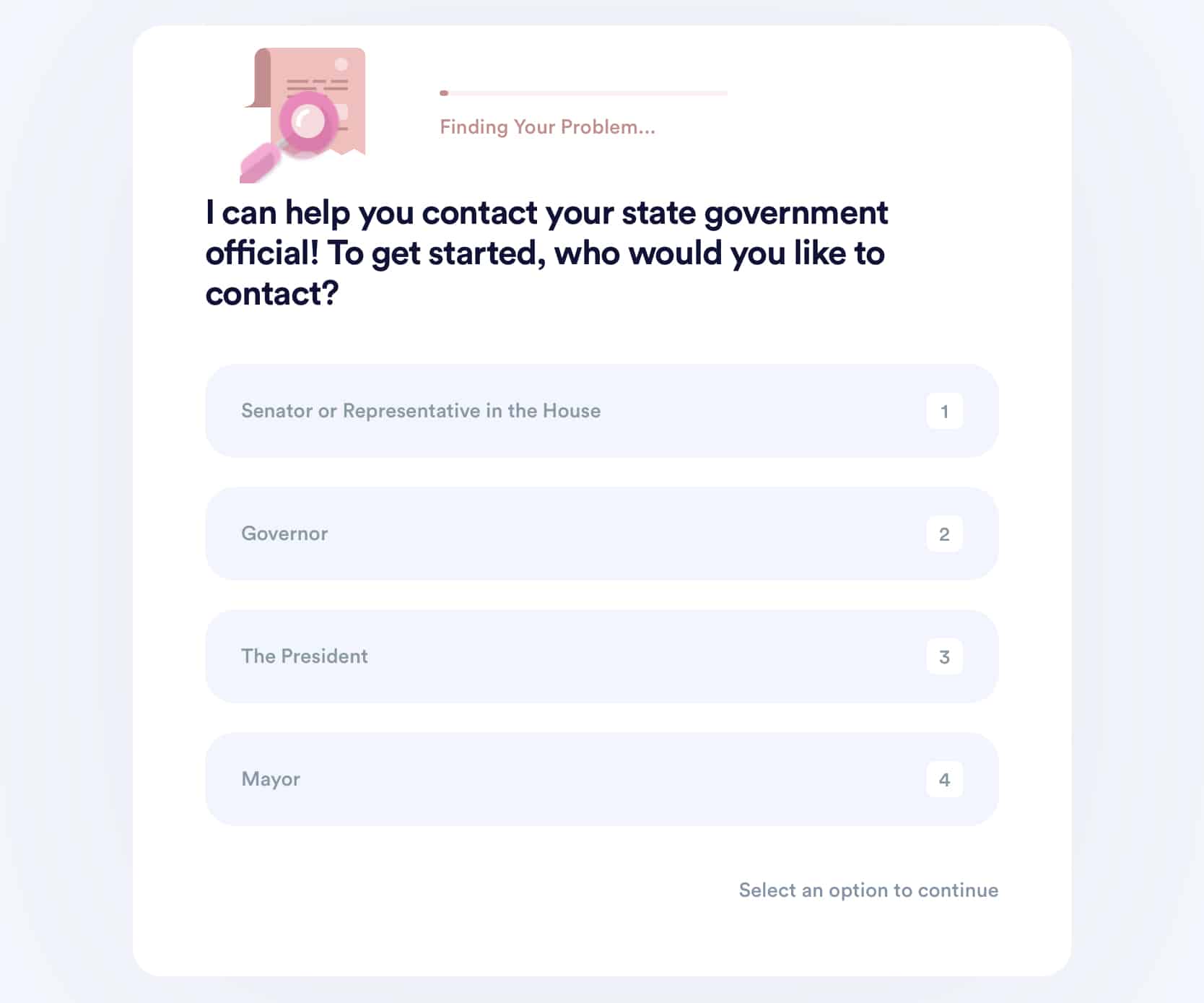 3. Tell us why you're contacting your representative, which bill or issue you're concerned about, and what you're urging the representative to do.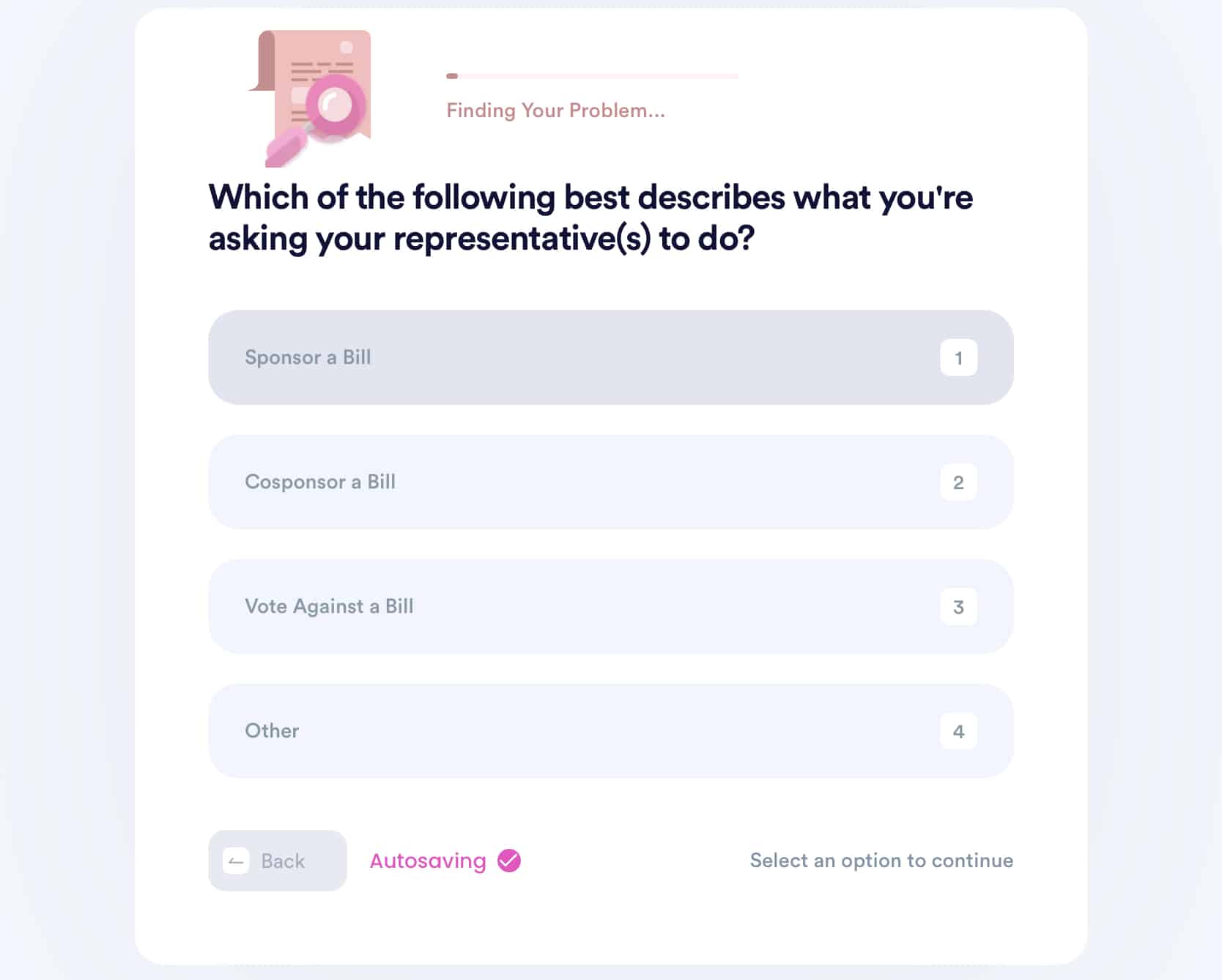 DoNotPay will process your request and send it to your government representative!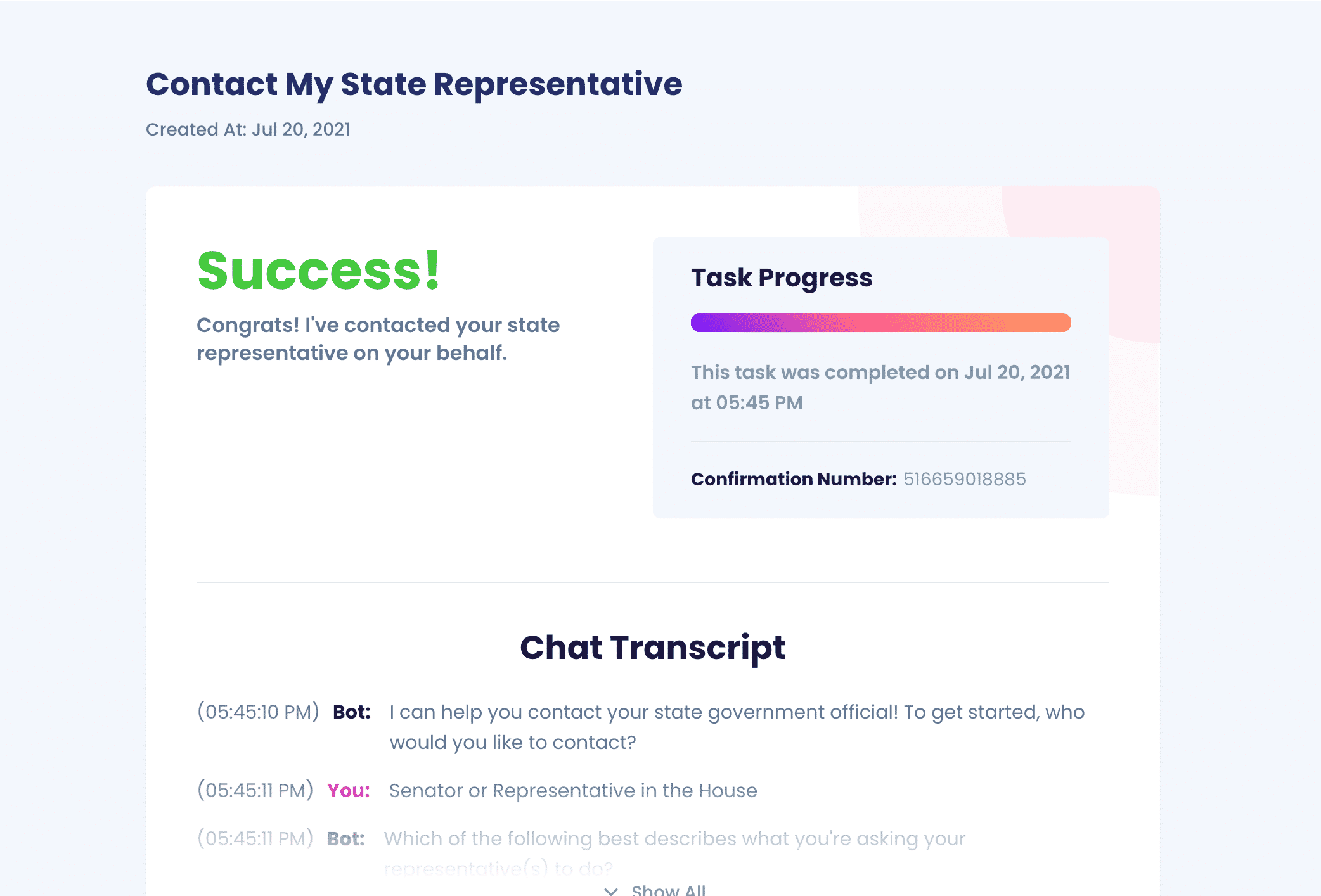 DoNotPay Can Help You with More