Filing a Chicago Police FOIA Request Is Easier With DoNotPay
The Freedom of Information Act (FOIA) is a 1966 law that allows anyone to access the information that the government agencies hold. When you want to access police reports in Chicago, you need to file a Chicago Police FOIA request. The process of filing a FOIA request with the Chicago Police is complicated because they don't offer you the option to fill out FOIA forms online.
If you want to file a FOIA request with Chicago Police but would like to do it online and avoid the bureaucratic hurdle, DoNotPay is the way.
How To File a Chicago Police FOIA Request
by Yourself
You can only submit a Chicago Police FOIA request in writing. Before you start writing your FOIA request, you'll need to determine which department holds the information you're requesting. 
Since every police agency—there are many—has a separate department, this might be a lot of work. Locating the agency is essential because you need to include thorough information about the records in your FOIA request. The agency isn't obligated to do the research for you.
Other mandatory information you need to provide in your request is your:
Full name

Contact details

Mailing address
After you do your research, you can start filling out the FOIA request. Follow the instructions below to submit your request:
Download the Chicago FOIA

request form

or use another

template

Write your personal information

Provide a thorough description of the documents you want

Fill out only the

Requester

part of the request form (if you're using the Chicago Police one)

Send your request to Chicago Police
There are four ways you can submit your FOIA request:
Submit FOIA Request Via
Details

Email

Email address:

Mail

Mailing address:

Chicago Police Department

Attn: Freedom of Information Officer

Freedom of Information Section, Unit 114

3510 S. Michigan Ave.

Chicago, IL 60653

In Person

Physical address:

3510 S. Michigan Ave.

Working hours:

Monday–Friday, from 8:30 a.m. to 3:30 p.m. 

Facsimile

Fax number:

312-745-6948
Keep in mind that since FOIA requests are public information, they will be posted online. The agency will reveal your name and information about the request on the City's website. You can't appeal to this, unfortunately.
How To Check a FOIA Request
To check FOIA status, you may call the Police Department section for Freedom of Information. The number is 312-745-5308.
Does Chicago Police Department Charge Fees?
In theory, FOIA requests are supposed to be free, but every agency has its rules about FOIA fees. Chicago Police charges for reproducing and certifying public records, but they don't charge fees for copying. The copies of the first 50 pages of letter- or legal-sized copies in black and white are free.
What Are the Chicago Police FOIA Exemptions?
There are nine FOIA exemptions, and they apply to the Illinois FOIA. Requesters won't gain information if the records could disclose:
Information harmful to national security

Data about internal personnel rules and practices of an agency

Information that another federal law prohibits from disclosure

Commercial or financial information and trade secrets that are classified or privileged

Communications between agencies that are privileged

Anything that could invade and validate an individual's privacy

Data that are collected for law enforcement purposes which could risk someone's life or physical safety, disclose the identity of a confidential source, interfere with enforcement proceedings, constitute an unwarranted invasion or violation of personal privacy, violate someone's right to a fair trial or an impartial adjudication, or disclose techniques and procedures of investigations or prosecutions

Information that relates to supervision of financial institutions

Geological information on oil wells
How To File a Chicago Police FOIA Request With DoNotPay
DoNotPay enables you to file your FOIA request online. Our platform makes sure the process is swift, easy, and affordable while helping you avoid administrative difficulties. The most amazing part about DoNotPay is that we can help you file a FOIA request with both local and state agencies.
All you need to do is open our platform in any web browser and follow the instructions below to access it:
Open the

FOIA

feature and specify that you're requesting information from a

Local Agency

Type in the

Chicago Police Department

and description of the documents you seek

Indicate whether you qualify for a fee waiver or

expedited processing

Submit your request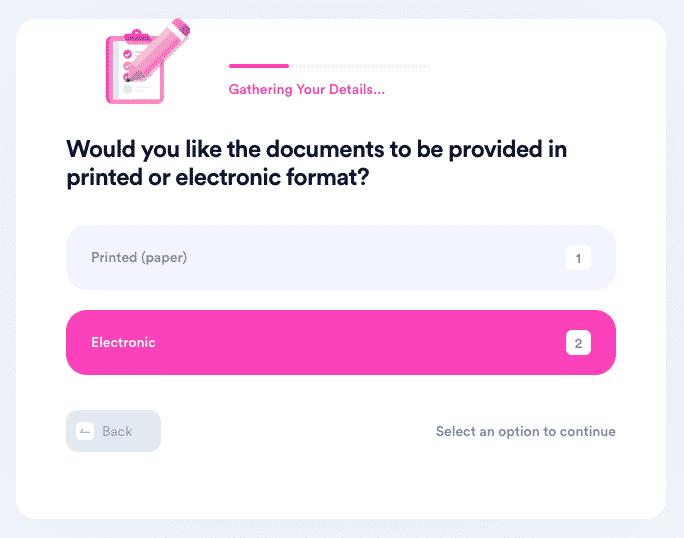 DoNotPay will create a request letter customized to the agency you're filing the request with. We will send it on your behalf.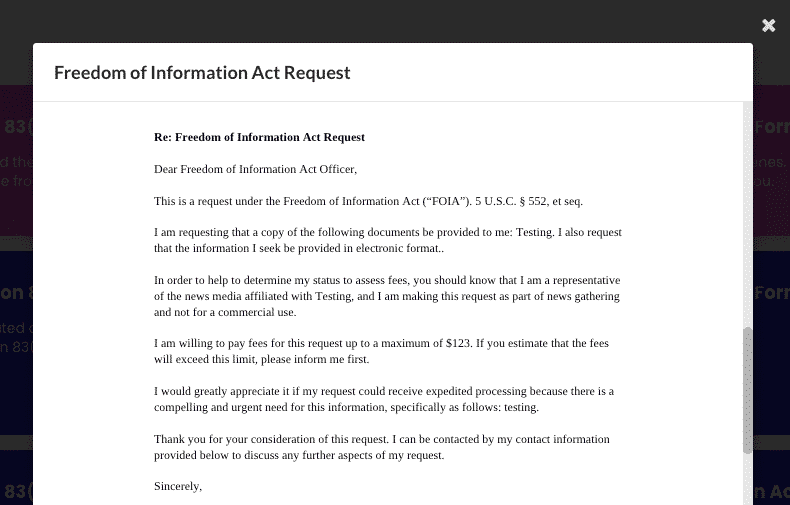 DoNotPay Can Help You File Other FOIA Requests
Our platform will help you file a FOIA request with any of the following agencies:
DoNotPay can also help you get your hands on military records.
Take Advantage of DoNotPay's Time-Saving Features!
DoNotPay comes with a wide array of useful features that will help you overcome any administrative issue in no time. As the world's first robot lawyer, DoNotPay can tackle just about any bureaucratic task that people dread.
You can do anything from reporting stalking and harassment, signing up for free trials, and scheduling a DMV appointment to jumping the customer service phone queue, dealing with high bills, and protecting your creative work from copyright infringement with our app's assistance.
If you want to connect with an inmate, sign up for a clinical trial, report spam emails, or sue any company or person in small claims court, you can count on DoNotPay to provide you with the necessary guidance.
Use Our App To Get Rid of Unwanted Admin Hurdles
Do you want to say goodbye to spam text messages or protect yourself from stalking and harassment? Are you looking for a way to end robocalls and earn off them? DoNotPay can help!
As soon as you sign up for our app, you'll be able to do anything from avoiding phone number verification with our handy burner numbers to acing government tests stress-free!