How To Cancel FastSpring Faster Than You Can Say Spring
Using FastSpring's services may have sounded like a good idea before you got to see how much the company charged you.
If you want to cancel FastSpring fast, DoNotPay has your back. Note that there is a difference between canceling and deactivating the service, which you are about to learn more about!
How To Deactivate FastSpring Subscriptions
In case you choose to cancel your subscription immediately in SpringBoard, it will be both canceled and deactivated. The deactivation occurs after the subscription period ends.
A deactivated subscription can't be reactivated after the fact. Note that this info only applies to FastSpring Classic, not FastSpring Docs. The latter is a newer, updated version of FastSpring.
How To Cancel FastSpring Docs
Canceling FastSpring Docs is simple—here is how to do it:
Use the

Cancel

option in the FastSpring app

Choose between deactivating in the next billing cycle and deactivating now

Select

Confirm
Additionally, you can un-cancel a subscription that hasn't been deactivated in the app.
How To
Cancel FastSpring on Your Own
Canceling FastSpring is easy, and it can be done in various ways:
| | |
| --- | --- |
| Can You Cancel With | Yes/No |
| DoNotPay | Yes |
| Email | Yes |
| Phone | Yes |
| Company Website | Yes |
| In Person | No |
Canceling FastSpring via Phone
One of the most convenient methods of canceling FastSpring is calling the company. You can dial 877-327-8914 and ask a customer service representative to cancel your subscription.
Canceling FastSpring via Email
Some people prefer the written method, and if you're one of them, you can cancel your FastSpring subscription by sending an email to the company's customer support team at support@fastspring.com.
Contact FastSpring via the Official Website and Cancel Your Subscription
If you want to cancel your subscription through the company website, you should go to its Contact page and select whether you want to get in touch with:
Seller support

Consumer support

The sales team
Once you connect with the chosen support team, ask them about your subscription cancellation.
Cancel FastSpring With the Help of DoNotPay

The easiest way to cancel any service is with the DoNotPay app, and all you need is a stable internet connection to complete the task. Here is how it works:
Search for

Find Hidden Money

Enter

FastSpring

as the service you wish to cancel

Wait for DoNotPay to send you a confirmation email
DoNotPay can save you a lot of money. All you need to do is connect your bank account or email address, and our app will find all the active subscriptions you have. Once the app presents you with the list, you can choose which services you wish to deactivate.
What Do FastSpring Charges Look Like on Your Credit Card Statement?
Any charges from FastSpring will be visible on your credit card statement. The codes may be confusing, so make sure to check out the table below for variations:
FASTSPRING, 8773278914

FASTSPRINGSOFTWARE.COM

FASTSPRINGSOFTWARE.COM CA

FASTSPRING COVENTRY

Payment to FastSpring

PAYPAL INST XFER FASTSPRING

FASTSPRINGSOFTWARE.COM CA DATE 02/25/18 24733348057017026178775 5734

PAYPAL INST XFER FASTSPRING WEB ID: PAYPALSI77

FASTSPRING 4029357733

FASTSPRING 4029357733 US

PAYPAL INST XFER FASTSPRING

FASTSPRING
Looking Up a Charge via the FastSpring Website
You can look up any charge from FastSpring directly on its website.
Having the receipt email of the purchase would be helpful because it contains info such as the charge date, amount, currency, and payment method.
With this info, you can search for the charge manually on the FastSpring website. You will also need to complete a Captcha to confirm you're not a robot.
Has FastSpring Wronged You? Sue It in Small Claims Court!
Sometimes, companies are difficult, and there's no reasoning with them. You'd be surprised how many people give up instantly when they should sue. These people haven't heard of DoNotPay—the world's first robot lawyer—but you're in luck. You are one step closer to suing FastSpring after you for a DoNotPay account.
If you want to sue FastSpring in small claims court, DoNotPay will help you by:
Writing a demand letter

Filling out the required court forms

Filing your complaint against FastSpring

Strengthening your case
DoNotPay's Virtual Credit Card Cancels Free Trials for You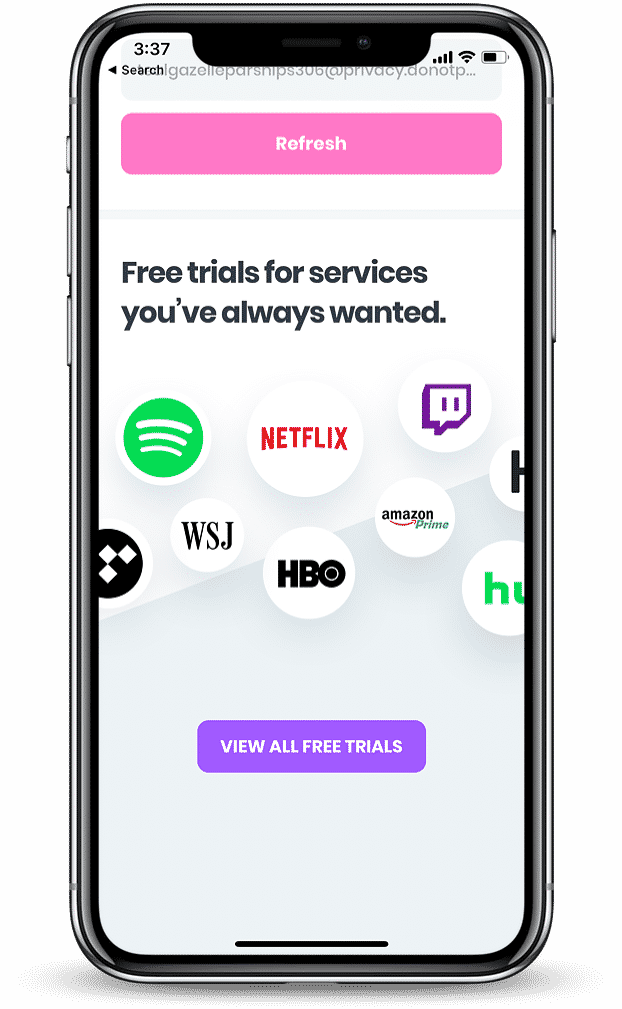 If you're prone to forgetting about canceling free trials before they turn into subscriptions, DoNotPay has a solution. Besides its many other useful services, our app lets you cancel any free trial with its virtual credit card.
It has a randomly generated credit card number that looks real to the service provider, which is why all companies accept it. What service providers don't know is that the card has no funds, meaning that they won't be able to auto-renew your free trial into a paid subscription. Once they realize that they can't take your money, they will cancel the service in your stead!
Check out any of the following to see how our virtual credit card can help you sign up for free trials completely risk-free:
No More Risky Free Trials With DoNotPay
Do you love free trials but tend to forget to cancel your subscription before the trial ends? If this is the case, check out DoNotPay's virtual credit card for a risk-free experience.
With our virtual credit card, you can sign up for any service without worrying about unwanted charges. DoNotPay will even provide you with a random email address, which will help keep your inbox clean from spammy emails from the company.
Our app can also get in touch with the company's customer service, request a refund from them, or even escalate your issue to small claims court if the company is challenging to communicate with.
DoNotPay Is an Ultimate Money-Saving Assistant
Our app can help you manage bills that are too high to pay, but there are plenty of other money-saving possibilities out there we can help you with.
Want to challenge a parking ticket? DoNotPay can dispute parking citations in any city! Is someone getting revenue from your creative work? Cut the thieves off with DoNotPay!
We can also help you get your college application fees waived, file any insurance or warranty claims, locate unclaimed funds in your name, or earn some extra cash from paid clinical trials in your area.