Can You Get a Ticket in a Private Parking Lot

Getting a car parking ticket is a disappointing and stressful situation. It is occasionally difficult to discern if a parking ticket in a private lot is valid or not. may help you identify whether or not your ticket can be disputed! For further details, read below:
What Constitutes a Parking Violation?
Simple parking fees are considered violations, but are not prosecuted as civil proceedings. Traffic offenses may be classified into a variety of categories according to their severity:
Crimes and offenses are classified as crimes.

Driving crime is categorized differently in some states, and the rules controlling it are also varied.

Traffic offenses are usually categorized and punished in line with the rules of the specific jurisdiction, the offender's past convictions, whether or not the offense resulted in injuries, deaths or property damages.
Can I Get a Ticket From a Private Parking Lot?
Just as governments can issue parking violations, private parking lots can as well. Since private parking lots require a fee or some sort of payment to have you park, it will be held against you if you park without paying. Private parking lots are also run by a business, therefore, receiving the services rendered (parking) without paying constitutes theft and can result in a ticket being issued. Usually, you will just see a ticket on your windshield or a ticket in the mail if you get a ticket from a private parking lot. If you get one at the scene, make sure you take note of the parking lot's business name. However, the most common punishment for parking without paying is getting your vehicle towed at the owner's expense. Getting your car towed and recovering it costs much more than an average parking ticket. An average parking ticket ranges from $30-$60 while the average to retrieve your vehicle from a tow yard in California is around a staggering $500.
How Can I Make Sure the Ticket is Legit?
There have been many instances of parking ticket scams all over the world. If you are ever unsure of the ticket's legitimacy, here are some tips on how to differentiate a real versus a fake ticket:
Determine if you parked in an area that is definitely and undeniably a legal parking spot

Take a photo of your parked car for future reference

Look up how to pay the ticket online and see if the website looks legitimate

City issued tickets at most times can be paid by a check. If the ticket issuer only accepts credit cards, it's time to do some more research

See if there is a customer service line or email you can contact, preferably the first option.

Look up your ticket name on a search engine. Many people will turn online to vent out their frustrations about a parking ticket scam. This is a great way to figure out if the ticket is real.
Private Parking Lot Tickets You Don't Need to Pay
You especially can't ignore tickets that have been issued by the police or city. You don't need to pay private parking lot tickets if the vehicle was parked in a private property owner's property and they themselves issued the ticket. They would need to notify local law enforcement and the officers would need to issue the ticket to make it legitimate.
This also goes for parking in a Walmart or CVS lot. A Walmart employee cannot issue a ticket - only the police or traffic enforcement agency can. You also do not need to pay parking tickets that are fraudulent.
Other Parking Options For You
Before you park in a private parking lot, ask yourself, are there any other parking options? Try street parking or parking in a free parking lot before paying extra. If you aren't in a rush, look around to see if you can bag free parking!
Dispute Your Ticket Instantly with DoNotPay!
You may follow this method to contest any ticket in any state to ensure a straightforward dispute and appeal procedure. DoNotPay will create an appeal letter for you backed up with relevant state laws. Here's how you can do it:
Log-in to

and create an account

Give us some information about your ticket

Citation number, what's wrong with it, and your statement

Upload photo proof
Tell us which state you got the ticket in

Choose to have DoNotPay send the letter or mail it yourself
This is so straightforward! An automatic letter will be created for you in seconds! See whether you have won your traffic ticket appeal by checking your mail!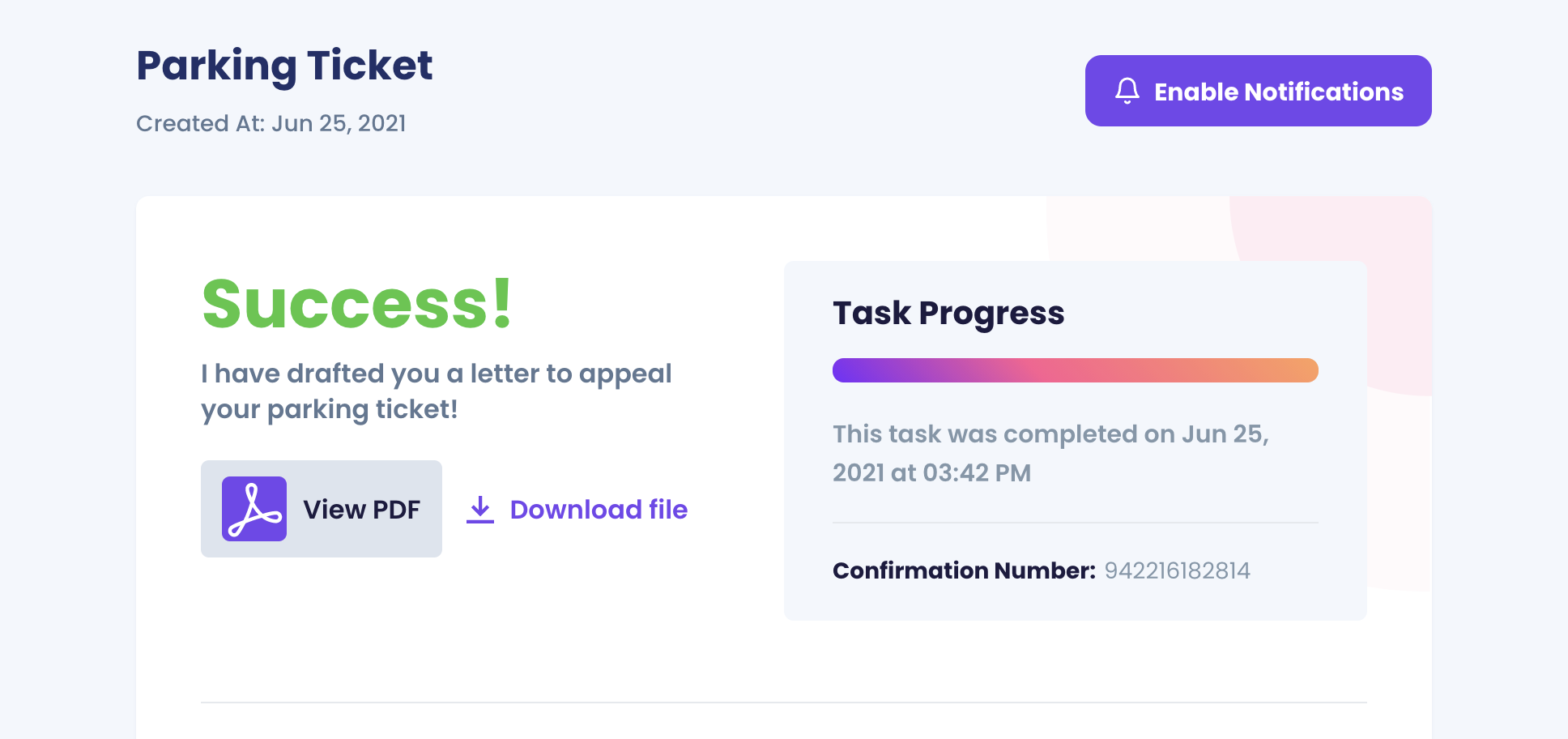 Summary
Can I get a ticket in a private parking lot?

It depends. If the parking lot requires a fee to park and you didn't pay, you can get a privately issued ticket or get your vehicle towed.

You can't get a ticket from a private lot that does not require a fee to park.

Is my ticket a scam?

Use our best practices and tips to see whether you are liable to pay a ticket!

Can I appeal for parking tickets from private companies?

Yes! You can use DoNotPay to do so!

Can DoNotPay help appeal any parking ticket?

Yes! DoNotPay can help contest all parking tickets, even from privately owned companies.
What Else Can DoNotPay Do For Me?