How To Get an AMC Ticket Refund in Under Two Minutes
AMC is an American chain of movie theaters. In 2020, the company owned around 380 theaters around the United States. AMC serves over 200 million customers a year, but there are many who are left unsatisfied with the service or cannot make it to the show and wish to get their money back. DoNotPay offers a way to request an AMC ticket refund without too much struggle.
How to Request an AMC Ticket Refund With DoNotPay

We offer you the easiest way to request a refund, and it will only take a minute of your time. You can do all of this from your PC or your iPhone. Requesting a refund has never been this easy — all you have to do is:
Open DoNotPay in your

Click on File a Chargeback

Provide your full name

Put in your bank information

Request DoNotPay to send an email to AMC for you
Leave the rest to us. All you need to do is wait for our team of experts to get in touch with AMC Customer Support and request a refund for your tickets. You will receive a confirmation email from us as soon as the refund request has been sent.
Can I Request an AMC Ticket Refund On My Own?
Yes, you can apply for an AMC ticket refund on your own, but the process can be a bit complicated and could last longer than expected. This is why DoNotPay is the best choice. If you want to do this on your own you can do it:
How to Request an AMC Ticket Refund Online
If you bought a ticket online and you are not going to make it to the show or have changed your mind, you can request a refund by:
Going to AMC website

Clicking on Request Refund

Providing your Order number

Putting in your email

Clicking Search

Requesting a refund after your order is found
The website can be a bit slow sometimes and can make your refund requesting process even worse.
How to Request an AMC Ticket Refund in Person
Requesting an AMC ticket refund in person can rarely be a pleasant experience. Customer service can be very unprofessional, which is why DoNotPay offers you a way around that. If you are requesting an AMC ticket refund in person, you need to:
Go to your nearest AMC theater

Provide a printed ticket

Ask for the manager if the worker at the stand is not allowed to refund your ticket

Provide the tickets to the manager and ask for a refund
If you want any additional information, you can call AMC Guest Service at 1-888-562-4262. If you are tired of waiting on hold when calling customer service, DoNotPay can do that for you. With DoNotPay hacks, you can jump any phone queue when reaching out to any companies' reps.
| | |
| --- | --- |
| Can I Request an AMC Ticket Refund By | Yes/No |
| DoNotPay | Yes |
| Online | Yes |
| Phone | No |
| In Person | Yes |
| Letter | No |
What Is AMC Refund Policy?
AMC is strict when it comes to their refund policy. It has not changed much over the years, and it applies to both tickets bought online and at the booth. All tickets need to be refunded at least 30 minutes before the start of the movie — otherwise, your refund will not be accepted. This rule also applies to the food and beverage bought online.
How Do I Know if I Am Eligible for a Refund?
The rules are simple. You are eligible for a refund if you:
Have not used your ticket

Asked for a refund at least 30 minutes before the start of the show
Issues You Might Encounter
AMC is a big company, and the rules do not always apply to everyone the same. One Reddit user wrote in his post that he did not find an empty seat for the show he paid for, and AMC did not want to give him his money back or exchange his ticket for another show.
He also said that he had asked for the manager and had called their customer service but did not manage to get a refund.
Can I Ask For A Refund if I Did Not Like the Movie?
No, you cannot. Whether you liked the movie or not, the fact remains that you used the ticket for that movie. AMC only accepts a refund at least 30 minutes before the show, so trying to refund your ticket after would be a waste of time.
How Long Will It Take to Get My Refund?
As soon as you start your refund process, it should not take more than an hour to get your money back. If you request a refund in person, you will receive your money on the spot.
Does AMC Have a Subscription?
Yes, it does. AMC offers the AMC Stubs Premium, which is their way of providing customers with some benefits for a monthly fee of $20, which is a bit too expensive. If you think that the $20 monthly fee is not worth it, you can cancel this subscription at any time, either by going to their web browser, calling their guest service, or just letting DoNotPay do that for you.
Check out what other features DoNotPay has and see how to cancel any service or subscription. If you are tired of your free trials getting auto-renewed into paid subscriptions, you can use the DoNotPay virtual credit card and eliminate the risk of being charged for something you don't use.
What Is the DoNotPay Virtual Credit Card?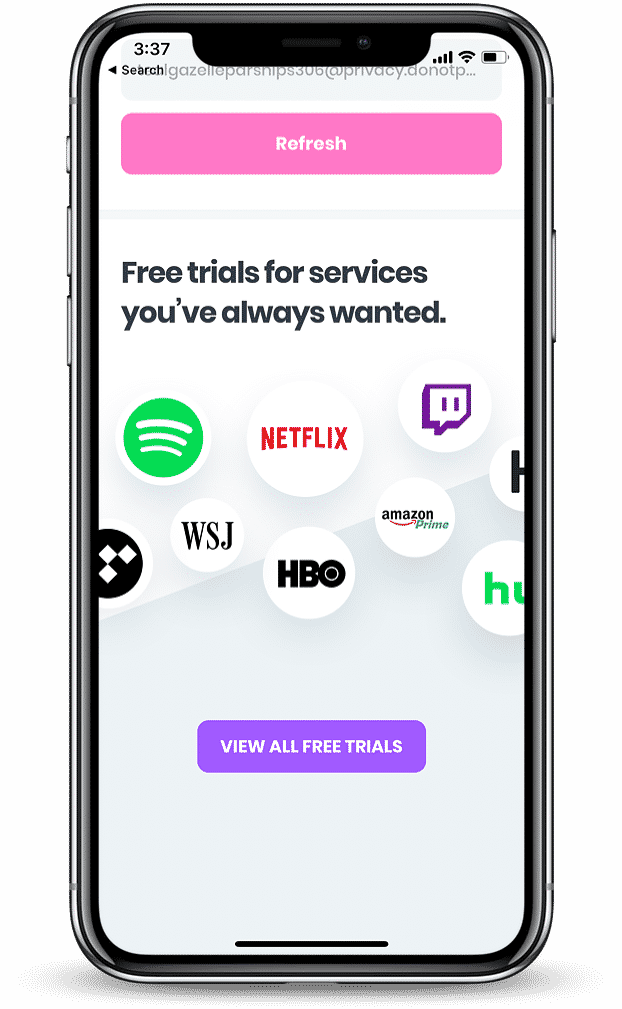 Do you get tired of free trials converting into paid memberships and you ending up paying for the services?
You are in luck because DoNotPay virtual credit card can help you with that. This virtual credit card can help you sign up for any free trial subscription without worrying about having to pay for it later. It generates a random number and acts as a real credit card, so when your free trial comes to an end, the virtual credit card disappears.
The good thing about this virtual credit card is that, to the company in question, it looks like a real credit card — so you can sign up for as many free trials as you want. This is a great way to save your money and never worry about companies converting your free trial membership into a paid one.
What Else Can DoNotPay Do For Me?

Are you having trouble with companies and their customer services? If you need to get in touch with them, cancel any subscriptions, or even file a complaint — DoNotPay is here for you. DoNotPay is a robot lawyer that can solve almost any problem for you. All you have to do is open DoNotPay in your and use any of our services for:
Helping you with speeding tickets

Dealing with traffic tickets