What Happens Behind WH Closed Doors? File a White House FOIA Request and Find Out!

The Freedom of Information Act (FOIA) is a 1966 federal law that allows anyone to gain access to government records. One would naturally wonder whether they can file a White House FOIA request or the presidential records are exempt from disclosure. We will cover everything you need to know about the White House FOIA requests, including how to file them in the most efficient way.
Our platform will help you file a FOIA request within minutes while making sure you've entered all the required information.
The White House Freedom of Information Act—Exemptions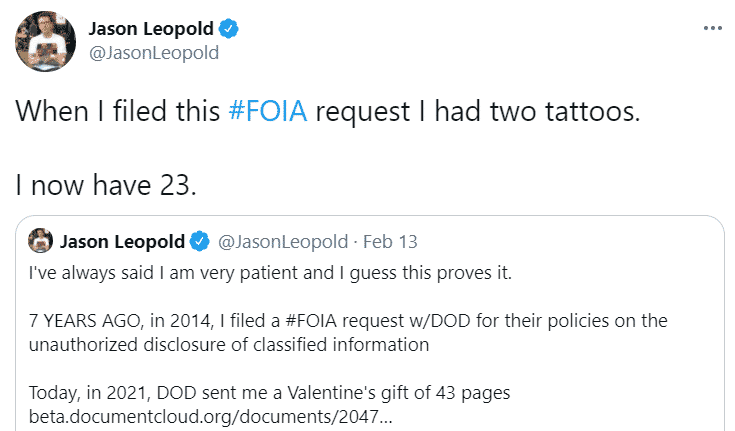 The president's records are exempt from disclosure, and they are protected under the Presidential Records Act. These files won't be available to the public even after the president leaves office. To find out more about the president's dealings, you'll need to wait five years.
The Executive Office of the President (EOP) has multiple entities that support the president's work. Some of their records are exempt from disclosure, while others aren't. In the table below, you'll find details about which offices are subject to the FOIA:
| | |
| --- | --- |
| EOP Entities Subject to the FOIA | EOP Entities Not Subject to the FOIA |
| | |
How To File a FOIA Request With the White House

The method of filing a FOIA request with the White House will depend on the office you're requesting records from. Since the White House is the most guarded place in the U.S., filing requests via email isn't exactly the fastest way. It's possible, but the processing of the request could take ages.
To file a FOIA request with the White House by yourself, follow the steps below:
Do the research on the records you want to request—they might already be posted on the website of the office or agency

Write a request letter that includes detailed and specific information about the record you're looking for

Include your name and contact information in the letter

Mail your request to the physical address of the office
If the office rejects your request, you can file an appeal. Keep in mind that you need to have a strong argument as to why you have the right to claim the information.
Some offices allow you to check the status of your FOIA request on their website, but in most cases, you'll have to contact them directly to find out more.
How To File a White House FOIA Request With DoNotPay

Since FOIA is an essential part of our democratic society, it is important that anyone has the chance to request information. You have the right to know whether the Federal Bureau of Investigation (FBI) is tracking your moves or your bank is involved in money laundering. DoNotPay is here to make that possible.
You can use our platform in any to file your FOIA request in the easiest way. Follow these steps to do so:
Search DoNotPay for

White House FOIA

Type in the name of the White House office you're requesting information from

Select the format you'd like to receive your files in

Provide a detailed description of the records or the document you want

Tell us if you want a

fee

waiver or

expedited processing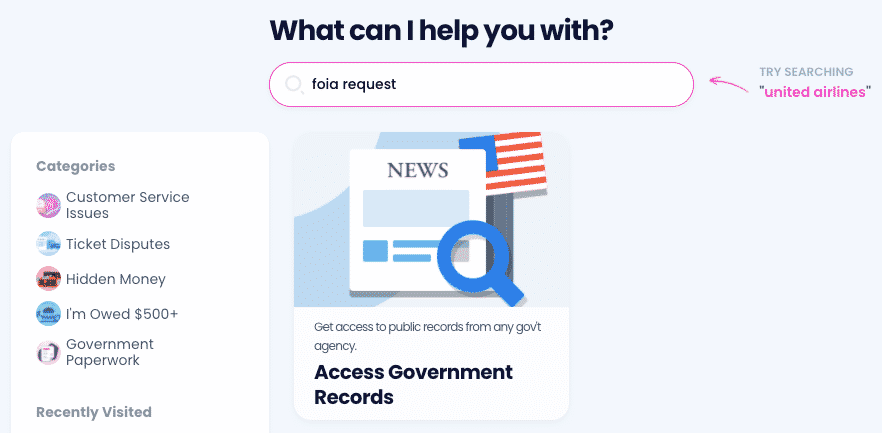 After you submit your request form, DoNotPay will create a request letter. We'll send it to your chosen White House office automatically. You can save this letter as a template or spare yourself the trouble and use DoNotPay for any future requests.
Are There Other Agencies DoNotPay Can Help With?
works with any state, local, or federal agency that is subject to the FOIA. You can also use DoNotPay to file a FOIA request in any state. With our platform, you can even file a FOIA request on yourself.
Check out the list below to find out the names of some of the agencies we can help you with:
Want To Avoid Tiresome Admin Processes? DoNotPay Will Handle Them
Applying for a clinical trial, free trial, copyright of your work, or any service without phone number verification is a time-consuming task many people want to avoid. Fortunately, such processes are DoNotPay's specialty.
If you feel like a company or individual has wronged you, you can sue them in small claims court. DoNotPay will handle the paperwork, and all you need to do is show up in court and win the case!
With our robot lawyer's help, you will also be able to deal with various credit card issues, deal with high bills you cannot pay, and appeal speeding, parking, and traffic tickets in no time.
Report Companies or Individuals That Won't Give You a Break
DoNotPay also makes it easy for you to report and earn off persistent robocalls, email spam, spam text messages, and stalkers and harassers.
Once you sign up for our handy app, you won't have to deal with any of these. We'll even make it easy for you to schedule a DMV appointment or jump the phone queue when getting in touch with any company's customer service!