How to Get a Utah Hunting License the Easy Way
Utah offers some of the most iconic hunting and fishing experiences in America. But first, you will need to apply for a Utah hunting license. More often than not, there will be more applicants than permits available for some species. You will, therefore, have to apply for permit drawings.
The application for hunting licenses is not complex. However, you need to have a great deal of information on which license to get and how. Furthermore, you will have to be vigilant so as to avoid hunting with an expired license. While the cost of applying for a Utah permit is quite economical, the fines will require you to dig much deeper into your pockets.
We want to make the application and renewal of your hunting license effortless and hands-off. Read on to see how DoNotPay does just that!
Who Is Eligible to Get a Hunting License?
Section 23 of the Utah State Legislation contains laws that pertain to wildlife resources. Both residents and non-residents can apply for Utah hunting licenses. However, the accociated fees will vary.
Persons aged 17 and younger are eligible to get hunting licenses provided that they have an adult above 21 years of age accompanying them. You are not required to obtain a hunting license if you hunt birds on a commercial hunting area that the owner or operator is authorized to propagate, keep, and release for shooting.
Utah licenses, permits, and tag restrictions are imposed on people who fail to honor their child support responsibilities.
Though all who hunt are required to have licenses, there are groups of people who are given special or reduced-fee permits, as will be discussed later on.
Hunting in Utah
Hunting in Utah will be a thrilling and unforgettable adventure thanks to its variety of animals and bountiful hunting sites.  The animals to hunt in Utah include elk, deer, waterfowl, wild turkeys, forest grouse, cougars, coyotes, jackrabbits, and black bears.
The aforementioned species and many more are found in the numerous hunting sites of Utah. Hunt coyotes in the West Desert, deer in San Rafael North, elk in Wasatch mountains, among many other species and locations.  The different species are hunted seasonally; hence a Utah wildlife calendar comes in handy in your planning. You may hunt in many places, save for national and state parks.
What Are the Different Types of Hunting Licenses?
The different permits vary depending on your residency status, age, special considerations, and the species you intend to hunt. They are as follows.
Combination license - This license allows you to hunt and fish.
Resident license - All residents of Utah qualify for this license. You become a Utah resident after living in the state for 12 months. This time is reduced to 60 days if you are a student studying full-time in a local institution or are a military officer actively serving in the state.
It is noteworthy that this license only covers small and upland game.
Non-resident license - Not a Utah resident but interested in hunting there? Then this is the license for you. Similarly, this license permits you only to hunt small and upland game.
Senior Hunting License - This license appreciates our senior citizens by offering subsidized hunting license fees. Nevertheless, you will need other permits to hunt big game.
Young Hunting License - For young people aged below 17 years, this license comes at a reduced fee.  Utah legislation stipulates that a child must be at least 12 years old to hunt big game, resident or not. Utah has a trial hunter program for kids. As we had mentioned, the child must be accompanied by an adult.
Disabled Veterans License - Utah has a fee-reduced license for disabled veterans. The veterans have to be residents of the state.
Hunting License Costs in Utah
Before setting out on your hunting trip, you must decide which license is appropriate for you and find out how much it will cost you. Below are the most common Utah hunting licenses and their applicable fees:
| | | |
| --- | --- | --- |
| Type of License | Resident | Non-Resident |
| Young Adult Hunting License (Below 18) | $11.00 - $16.00 | $29.00 |
| Hunting License (18-64 years) | $34.00 | $72.00 |
| Senior Hunting License | $25.00 | Not Available |
| Disabled Veteran License | $25.50 | Not Available |
| Combination License | $20.00 - $38.00 | $33.00 - $98.00 |
How to Apply for a Utah Hunting License by Yourself
When it comes to applying for a Utah hunting license, you have three options:
Buy the license in-person from delegated sales agents
Visit the Utah Division of Wildlife Resources website to purchase online.
Contact the relevant department via 1-800-221-0659.
Sit Back and Let DoNotPay Get You Your Utah Hunting License
DoNotPay may be the world's first robot lawyer, but it is actually way more than that.
Here's how you can use DoNotPay to get your hunting license in three easy steps:
1. Search "hunting license" on DoNotPay and select the state you would like a hunting license for.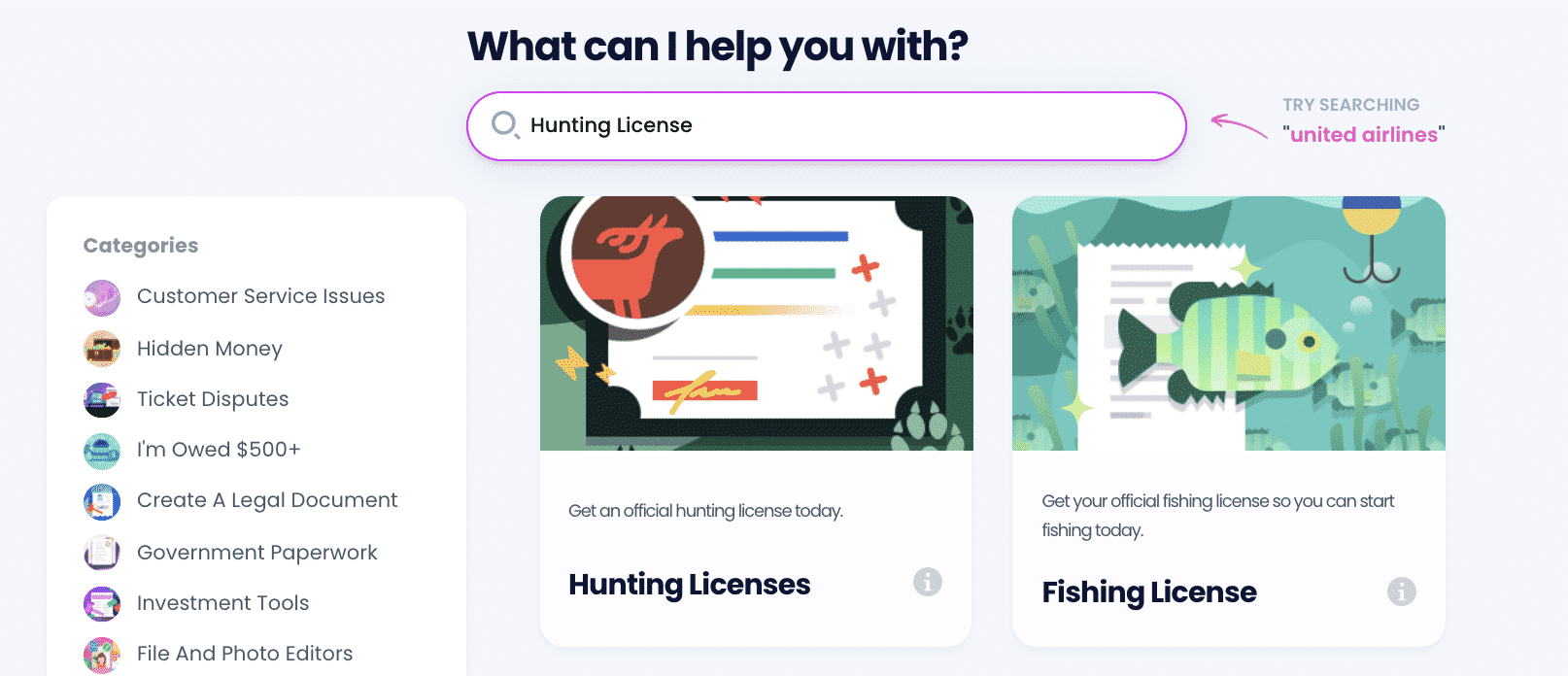 2. Indicate whether you are a resident or non-resident, and choose the type of license you want. For example, an annual or one-time pass, big game or small game license, bear tag, etc.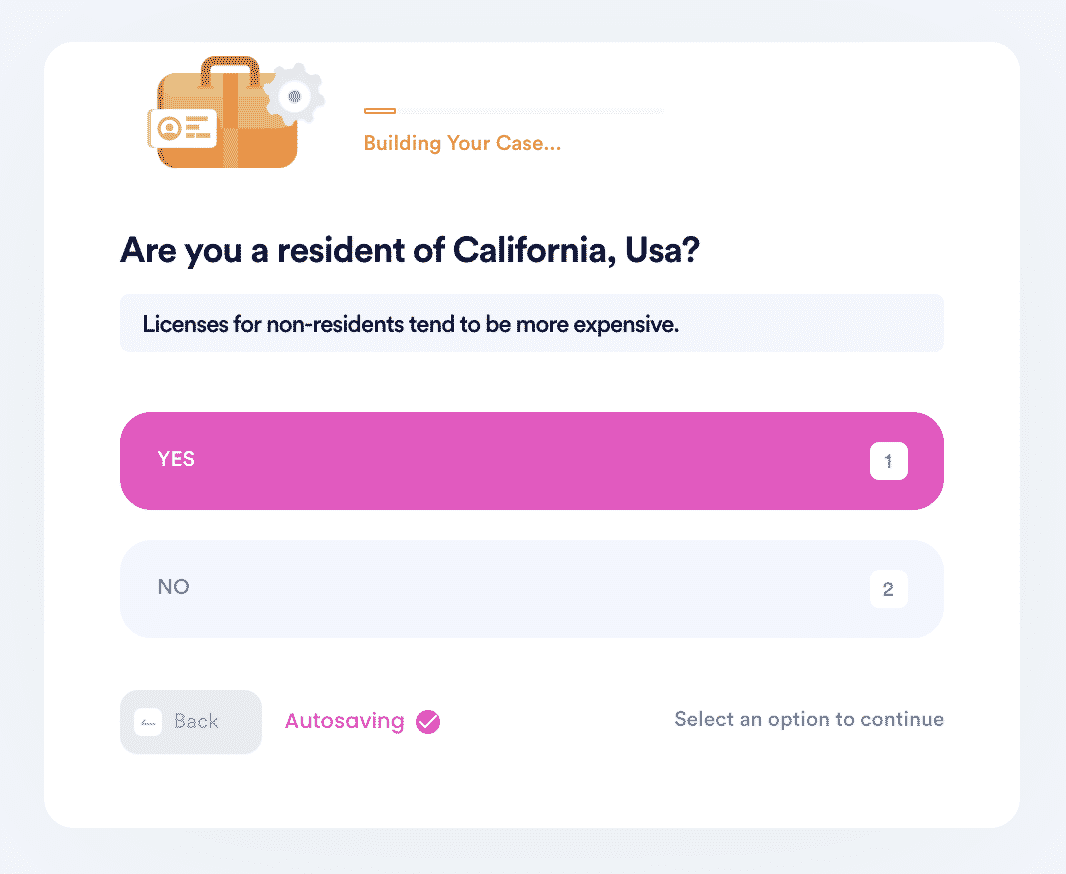 3. Provide your contact information, a copy of your government-issued ID, and pay the fee required by the state.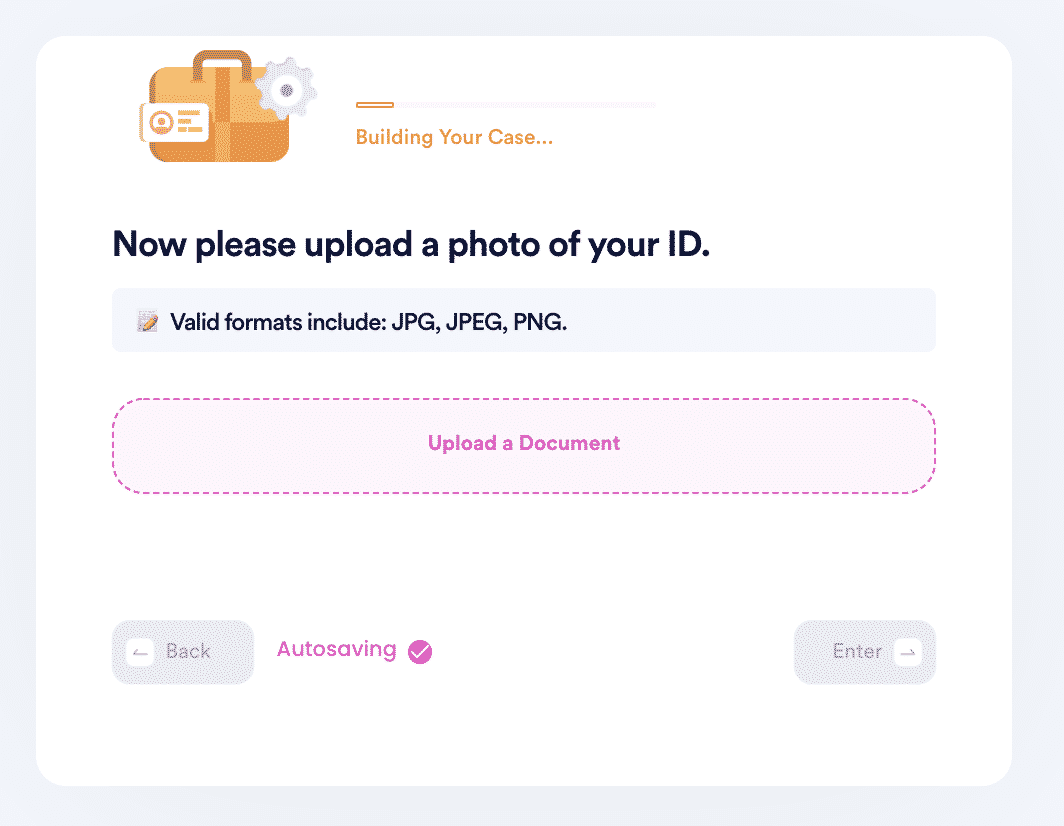 And just like that, DoNotPay will generate a valid Utah hunting license for you. If you are in immediate need of one, download and print the temporary license. Meanwhile, we'll process your physical copy and mail it to you.
What Else Can DoNotPay Do?
Not to brag but…DoNotPay is kind of becoming a Jack-of-all-trades. You see, we can help you with a myriad of everyday tasks that you'd be glad to be relieved of. Let's name a few:
Download DoNotPay today and witness how every task can be done with the help of an app.