How to Obtain an Alabama Hunting License Fast
Hunting has been a part of Alabama culture for decades. There are about 1.3 million acres of land in the state available to hunters, and there are 36 wildlife and management areas open to the public. Whether you're looking to hunt deer, turkey, quail, or waterfowl, you can find them all in Alabama! If you're new to hunting and want some tips on how to get started with your first license, this blog post will help answer any questions you have about getting an !
Purchasing a hunting license in Alabama is not that technical. Still, it can be a lengthy process that you can avoid by using automated, fast, and less frustrating ways like using DoNotPay. With DoNotPay, you can be able to buy your hunting license with minimal effort, just in the comfort of your home. All you have to do is follow the three simples steps outlined at the near end of this article.
Hunting in Alabama
Alabama is home to deer, turkey, quail, hogs, waterfowl, and more. If you're looking for a challenging hunt with plenty of games to be had, Alabama is the place to be! There are also ample opportunities for hunters of all skill levels - from beginner hunters looking to start their first hunt all the way up to experienced hunters who are planning on harvesting large games!
Alabama is also great for various landscapes that you will get to explore as you venture out into the great outdoors - from dense forests brimming with deer and turkey, beautiful piney woods to the open prairies and marshes of the Delta. You never know what you'll see while hunting in Alabama!
Some of the popular hunting seasons include:
Deer (archery season - October 15-Feb 10
muzzleloader season - November 15-30 and December 26-January 15
regular-season - January 16-February 28 and November 13-15)
squirrel, rabbit, quail (November 06-February 28)
Alabama Hunting License Costs
The prices for hunting licenses in Alabama are $73.15 for residents and $407.45 for non-residents. This price is an all-access hunting package that includes all hunting games, WMA (wildlife management area) License, Bait Privilege License, State Duck Stamp, and Harvest Information Program Stamp.
Here's a breakdown of some other popular hunting licenses:
| | |
| --- | --- |
| Annual Hunting License All Game (valid for all legal game, including deer and turkey) | $329.70 |
| All Game 10-Day Trip (Valid for 240 consecutive hours) | $203.60 |
| All Game 3-Day Trip | $143.65 |
| Annual Small Game (valid for all legal game, except deer and turkey) | $107.60 |
| Small Game 10-Day Trip (valid for 240 consecutive hours) | $65.60 |
| Small Game 3-Day Trip (valid for 72 consecutive hours) | $47.55 |
| Annual Bait Privilege License (allows taking of white-tailed deer or feral swine by the aid of bait, in addition to required hunting licenses) | $52.45 |
| Annual Game Check H.E.L.P. Number (for non-residents 15 years and younger to record deer and turkey harvest) NOTE: NOT NEEDED IF PURCHASING ANY OTHER ANNUAL RECREATIONAL PRIVILEGE. | N/C |
Hunter Education is required if the buyer is born on or after August 1, 1977. Hunting license buyers have the option to hunt under the 'supervision required' status in place of passing the hunter education course.
How To Buy a Hunting License on Your Own in Alabama
To get an Alabama hunting license, you can either purchase one online or purchase one in person.
If you decide to purchase online, you will be able to print it and use it immediately.
If you decide to purchase it in person, remember to carry your driver's license (if you're over 16 years of age). If you don't have a driver's license, you must prove you are a resident of the state to get a resident hunting license.
Note that all hunting licenses expire on August 31 of every year.
Next Steps if You Can't Purchase a Hunting License by Yourself
If you are not able to purchase a hunting license on your own, there are ways for you to get one still. You can go through an agent or a vendor or use more straightforward
DoNotPay is the perfect solution as we will walk you through the process of getting your license and make it easy for you! You will be able to purchase a hunting license with minimal effort, and it'll save you a trip to your county office since our application is made online. All you have to do is choose the type of license you're applying for and pay the fee. We will handle the rest.
Here's How You Can Use DoNotPay To Get Your Alabama Hunting License:
Search "hunting license" on DoNotPay and select Alabama as the state you would like a hunting license for.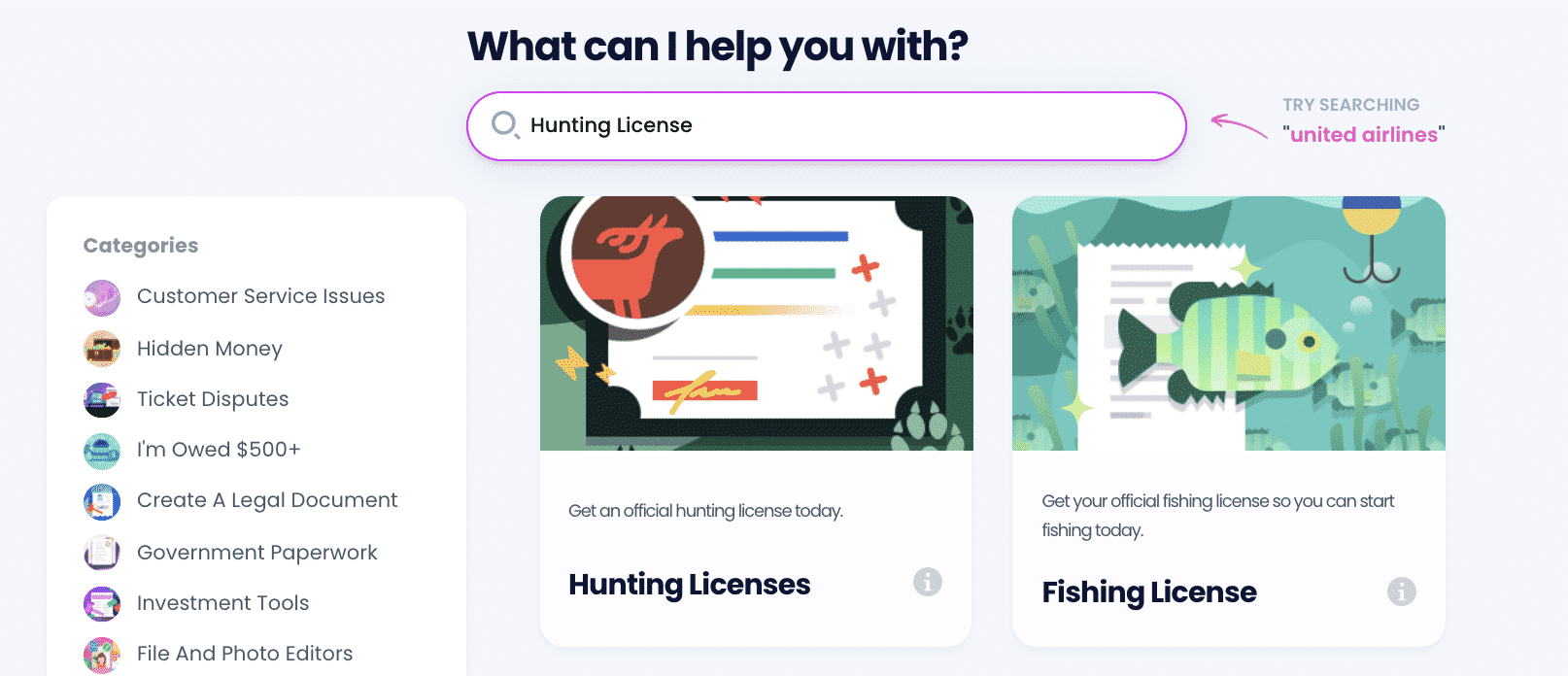 Indicate whether you are a resident or non-resident, and choose the type of license you want. For example, youth, senior or disability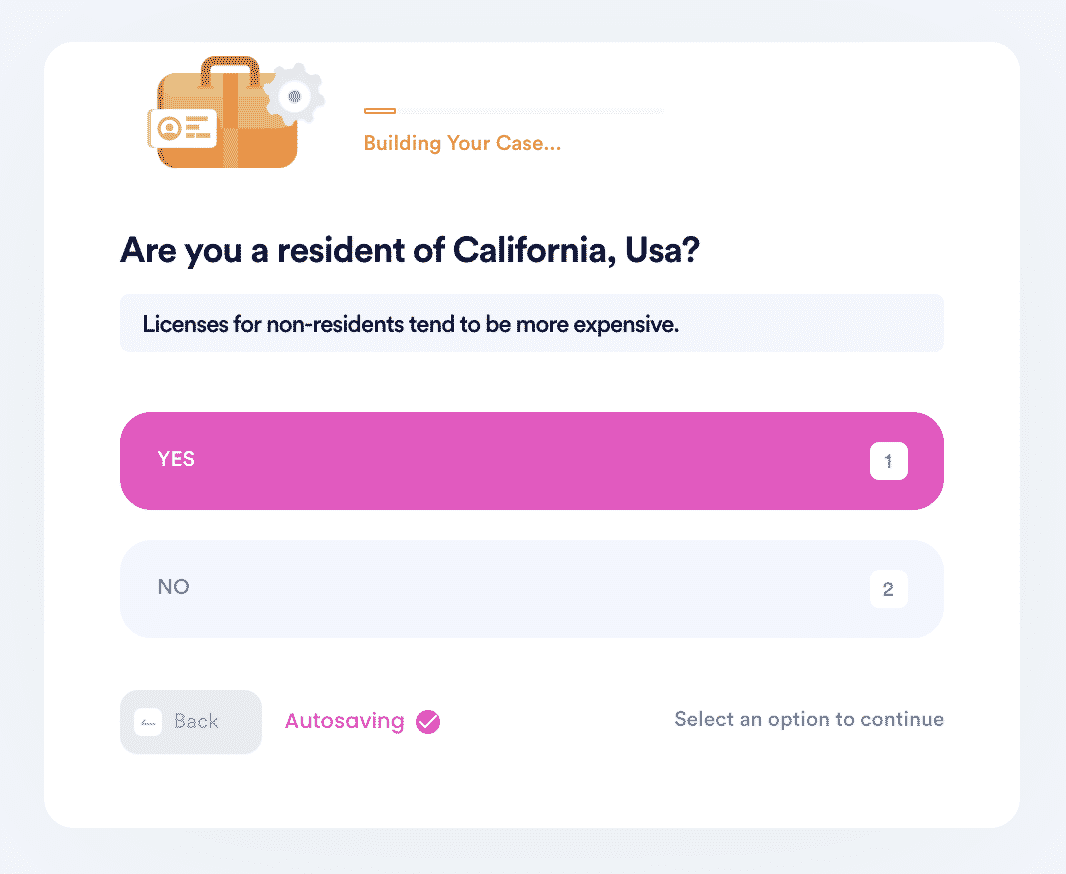 Enter your contact information, a copy of your government-issued ID, and pay the fee required by the state.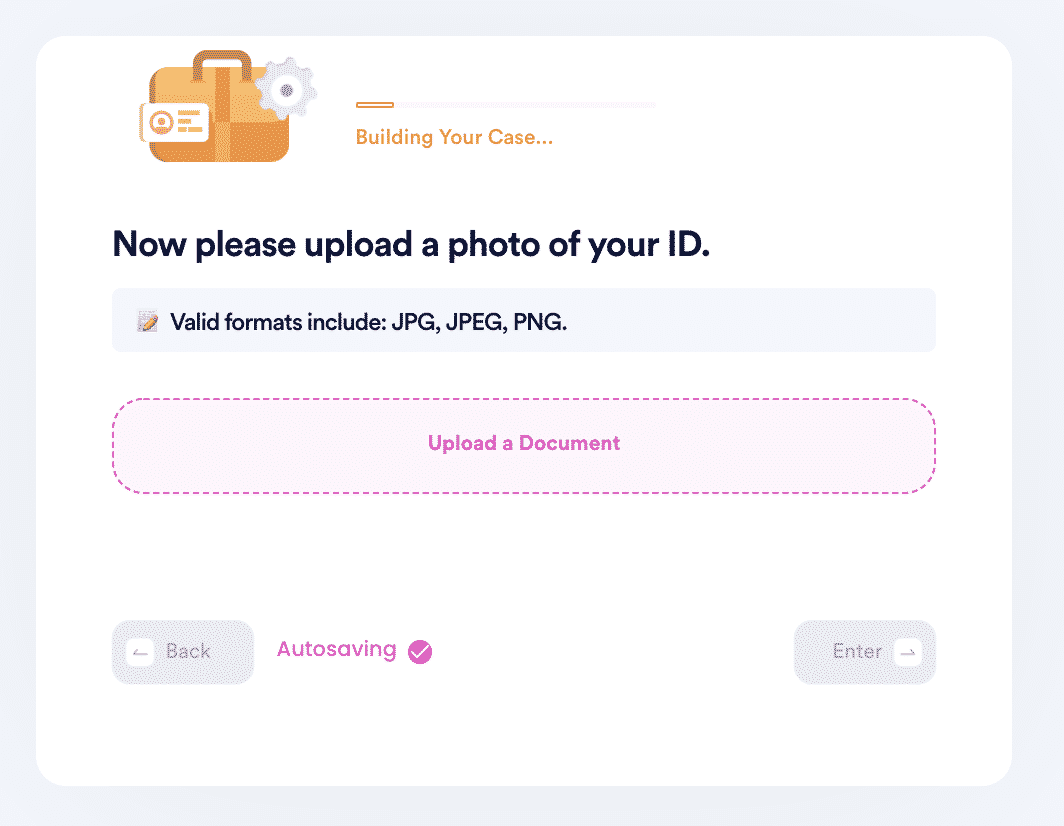 And that's it! DoNotPay will get the hunting license on your behalf, which will be valid immediately. Just download the file and print it as a temporary license, while a physical copy gets processed and sent to you by mail.
Key Takeaway
Alabama hunting licenses can be obtained through a variety of methods. The most common way is to purchase it online or in person, but there are other ways for those who cannot do it themselves. One such service is Donotpay, which provides easy and fast applications at no cost to the applicant. With our help, you will be able to get your hunting license in no time. Contact us today, and let's get you that Alabama hunting license.