How Old Do You Have to Be to Get a Hunting License?
Hunting is a pastime that people of all ages can enjoy. Fresh air, exercise, and the thrill of the hunt are hard to resist. But, you can't just go out and hunt any animal you want to at any time. In fact, adults can't hunt at all unless they have a hunting license in most cases. But, what about minor children? Are they required to possess a hunting license the same as an adult?
If you want to take a kid hunting, make sure that you've covered all the bases. If the child is required to have a hunting license and you don't get one for them, there will be consequences. Rather than ruin a fun hunting adventure, rely on DoNotPay to make sure everyone has the appropriate hunting license.
Who is Eligible to Get a Hunting License?
The eligibility requirements for a hunting license depend upon the state. However, there are some general criteria that apply to the vast majority of states. Some things that you'll need to be able to show include:
A valid in-state identification or driver's license.
A valid out-of-state identification or driver's license.
Proof of completion of a hunter's education class.
What Are the Different Types of Hunting Licenses?
Hunting licenses are rarely meant to provide unlimited access to natural resources. On the contrary, they're intended to help manage wildlife populations by keeping hunters in check. In most states, you need to purchase different types of hunting licenses based on the prey you're seeking.
| | |
| --- | --- |
| Small Game Hunting License | Generally includes species like rabbits and squirrels. |
| Large Game Hunting License | Allows species like deer, elk, and antelope to be taken. |
| All Game Hunting License | A combination license that allows both large and small games. |
| Migratory and Game Birds | The availability of this type of hunting license depends on the area. |
| Waterfowl Hunting License | Includes birds like ducks and geese. |
How Much Does a Hunting License Cost?
The cost of a hunting license varies, depending upon several factors. In order to determine your specific costs, you'll need to research the state you intend to hunt in, keeping these cost factors in mind:
Hunting licenses for state residents are generally less expensive than for out-of-state hunters.
You may be eligible for discounts for age, military service, or disability.
The type of game you intend to hunt will factor into the cost of the hunting license.
How to Get a Hunting License on Your Own
If you're ready to take on the great outdoors and you want to try your luck deer hunting, rabbit hunting, or duck hunting, there's no time like the present.
Grab your ID and proof you've completed Hunter's Training Course and head on down to the local sporting goods store or DNR office to request a license in person? Rather not stand in line?
Most states also offer online ordering of hunting licenses for eligible residents and non-residents. You'll need a valid credit card and digital copies of your ID and hunter's ed certificate to get a hunting license online.
Have Trouble Getting a Hunting License? Here's What to Do
You're busy, and maybe you can't make it to the retailer to buy your hunting license, or you just don't feel like dealing with people. That's ok. DoNotPay is here to help you in a few quick and easy steps.
Here's how you can use DoNotPay to get your hunting license:
1. Search "hunting license" on DoNotPay and select the state you would like a hunting license for.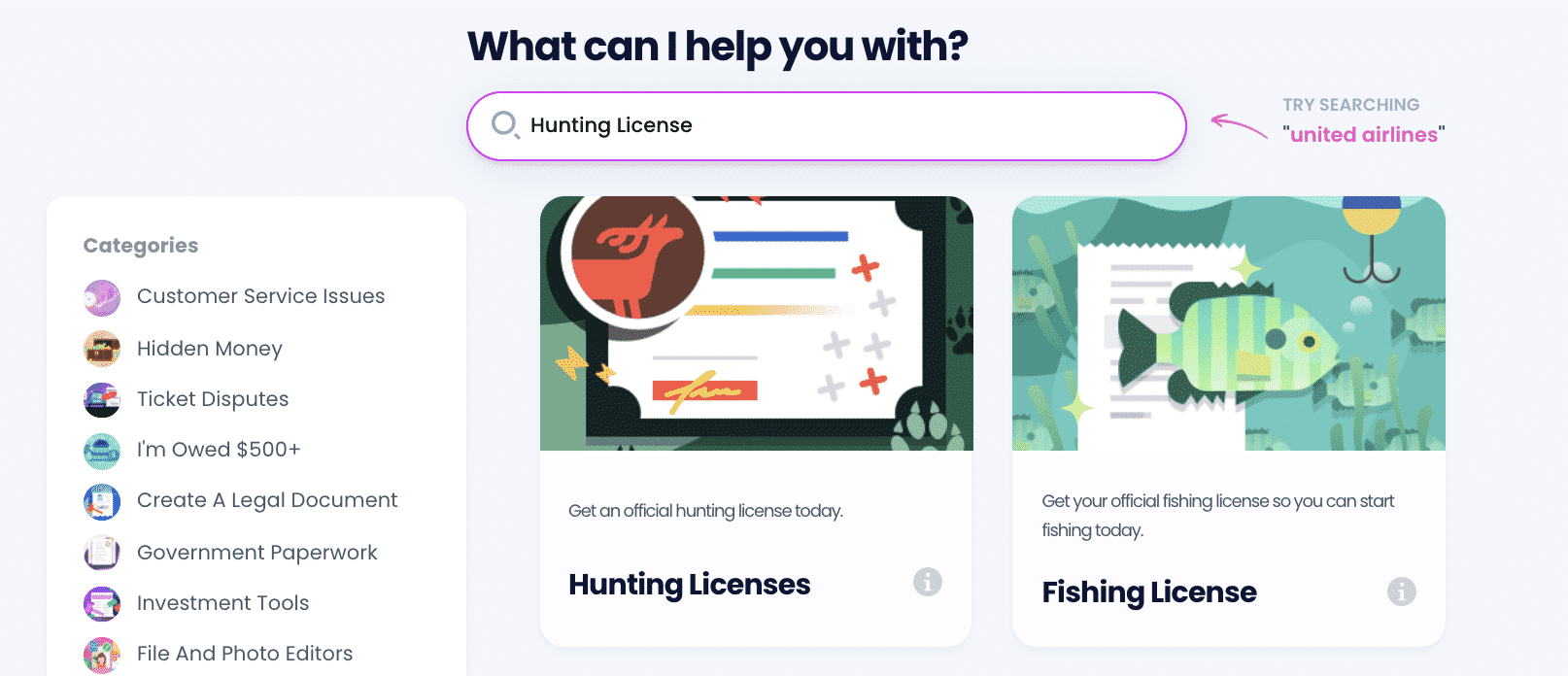 2. Indicate whether you are a resident or non-resident, and choose the type of license you want. For example, an annual or one-time pass, big game or small game license, bear tag, etc.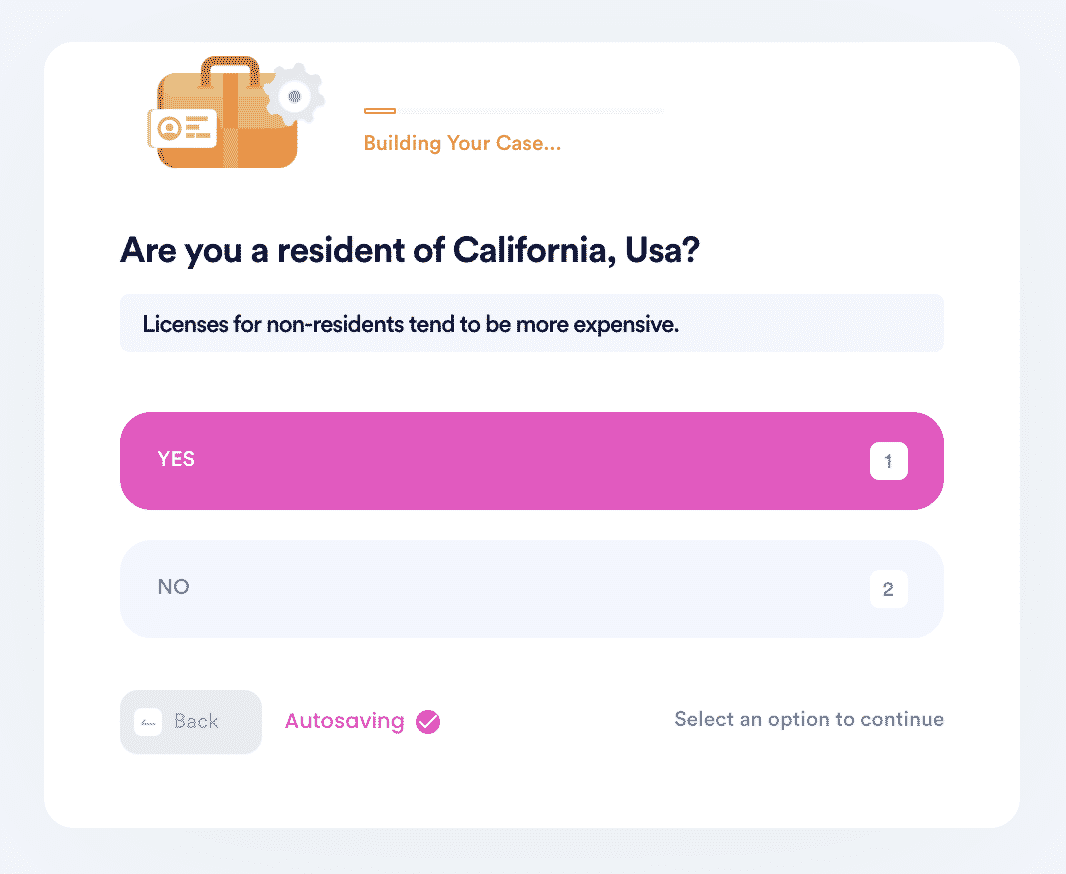 3. Provide your contact information, a copy of your government-issued ID, and pay the fee required by the state.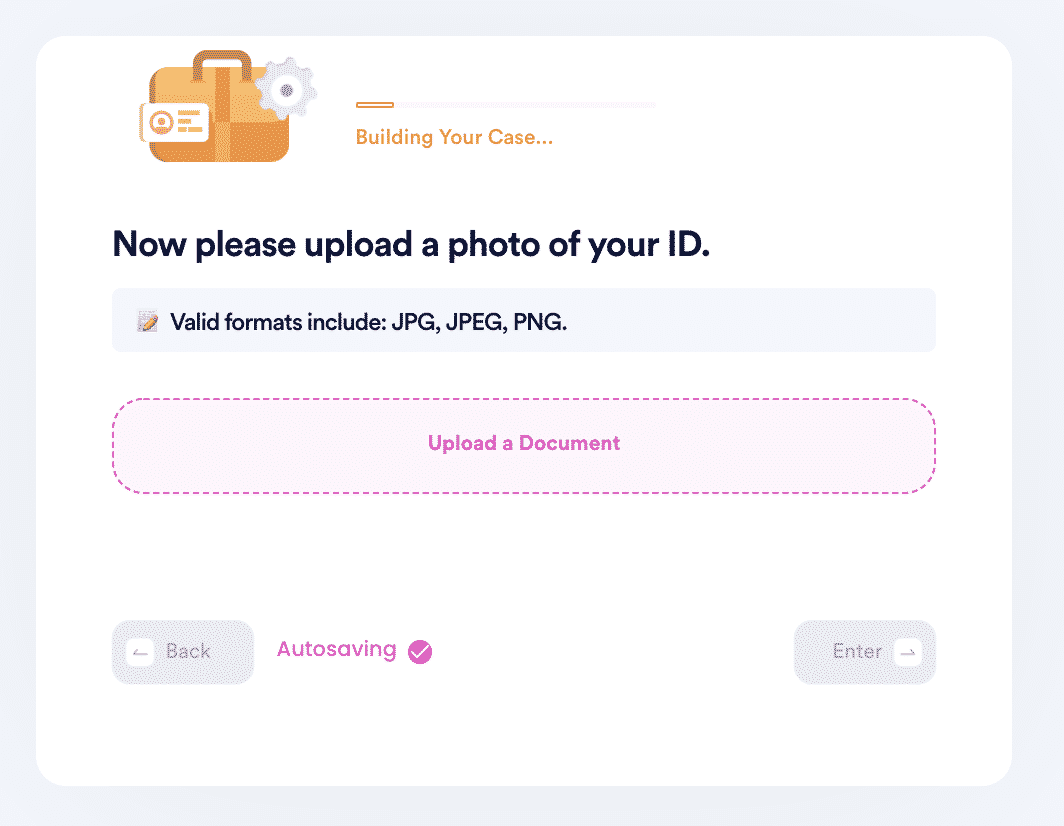 And that's it. DoNotPay will get the hunting license on your behalf, which will be valid immediately. Just download the file and print it as a temporary license, while a physical copy gets processed and sent to you by mail.
Why Use DoNotPay to Get a Hunting License
All you want to do is get out into the woods, where there's plenty of fresh air and space to move around. You know you need a hunting license, but you just don't have the time or energy to go get one. But, wait, you don't have to go anywhere. DoNotPay will get your hunting license in minutes.
Super Fast—You don't have to drive anywhere, wait in line, or wait for your license to arrive. DoNotPay can make it happen in minutes.
It's So Easy—There isn't anything complicated about the process of applying for a hunting license with DoNotPay. Just answer some questions, click the button, and that's all.
Go Hunting—You can rest assured that your valid hunting license will arrive in digital form in just moments. You can go out immediately without worry.
What Else Can DoNotPay Help Me Do?
DoNotPay is the world's first robot lawyer, and it's a powerful tool that you'll find yourself using time and again. From the most mundane tasks to more complex legal issues, DoNotPay can help. Just a shortlist of the things it can do include:
And much more.
Discover all the ways DoNotPay can help you manage your legal affairs, finances, and other aspects of your life today.