The Foolproof Way to Get Your Hunting License Online
A hunting license is a legal way of controlling hunting. People hunt for different reasons. While some do it as a sport for fun, others hunt for game meat. All new hunters, notwithstanding their age, must have a valid hunting license. However, one cannot qualify for a license without taking and passing hunter safety classes. The type of license you get will depend on your age and residence, among many other factors.
In most states, you can now get your hunting license online. But applying for a hunting license by yourself can be quite a hassle. With DoNotPay, however, the process is made much easier.
Who Is Eligible to Get a Hunting License?
It is worth noting that each state has its own requirements for obtaining a hunting license, which is based on the regulations of the state's fish and game department. We have compiled some general requirements for those eager to learn about their eligibility.
The following are common factors if you want to apply for your hunting license:
Age limits: in most states, you will be allowed to apply for a hunting license if you are 12 years or older. Parental consent is required for a minor to hunt.
Valid identification: to be considered a resident, you will need state-issued proof of identification. In most states, in-state residents, persons of a particular age, and veterans are offered discounts on their licenses. Non-residents will likely pay more for a hunting license than residents.
Take a hunter's education course: most states require applicants to enroll in a hunter's education course before being able to apply for a license.
Additional consideration: if you will be using any firearms, make sure you have a license for that. You will also need to provide your social security number.
What are the Different Types of Hunting Licenses?
The following are the main types of hunting licenses:
1. Resident Hunting License
This license is issued to anyone who has resided in a state for a specified amount of time. The applicant must be above the minimum age requirement and intend to hunt birds or mammals.
2. Non-resident Hunting License
Non-resident licenses are more expensive than resident licenses and are offered to non-residents who meet the state's minimum age requirement and who intend to hunt birds or mammals.
3. Junior/Youth and Senior Hunting Licenses
These hunting licenses are age-specific and are issued to any applicant who falls within the state's age window. These licenses are generally discounted. Young hunters may be required to be accompanied by a license-carrying adult.
4. Short-term Hunting License
If you just plan on hunting for one day, two days, or seven days, getting one of these short-term licenses can save you a lot of money.
5. Disability or Military Hunting License
Anyone with a disability or who has served in the U.S. Military is generally given a hefty discount or will have their fees waived.
Special mobility-impaired hunting licenses are available to many residents with mobility impairments. People with physical impairment can also get specialized hunting education from a Hunter Education Office.
Veterans with a service-connected disability often enjoy free Lifetime Fishing and Small Game Hunting Combination Licenses.
How To Apply for Your Hunting License Online on Your own
The easiest way to get your hunting license is to apply for it online. Since different states have different guidelines, you can log in to your state's fish and game department website and follow the laid-down procedure. To get more information about the requirements in the states you will be hunting, you can log in to Reserve America's Fishing and Hunting License webpage.
If you are a newbie, you will first be required to create an account, filling out the different sections with your personal information.  You will then upload documents online and sign them electronically. Make sure you have all your paperwork ready, including:
Your identification
The hunter safety card you received after completing the education course
Your mode of payment for any applicable fees
Be prepared to navigate an outdated government website. If you're lucky, your state may have a streamlined online application process for returning customers. Others issue lifetime licenses, eradicating the need to apply year after year. It is also worth keeping in mind that most states do not mail the license online to the applicant. Therefore, do not forget to print out your receipt.
The Easiest Way to Get Your Hunting License Online  Via DoNotPay
Applying for your hunting license online may not be as straightforward as many would think. It can be time-consuming and confusing. You can encounter technical issues, there's likely no one to answer your questions, and it involves a lot of documentation. The good news is that there is an alternative! DoNotPay makes this process foolproof for everyone.
Here's how you can use DoNotPay to get your hunting license: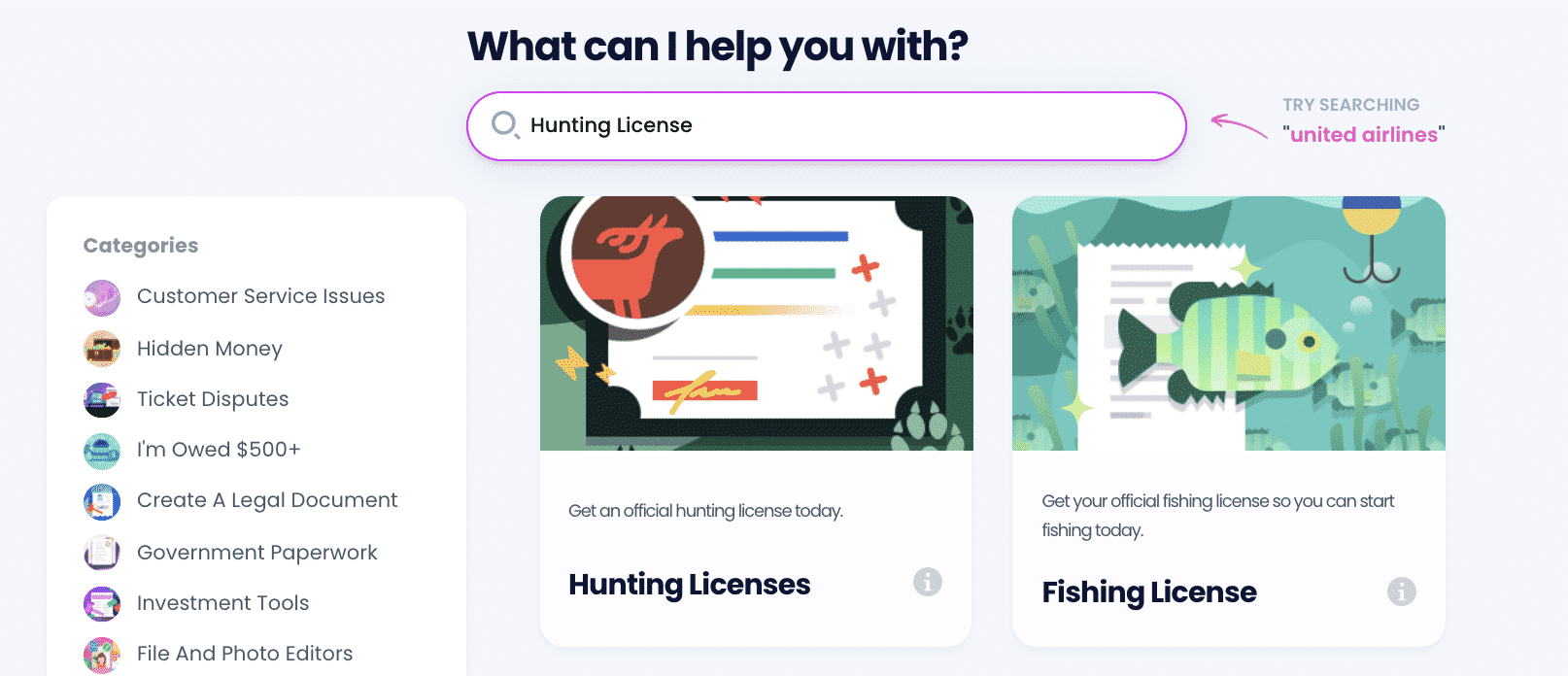 2. Indicate whether you are a resident or non-resident, and choose the type of license you want. For example, an annual or one-time pass, big game or small game license, bear tag, etc.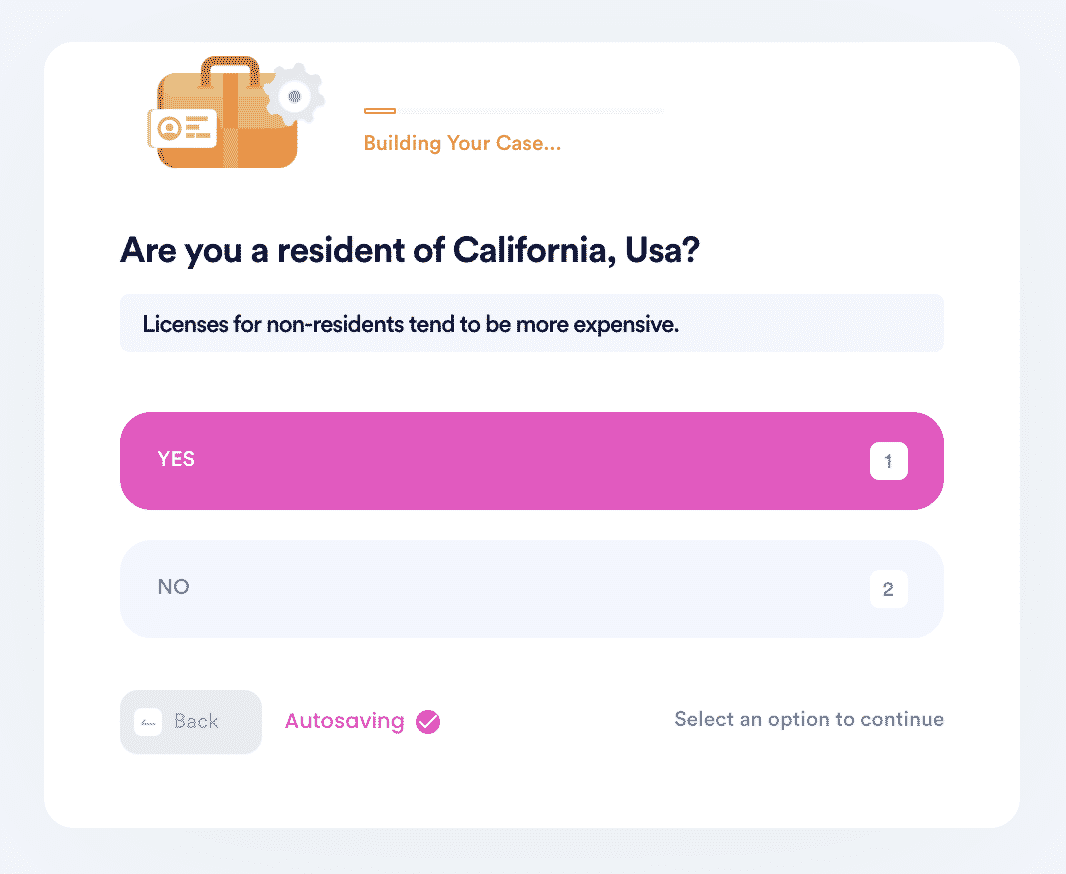 3. Provide your contact information, a copy of your government-issued ID, and pay the fee required by the state.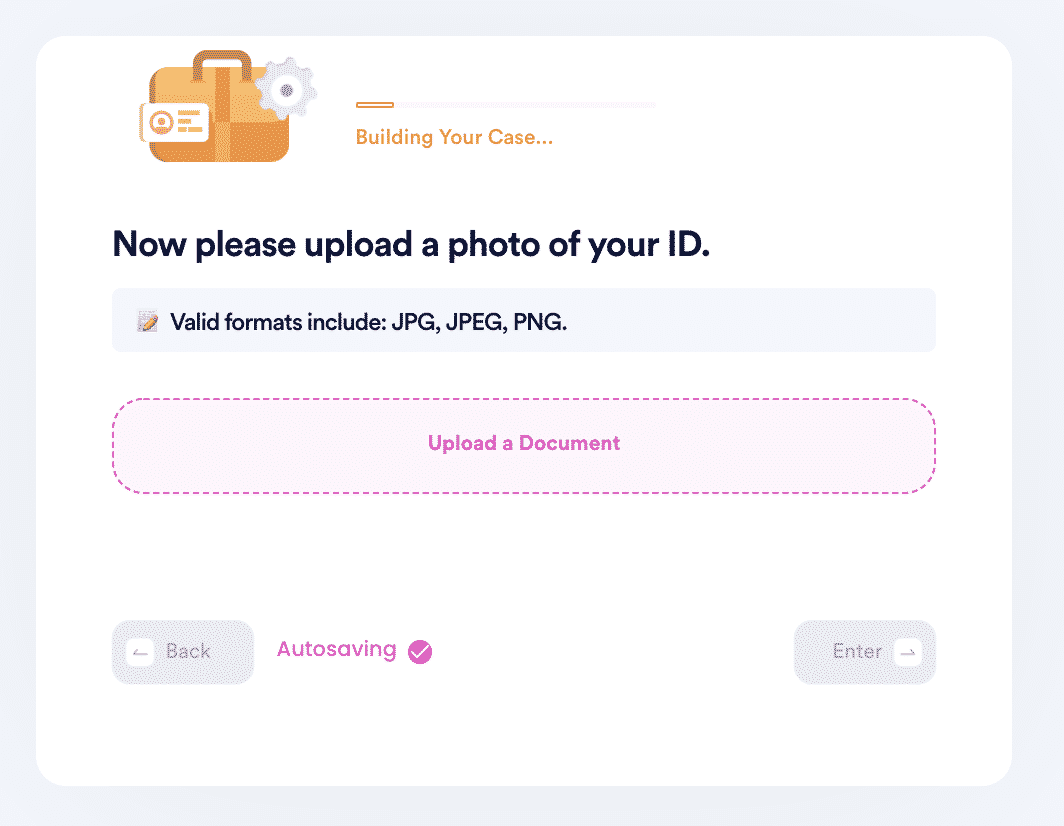 And that's it! DoNotPay will get the hunting license on your behalf, which will be valid immediately. Just download the file and print it as a temporary license, while a physical copy gets processed and sent to you by mail.
What Else can DoNotPay Do?
After successfully applying for and getting your hunting license online, you will be surprised to know the numerous other ways DoNotPay can help you. The DoNotPay app can provide information on a variety of issues concerning hunting licenses, including:
DoNotPay can offer you many other services too, such as:
Why Use DoNotPay to Get Your Hunting License Online?
DoNotPay is your most trusted platform for dealing with social and legal issues. You should use DoNotPay because it is:
What are you waiting for? Sign up with DoNotPay today and enjoy the many services the platform offers.