You Can Put Your Mind at Cheese—A Guide to Your Unclaimed Money in Wisconsin
If you are familiar with the amount of unclaimed money in the United States, you must be wondering whether you are entitled to a piece of that cake. It might sound too easy, but the fact is that, with so much as 58 million in unclaimed property across all American states, most people can count on some of that money.
Depending on the type of missing property, you can be in for some serious cash—a man claimed around 32 million dollars last year!
This may not be you, but if you take every forgotten paycheck, uncollected inheritance, or inactive bank account into consideration, there may be a significant financial relief or at least a nice shopping spree in your near future.
Why should you miss your chance of checking if some of the unclaimed money in Wisconsin belongs to you? Let DoNoPay guide you on how to take your missing funds with the least amount of effort.
Some Key Information About Unclaimed Money in Wisconsin
Unclaimed money is every financial asset that has been inactive and without a known owner for a specific period. That period differs from state to state, and Wisconsin has one of the shortest time limits before the government defines the property as abandoned—for certain funds, it can last only one year.
After the property assumes the status of abandoned, the State of Wisconsin Department of Revenue takes custody of it until the rightful owner is located or shows up to claim it.
During that time, the chances are that the Department of Revenue will try to establish contact with the owner in several ways. This includes:
Using tax records to locate the owner

Matching their name with the information from the public record

Keeping several online databases that people can use to search for their money
The good news is that there is no statute of limitation for filing a claim for your lost property in Wisconsin. Any time you or your family members decide to claim your missing funds, provided you can prove the ownership or a relationship with the owner, the money will be returned to you, free of charge.
Don't wait for the money to find you! DoNotPay will show you the fastest and most reliable methods of claiming the money on your own.
What Counts as Lost Money in Wisconsin?
One of the reasons for so many unclaimed funds in Wisconsin is that people are often not sure what to look for. They tend to consider the usual—insurances, wills from deceased relatives, or content from bank accounts. The fact is, there is so much more you should include in your search.
Every state has its own rules when it comes to defining unclaimed property. Here are the most common ones for the state of Wisconsin:
| | |
| --- | --- |
| Type of Property | When Is It Considered Abandoned? |
| Money orders | After seven years |
| Traveler's checks | After 15 years |
| Savings and checking accounts | After five years |
| Securities and dividends | After three years |
| Safe deposit boxes | After five years |
| Official bank checks | After five years |
| Life insurances | After two years |
| Wages, debts, liquidations, utility deposits, and refunds | After one year |
Why Don't People Claim Their Lost Money in Wisconsin?
One of the main reasons people don't claim their money is that they are often unaware of it. They also tend to forget about it or are ashamed to collect it if the amount is too small.
Many times, people are not sure where the money went and even believe they have no more right to claim it if too much time has passed. The fact that they think the process will be complicated, time-consuming, and expensive puts them off the search and causes them to miss out on some serious money.
DoNotPay is here to give you all the necessary information so that you can claim your property without any doubt or risk.
How To Search for Unclaimed Money in Wisconsin on Your Own?
One of the ways to look for your lost money is through the Wisconsin Unclaimed Money Finder, the official website for the Department of Revenue of the State of Wisconsin.
It offers a complete view into Wisconsin's unclaimed money database, free of charge. The search consists of the following steps:
Access the website

Click on

Unclaimed Property Search

Enter your last or business name in the required field

Add additional information to narrow down the results, if necessary

Click

Search

Click on the

Select

tab next to the corresponding property

Hit the

Claim Properties

button at the bottom of the page

Answer questions about your status or the relationship with the property owner

Fill out the claim with some additional personal information, such as

Social Security number

, date of birth, and current address

Submit the claim
After you file the claim, you will be required to prepare some additional documentation to prove your identity and the ownership of the property. If everything checks out, you will receive a check or further information on how to obtain your property.
You can use this method only for unclaimed funds in Wisconsin. If you or your relatives used to live in another state, you can use the National Association of Unclaimed Property Administrators (NAUPA) website. NAUPA offers access to every state's unclaimed money database. You can start the process by selecting the state and following the instructions from the website.
Find Unclaimed Money in Wisconsin With DoNotPay
If you feel overwhelmed and want to find a simpler way of claiming your lost money, DoNotPay can help! Unlike all the other websites where you have to search through individual states and repeat the process many times, DoNotPay offers easy access to all state databases. You can find out if you have any unclaimed funds and recover them in a few clicks! The process is pretty straightforward:
Visit DoNotPay in your

Select the

Missing Money

feature

Type in the required personal information. To refine your search and cover all the bases, make sure to provide your middle name if necessary, as well as all previous addresses.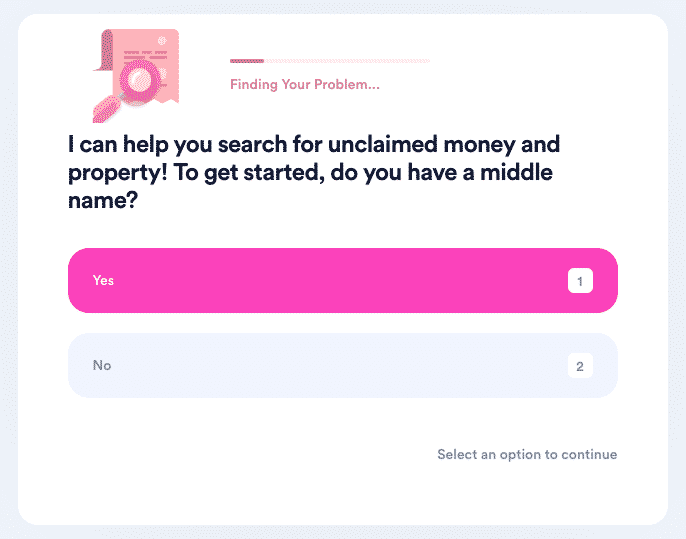 DoNotPay will perform a thorough search through all the databases and include every place you lived in to find your missing funds. In case there is a match, and you have the right to some unclaimed property, you can access the Claim My Property feature. We will save you the time and trouble of filing the claim and do it for you!
There is no reason you should postpone the search for your missing funds any longer. Use DoNotPay and reclaim your money in no time!
In What Other Ways Can DoNotPay Make Your Life Easier?
If you are visiting Wisconsin and trying to find an easy and quick way of disputing parking tickets in Madison or Milwaukee, DoNotPay can show you how. Perhaps you are interested in canceling your Xperience fitness membership or getting a cancelation and refund for WorldVentures or eHarmony? DoNotPay offers the fastest solution that will save you money.
Claiming compensation for American airlines canceled flights from Wisconsin is effortless with our help.
Access DoNotPay from your , then sit back and enjoy as we assist you with:
Fighting speeding tickets

Contesting traffic tickets