Need a Nevada Hunting License? DoNotPay Can Help You Get One Easily and Quickly!
Hunting is a popular sport, and some people enjoy hunting to stock their freezers full of game for meals. However, before you can choose your weapon and spend a day hunting, you need a Nevada hunting license.
Whether this is your first year hunting or you're an old pro, it can be a hassle securing a current Nevada hunting license. You can waste hours trying to apply for your license instead of enjoying the hunt. With the DoNotPay, you can get your hunting license the easy way.
Who Is Eligible to Get a Nevada Hunting License?
If you're 12 years old or older, you need a Nevada hunting license before you can hunt in the state. Due to the state child support laws, you must provide a Social Security number when you apply for a hunting license. If you have outstanding child support, you might need to catch up with your payments before receiving a Nevada hunting license.
Hunting in Nevada
While you might think of Nevada as a dry arid desert without a lot of life, you'd be wrong. Nevada is an excellent place for hunting with many acres of public lands. There's also a diverse selection of game to hunt, such as deer, elk, goats, long-horn sheep, and small game.
What Are the Different Types of Hunting Licenses in Nevada?
In Nevada, there are different types of hunting licenses, and you need to obtain the correct one. Here's a look at the most common:
Nevada Resident - If you've lived in Nevada for more than six months, this is the license for you.
Non-Resident - If you're visiting or haven't lived in the state for six months, you need a non-resident hunting license.
Youth Hunting License - When you're buying a hunting license for a child between the ages of 12 and 15, the youth hunting license can save you some money.
Senior Hunting License - If you've lived in Nevada for more than five consecutive years, and you're 65 and older, you can get a senior hunting license at a discounted rate.
Hunting License Costs in Nevada
The cost of a Nevada hunting license depends on the type you need. The prices range between $15 and $155. It's important to note that you also need to buy tags for the type of animal you want to hunt and the number you intend to kill, which is an additional expense. Here are some specifics:
| | |
| --- | --- |
| Youth | $15.00 |
| Nevada resident | $38.00 |
| Non-resident | $155.00 |
How Much Is the Fine for Hunting Without a License?
You're required to have a hunting license in Nevada, and it's considered a misdemeanor if you don't have one. The fine can be up to $1,000 and six months in jail for hunting without a license.
How to Get a Nevada Hunting License on Your Own
You can apply for a Nevada hunting license on the Nevada Department of Wildlife website. You can also purchase a hunting license at some hunting and fishing stores in the state.
Solve the Challenges of Getting a Nevada Hunting License With the Help of DoNotPay
Before you dress in your camouflage and grab your weapon, you'll need your Nevada hunting license in hand. You don't want to waste hours on paperwork and trying to find the right method to get one. Fortunately, you can an easier option to obtain your hunting license this year. DoNotPay is ready to help you get your hunting license whenever you are.
Here's how you can use DoNotPay to get your hunting license:
1. Search "hunting license" on DoNotPay and select the state you would like a hunting license for.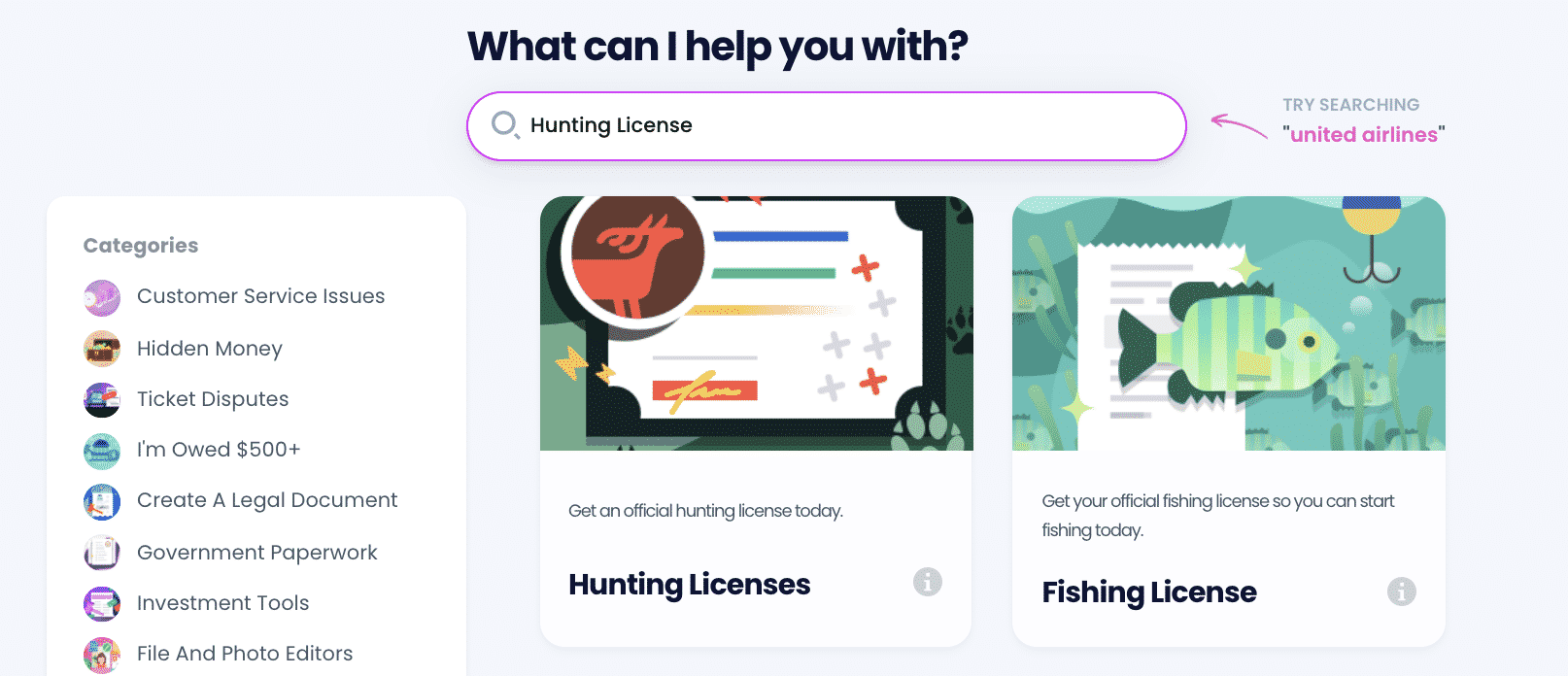 2. Indicate whether you are a resident or non-resident, and choose the type of license you want. For example, an annual or one-time pass, big game or small game license, bear tag, etc.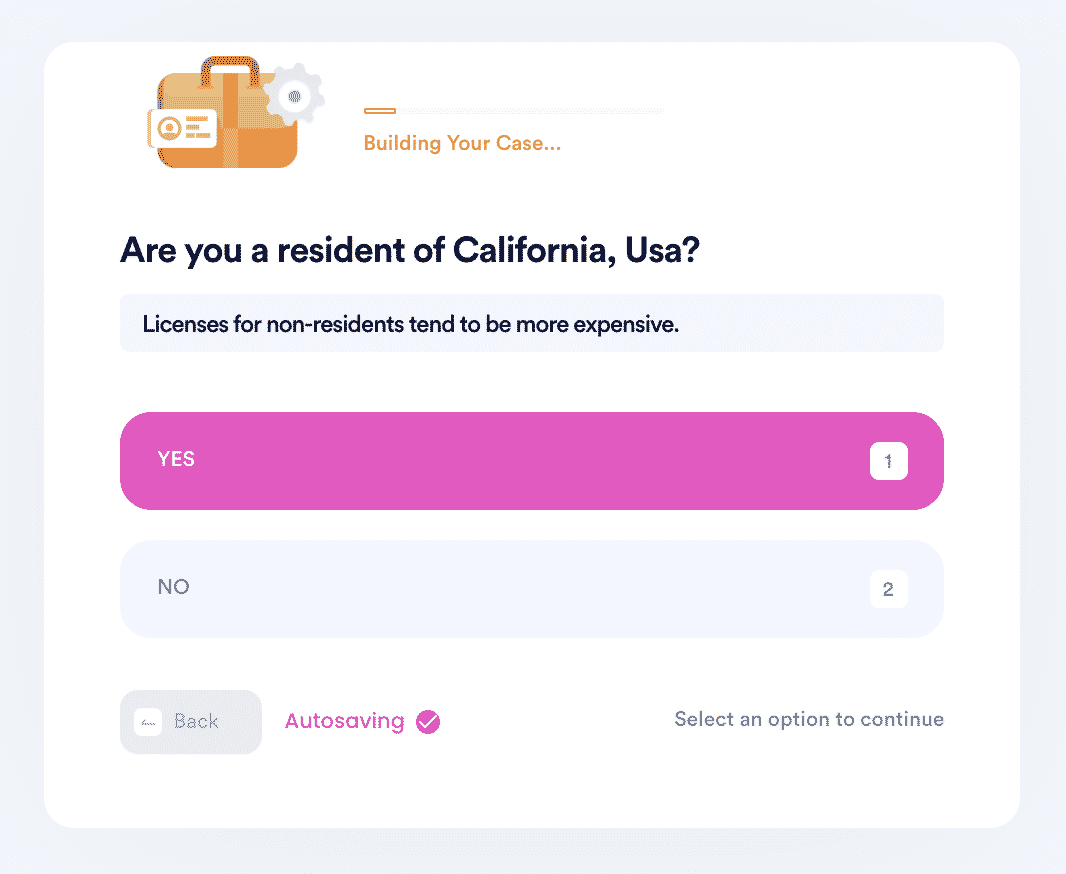 3. Provide your contact information, a copy of your government-issued ID, and pay the fee required by the state.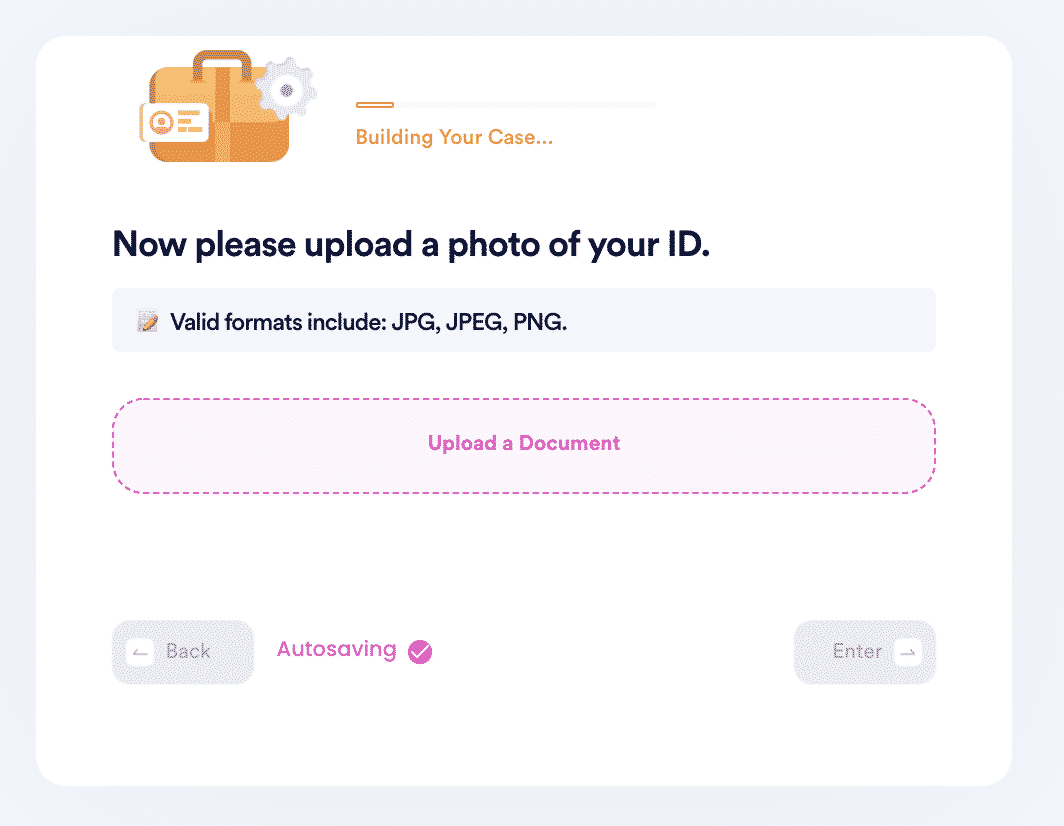 And that's it! DoNotPay will get the hunting license on your behalf, which will be valid immediately. Just download the file and print it as a temporary license, while a physical copy gets processed and sent to you by mail.
​​Why Use DoNotPay to Solve the Challenges of Getting a Nevada Hunting License
So you're ready to apply for your Nevada hunting license, but you aren't convinced that DoNotPay is your best option? Here are three reasons to choose the app:
DoNotPay is easy. We eliminated all the unnecessary steps and streamlined the process for you. No need to get confused and exhausted with so much paperwork.
It's quick. With our simplified process, you avoid wasting time queueing up or making unnecessary trips to offices or stores. Everything is done online.
We are successful. With DoNotPay's expertise on legalities and licenses, you can count on results without complications.
DoNotPay Works Across All Companies/Entities/Groups With the Click of a Button
When you use DoNotPay to get your Nevada hunting license, you'll have people asking how you managed it so easily. The DoNotPay app can help your friends and family get their hunting licenses too, and it can provide a wealth of information. This includes:
What Else Can DoNotPay Do?
After you receive your Nevada hunting license, you'll wonder what else you can do with DoNotPay. DoNotPay can help you in:
Download DoNotPay today and allow us to help you with all tasks big and small.