The Stress-Free Way of Acquiring a Kansas Hunting License
You need to acquire a hunting license to hunt in Kansas. A Kansas hunting license is used to regulate hunting to protect the state's natural treasures and generate income.
Unless Kansas law exempts, all local hunters between 16 and 74 years of age must hold a resident hunting permit. A non-resident hunting license is required for all foreign hunters irrespective of age. All yearly hunting permits can be bought online, at all licensed agents, at the Department of Wildlife & Parks, or by calling the department's telephone number. Most licenses lapse 365 days after purchase, except for multi-year and permanent permits. A hunting and/or fishing permit is needed for Kansas citizens aged 65 to 74.
However, acquiring a hunting license in Kansas can be time-consuming and tedious for you. DoNotPay will help you apply for a hunting license so that you can enjoy your hobby without the hustle of applying for a hunting license by yourself.
Hunting in Kansas
Kansas boasts around 500,000 acres of well-managed hunting amenities with private fee-to-hunt entry. Kansas offers a variety of hunting opportunities from September through May and some occasional hunting during the other months. The state is renowned as the "Land of the Giants" and is ranked as one of the top three states for pheasant and quail hunting. Deer, upland game, ducks, and other species are all available for hunting. Kansas is not only a terrific area to hunt as a Kansan, but also a travel destination, welcoming hunters from all over the world.
With so many outfitters, parks, and reserves to choose from, you can even learn to hunt with instructors familiar with the region after finishing your hunter certification training. During the training, you will find out where you can hunt, purchase hunting permits, and when hunting seasons are available in Kansas.
What are the Different Types of Hunting Licenses in Kansas, and How Much Do They Cost?
Kansas offers a wide variety of hunting licenses both for residents and non-residents. Some of the hunting licenses available in Kansas include the following:.
Resident Licenses
| | |
| --- | --- |
| Type of License | Cost |
| Resident Hunt | $27.50 |
| Combination Hunt & Fish | $182.50 |
| Apprentice (Two-Time Purchase Hunter Education Deferral) | $27.50 |
| 5 Year Combo Hunt & Fish | $182.50 |
| 5 Year Hunt License | $42.50 |
| Youth (Under 16 Years Old) | No license required |
| Multi-Year Resident Youth Hunt (ages 16-20) | $42.50 |
| Multi-Year Resident Youth Combination Hunt & Fish (ages 16-20) | $72.50 |
| Lifetime Hunting License | $502.50 |
| Lifetime Hunting and Fishing Combination License | $962.50 |
Non-Resident Licenses
Licenses for non-residents may seem a little limited and costs a bit higher compared to resident licenses.
| | |
| --- | --- |
| Type of License | Cost |
| Non-Resident Hunt | $97.50 |
| Combination Hunt & Fish | $137.50 |
| Apprentice (Two-Time Purchase Hunter Education Deferral) | $97.50 |
| Youth (Under 16 Years Old) | $42.50 |
Senior residents get a reduced price year round. Here are the rates:
Senior Resident Hunt - $15.00
Senior Resident Combination Hunt/Fish - $25.00
Lifetime Senior Resident Combination Hunt/Fish  - $42.50
Kansas State offers other free hunting licenses. For example, veteran hunting licenses.
How Much Is the Fine for Hunting Without a License in Kansas?
There are various seasons when you can hunt in Kansas but no matter what the season, you must not dare hunt without a license. If convicted of violating Kansas' wildlife and parks rules for the first or second time, you will face a fine of $500 to $1,000, six months in county jail, or both.
How to Apply for a Hunting License in Kansas on Your Own
There are various ways of getting your own Kansas hunting license. Below are some of your options:
Call a toll-free number
Online from home
Go to one of the more than 600 licensing retailers in Kansas.
You may find a list of license suppliers sorted by the county you are from on the internet.  The Kansas Department of Wildlife and Parks recommends calling the vendors ahead of time to confirm if they are available for business because some permit vendors are available seasonally.
How to Get a Hunting License Quickly With DoNotPay
Since the application for a license permit can be stressful for you, here's how you can use DoNotPay to get your hunting license:
1. Search "hunting license" on DoNotPay and select the state you would like a hunting license for.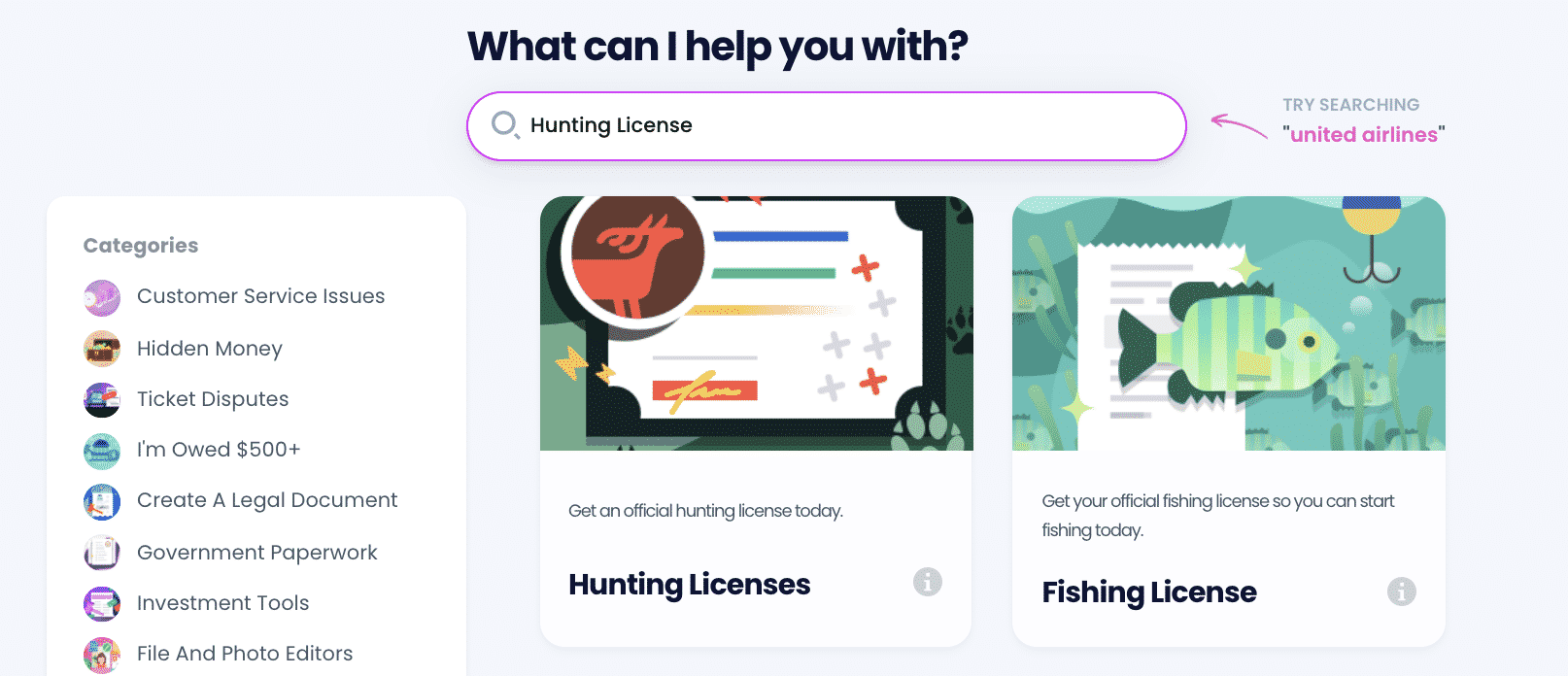 2. Indicate whether you are a resident or non-resident, and choose the type of license you want. For example, an annual or one-time pass, big game or small game license, bear tag, etc.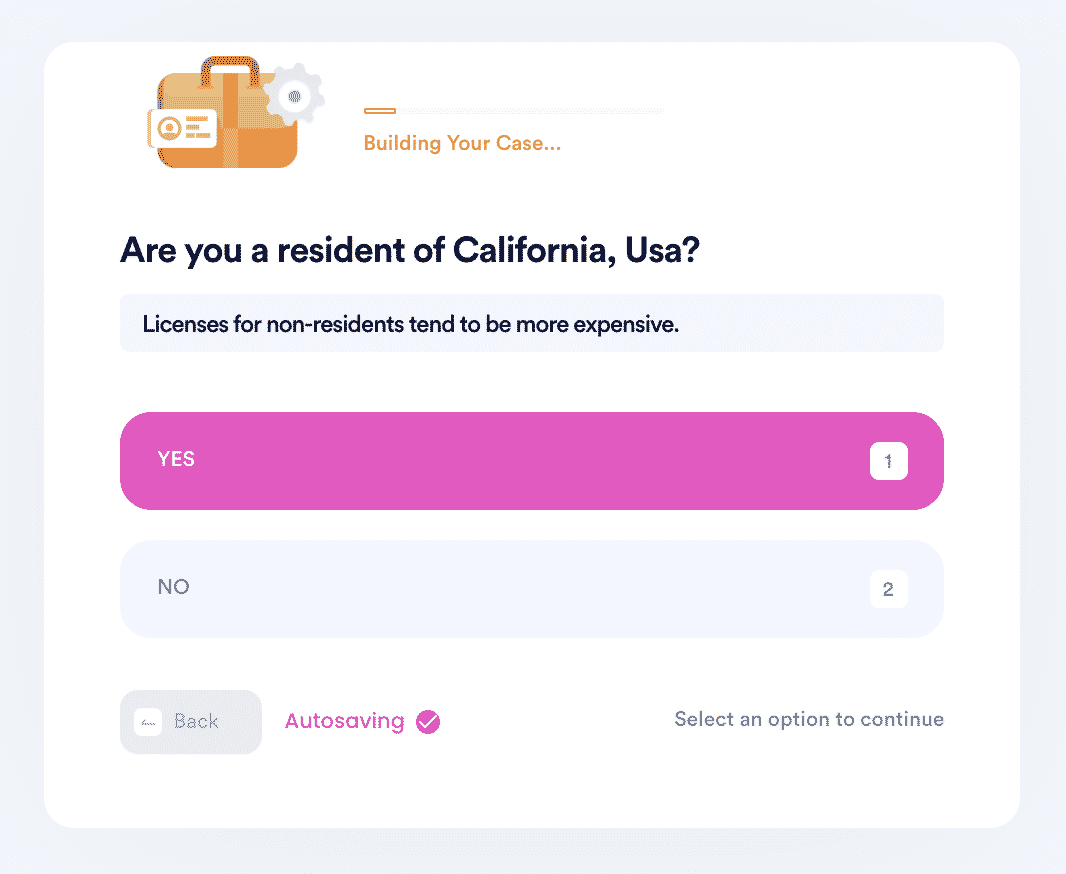 3. Provide your contact information, a copy of your government-issued ID, and pay the fee required by the state.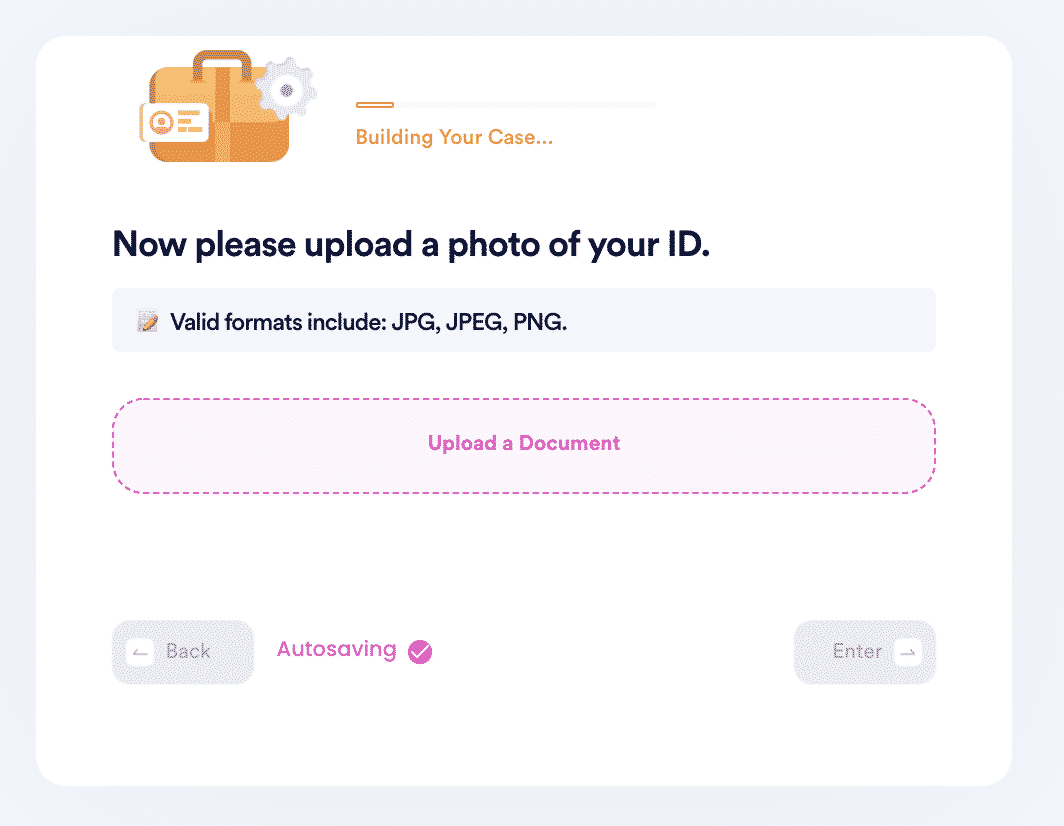 And that's it! DoNotPay will get the hunting license on your behalf, which will be valid immediately. Just download the file and print it as a temporary license, while a physical copy gets processed and sent to you by mail.
Why Use DoNotPay to Apply for a Hunting License in Kansas
If you're planning on going hunting in Kansas, there's no time to waste. Instead of getting your license the traditional and exhausting way, here are some main advantages going through DoNotPay:
We are fast. You don't have to spend hours applying for a Kansas hunting license.
We make it easy. You don't have to struggle to fill out tedious forms or keep track of all the steps involved in applying for a hunting license in Kansas.
We guarantee results. Reach out to us anytime, and our team of professionals will surely respond to you immediately. You can rest assured knowing we'll make the best case for you
DoNotPay Works Across All Companies/Entities/Groups With the Click of a Button
DoNotPay is designed to integrate all companies across the United States of America. This allows seamless functionality so you can get everything done using a single platform.
Increase your productivity and get your tasks done faster with DoNotPay.
What Else Can You Do With DoNotPay?
DoNotPay offers various services apart from helping you get a hunting license. Just by signing up with DoNotPay, you can:
Reach out to us today at DoNotPay! We have got you covered!