How to Stop Emails From Discord For Good
Discord is a globally popular, invite-only group-chatting platform. Originally, it was released in 2015 to cater to gamers but has since widened its reach to numerous other communities and groups.
In 2019, the company reported that it had about 250 million user accounts and 14 million active daily users. If you're one of them, but find yourself bothered by the barrage of emails from Discord, you'll soon find out how to stop receiving such emails for good.
How to
Stop Discord Emails
With DoNotPay

How to unsubscribe from emails and report spam can vary a lot, depending mostly on who is sending unwanted emails. The good news is that you no longer need to try to figure out how to put a stop to all these different kinds of unsolicited messages.
DoNotPay is the one-stop-shop that will not only unsubscribe you from junk emails but also ensure that you receive compensation if those messages were in any way unlawful. For example, an email is sent illicitly if you didn't agree to receive it, or there was no option to unsubscribe from the mailing list.
Follow these easy instructions:
Open DoNotPay in any

Select the

Spam Collector

option

Enter your email address to link it to DoNotPay

Wait to receive your next spam email, then forward it to

spam@donotpay.com
This simple action will immediately unsubscribe you from the mailing list. The added bonus is that, if the spam email breaches the law in any way and there's a class-action lawsuit against the sender, you will be informed so you can join the list of damaged parties. Once this happens, a flag will show up in the Spam Collector tab on your DoNotPay dashboard.
If the lawsuit is successful, you will get compensation as ruled by the court. Now, if that isn't the best spam email revenge, we don't know what is.
Stop
Discord Emails
On Your Own

Discord's email notifications aim to keep you in the loop of the things you missed while you were away, such as any DMs or server messages.
If you're on a quest to find out how to stop spam emails, regardless of their content, you're in the right place. When it comes to Discord, you'll need to:
Click on the

Turn Off

link at the top of the received email

Hit the

Turn Off Notifications

link at the bottom of that same email
Should you need more help, you can always get in touch with Discord directly. Here is a list of different ways to reach their customer service team:
| | |
| --- | --- |
| Contact Method | Details |
| Email | |
| Twitter | @discord |
| Contact form | |
Canceling Discord Nitro with DoNotPay

The basic version of Discord is free, but the company came up with Nitro, a beefed-up version that enhances the Discord chat experience. If you would like to cancel the Nitro monthly subscription, DoNotPay can help you do that, too.
If you're quite keen to try out different online services for free but always forget to cancel before the free trial runs out, then DoNotPay will become your best friend.
Thanks to our Free Trial Card, you can test a limitless number of online subscription-based services without risking a single dollar. Our virtual credit card is not connected to any bank account. Instead, it comes up with unique credit card information that looks like legitimate card data to the merchant. You can use the Free Trial Card and not have to fear any unwanted auto-renewed subscription charges once the service's free trial comes to an end.
What is Discord's Communication Policy?
Discord's Terms of Service stipulate that, by signing up on the platform, the user agrees to receive electronic communications from the company. These could include emails, text messages, mobile push notifications, as well as any messages on the service.
For any direct marketing communication, Discord pledges to ensure the user's consent first. The company also states they will make it simple for anyone to opt out of such messages.
By using Discord's services, the user also agrees to Discord getting in touch with them regarding security, privacy, and miscellaneous administrative issues. All agreements, notices, disclosures, and other communications from Discord shall comply with the necessary legal requirements and will always be in writing.
When a user joins the platform, they are able to send messages to other Discord members. This doesn't apply to unsolicited marketing messages or spam. Discord might resort to different methods to fend spammers and abusers off their platform. If you received a spam message that originated on Discord, you should email their customer service team at support@discord.com.
How to Spot Discord Scam or Phishing Bots

If you get a DM on Discord from a bot that's either offering you something or inviting you to click on a link, you should ignore it by all means. The company has repeatedly made clear that they never created a bot to give out free products, so if you come across one, it's a dead giveaway of a scam. If you add these bots to your server, they might seriously compromise it and even delete all of your data!
If you have any doubts about what to do, or your account's safety is at risk, get in touch with Discord's Trust & Safety team by filling out a form on this link.
On a related note, you can find out how to report email abuse here.
With DoNotPay, Eliminating Physical Junk Mail Is a Piece of Cake
Blocking spam email on your computer, iOS, or Android phone is a little bit more straightforward than having to do the same with the spam that gets delivered to you by post. Do you keep putting up with physical junk mail only because the idea of manually unsubscribing sounds even more painful than receiving it?
We get that. Thankfully, this is where DoNotPay comes in and fixes the issue for you. All you need to do is take a photo of the received junk mail and send it to us.
These are the steps you need to take:
Select the

DoNotMail

option on the DoNotPay homepage

Tap or click on the

Enroll Now

button

Upload your photos
And that's all there is to it—consider these unsolicited pieces of junk mail gone! Not only are you purging your mailbox from materials of scant value (many are potential fraud attempts, too), but you're also reducing waste and protecting the environment.
Of course, if there's an open class-action lawsuit against the sender of the spam email, we will let you know. You could receive up to $500 in compensation!
The Life-Changing Magic of DoNotPay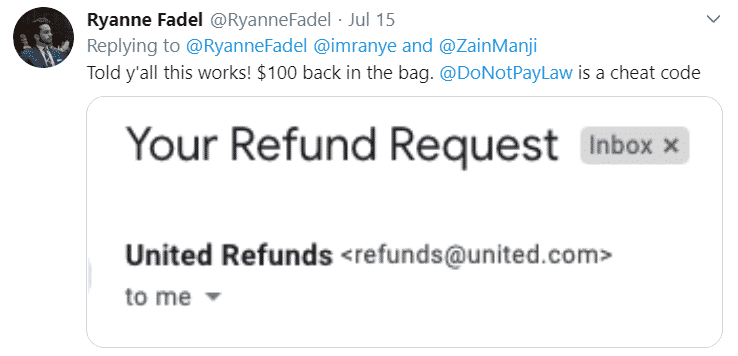 Helping you block unwanted emails and junk mail and securing compensation is only a fraction of what DoNotPay can do. We support regular people in their fight for consumer and legal rights, and you can benefit from it, too.
Our driving force is the desire to make services more accessible to everyone, so DoNotPay often goes by as the world's first robot lawyer.
Access our app from any , so that we can help you with:
Challenging traffic tickets

Disputing speeding tickets