Forgot Your Gmail Password? — Here's What to Do!
If you are frustrated because you forgot your Gmail password, you are in good company. Research shows that 25 percent of people forget their passwords at least once a day. Even worse, one-third of people surveyed admit they suffer from "Password Rage", in which people shout, scream, or cry out of frustration as they try to remember a lost password. So, try not to be too hard on yourself if you lose your cool a bit!
Fortunately, there is now a quick, simple way to avoid Password Rage! Whether you forgot a Windows 10 password or forgot a WinRAR password, you no longer have to resort to crying, shouting, or pulling your hair out as you spend hours trying to remember your password. Read on to discover how to recover a lost password for Gmail and prevent Password Rage in six easy steps.
How Can You Reset Your Gmail Password on Your Own?
If you prefer the "Do It Yourself" approach to password recovery, then grab your favorite PC or mobile device and head to a comfortable location where you frequently work or play games online. Then follow the instructions below.
Instructions to Reset Your Password  
Go to the Google Account Recovery page.
Provide your email address or phone number.
Answer a series of questions to confirm the Gmail account is yours.
Look for an instructional email from Google.
Select a new password you have never used with your Gmail account.
Make sure your password is strong and complies with all password requirements.
Be prepared to be signed out of your account on your devices.
Be sure to check all email addresses you used to establish your account for reset messages or prompts.
What Happens if You Encounter Problems?
Sometimes, people run into problems when using the steps above. If you hit a dead-end, then go to Google's Tips to Complete Account Recovery and follow the suggestions closely. They include the following:
When trying to resolve your password issues, use a device you regularly use.
Choose a familiar location where you often work online.
Always answer as many of the questions as you can.
If you are asked for a previous password, try to choose the most recent one you can recall with ease.
If you are not able to recall an old password or the answer to a security question, then take your best guess.
Be as specific as possible if you are asked why you are unable to access your account.
Remember to type with care, as a typo may derail your efforts.
Always check your Spam folder for any messages you may have missed.
Go to the Google Troubleshooter if you continue to have problems.
How to Reset Your Gmail Password With the Help of DoNotPay
When you forget your Gmail password, minutes can turn into hours if you try to resolve the situation on your own. And if your recovery efforts fail, your frustration is likely to grow. The DoNotPay app is the perfect way to recover your Gmail password and avoid Password Rage because it is fast, easy, and proven to work.
DoNotPay lets you recover your password in 6 simple steps:
1. Go to the Recover Passwords product on DoNotPay and select the type of account you are trying to recover, such as email, streaming service, social media, gaming, eCommerce, and more.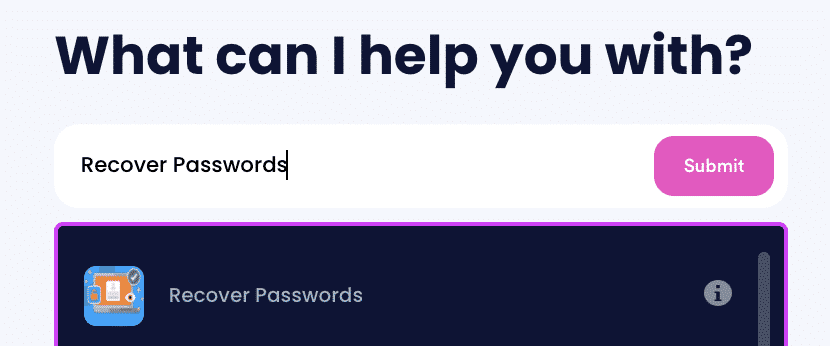 2. Tell us more about your account, including usernames and associated emails and phone numbers.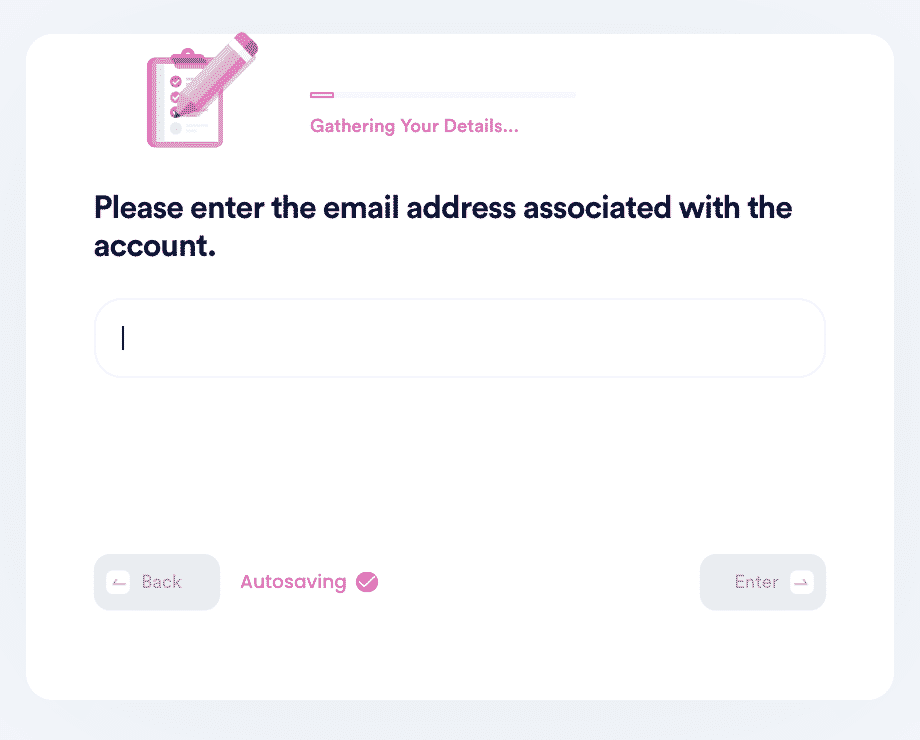 3. Help us verify your account ownership by entering the date you first created the account, when you last logged in, and any payment methods saved under the account.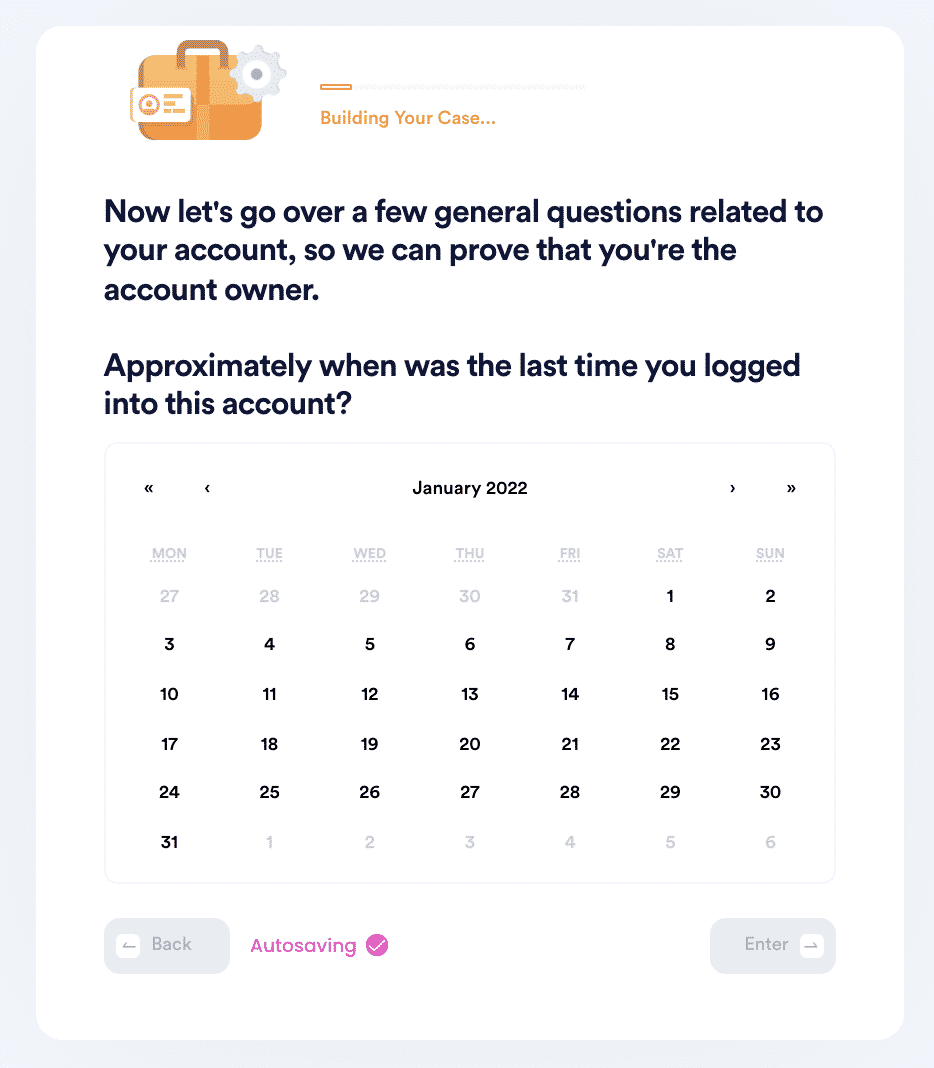 4. Upload photographic evidence if you have any that can help prove your account ownership.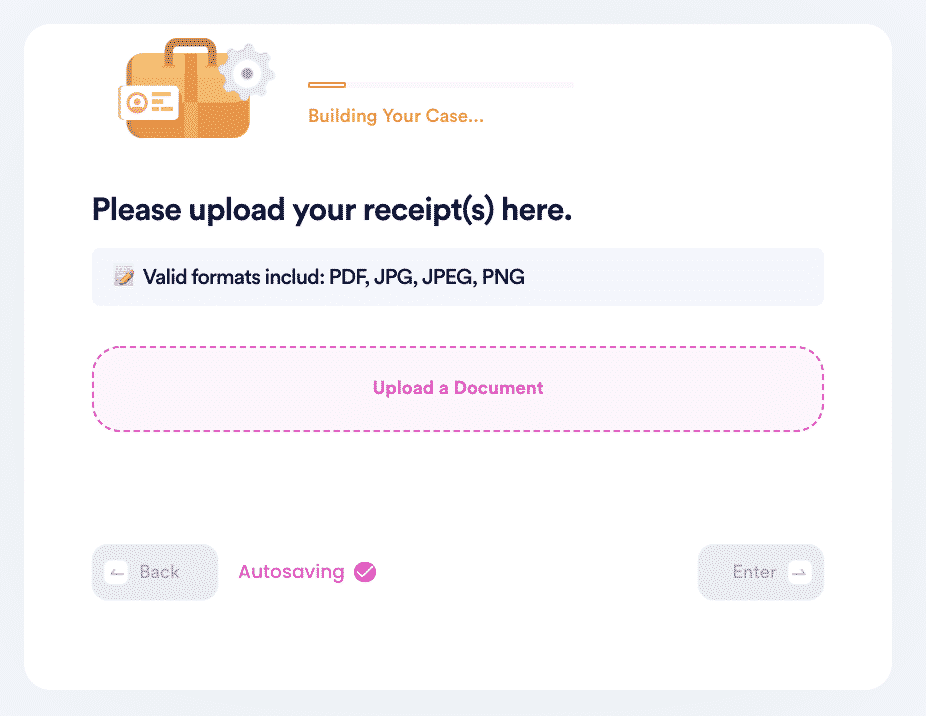 5. Enter any last known or previously used passwords to help verify your identity.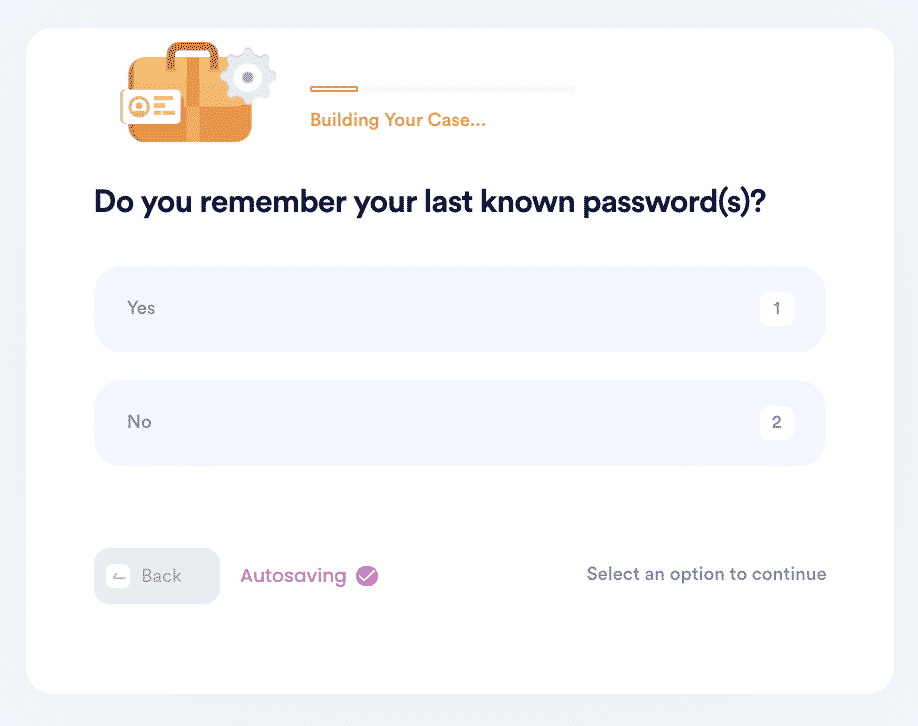 6. Enter your contact information and submit the task!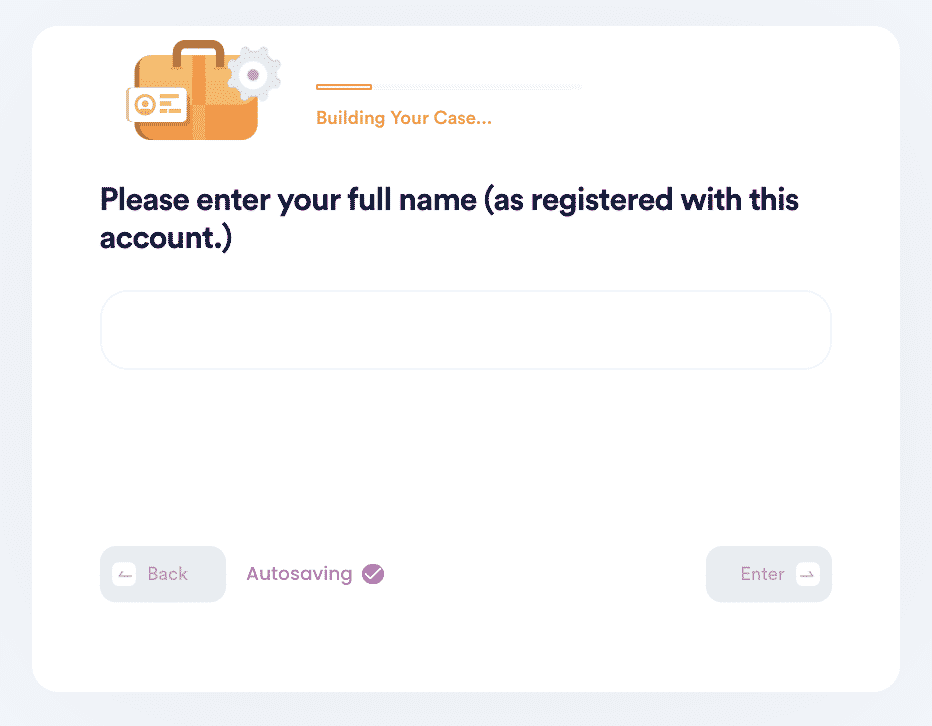 Why Use DoNotPay if You Forgot Your Gmail Password?
DoNotPay is your trusted, single solution for fast and successful Gmail password resets. When you complete the six steps above and hit the "Submit" button, you can rest assured knowing you will be able to access your Gmail account again in a matter of seconds. Here are three key reasons why Gmail users turn to DoNotPay for a solution to their password problems:
| | |
| --- | --- |
| Speedy Results | Resetting your Gmail password with DoNotPay only takes a couple of minutes. |
| Ease of Use | The DoNotPay app is simple to use and you can easily reset your password from any location using your favorite mobile device. |
| A Successful Outcome | You can move forward with confidence knowing DoNotPay has a proven track record of success with password resets. |
DoNotPay Helps You Reset All Your Forgotten Passwords With the Click of a Button
Now that you see how quickly and easily you can reset your forgotten Gmail password, you can turn your attention to recovering lost passwords for your other key accounts. The steps are the same so you can maximize your time and take care of all your lost passwords in a single sitting. DoNotPay can help you resolve password issues with a wide range of important accounts, including the following:
How Else Can DoNotPay Make Life Easier for You?
DoNotPay offers an impressive portfolio of solutions to help people on the go make the best use of their time. The scope of DoNotPay's benefits extends far beyond Gmail password recovery to help people overcome other obstacles in life. Here are some other ways DoNotPay can simplify life for you:
DoNotPay exists to provide you and others with fast, user-friendly solutions to your everyday challenges. We invite you to sign up with DoNotPay to put yourself on the path to a more stress-free lifestyle.