Things You Must Do if You Have Forgotten Windows 10 Password
We live in a world that revolves around passwords. They must be complex enough to prevent hacking into your account, but simple enough for you to remember. What happens if you forget your password?
If you have forgotten your Windows 10 passwords, things get complicated real fast. What if it is linked to an email account that you no longer have access to? What if your old computer crashes, and you cannot retrieve your account information to remember what email it was under? Microsoft can lock your account if you fail too many times.
Before you drive yourself nuts over a forgotten Windows 10 password, know that DoNotPay can help you retrieve your account information. We will do our part to ensure it is simple, fast, and secure to recover your password so that you can simply get back to enjoying the world of technology.
How to Reset Your Own Windows 10 Password
Windows computers make it easy for us to log into our computer with the use of a pin. The pin is a four-digit code that is super simple to remember. However, this is both good and bad.
This pin means that you rarely need to log into your actual account.
Then, one day you may sit down at your computer, and it asks for your password on the lock screen rather than the pin. You feel confident that you know your password, type it in, and Windows says it is wrong and realize you have forgotten your Windows 10 password. What do you do?
The First Step: Click Forgot My Windows 10 Password
On your lock screen, there is a button for you to tell Windows that you do not remember your password.
The Second Step: Enter Your Email Address
You will need to enter your Windows email address. Windows may show you a partial email address that allows you to fill in the missing parts to confirm it is you. From there, you will need to click on "Get Code" and tell the computer how you want to receive your verification code, whether through email or phone.
Enter the Code and Reset Your Password
If all goes well, it is simple to get to this point. You can reset your password and sign in, then get back to business. However, what if the only way to get the reset code is to enter an email address that is no longer valid or a phone number that you changed last year?
For this, you may need to try to reset your forgotten Windows 10 password locally, provided you have it set up. The steps for resetting your password locally involve:
Click Reset Password on Sign-In Screen
Answer Your Three Security Questions
Create New Password
Sign In
For most people, one of these two methods of password recovery will work. However, if you forgot Windows 10 password local account security questions, or do not have it set up yet, you may need to search for more help.
What if You Cannot Reset Your Windows 10 Password?
So much of our lives is based on our computer that a Windows 10 forgot password notification can cause us a lot of stress. Microsoft offers an account recovery form for you to use if traditional methods are not usable. However, for the most success you should:
1. Have a Working Email Address
2. Fill Out the Account Recovery Form on a Recognized Device and Location
3. Provide Your Information
Affected Email
Current Email
Name
Birth Date
Country Region
Names of Folders You Created
Billing Information
Basically, Anything That Identifies You
4. Wait for Microsoft to Contact You
5. If Account Can Be Validated, You Will Be Able to Reset Your Password Usually Within 24 Hours
The process of recovering your Windows 10 password can take time. It can be frustrating if you rely on your computer for work and entertainment.
If you are interested in discovering a simpler way of handling it, know that DoNotPay has you covered. We can simplify the process and get you back online quickly.
Forgot Windows 10 Password? DoNotPay Can Help You Recover Your Account
DoNotPay makes it easy for you to recover all your most important passwords. We can recover social media passwords, Samsung passwords, and even Wi-Fi passwords.
Before you stress over a forgotten Windows 10 password, take a look at how simple we can make the process. It takes just six easy steps.
1. Go to the Recover Passwords product on DoNotPay and select the type of account you are trying to recover, such as email, streaming service, social media, gaming, eCommerce, and more.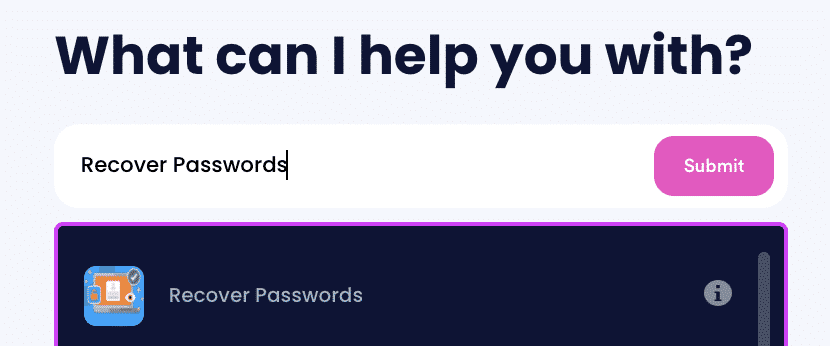 2. Tell us more about your account, including usernames and associated emails and phone numbers.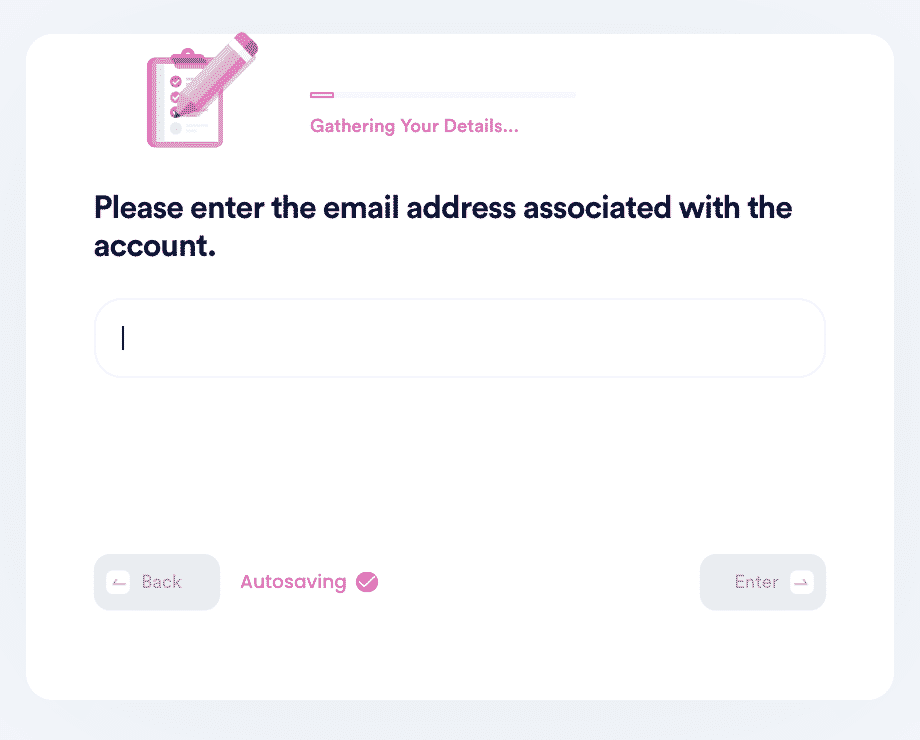 3. Help us verify your account ownership by entering the date you first created the account, when you last logged in, and any payment methods saved under the account.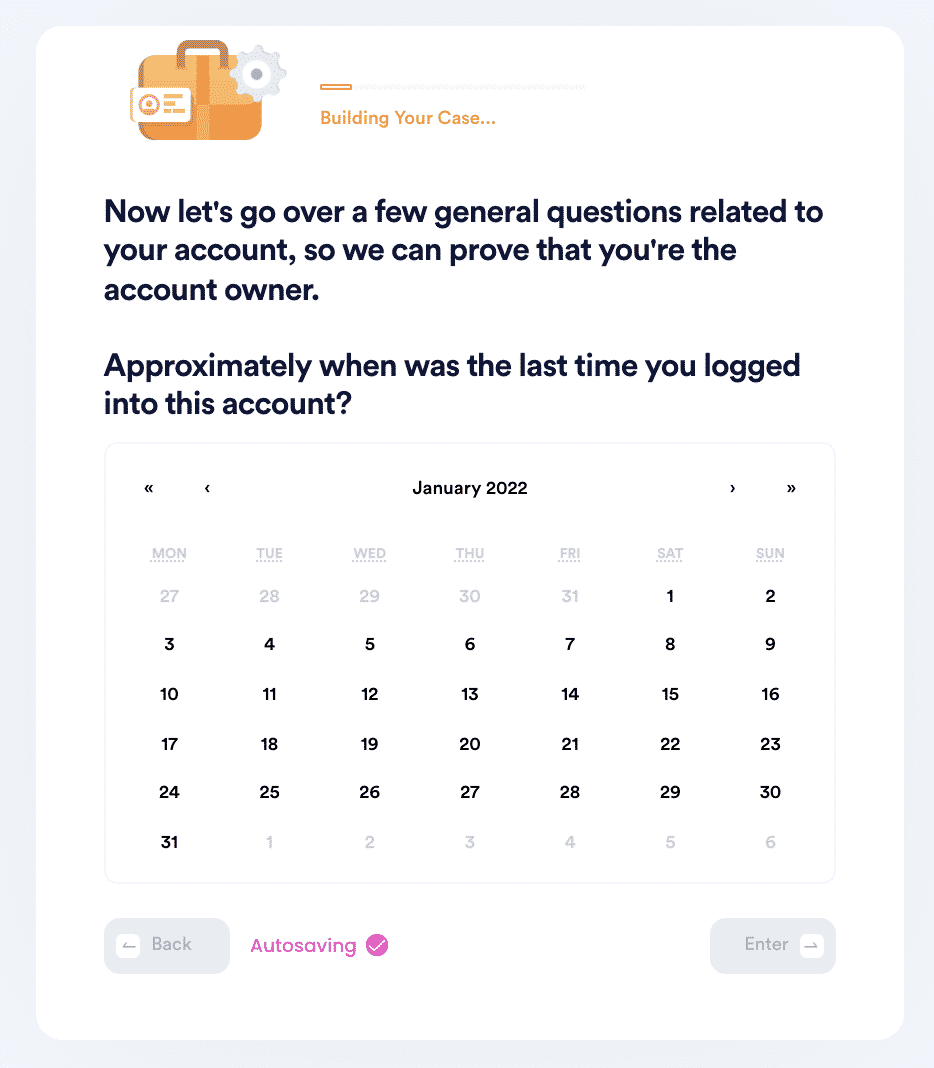 4. Upload photographic evidence if you have any that can help prove your account ownership.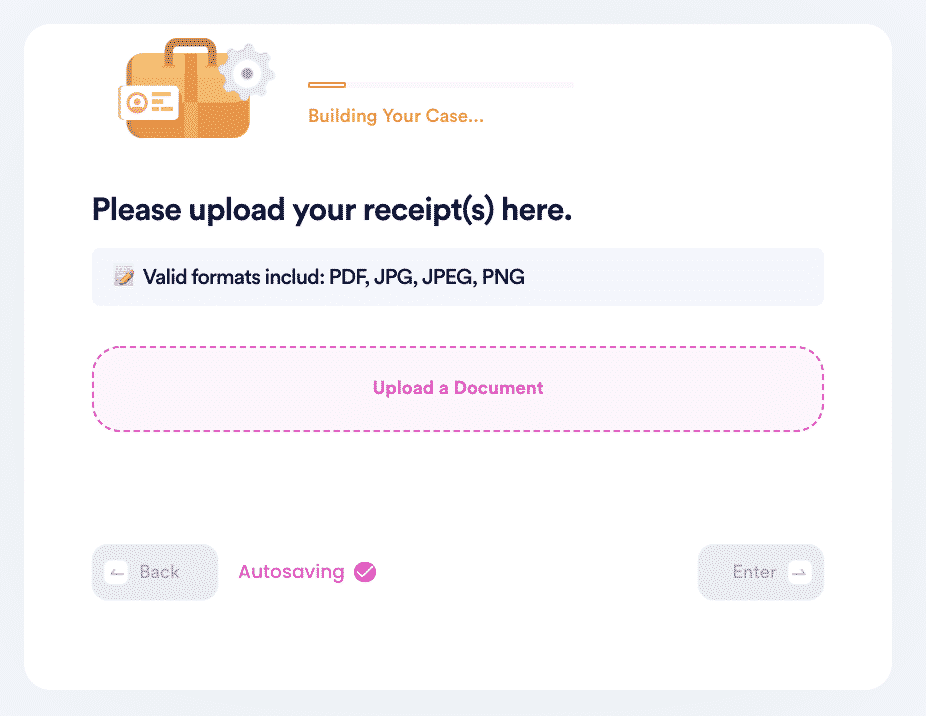 5. Enter any last known or previously used passwords to help verify your identity.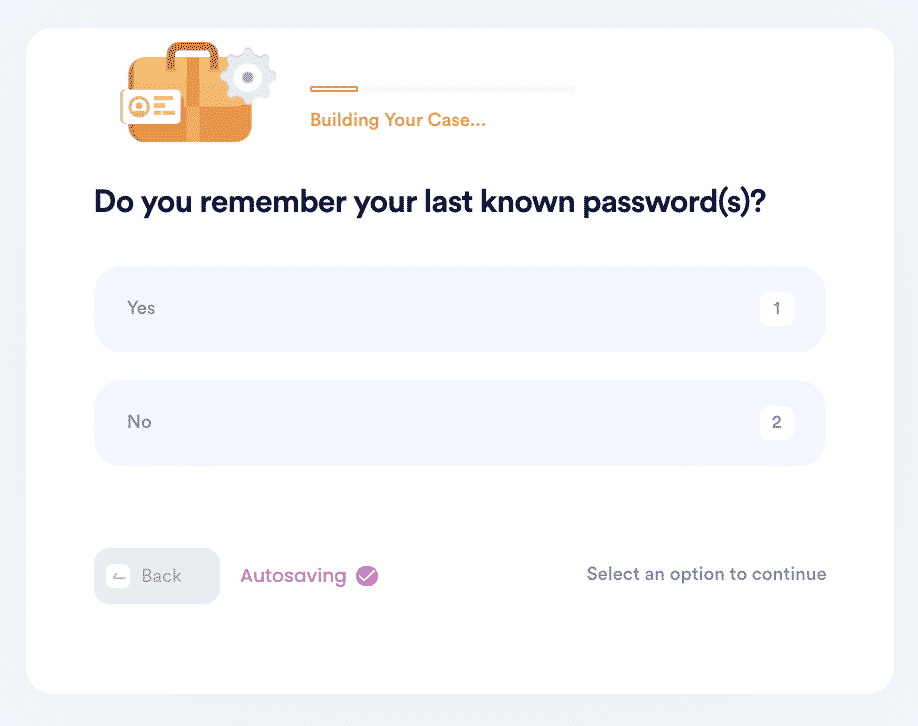 6. Enter your contact information and submit the task!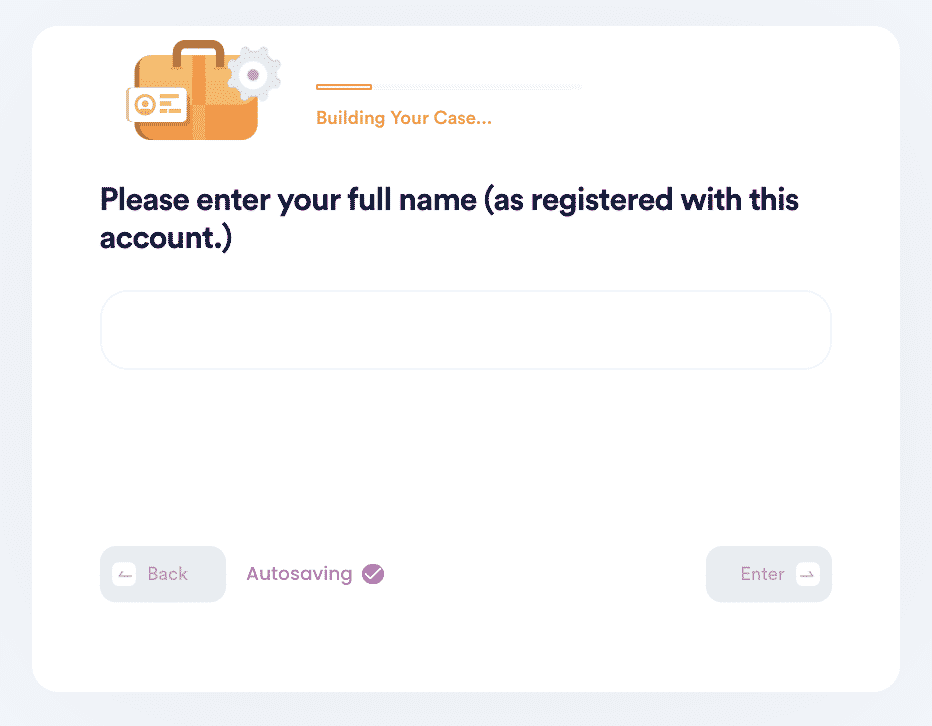 With DoNotPay, All Forgotten Passwords Can Be Recovered With Just a Click of a Button
Forgetting passwords for websites like Discord, Steam, and Facebook can be inconvenient. A forgotten Windows 10 password is something that can interrupt your life and halt your productivity. Sadly, we have all been there. We have all forgotten a password that stopped us from doing what we want to do at that moment.
There are a lot of reasons why you should choose DoNotPay:
| | |
| --- | --- |
| It's Fast | You don't have to spend hours trying to reset your password or wait weeks waiting to hear back. |
| It's Easy | You don't have to struggle to try to remember the answer to your security questions. |
| It's Successful | You can rest assured knowing we'll make the best case for you to get access to your account. |
We can also help you tackle a variety of other inconveniences such as:
All you have to do to take advantage of our many services is contact us. You can visit DoNotPay online or through our very convenient app.