How to Apply for a Disabled Veteran Hunting License Quickly With DoNotPay
Hunting has been a popular sport for hundreds of years and more. As the nature of hunting has evolved over the years, so have the laws. Whether you hunt with a rifle or bow, enjoy squirrel and rabbit hunting or prefer deer season, you need to be properly licensed.
This ensures you are following state laws, which aims to protect and maintain wildlife. If you are wondering how to get a disabled veteran hunting license, DoNotPay can help you navigate the process.
Who is Eligible for a Hunting License?
Laws vary by state, so it is important to check the regulations of the state where you are hunting. Most states set age requirements for hunting licenses for those who are not hunting on their own privately owned or leased property. You may need to be a resident of the state where you apply, which can be tricky for someone who expects to hunt while traveling on vacation.
Some states require background checks and/or hunter safety education courses before issuing a hunting license. It is imperative that you understand the laws to avoid potential fines and issues.
What Are the Different Types of Hunting Licenses Available?
Most states have a variety of hunting licenses or combination licenses from which you can choose. These are just examples that you might find in states across the country.
License By Type of Game
Small Game License - Rabbit, squirrel, groundhogs, etc.
Big Game - Some states issue a license that covers several larger animals
Animal Exclusive - Some states require specific permits depending on the type of animal (bear, deer, elk, etc.)
License By Type of Hunting
Hunting licenses can also be categorized based on the specific way of hunting that the participant will perform.
| | |
| --- | --- |
| Trapping | Many states issue a separate license for hunting |
| Migratory Bird/Waterfowl | Often a specific license and duck stamp is required |
| Archery | Some states require an archery tackle license in addition to a hunting license |
| Muzzleloading | Some states require additional licensing to accompany your hunting license |
| Combo/Sportsman License | You can get a combination license that may include some combination of fishing, hunting, trapping, and/or waterfowl permits |
Residency, Length of License, or Status
Resident or Non-Resident - Some states allow non-resident licenses, and states may have specific residency-length requirements before they issue a residential hunting permit.
Annual vs. Short Term - In some states, you may get a short-term license that is valid for a day or a week, or you can choose the annual permit if you hunt regularly.
Senior/Disabled/Veteran - Most states have provisions for discounted fees or altered requirements for senior citizens, disabled and/or veterans.
How to Get a Disabled Veteran Hunting License on Your Own
The process in getting a hunting license varies from state to state, and even more for those wishing to obtain a disabled/veteran hunting license. Here are some basic steps that might help you:
Contact the appropriate agency. The title may vary by state, so you may be looking for the Department of Natural Resources, Department of Fish and Wildlife, Department of Wildlife Resources or other similar agency for your state. They can direct you to the right department.
Determine the eligibility requirements. Find out if you meet the eligibility requirements for a disabled veteran hunting license in your state or the state where you wish to hunt.
Apply. You may be able to apply online, or you may need to fill out a paper application. Fill out all applications and paperwork thoroughly. Make sure you will all have required licensing for the type of hunting you wish to do.
Submit documentation. You may need to submit copies of a government-issued ID, paperwork that proves your disabled/veteran status, proof of residency, and/or pass a background check.
Pay applicable fees. Pay all hunting license fees that apply to your status or the type of licensing you choose.
Take a hunter safety course. If required, you will need to take a hunter's safety course before your license is issued. It may also be completed within a certain time frame to keep your license from getting revoked.
Let DoNotPay Help You Apply for a Disabled Veteran Hunting License Quickly and Easily 
It can be tedious to track down the right agency, research hunting license requirements and fill out all the forms. Let DoNotPay reduce stress and save you time by helping you through the process of getting your disabled veteran hunting license.
Here's how you can use DoNotPay to get your hunting license:
1. Search "hunting license" on DoNotPay and select the state you would like a hunting license for.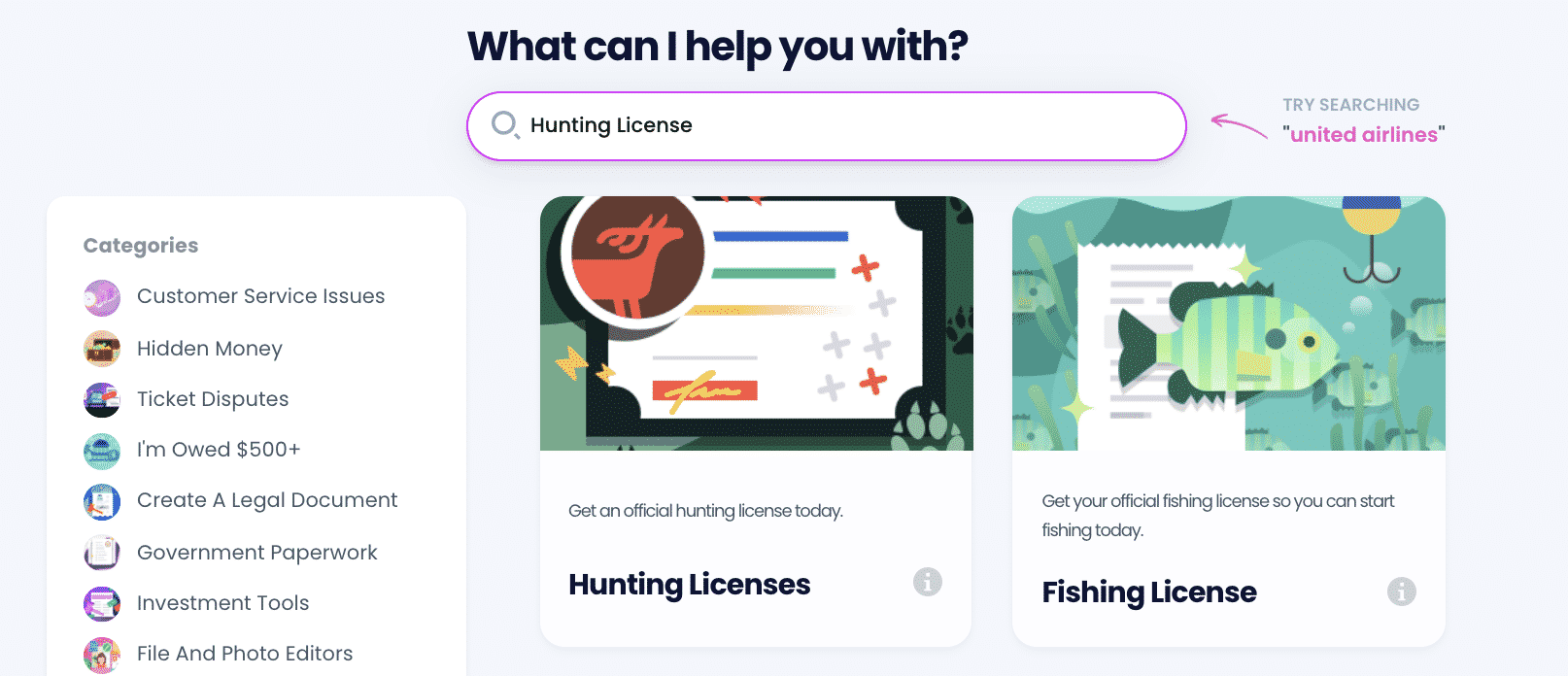 2. Indicate whether you are a resident or non-resident, and choose the type of license you want. For example, an annual or one-time pass, big game or small game license, bear tag, etc.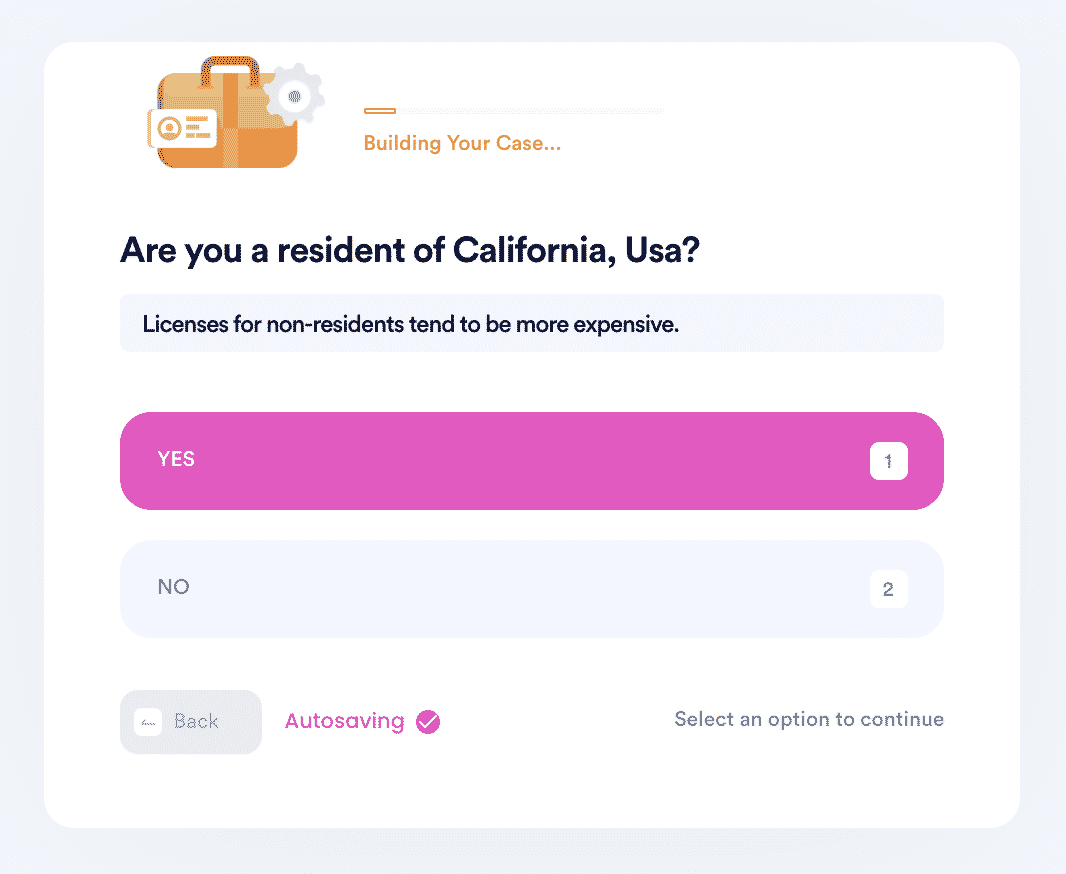 3. Provide your contact information, a copy of your government-issued ID, and pay the fee required by the state.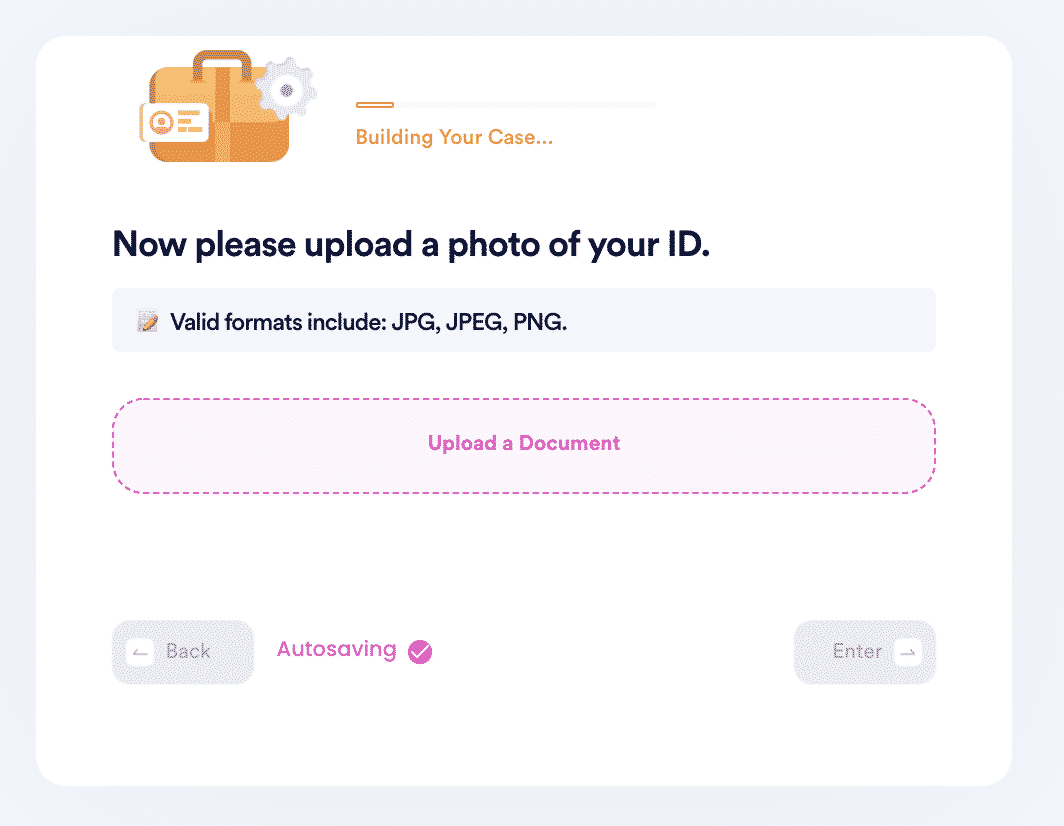 And that's it! DoNotPay will get the hunting license on your behalf, which will be valid immediately. Just download the file and print it as a temporary license, while a physical copy gets processed and sent to you by mail.
DoNotPay Works Across All Companies Nationwide With the Click of a Button
DoNotPay is equipped to work across companies across America. This ensures a seamless transition no matter what task you need to get completed.
Whether it's getting disabled veteran hunting licenses or other completing tasks that require legal assistance, DoNotPay can assist and lift the issue off your shoulders. No need to fill out intake forms repeatedly, this robot lawyer is all you need to get everything done..
What Else Can DoNotPay Solve For You?
Not only can this robot lawyer get you a hunting license in any state which you're eligible, it can help you with a variety of other problems or concerns as well, including:
And so much more! Whatever you need, DoNotPay can help. Simply download the app and watch how a simple platform can improve how you handle all your tasks.