How to Get a Credit Balance Refund — A Step-by-Step Guide
Have you been struggling to get a credit balance refund? The process can be beyond time-consuming if you choose to do it on your own. DoNotPay can help make everything much faster and more effective. Before we get into the steps, let's see what a credit balance refund is.
What Is a Credit Balance Refund?

A credit balance is the amount of money that is credited to an account, following a successful purchase. It is the sum of all the funds that are generated by executing a sale. 
A credit card balance refund is the amount of money you get when you request a refund of your negative balance. There are a couple of options on how you can request a negative balance refund, but doing it with DoNotPay is the quickest method. 
How to Get a Credit Balance Refund With DoNotPay

Requesting a credit balance refund can be tiring and time-consuming, but not if you request it with DoNotPay. Here's what you have to do: 
Log in to your DoNotPay account in your

web browser

Scroll down and find the Chargeback Instantly option

Left-click on Get Protected

Answer the chatbot's questions

Left-click on Sign and Submit 
It is important that you answer the questions clearly and that you provide the correct information. After you've gone through the steps, DoNotPay will automatically fax a request to your bank. You will also get all the VISA and MasterCard codes that will come in handy for securing your credit balance refund. 
What Is a Credit Card Negative Balance Refund?
A negative balance appears in a situation when you do not owe any money, and when you are owed money by your credit card issuer. A negative balance does not necessarily mean that there's been a mistake, but it sometimes can be a result one. Here are some of the reasons you might have a negative balance on your card:
Canceled credit card fees

— Interest charges, annual fees, late fees

Previous refunds

— These refunds have already been paid off the balance on a previous month's credit card statement. For example, you've received a refund for a canceled flight due to a pandemic 

Removed fraudulent charges

— Pay close attention to the monthly credit card statements so you can dispute a fraudulent charge

Statement credit

— Some credit cards offer rewards, sign up bonuses, or cashback credits for new customers
A negative balance can appear if you get a refund for more than you currently owe. For example, if you've paid for a $5,000 vacation with your credit card, and you are prevented from going on your vacation, which leads to you getting a refund. If you've made a few charges that amount to $500 at the time of receiving a refund, you will have a negative balance of $4,500, which means that your issuer owes you money. 
A negative balance can also appear if you overpay when your credit card statements come, or if you're refunded fees after you've already paid off your bill. 
Remember that a negative balance does not affect your ability to apply for a new card.
How to Get a Credit Balance Refund On Your Own?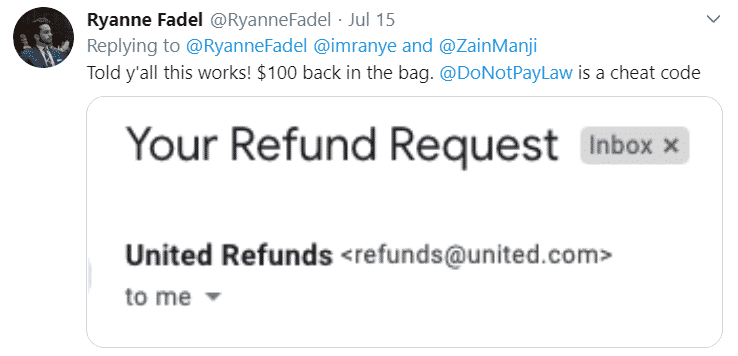 In most cases, the money is refunded via check or money order. The refund can also be refunded directly by being deposited to your bank account. 
The process of getting a credit balance refund depends on your cardmember agreement. 
Requesting a refund with the different issuer will vary, depending on their availability. The processes with different issuers are pretty similar, with only a few alterations. If you do not want a headache caused by reading through the process, DoNotPay is still the easiest option for requesting a balance refund with any issuer. 
The entire process can take a few business days to be completed. 
| | |
| --- | --- |
| Can you request a refund via | Yes / No |
| DoNotPay | Yes |
| Email | No |
| Phone | Yes |
| Letter | No |
| Website | Yes |
| In-person | Yes |
To get a credit balance refund, you have to submit a formal request, which can prove to be a hassle. Requesting a refund with DoNotPay is much less stressful than dealing with it on your own. 
Requesting a Credit Balance Refund In Person
You can always go directly to your bank, in person, and speak to a representative about getting a refund for your negative balance. This option is probably the one that takes the most time, but it is still a way to do it. 
Requesting an American Express Credit Balance Refund
If you're an owner of an American Express credit card and you want to request a credit balance refund, you can do it on the American Express website. Here's how it's done: 
Log in to your account

Select Open a Payment Dispute option

Select the "I have a credit balance on my account" option

Click Continue
Requesting a Capital One Credit Balance Refund
If you've accidentally overpaid your credit card, you can write to your credit card company to request a refund. 
Using Negative Credit Balance for Additional Purchases
If you do not want to request a credit balance refund, you can use the negative balance to make additional purchases. For example, if you have a negative balance of $500, you can use these funds for smaller purchases until you're back to zero. The problem with this approach is that you can overspend and end up in debt, especially if you use your card often. Requesting a refund is a safer option, and the best way to do it is with DoNotPay. If you need to have extra money on your card, you can always leave the negative balance and use it as a means of saving money.
Problems With Negative Credit Balance
Generally, a negative balance on your credit card cannot cause harm. It neither hurts nor benefits your credit score since it is reported as a zero balance to the credit reporting agencies. It is not harmful, but it is not ideal either. If you stack up on a negative balance, and a situation arises where you need the money as soon as possible, accessing it will not be easy.
What Else Can DoNotPay Offer?

DoNotPay is the world's first robot lawyer, and it can help you with a wide range of problems you encounter on a daily basis, both online and offline. We specialize in helping you cancel any service or subscription, get credit card chargebacks and refunds, and so much more. We can also help you fight and report harassment or help you sue big corporations, such as AT&T, Uber or Verizon 
One of our most sought-after products is the DoNotPay Virtual Credit Card. This card can be used to avoid being charged for a subscription you were not planning on using in the first place. These cards generate a credit card number, which can be used for subscribing for free trials, without being charged for a full month after the trial ends.
Do not hesitate — check out the rest of our services in your web browser: 
Disputing traffic tickets

Fighting speeding tickets