How to Cancel CreditSecure Without a Fuss
CreditSecure is a feature offered by American Express that provides credit and identity monitoring tools to AmEx customers. It's an entirely optional product whose main selling points are real-time alerts sent in case that the user's personal information is used without their consent.
How to Cancel CreditSecure
If you decide CreditSecure isn't worth $16.99 a month, you can cancel the service easily. Here are all the ways to terminate your enrollment.
| | |
| --- | --- |
| Can you cancel with | Yes / No |
| DoNotPay | Yes |
| Email | Yes |
| Phone | Yes |
| Letter | Yes |
| In-person | No |
| Company website | No |
Cancel CreditSecure via Email
You can end your CreditSecure membership by sending an email to support@creditsecure.com.
Cancel CreditSecure via Phone
You can cancel your CreditSecure enrollment at any moment by calling 1-866-617-1893.
Cancel CreditSecure via Letter
Write to CreditSecure's customer service team and send your letter by post to the following address:
CreditSecure c/o
ConsumerInfo.com, Inc.
PO Box 1459
Allen, TX 75013
DoNotPay Can Cancel Your CreditSecure Membership in Your Stead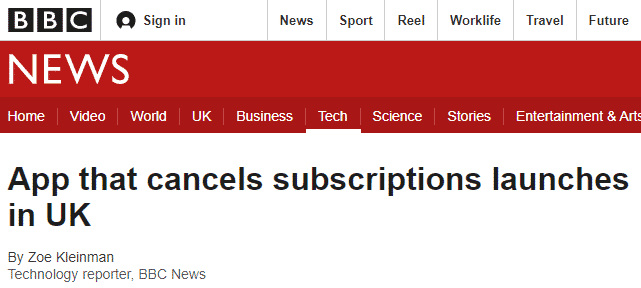 There's a fourth way to cancel your CreditSecure membership, and it's with DoNotPay—it's also the most straightforward and quickest of them all.
Follow these steps:
Open the DoNotPay app in any

Tap or click on the

Find Hidden Money

option

Type in CreditSecure as the name of the service you wish to cancel
As soon as we've canceled your membership, we'll let you know.
Another way to go about it is to connect your email or bank account to DoNotPay. This way, we can identify your other inactive subscriptions and recommend that you cancel them (with our help, of course).
On a related note, if you're struggling with American Express chargebacks or spam email, DoNotPay can assist you with this, too.
Does CreditSecure Offer a Free Trial?
There is no free trial, but you will pay $1 for the first thirty days of using the service.
Does CreditSecure Prorate its Cancelations?
According to the CreditSecure Terms and Conditions, you may be entitled to a prorated refund only if you canceled an annual enrollment. Your CreditSecure membership will immediately cease, and the cancelation will go into instant effect.
If you cancel your monthly enrollment, you will not get a refund. You will be able to use the service until the end of the paid monthly period (unless your AmEx card account has been canceled).
Will CreditSecure Let Me Pause My Subscription?
No, there is no option to pause your CreditSecure membership.
DoNotPay's Virtual Credit Card Prevents Unwanted Auto-Renewed Subscription Charges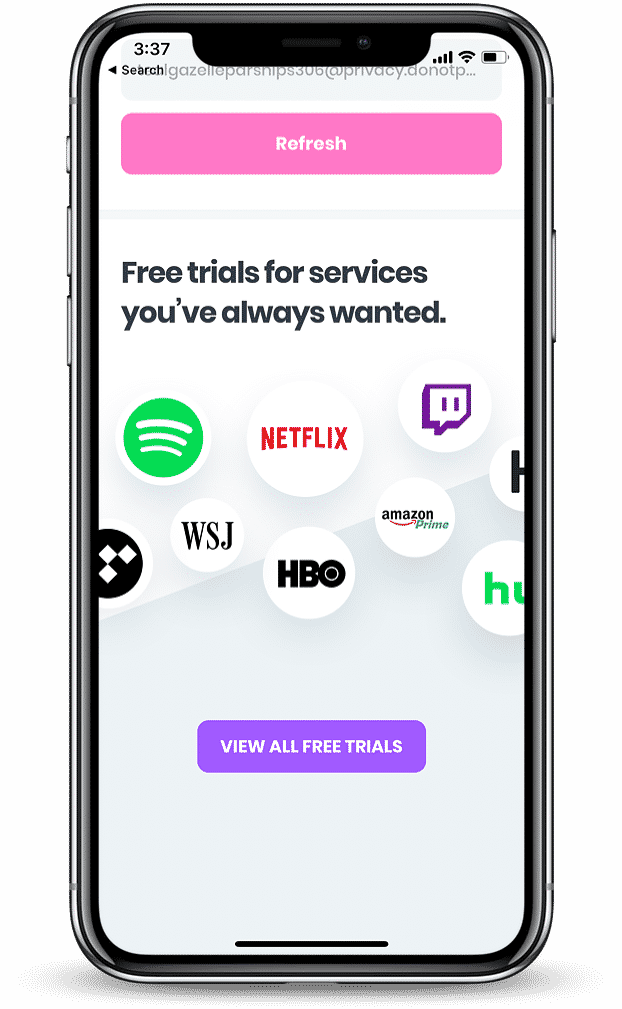 Research by West Monroe Partners revealed that most of us don't have the faintest clue about how much we're spending each month on different subscription charges. To illustrate how wide the reality vs. perception gap is, the study found that the average user spends $237.33 a month on their subscriptions, which is 197% higher than what they thought!
Undoubtedly, a significant part of that amount can be allotted to subscription fees stemming from free trials we forgot to cancel, yet are being charged for.
Even if you forgot to cancel your online subscription service, DoNotPay's Free Trial Card disables any auto-renewed subscription fee after the trial period runs out.
Our virtual credit card:
Creates random credit card information, including a 16-digit card number

Gets approved on free trial pages

Gets denied on subscription pages
With it, you can continue signing up for all the services you're keen to try out, without having to worry you'll get charged for them if they're not to your liking after all.
DoNotPay Looks at Which Subscriptions You're Not Using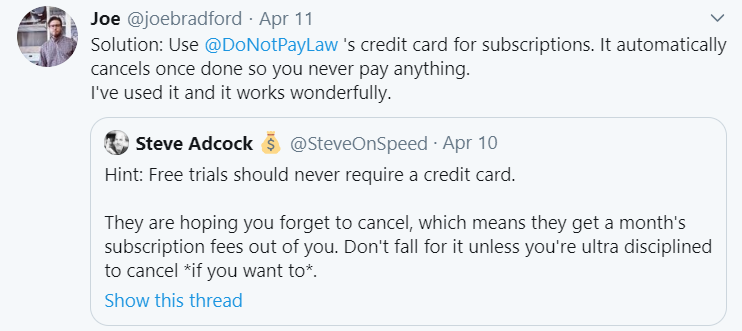 Have you ever gone shopping and spent money on something you thought was just so special and essential, only to forget about it after a few days? We've all been there, not just with physical goods, but with online subscription-based services and memberships.
What's the simplest way to cut down on your excess spending when it comes to online memberships? Let DoNotPay go through all of your current subscriptions by linking the app to your email or bank account. When we identify which ones you're not using (or not using enough to justify paying a subscription charge), we'll point them out to you so you can cancel them as soon as possible.
DoNotPay Steps In When You Get Stuck

Did you know that DoNotPay, also known as "the world's first robot lawyer," has been awarded the 2020 Louis M. Brown Award for Legal Access by the American Bar Association?
We harness state-of-the-art technology to create and automate processes, so you don't have to waste a ton of money and time figuring out how to do them yourself.
You can access DoNotPay from any . Once you do, we can assist you with an array of tasks and issues, including:
Fighting traffic tickets

Disputing speeding tickets