Cancel Book of the Month fast and simple
Book of the Month is a subscription-based online service that offers its members a choice of five new hardcover books each month.
How to cancel Book of the Month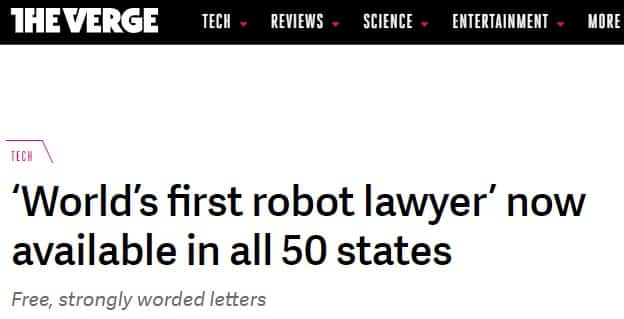 If you're no longer enjoying your Book of the Month subscription, there are a few ways of canceling your membership.
| | |
| --- | --- |
| Can you cancel with | Yes / No |
| DoNotPay | Yes |
| Email | Yes |
| Phone | Yes |
| Letter | No |
| In-person | No |
| Company website | No |
Cancel Book of the Month via the phone
Call the Book of the Month team to request a cancelation of your subscription on 1-888-784-2670.
Cancel Book of the Month via email
To cancel via email, send the Book of the Month team a note to member.services@bookofthemonth.com. Make sure they send you an email confirming the cancelation!
DoNotPay can request your Book of the Month cancelation for you

If you don't feel like reaching out to Book of the Month personally, let us handle the cancelation request for you. All that you need to do is the following:
Log in to DoNotPay via your

Choose

Find Hidden Money

Enter "Book of the Month"

Wait for our confirmation email
If you would like to cancel a few other subscriptions, link your email or bank account to DoNotPay. This will allow us to detect all services that you're currently being charged for, and recommend which ones you should unsubscribe from as soon as possible.
Does Book of the Month offer a free trial?
No, Book of the Month doesn't have a free trial.
Will Book of the Month let me pause my subscription instead of canceling?
Yes. With Book of the Month, you can skip one month if you don't like the book selection of that month. As explained on the company's FAQ page, there are two ways you can do that:
Visit the

My BOTM

, and click on the 'SKIP THE MONTH' button at the bottom of the page, then click Confirm.

Click the book icon in the upper right of the navigation bar and hit the 'SKIP THE MONTH' button, then click Confirm.
Does Book of the Month prorate its cancelations?
If you cancel your subscription, you lose your membership benefits, meaning you will no longer be eligible to choose a hardcover book to be delivered to you. If you decide to skip a month, you will not be charged for it, and your credit will roll over to the next month.
What are the best alternatives to Book of the Month?
If the bookworm inside you isn't quite satisfied with Book of the Month, don't worry as there are plenty of other book subscription boxes to choose from.
Company
Pricing
Benefits

OwlCrate

Starts at $29.99 + shipping

Best selection of newly released young adult books

Includes one book plus several bookish keepsakes

Incorporates a handwritten letter from the book author

Once Upon a Book Club

Different box categories according to book genre (contemporary adult fiction, historical fiction, YA, and more)

Individually wrapped gifts with page numbers from the book (to be opened only when you reach that page)

The Bookworm Box

Starts at $9.99 for a digital book and $19.99 for a physical book

Every profit is donated to charity

Supports up-and-coming authors
Do you need to settle a dispute with Book of the Month?

In some cases, the only solution when a company or a person has wronged you is to take them to a small claims court. If you've encountered an issue with Book of the Month, DoNotPay can assist you in using them. Our chatbot relies on state-of-the-art AI technology to create the required documentation you need to defend your case in a small claims court and ensure the entire procedure runs as smoothly as possible. As a testament to our efforts to extend legal access to every American, we recently received the 2020 Louis M. Brown Award for Legal Access by the American Bar Association.
DoNotPay tells you which subscriptions to cancel
Finding efficiencies and cutting down on hidden costs are what we do best at DoNotPay. Thanks to our app, saving money on your inactive subscriptions has never been so straightforward —all you need to do is join your email or bank account to DoNotPay so that we can look for all the subscriptions you're being charged for. If we notice you're not actively using some of them, we will recommend their cancelation to you immediately. Easy as pie, isn't it?
Put a lid on automatic subscription charges after the free trial runs out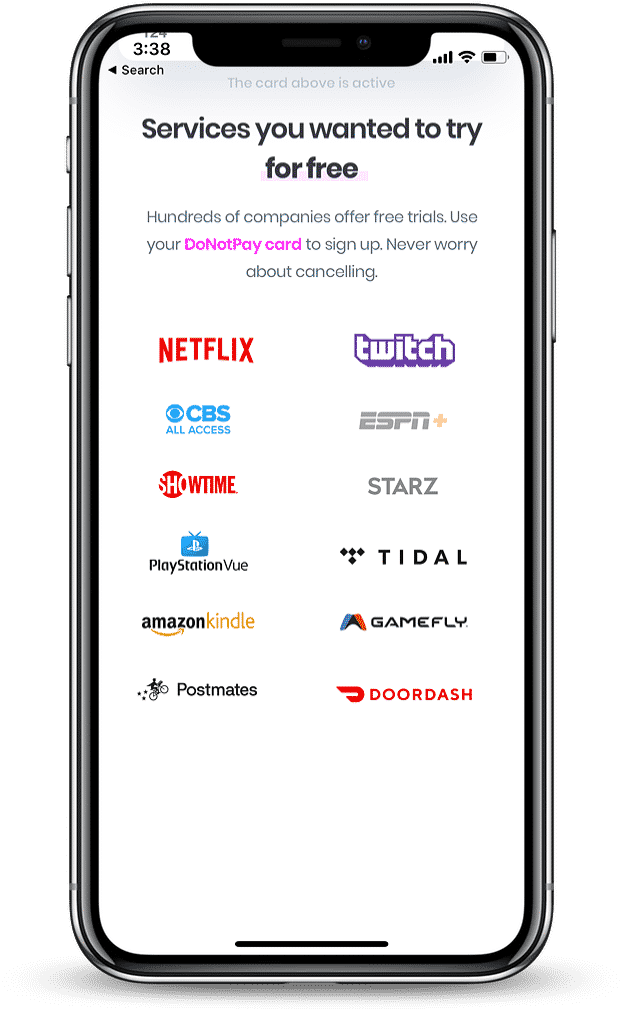 Most of us are hemorrhaging money through various subscription fees, especially those that occur after a forgotten-about free trial comes to an end. According to a survey by CreditCards.com, 48% of participants were charged for a subscription after a free trial period ended without their knowledge. Not just that, but only 51% of participants among that group was issued a refund.
The figures for unwanted subscription charges easily mount up, but this is where DoNotPay's Free Trial Card makes a world of difference. DoNotPay's virtual credit card generator enables you to create a new credit card number that you can use to sign up for services and verify your payment info without worrying about information abuse and theft.
It operates on a few simple yet very effective principles:
Creates random and unique credit card information

Gets approved on "free trial" pages

Doesn't get approved on the "subscription" page
DoNotPay does bureaucracy instead of you
DoNotPay is available in all . It will make your life infinitely easier should you need help with any of the below:
Beating traffic tickets

Fighting speeding tickets