All You Need to Know About Price Matching Deals at Vitamin Shoppe
Whether you're shopping for vitamins, supplements, or food replacements, you want to make sure you're getting the best possible price--especially on things that you use on a regular basis. Price matching is one of the best ways you can get the on the products you want and use, from the stores where you most want to buy them.
Using is a great way to increase your overall savings. DoNotPay can help you learn more about your price match options and take advantage of the price match policy at Vitamin Shoppe.
Does Vitamin Shoppe Have a Price Match Policy?
Vitamin Shoppe have a clear price match policy. While Vitamin Shoppe does provide competitive pricing on most of its options, it offers a price match policy that will allow you to show the same item from a competitor, then match that price on the item.
Company:
Vitamin Shoppe
Price Match?:
Yes.
Timeframe:
Prior to purchase
Price Matches:
Any competitor, including:

Vitaminshoppe.com
Vitamin Shoppe on Amazon
GNC
Lucky Vitamin
Vitacost
SproutsWhole Foods
Amazon
Bodybuilding.com

Exclusions:

Online Marketplace items, which are listed by third-party sellers, including:

Walmart Marketplace
eBay
Amazon Marketplace

Amazon Subscribe and Save options
Promotional or Sale Prices

Where to Redeem:
By contacting a customer care representative (phone or chat).
More Details on Vitamin Shoppe's Price Match Policy
When utilizing Vitamin Shoppe's price match , there are several things that you, as the user, will need to keep in mind.
You need to contact a customer care representative before making a purchase, usually either via chat or phone.
You must choose an item that is in stock both at Vitaminshoppe.com and on the competitor's website
The item must be identical in color, model, size, and brand
Vitamin Shoppe will verify that the item is eligible before accepting the price match and providing the sale
Online prices at Vitamineshoppe.com are different from the prices in some retail stores and are only valid for online orders
Despite the clear exclusions, however, price matching can go a long way toward helping you get the best possible deal on your Vitamin Shoppe purchase.
Other Ways to Save at Vitamin Shoppe
If you can't find the item you need at a from another seller, there are still several things you can do to reduce your overall costs and make it easier to afford the products you need. Consider:
Checking out Vitamin Shoppe's Buy One Get One Half Off Promotions
Looking for coupons
Exploring the regular sales and promotions offered on the website, especially if you're willing to consider using different brands for your needs.
There are plenty of options that can help you cut your spending at Vitamin Shoppe.
How to Request a Price Match Through Vitamin Shoppe On Your Own
To request a price match through Vitamin Shoppe, users need to:
Log online or make a phone call to a customer service representative.
Provide all necessary information about the product, including where it can be found and the price differences.
Wait for the representative to verify the price.
Get a price match verification and move forward with the purchase.
Finding the right information for a price match can take considerable time. Even once you find it, you may have a considerable wait before you can get your discount--and Vitamin Shoppe may not always approve the discount the way you had hoped.
DoNotPay Can Make Price Matching at Vitamin Shoppe Easier
If you want to find the best prices but don't know where to start, DoNotPay has you covered in 4 easy steps:
1. Search for Price Match on DoNotPay and select the product.

2. Select whether you were charged more than the advertised price or if you believe you are eligible for a price match.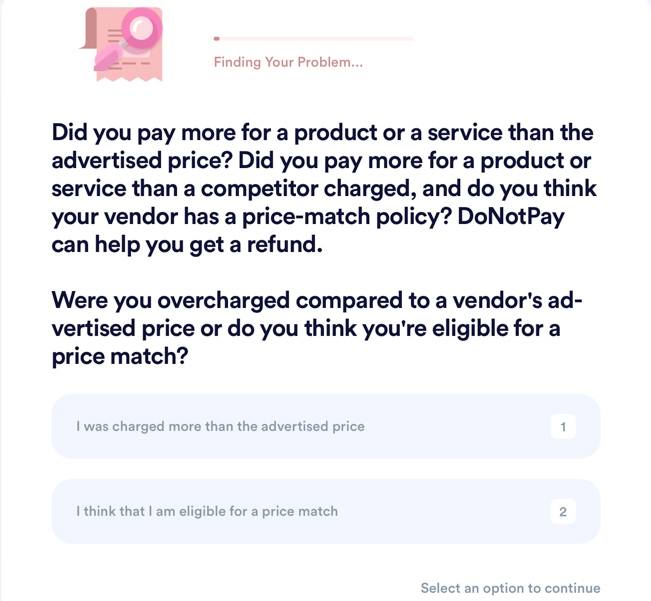 3. Provide the name of the product you purchased so DoNotPay can see if it qualifies for a price adjustment. If you believe your desired item is qualified for a price match, DoNotPay will double-check for you.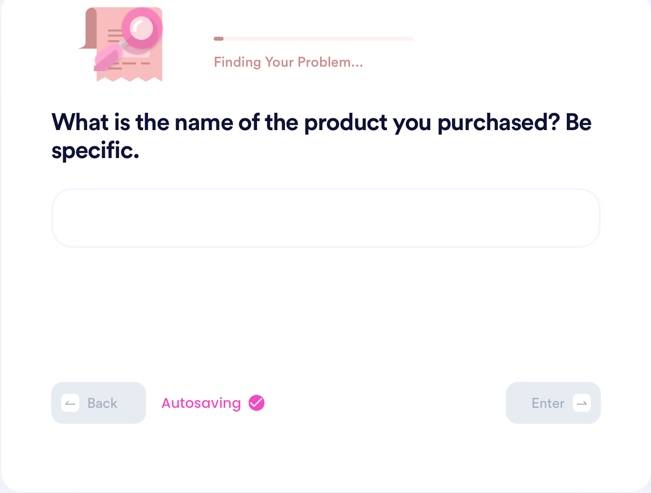 It's that simple.
DoNotPay also makes it easy to save with Vitamin Shoppe in other ways.
DoNotPay's Find the Best Deals tool can help you find the products you need at the lowest price available online. Simply enter the product you're looking for, and DoNotPay will find the best deal for you.
DoNotPay's Deals and Coupons tool will help find promo codes and other discounts you can redeem at Vitamin Shoppe, all in a few simple steps.
DoNotPay Makes Price Matching Easy
Need to learn more about what price match options you have available at a variety of stores? Check out:
Start Saving at Vitamin Shoppe Today with DoNotPay
Are you ready to and learning more about the cost-saving options you have available? Check out DoNotPay's Price Match tool, Find the Best Deals service, or Deals and Coupons service today.