Free Fast Food: Earn Free Cookies From Subway Listens
You're busy all the time with work and your family, and you don't always want to cook. But you also want to make sure you're feeding your family healthy foods. It's hard to find a more satisfying and healthy meal than a Subway sub, some chips, and a cold drink, except maybe a little dessert. Those freshly baked chocolate chip delights are the perfect way to cap off a tasty Subway sandwich.
The only thing that would make Subway's cookies better is if you get them for free. You may not realize it, but every time you order a sandwich or a meal from Subway, you have the opportunity to claim a free cookie by participating in the Subway Listens survey. The problem is, you either don't notice or procrastinate and miss your chance. With DoNotPay, you can cash in on free food by automating your survey responses to Subway Listens.
How Do You Take a Subway Survey?
As a Subway customer, you're eligible to take a quick survey to win one of their delicious cookies. Despite the fact that Subway is one of the most beloved fast-food restaurants in the country, they are always looking for ways to improve. By answering questions about your experience, you help mold the company, the food, and the service. To participate in a Subway Listens to survey, you'll need to follow a few steps:
Purchase one of Subway's delicious sandwiches, sides, or drinks.
Use your smartphone or other internet-connected devices to access the official site.
Enter the requested information on the form, including your name, email address, and the code printed on your receipt.
Answer some questions about your visit, the staff at the restaurant, the food, and your overall experience.
Once you've answered all the questions in the survey, they will present you with a coupon code you can use to get a free cookie on your next visit to Subway.
Why Should I Take a Subway Survey?
You probably have at least one favorite Subway sandwich that you get loaded with the toppings you love. There are three reasons why letting the restaurant know about your preferences and satisfaction with their products is beneficial for everyone.
The company gets valuable feedback they can use to get better.
Customers get the chance to express their pleasure or displeasure.
Everyone gets a cookie to munch on just for participating in the process.
Do I Need a Receipt to Take a Subway Survey? 
For some prizes and sweepstakes, there is no purchase necessary to enter. However, to take a Subway Listens survey, you're going to have to get yourself something to eat. Save the receipt and make sure you answer the survey within five days of your visit. If you lose your receipt or get damaged, you won't be able to use it to enter the survey. Also, remember that you need to be 18 or older to participate in a Subway Listens survey or win free fast food.
How Long Does a Subway Listens Survey Take?
If you want to earn free food by participating in a Subway Listens survey, you must act quickly. Surveys for Subway and other fast-food chains aren't hugely complex, but they can be time-consuming and a bit annoying. The survey is supposed to only take a minute or two, but that doesn't take internet connectivity or other issues into account. DoNotPay can answer your Subway Listens surveys in minutes, so you get free, fast food fast. 
How to Get Free Fast Food From Subway By Using DoNotPay:
If you want to get free food from Subway but don't know where to start, DoNotPay has you covered in 3 easy steps:
1. Snap a photo of the front of your fast food receipt.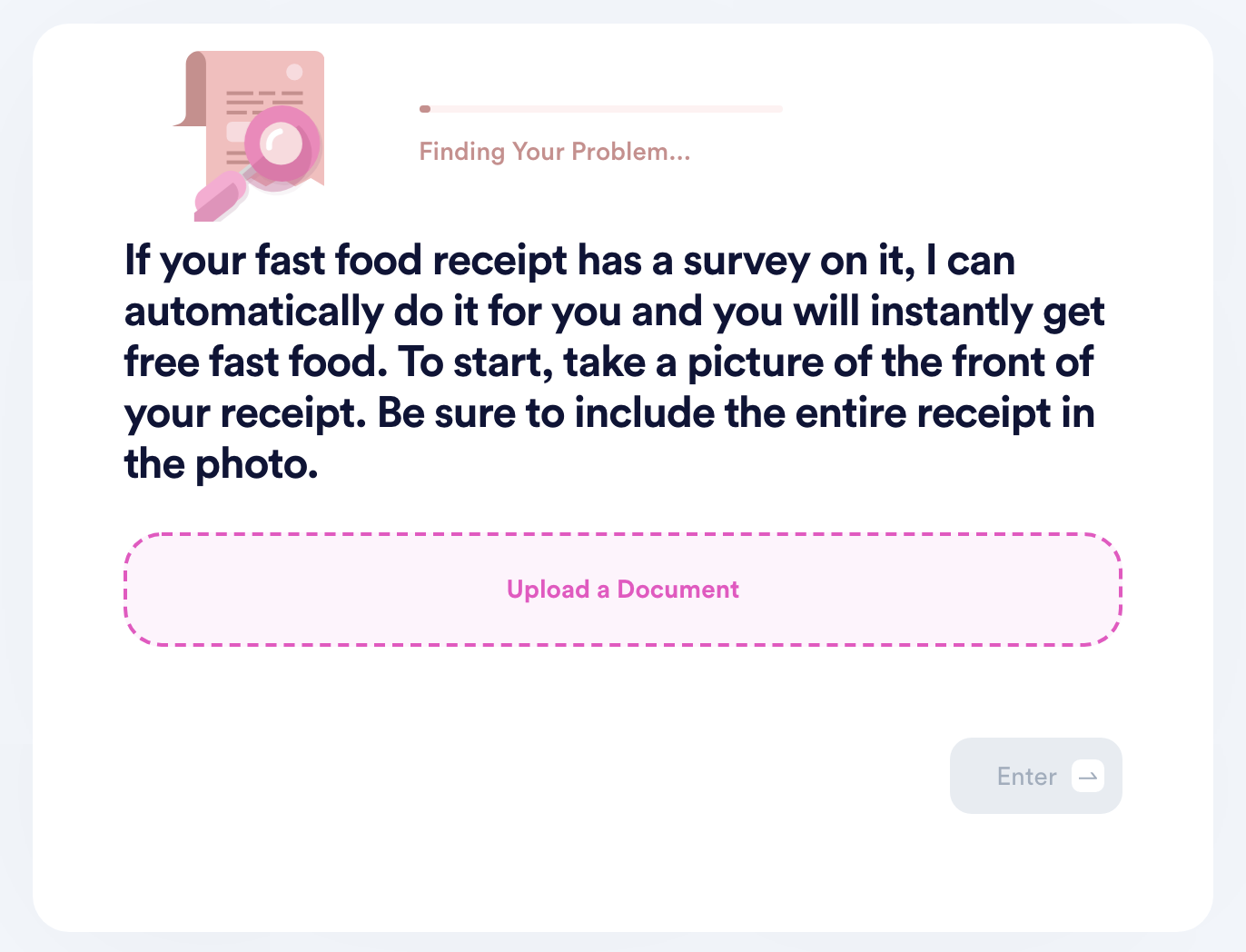 2. Snap a photo of the back of the receipt.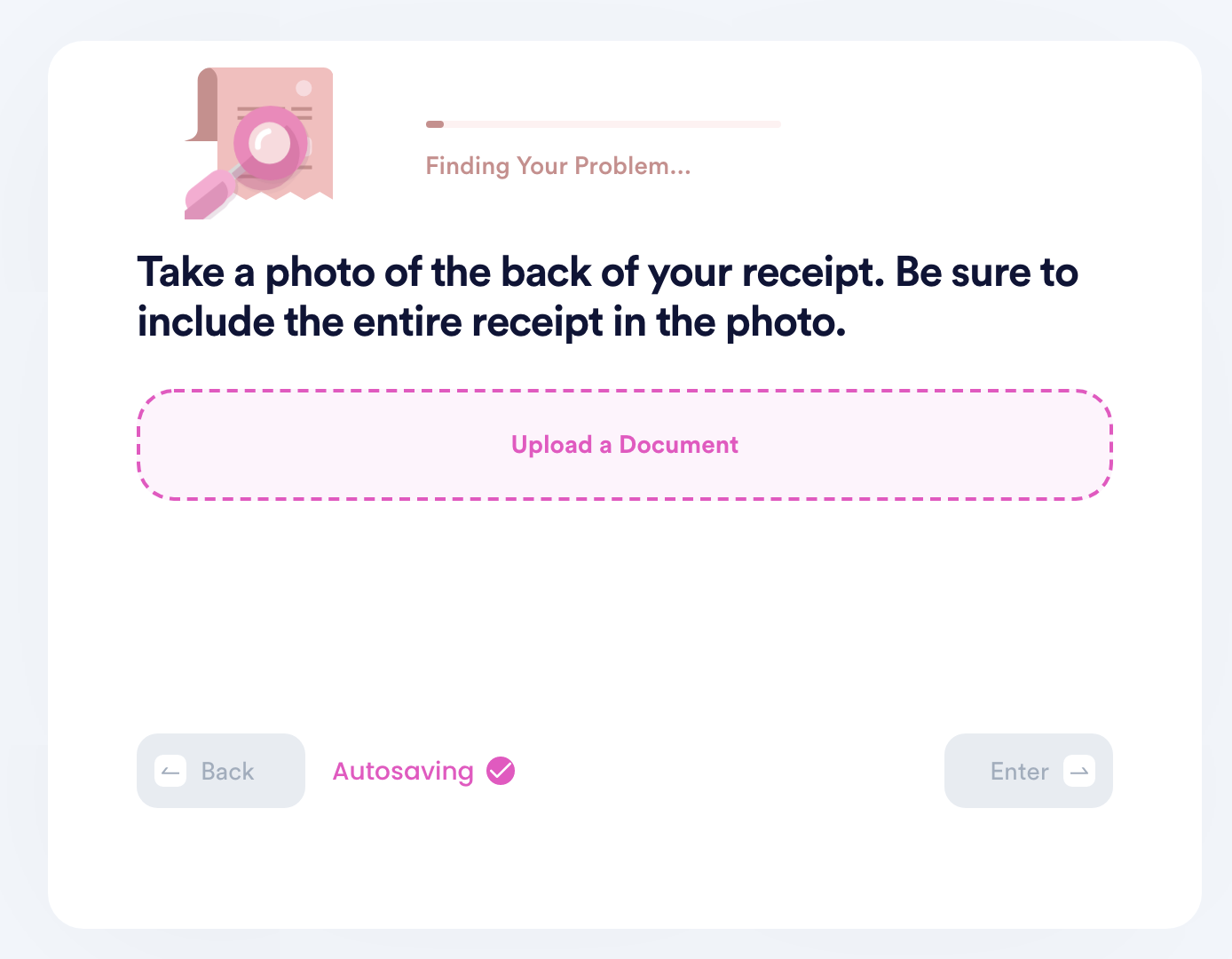 3. Confirm your full name and email.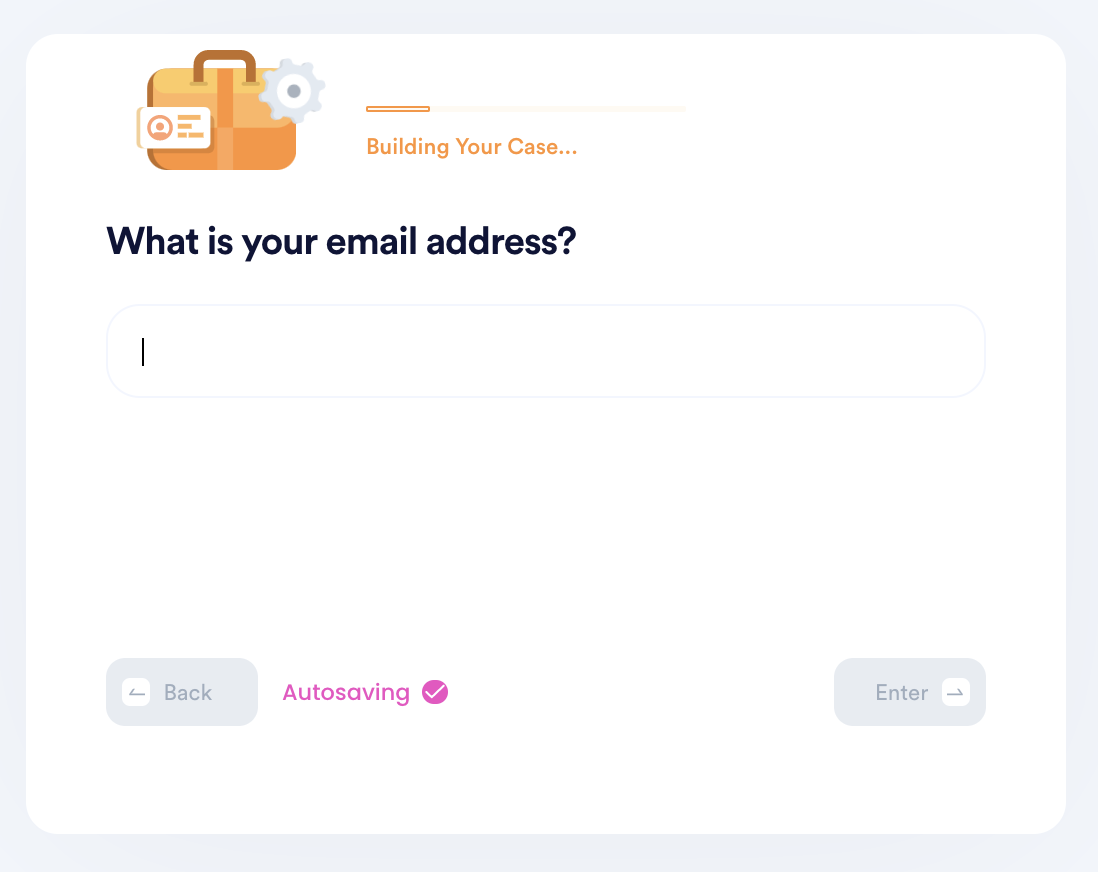 Why Use DoNotPay to Answer Subway Listens Survey Questions
You love fast food, and the only thing you like better is getting it for free. By giving your opinion to Subway about your recent visit, the food, and the service, you can earn dessert. But you barely have time to eat. Instead, leave it to DoNotPay, and you'll get the rewards you deserve fast and easy.
| | |
| --- | --- |
| Easy | You don't have to go through the process of answering every question on a Subway survey yourself. DoNotPay does it for you automatically. |
| Fast | Snap a picture of your receipt, click a button, and get back to life knowing you've earned free fast food. |
| Repeatable | Every time you visit a Subway shop to get your lunch, dinner, or snack, just snap a pic of the receipt and earn another fast-food reward. |
Earn Free Fast Food at Other Chains With DoNotPay
No matter what fast food restaurant chain you like to eat at odds are, there's a free food rewards program similar to the Subway Listens survey. Check the table below:
What Else Can DoNotPay Do?
Although scoring free, fast food for you is awesome, and it's not the only thing that DoNotPay can do to improve your life. In fact, the world's first robot lawyer can assist you with a huge variety of legal issues and daily tasks with the click of a button. Just a few of the things DoNotPay is capable of include:
And much, much more.
Get everything you deserve, from fast food to compensation for being annoyed by robocalls and more with the world's first robot lawyer. Visit DoNotPay today to learn about all the ways that your life will be easier and more secure with this innovative product.