Get Free Food From Your Wingstop Survey Quickly
Wingstop first opened in 1994, and their proprietary recipes have helped them grow from a small chicken wing restaurant in Garland, Texas to a worldwide franchise - they have more than 1,500 restaurants around the world now. If you've recently gotten a Wingstop receipt with the offer to take a survey, you may be wondering if it is worth your time and effort. Typically, restaurants offer feedback surveys so they can gauge their quality of service, and in return, you get free food, a coupon or discount towards a future purchase, or an entry into a sweepstakes. If you are ready to take advantage of a , DoNotPay is here to help.
How to Enter Wingstop Surveys on Your Own
There are multiple ways to enter a Wingstop survey, but it is important to keep a few things in mind first.
You must keep your receipt. You will need the following information from it.
Restaurant number
date
time
order number
You must be sure to complete the survey within the allowed time period--it will be specified on the receipt.
Your receipt will tell you how to enter. Follow all instructions and prompts carefully.
Here are the three most common ways to fill out your survey:
Enter Online

Go to https://mywingstopsurvey.com
Enter your receipt information
Press the green start button
Follow the instructions and answer all questions honestly.
Submit your survey

Enter By Phone

Call 1-800-746-6561
Follow the prompts
Answer all questions honestly

Enter By Text

Text the word "SURVEY"
Send the text to WINGS (94647)
Follow prompts and answer all questions honestly.
Messaging and data rates apply
Why Should You Take the Wingstop Survey?
There are a few good reasons to take Wingstop surveys. Giving honest feedback can help restaurants improve their food and their quality of service. The information on the receipt can help them identify which stores are providing consistently good service, and which locations can improve. Receipts can even help identify which employees are providing quality service and which employees could use additional coaching or training.
Another reason to respond to restaurant and fast food surveys is the free rewards. Restaurants want you to answer these surveys honestly to improve their service, which is why there are such a variety of questions, but they know it can be a little tedious. That is why they offer free food items, discounts or coupons for future purchases, or sweepstakes entries. It's a win-win situation for the restaurant and the patron!
Let DoNotPay Answer your Wingstop Survey
If you want to help some of your favorite restaurants by providing valuable feedback, their incentive of free food and sweepstakes entries is a great motivator. However, you have to keep up with the receipts, make sure you take the survey before it expires, and answer a lot of questions about the restaurant, the cashier's service, the food, and sometimes even the bathroom. DoNotPay makes the whole process easier. By giving us the pertinent information, we will complete your survey and you'll get the reward!
If you want to get free fast food but don't know where to start, DoNotPay has you covered in 3 easy steps:
1. Snap a photo of the front of your fast food receipt.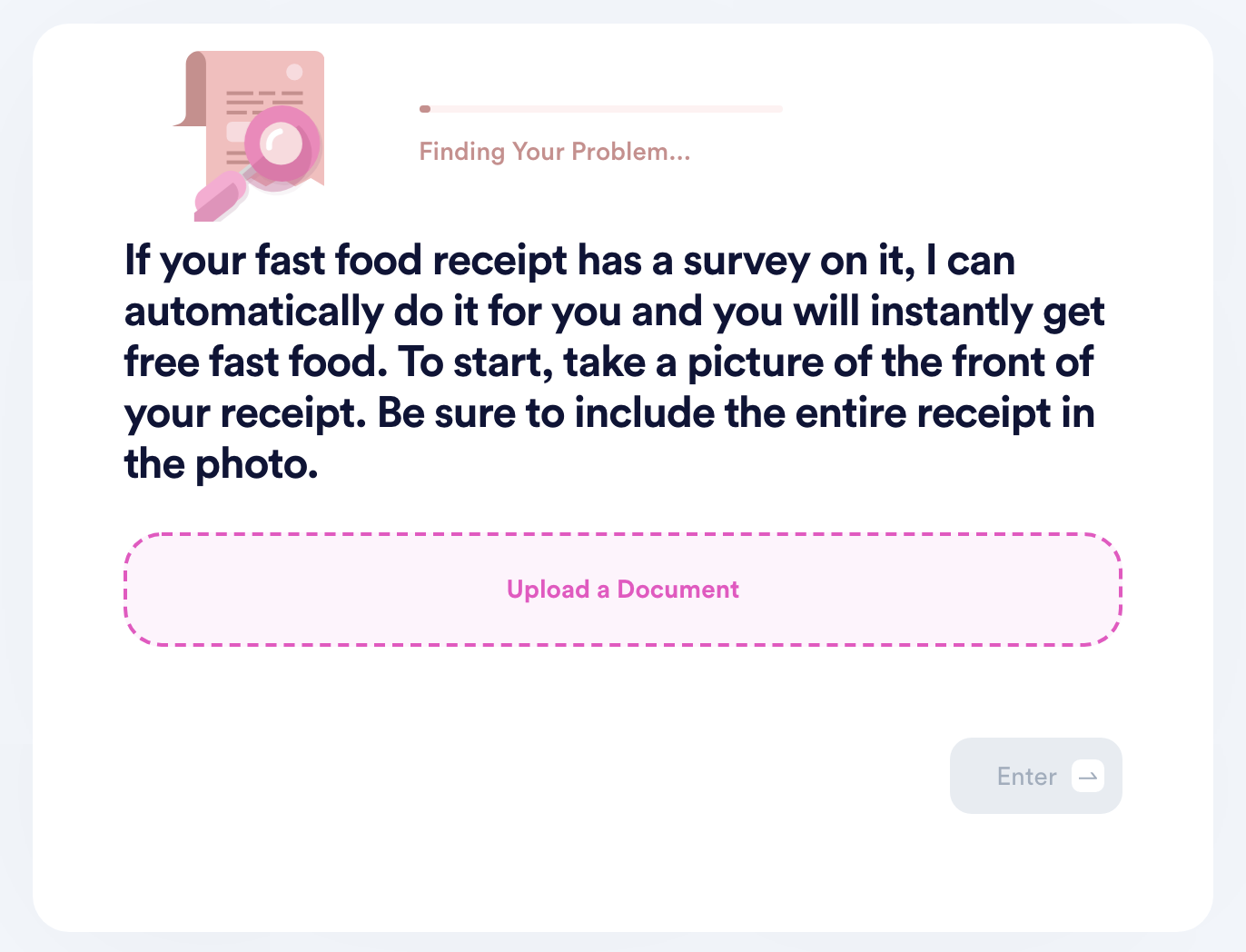 2. Snap a photo of the back of the receipt.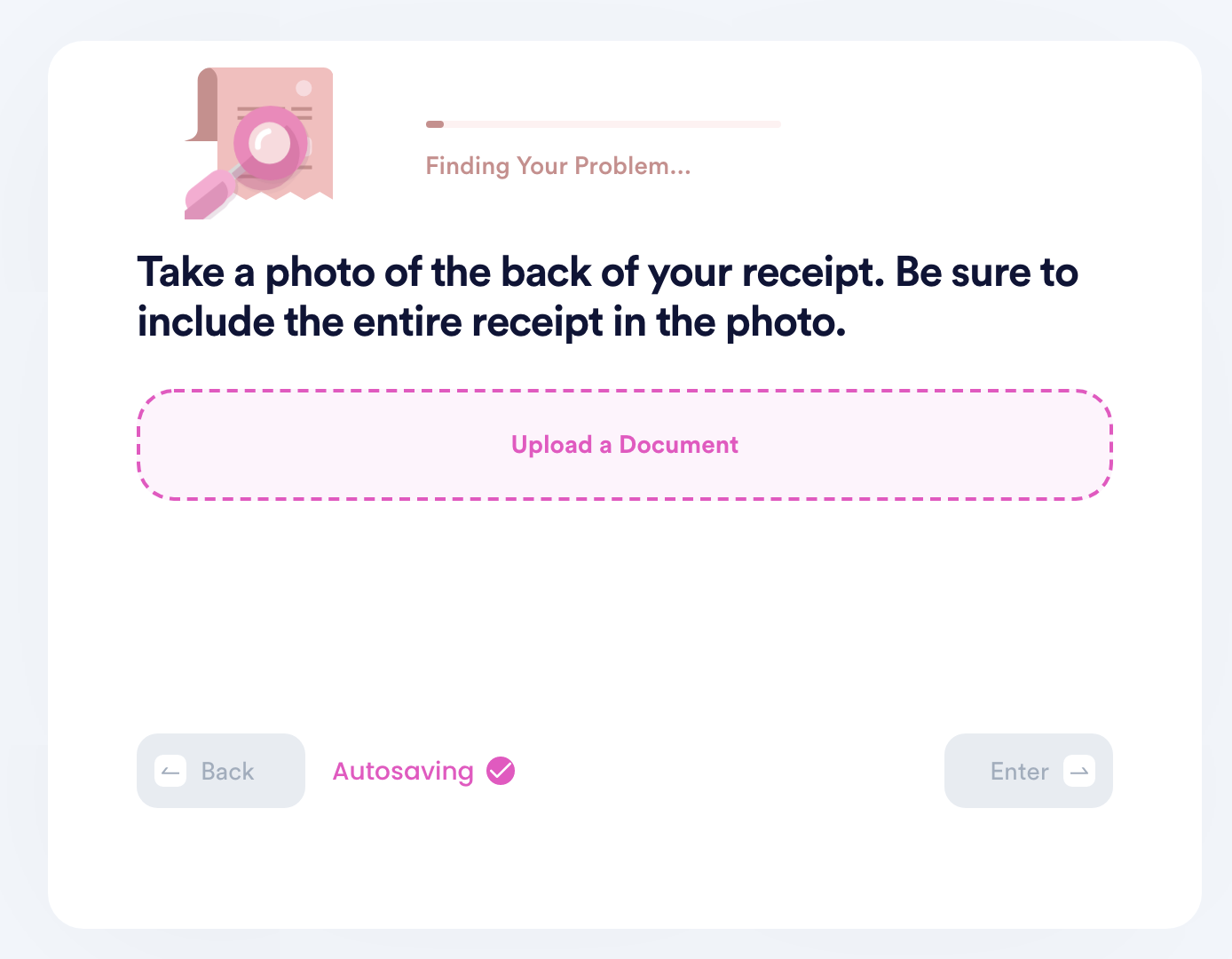 3. Confirm your full name and email.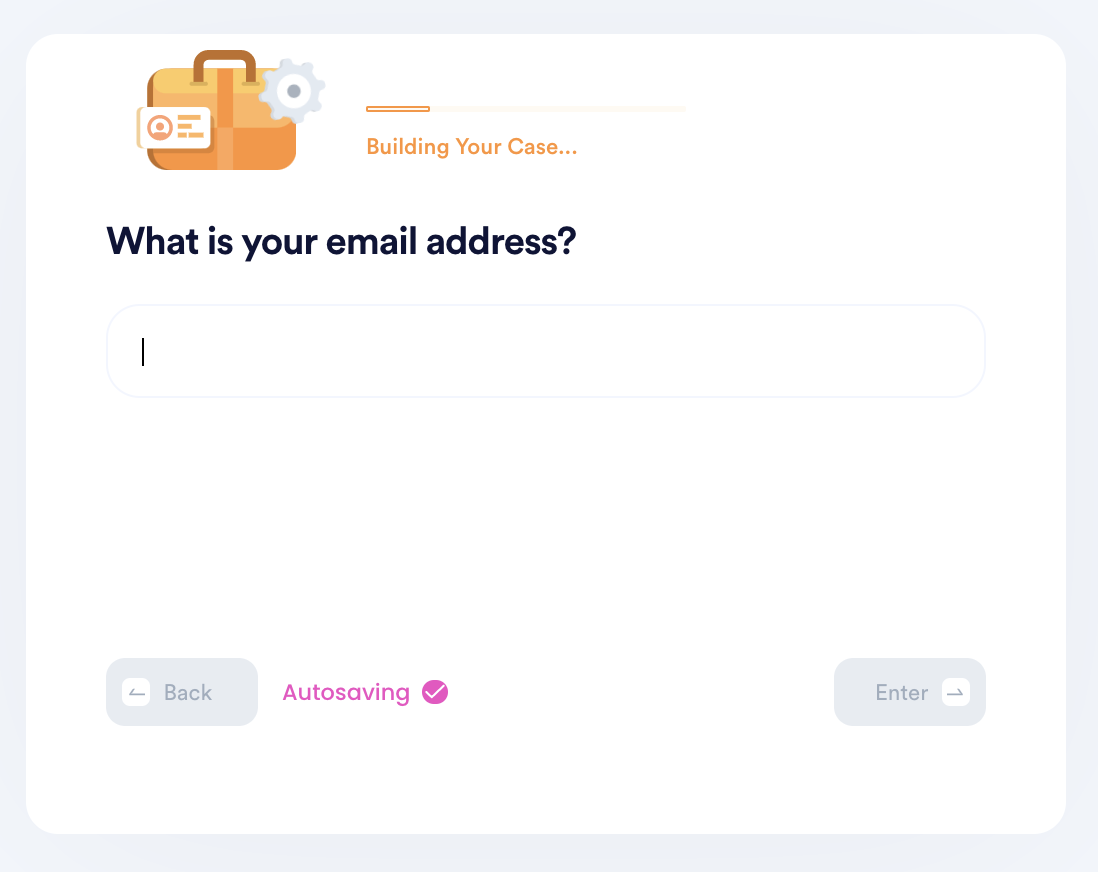 Why Use DoNotPay to Fill out Your Survey?
At DoNotPay, we know your time is valuable. Instead of you keeping a wad of the restaurant or fast food receipts to find the ones with surveys and taking time out of your busy day to fill out surveys so you can save a few books on your next meal, we do the work for you. Our service is fast, easy and successful. No more wasted receipts because you didn't fill out the survey before it expired, and no more tedious surveys for you!
As soon as you get a with any type of survey, send it our way and we'll do the work for you!
DoNotPay Gets Your Free Food at any Restaurant
The great thing about DoNotPay's service is that we can actually help you take surveys for any fast food restaurant! We want you to have the free food or discounts or be entered into a sweepstakes, but you should not have to spend valuable time doing it. Remember, you can use our service quickly for all of your receipts at once, and save valuable time! These are just a few of the popular restaurants we can help you find free food opportunities:
What Else Can DoNotPay Do?
DoNotPay can do even more than help you get free food. We can help you with a variety of issues, including:
No matter what type of problem you are facing, DoNotPay has a solution!