How to Report Tax Fraud on eBay
Tax fraud happens more often than people realize, especially with large businesses such as eBay. Luckily, you can report tax fraud on eBay to help with the situation. Studies show that although nearly 84 percent of federal income tax gets paid on time, a tax gap does exist – between how much tax each American owes in any given year and how much tax they pay to the Internal Revenue Service (IRS).
And according to the IRS, the estimated tax gap is $381 billion per annum. A considerable part of this gap is due to large organizations which find ways to manipulate numbers and avoid paying dues. Through the IRS fraud hotline tool, you can report any suspected tax cheating, and by doing so, you'll have helped them enforce the necessary tax laws.
If reporting through the IRS by yourself on eBay is not possible, DoNotPay can help. Learn how you can report an alleged fraud on eBay.
What Exactly Is Tax Fraud?
Tax fraud arises when a person or a business entity intentionally and willfully falsifies data on a tax return to restrict the amount of tax they should pay. Some examples of tax fraud involve claiming personal expenses as business expenses, claiming false deductions, not reporting income, and using an incorrect Social Security number.
Why Should You Report Tax Fraud on eBay?
One of the most important questions you may have when reporting tax fraud on eBay is whether or not you may report eBay seller tax fraud. You can report eBay sellers who fail to pay their taxes as expected, and you'll just be asking them to pay for what they were trying to receive for free unfairly. Alongside that:
You'll avoid the burden of having to pay extra cash for their sake.
You may also be eligible for some cash rewards from the IRS.
How to Report Tax Fraud On eBay by Yourself
If you suspect that any eBay seller is not complying with the tax laws, them to the IRS using Form 3949-A, Information Referral. You should not use the form above if you're reporting an abusive tax scheme or a tax preparer. For suspected abusive tax promotions or tax preparers, use Form 14242.
Due to tax return confidentiality, the IRS doesn't update you on the status or progress of the report. Once you file a tax fraud report, they also keep your identity confidential for security purposes.
Additionally, here is an alternative to report tax fraud on eBay - you may choose to write a letter to the IRS instead of using Form 3949-A. In the letter, include as much information as possible, including:
The name of the business (in our case, eBay)
Ebay's Social Security number or their Identification Number
A brief description of the tax fraud that you're reporting, including how you found out about it and how you got the information
Years of alleged tax fraud
The estimated amount of dollars for any unreported income
Your name, telephone number, and address
To claim a reward for the tax fraud information you give, use Form 211, Application for Award for Original Information. Again, if you have information and are not interested in an award, you can remain anonymous.
How to Report Tax Fraud on eBay if You Can't Do It Yourself
Tax fraud cheats the government out of millions of dollars, punishable by penalties, fines, prison time, or interest every year. And unless eBay fails to pay intentionally, the IRS does not include mistakes or accidental reporting, referred to as negligent reporting.
Nevertheless, even if you're sure that the fraud happened, you might at times not be in a position to report the crime by yourself. This might be caused by, for instance, the fear of getting fired for reporting your boss to the IRS. In that case, you can use a third party like DoNotPay (DNP) to help you report the fraudulent act without any consequences attached.
Reporting Tax Fraud on eBay With the Help of DoNotPay
At DoNotPay, our new tax fraud product helps you report someone on eBay for any suspicious tax activity easily and earn cash rewards of up to 30% of the money the IRS collects. By answering a few queries about the business and the suspected activity, DNP can help file an official IRS report on your behalf. Here is how to report someone for tax fraud on eBay using DoNotPay:
1. Open the DoNotPay Report Tax Fraud product.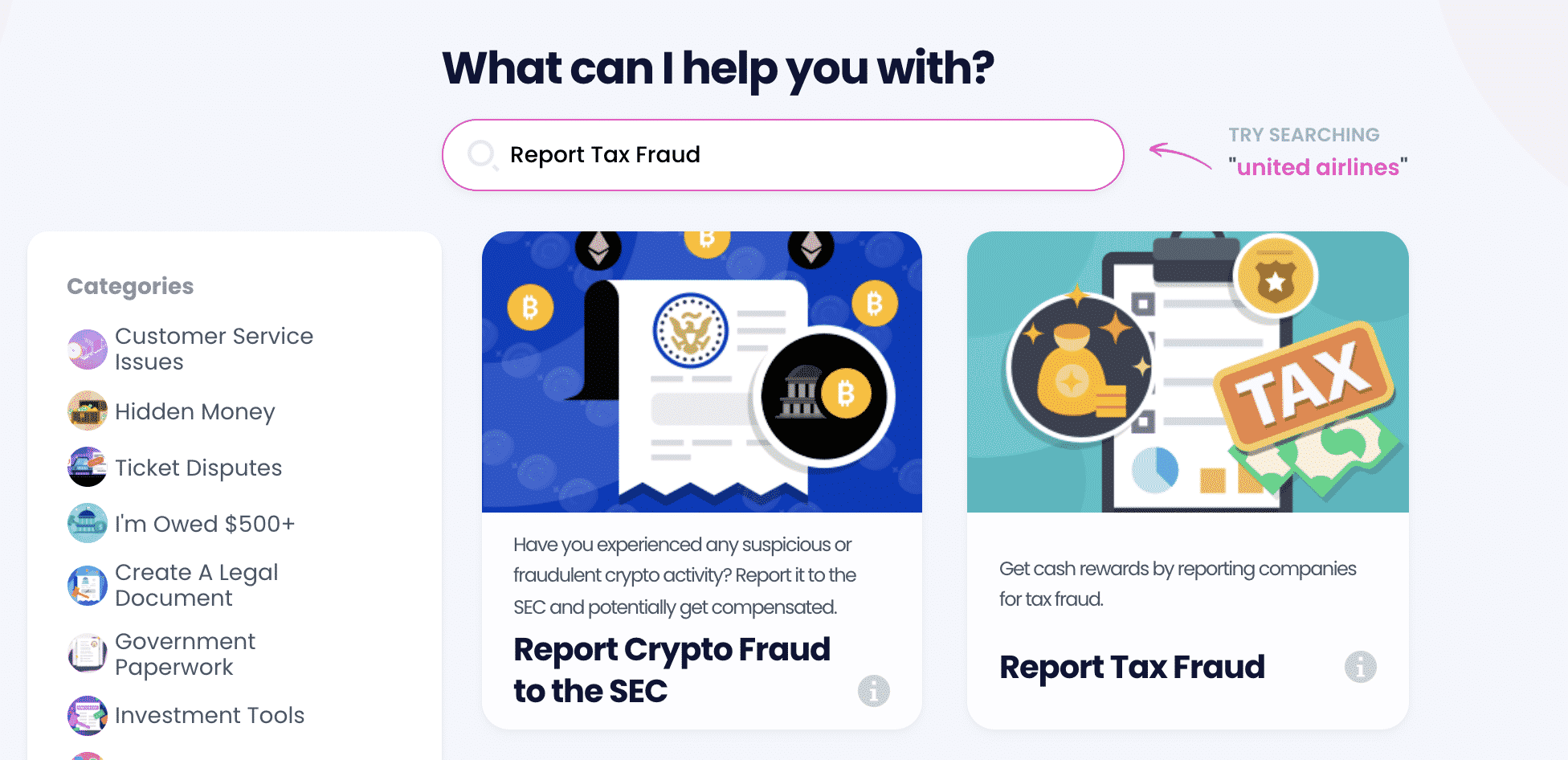 2. Enter the business you want to report for tax fraud (in our case eBay).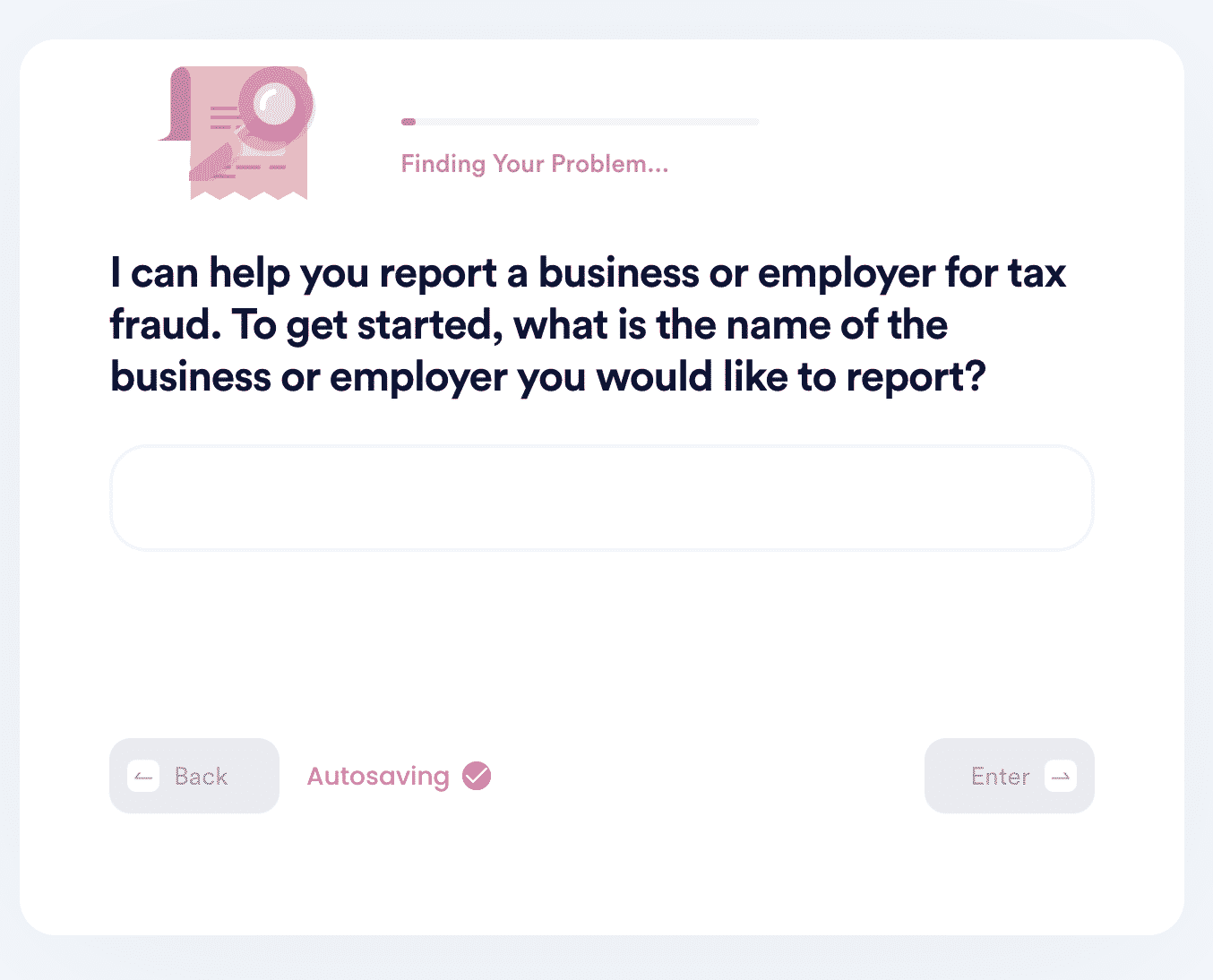 3. Provide the details of suspicious activity and as much evidence as you can provide.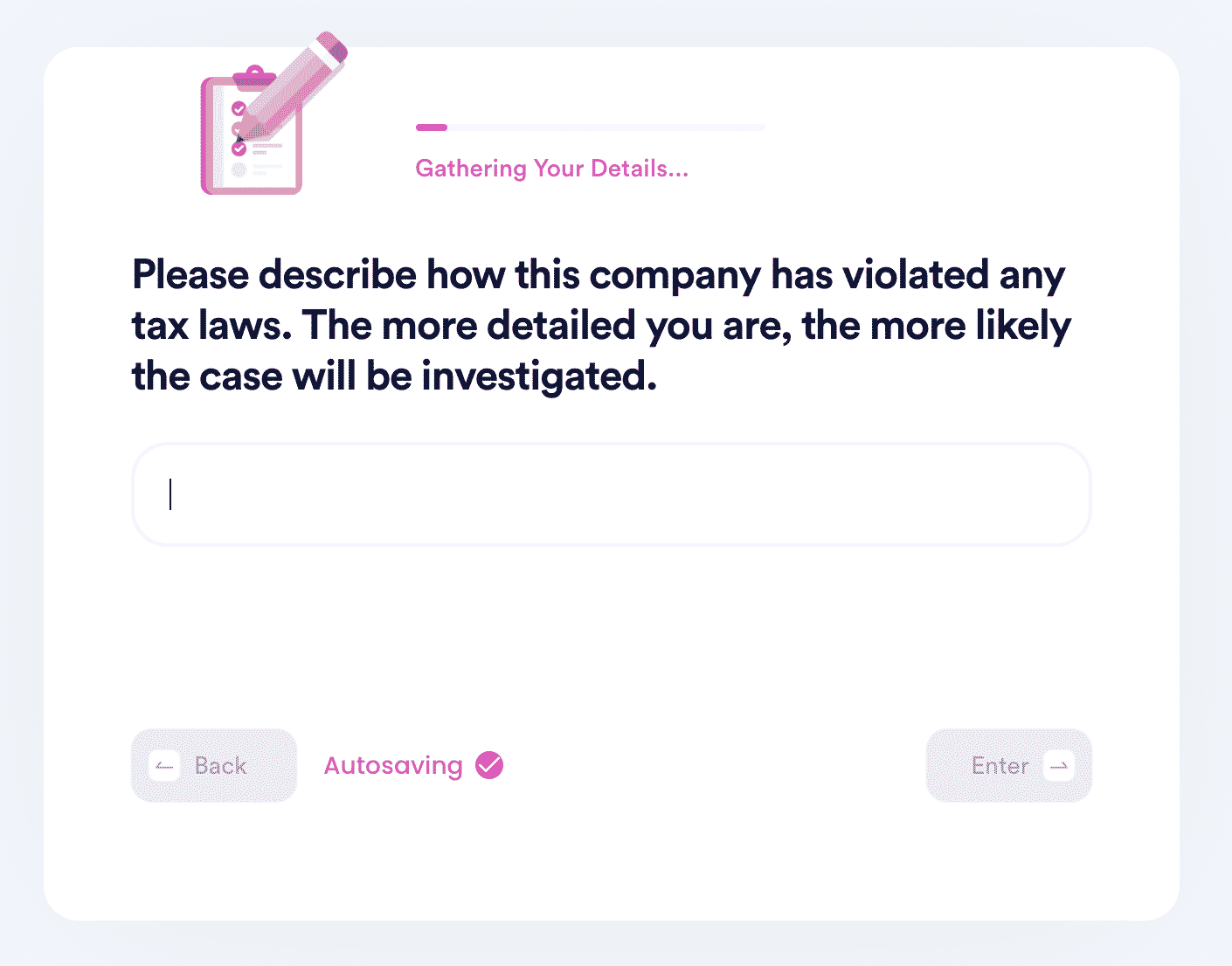 4. Confirm your contact information.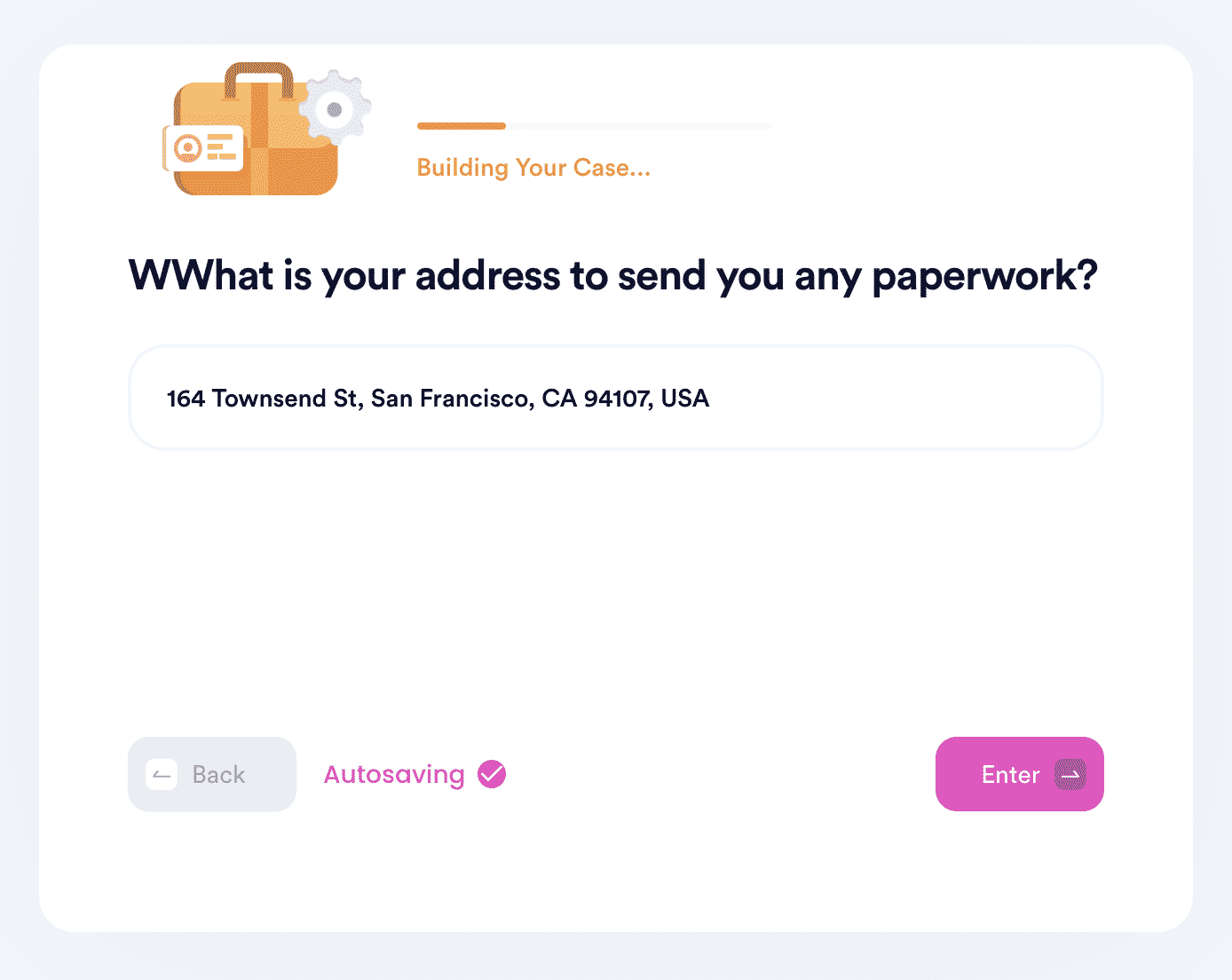 5. DoNotPay will automatically generate the official report and send it on your behalf. The IRS will contact you regarding cash rewards once the case is investigated.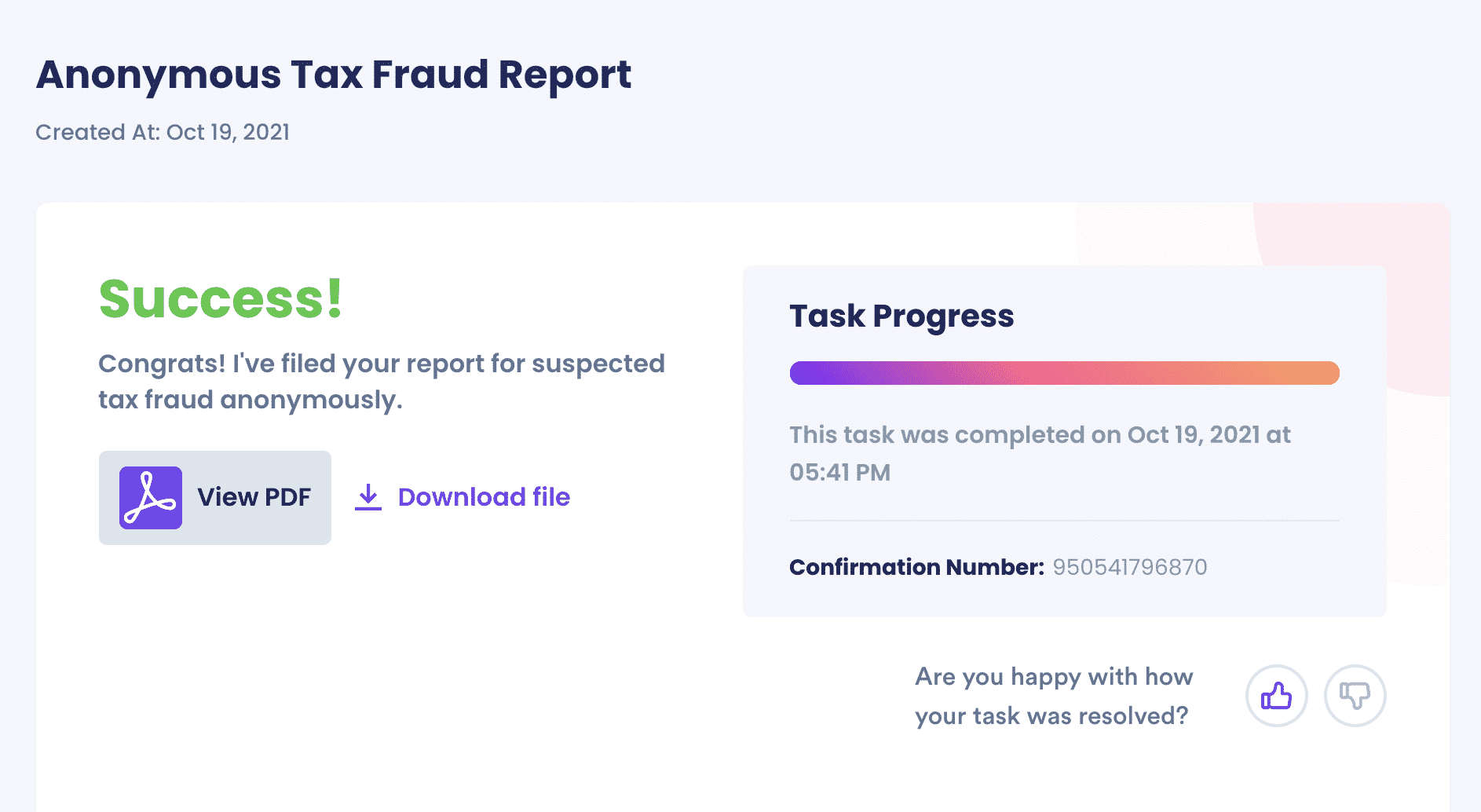 Why Use DoNotPay to Report Tax Fraud on eBay
Apart from helping you save time on main issues like resetting your password, which can be a bother when reporting tax fraud, here is why you can use DoNotPay's product to :
| | |
| --- | --- |
| It's Fast | When using DNP's product, you're saved the tussle of having to spend hours trying to report a tax fraud on eBay. |
| It's Successful | With our wealth of experience, you can rest assured that we'll make every possible effort to ensure that your eBay tax fraud report has gone through. |
| It's Easy | You're relieved of the struggles of filling out tedious forms or keeping track of all the steps involved in reporting tax fraud on eBay. |
DoNotPay Works Across All Companies/Entities/Groups With the Click of a Button
At DoNotPay, we work our best to ensure that you get what you deserve. Alongside eBay, we can help you report other companies or entities involved in fraudulent tax acts with just a click of the button. We can help you report tax evasion in NYS the same way it could in California. Additionally, we can help you report someone claiming your child on taxes and report your landlord for tax evasion.
What Else Can DoNotPay Do?
There are many services DoNotPay can assist with. Besides helping you report tax frauds, DoNotPay can also:
To learn more about what DoNotPay can do for you, get in touch with us.