Get Lufthansa Lounge Access as a Premium Economy Passenger with DoNotPay
Air travel is a luxury, but it doesn't always feel that way. The noise and crowds of an airport can add unnecessary stress to your trip.  Airport lounges offer a chance to get away from the masses, but they aren't open to everyone. Lufthansa is one of the many airlines and credit card providers with airport lounges available for their passengers. If you are a  or passenger, DoNotPay can help you get out of the crowd and into a lounge.
How to Get Lounge Access with a Premium Economy Ticket
Economy and premium economy Lufthansa passengers can get access to the airline's airport lounges for a fee. Customers may show their boarding pass at the lounge entrance. Economy passengers currently pay €49, while premium economy passengers pay €25. Availability is limited, so customers may wish to reserve their place online ahead of time.
Lufthansa Lounge Benefits
Above and beyond the usual number of offerings, Lufthansa has three types of lounges for passengers to enjoy:
Business
First Class
Senator
Welcome
HON Circle
Lufthansa lounges offer many benefits, including
Showers
Breakfast or lounge buffet
A bar
Magazines and newspapers
Armchairs, recliners, and leather loungers
Work stations
Ironing services
Runway views
Note that not all benefits are present in every lounge. You can check with Lufthansa for which lounges are available at a particular airport and what hours the lounges are open.
If you are flying with family, friends, or coworkers, you may bring a guest with you. One guest from the same flight is allowed free of charge in the Senator or Business lounges for Lufthansa frequent flyers at the Senator tier. Lounge vouchers for other guests may be purchased at the Lufthansa ticket counter at your departure airport.
Lufthansa also offers several suites at the Frankfurt airport for an additional charge:
The Superior Suite: At 30 square meters, it is the smallest and holds up to two guests.
The Grande Suite: Accommodations can hold up to four people at 40 square meters.
The Royal Suites: Both the Red and the Blue have room for five or more people at 55 square meters.
Other Ways to Get Lufthansa Lounge Access
| | |
| --- | --- |
| Travel and Frequent Flyer Classes | First and business class passengers get lounge access with the purchase of their ticket. Members of Lufthansa's frequent flyer program also get lounge access according to their status. Frequent Travelers with Lufthansa, like Business Class passengers, get access to Business Lounges. Lufthansa Senator members get access to Senator and Star Gold Lounges. Star Gold Lounges are open to any passenger of a Star Alliance airline. HON Circle members get access to Lufthansa's First Class Lounges as well as SWISS First and Austrian Airlines' HON Circle Lounges. HON Circle members also get access to the First Class Terminal in the Frankfurt airport. |
| Miles and More Credit Card | Like many airlines, Lufthansa has its own credit card. The Miles & More® World Elite Mastercard® offers cardholders two complimentary Lufthansa Business Lounge Vouchers annually. The card does offer at least one mile per dollar spent, so cardholders could get additional lounge access through the Frequent Flyer program by redeeming these miles. The card has an annual fee of $89. |
Get Into a Lufthansa Airport Lounge with DoNotPay 
Let DoNotPay take some work off your hands and find you a place to relax. In just three steps, you can find out if you have lounge access through any of your credit cards or the airline you're flying with, saving you the trouble of looking at every card in your wallet in the hopes of getting in. If you want to get  but don't know where to start, DoNotPay has you covered in 3 easy steps:
1. Tell us which airport you're flying out of or into.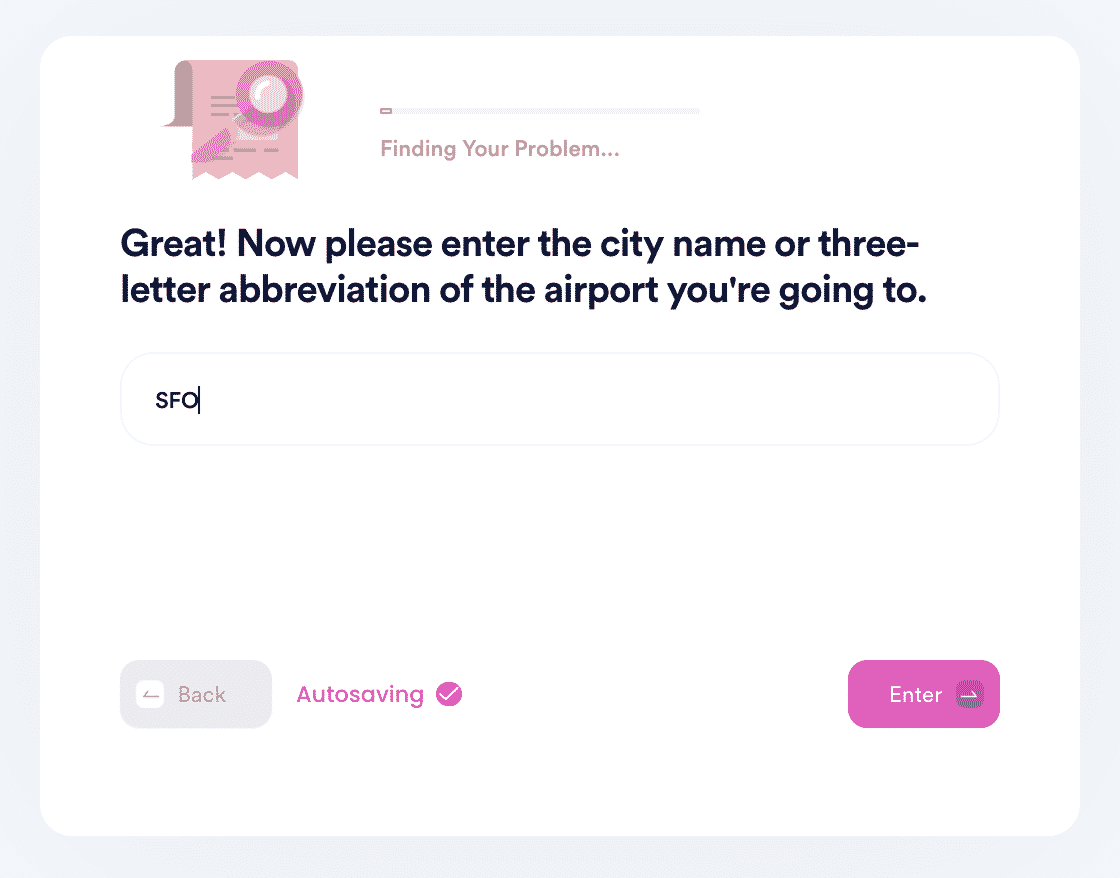 2. Select whether you have any of the special travel rewards or airline credit cards, or are flying in a premium fare class.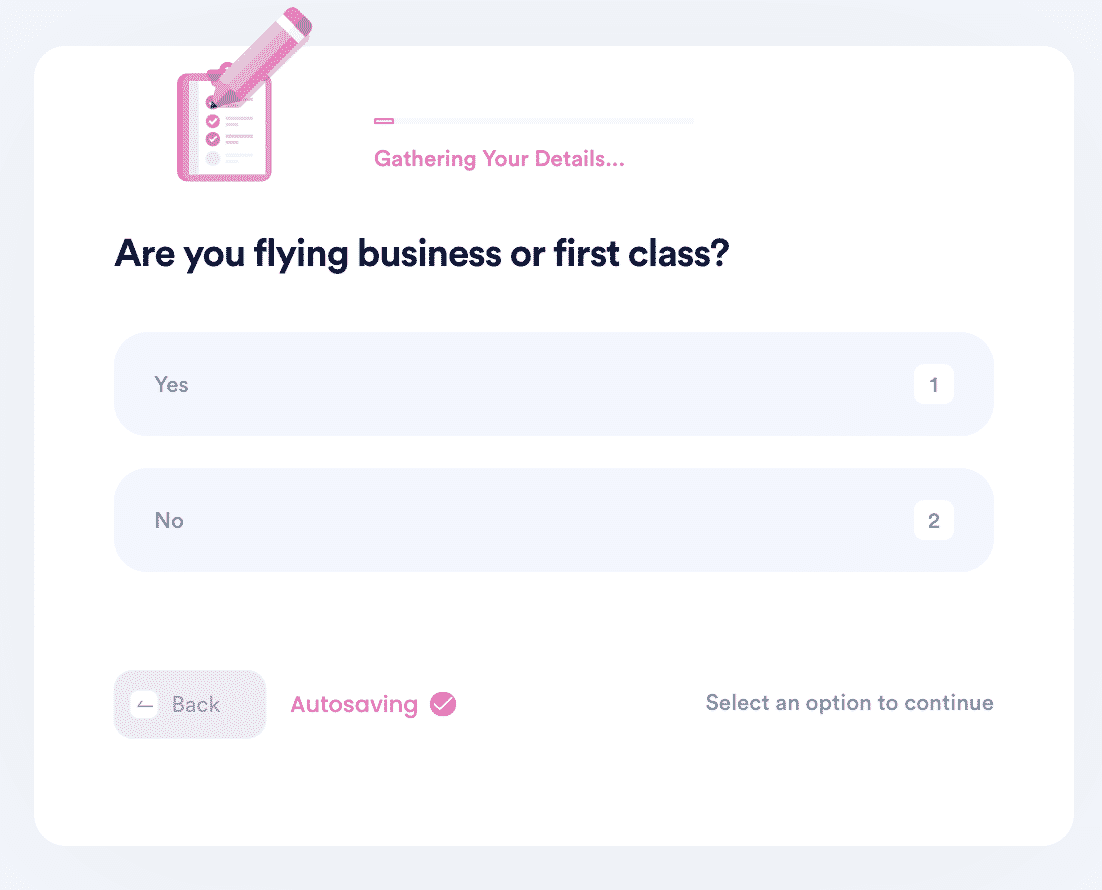 3. Enter which airline you're flying with.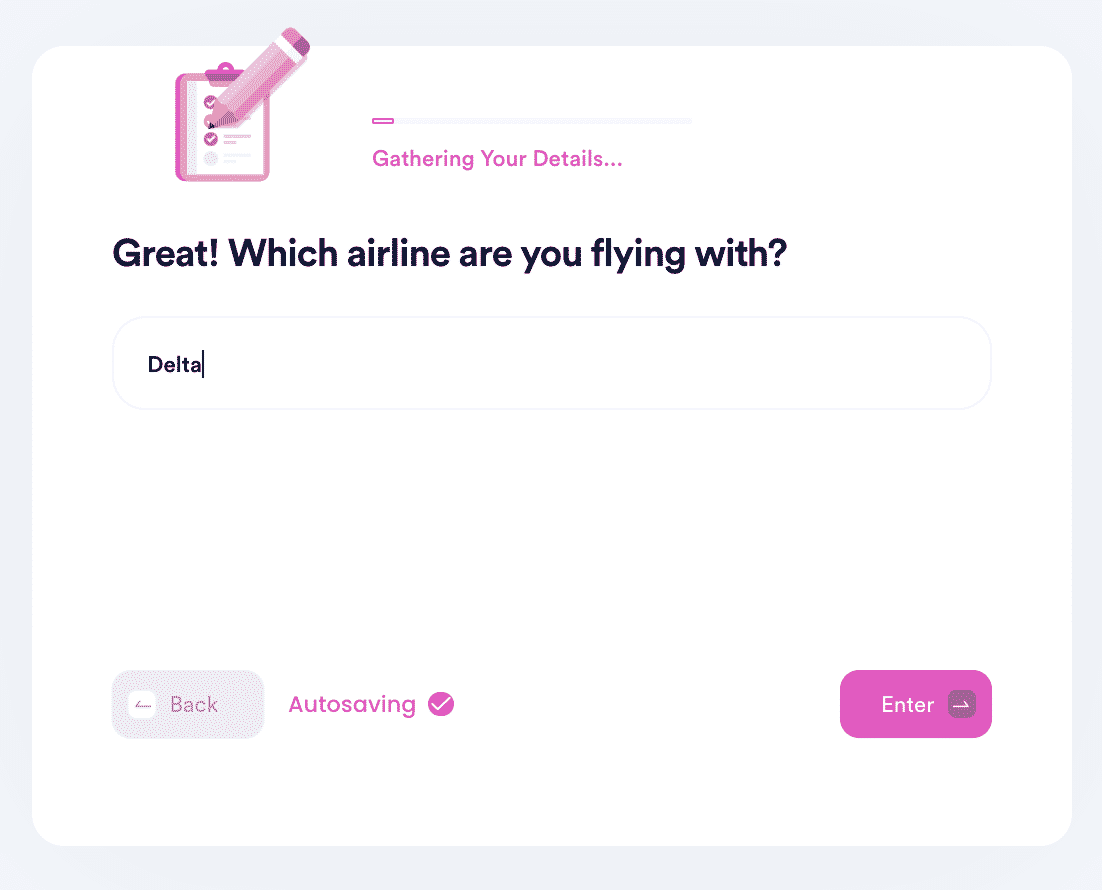 Travel Perks from Other Airlines and Credit Cards
Lufthansa is far from the only airline to offer an airport lounge. American Airlines, British Airways, and United Airlines are among the air travel providers that are offering more comfortable spaces for their customers. DoNotPay can help you take advantage of any travel benefits available through your credit cards or airline. We can help with these carriers and many more:
Let DoNotPay Give You a Better Traveling Experience
DoNotPay can help you improve your Lufthansa flight experience, but our services are not limited to a particular airline or even to travel benefits. We can save you time and energy with
Applying for tourist visas
and more! Try DoNotPay today and see what other bonuses you can get with the tools you already have.