What Do I Do When I Forgot My Password?
That sinking feeling hits you right in the gut when you try to log into an account and get the dreaded "Your username or password is incorrect." You just want to scream, "Aagh! !" Because you know that now you are going to have to spend a bunch of frustrating minutes trying to recover your password through an unnecessarily complicated process.
Whether it's a bank account, email, or favorite gaming platform, every service will have you jumping through different hoops to recover your account once you've forgotten your password. It might be simple, like getting an email or text message sent to you with a temporary password or link to change your password. Or it might be a two-step authentication process where you have to remember the answer to some obscure questions you provided the answers for years ago. Of course, if you're sure you remember the password and try a few times with different passwords, you might be completely locked out of your account for 24 hours.
Trying to remember or taking all the steps to recover access to your account seems like a complete waste of time when you have more important things to do. With DoNotPay, you can take just a couple of minutes to provide some necessary information, and they will do the hard work of getting you access to your account.
How to Reset Your Password by Yourself
Every service or application is going to have a different process to recover access when you forget your password. These are some of the more common ways you might regain access to an account:
Provide the email address you used to create the account and follow the steps in an email sent to you.
Provide the telephone number you registered, and a text will be sent with a temporary password or a link to create a new password.
Provide an email address or username for the account, and you'll receive a hint as to what your password is.
Answer a security question, or two or three, that you answered when you set up the account.
Each of these methods can create different frustrations, even if they sound like they are meant to be pretty simple. If you're trying to access an account you seldom use, but really need access to right away, you're likely to encounter additional problems:
You're unsure which email account you registered: We all pretty much use multiple email addresses and sometimes create burner email accounts when we don't want to give a company access to our primary account. If you can't come up with the correct email address, the company will likely not respond at all.
You've changed phone numbers: If you switched cell phone providers, needed to get away from an ex, or were getting too many spam calls, you might have changed phone numbers since you last used the account, which means your notice will go into the ether.
You can't remember your username: Though you may use some variation of the same name for different accounts, it's almost impossible to remember which username you came up with for each account.
You can't remember the correct answers to security questions: Sure, some are straightforward, like name the town you were born in, but many security questions have multiple options for an answer, like your favorite hobby, and when you combine a couple of those, it's nearly impossible to get the right combination before they lock you out for a period of time.
When you encounter any of these problems, you're going to waste a great deal of time trying to access your account, and still, you might fail.
If You Can't Change Your Password
If you can't change your password through the standard method provided by the company, you'll likely have to reach out to customer service to try to solve the problem. The common methods for contacting customer service are:
Telephone: If the company provides a telephone number, you're likely to start with an automated system that will attempt to send you first back to the method that already failed you, offer an alternative solution for you to try on your own, or, as a last resort, send you to an actual person to solve the problem.
Email: If the company provides an email address, you'll have to wait for a response, which could drag into days, and you'll end up going back and forth several times, and you'll be doing all the work again.
Chatbot: An alternative to the automated phone system is to get a chatbot that offers you several options for attempting to fix the problem yourself.
Online form: Much like the email, you'll fill out the online form and have to wait for an answer.
These methods again will consume an inordinate amount of your time and send your blood pressure skyrocketing. The process could spread over several days if you're waiting for replies.
DoNotPay Can Help You Reset Passwords for Nearly any Company
DoNotPay creates the simplest solution for recovering access to nearly any account when you . You merely have to provide some basic information and can wash your hands of the affair while DoNotPay takes the problem directly to the company.
DoNotPay lets you recover your password in 6 simple steps:
1. Go to the Recover Passwords product on DoNotPay and select the type of account you are trying to recover, such as email, streaming service, social media, gaming, eCommerce, and more.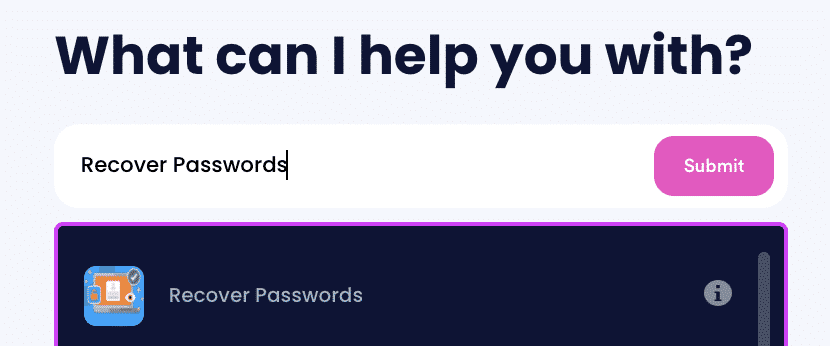 2. Tell us more about your account, including usernames and associated emails and phone numbers.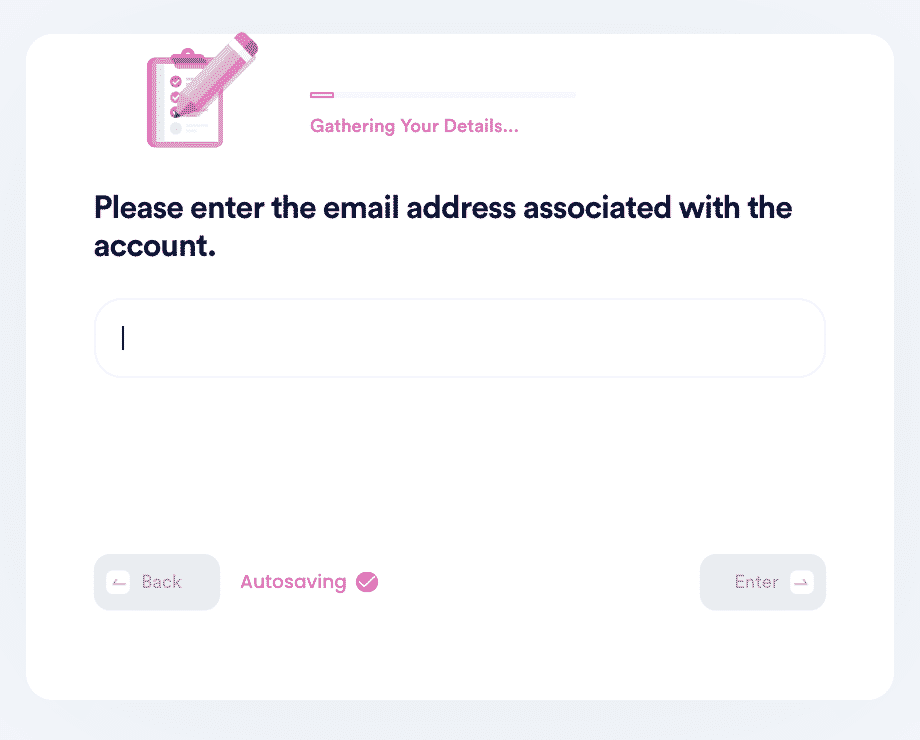 3. Help us verify your account ownership by entering the date you first created the account, when you last logged in, and any payment methods saved under the account.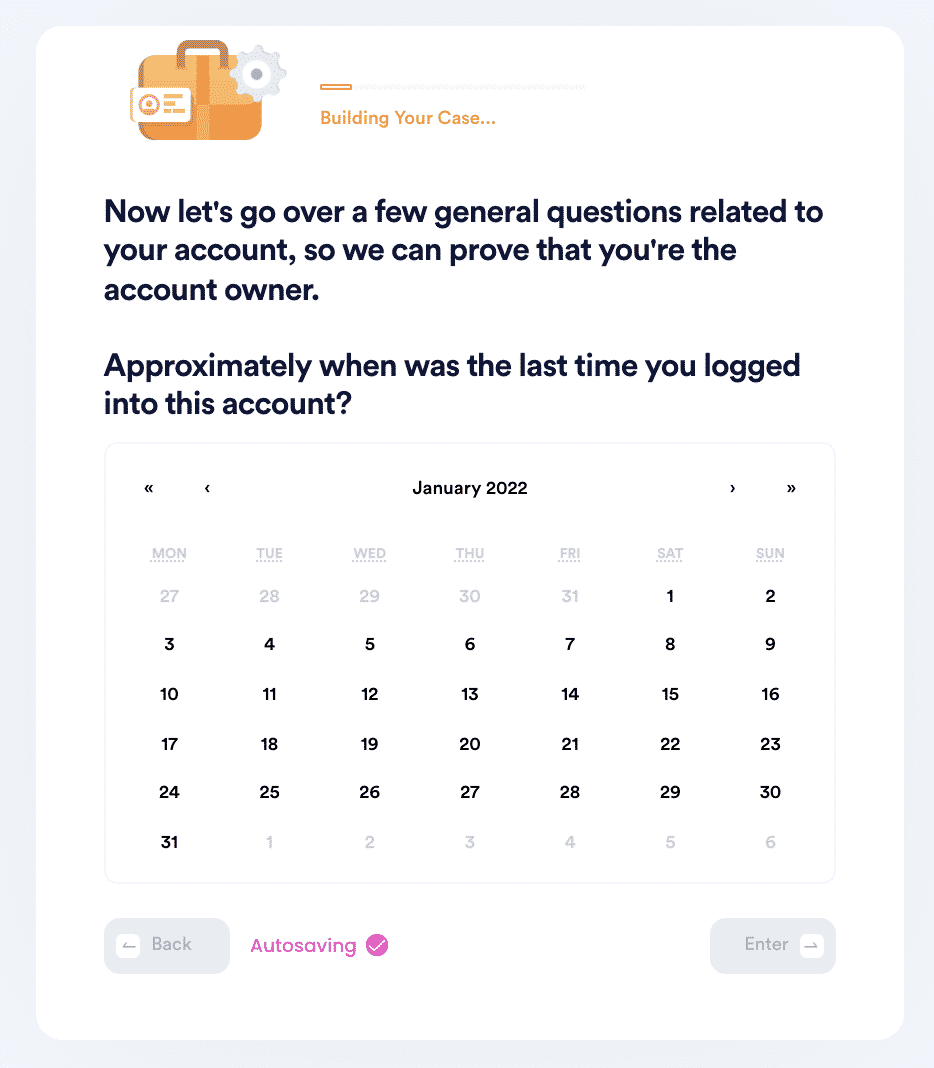 4. Upload photographic evidence if you have any that can help prove your account ownership.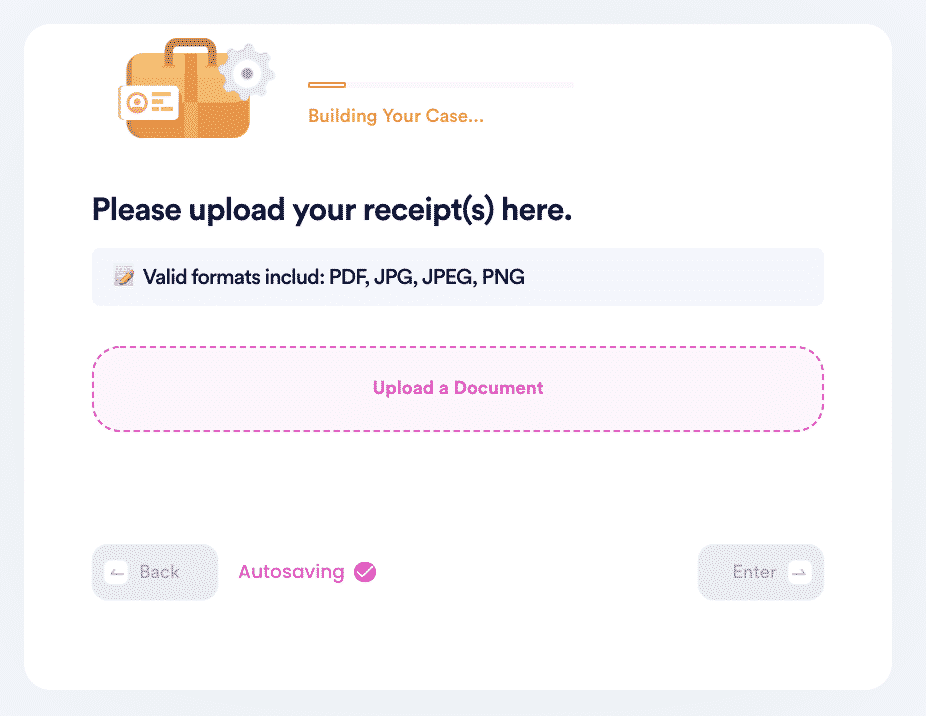 5. Enter any last known or previously used passwords to help verify your identity.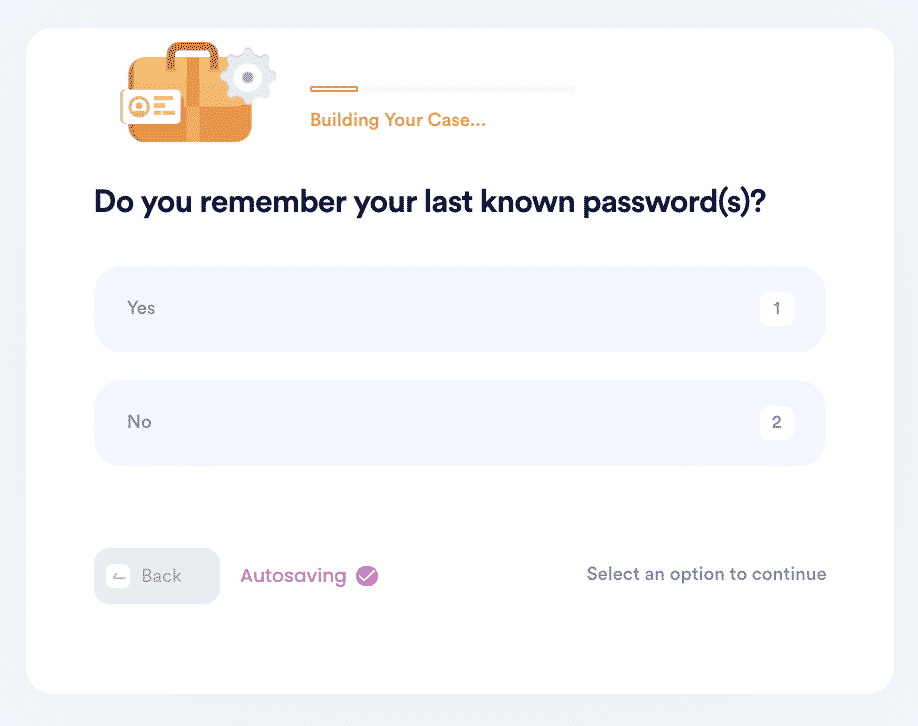 6. Enter your contact information and submit the task!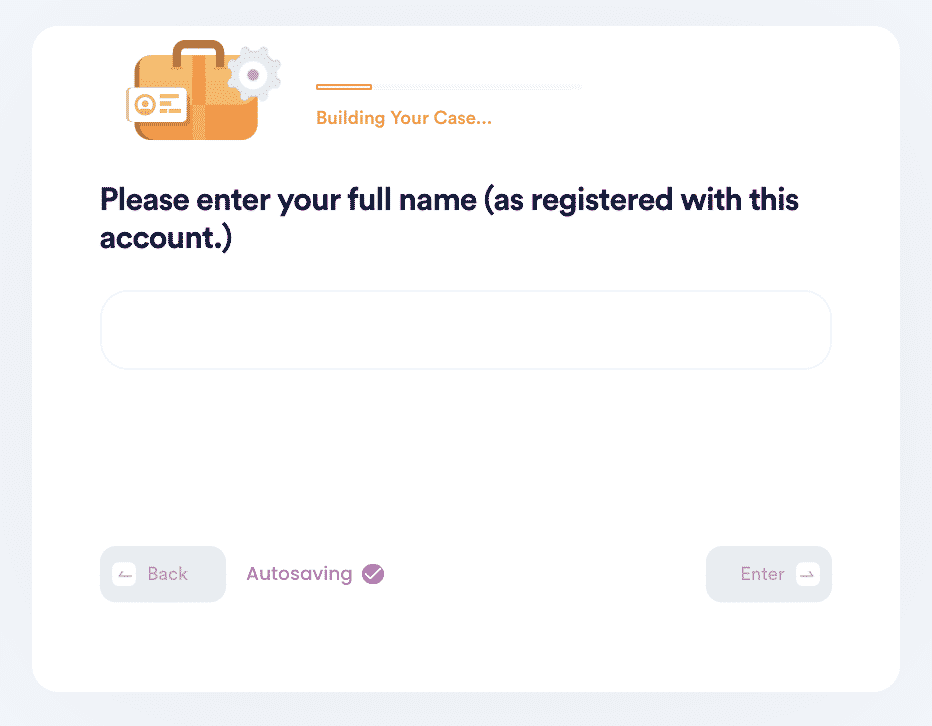 Why You Should Reset Your Password with DoNotPay
Trying to reset any password can turn into a frustrating nightmare. DoNotPay makes recovering your account as easy as pie. These are the three primary reasons you should turn to DoNotPay to recover an account when you've forgotten a password:
Fast—You don't have to spend hours trying to reset your password or wait weeks to hear back.
Easy—You don't have to struggle trying to remember details about how you signed up for a company.
Successful—You can rest assured knowing we'll make the best case for you to regain access to your account.
Is a Company Being Difficult?
Trying to recover a password can become a time-killing and frustrating experience, especially with a company that offers little or no customer support. Among the issues you might experience that would cause you to want to sue the company would be:
Mental anguish
Lost wages
Pain and suffering
Economic loss
DoNotPay's Sue Now could be the solution for you to seek redress.
DoNotPay Helps You Reset Forgotten Passwords Easily
DoNotPay should become your most reliable place for recovering lost passwords and resetting them as they go above and beyond in fixing this problem. DNP can even help you recover your Wi-Fi password. Here are some examples of company or app passwords you can recover:
DoNotPay stands ready to help you recover your lost password for any of hundreds of accounts. Sign up for DoNotPay today or download the app and put your frustrations behind you and regain access to your lost accounts.