How to Stop Gambling on Slot Machines
are the most popular gambling game worldwide. Many people enjoy playing them because of their simplicity and how easy it is to get quick cash and lose track of time while playing. However, knowing could help as there are some dangers associated with slot machine addiction.
It is important for people who do gamble on slot machines to know how to protect themselves from compulsive or problematic behavior. They can use strategies such as setting time limits, limiting spending, or completely excluding themselves from gambling.
If you want to quit gambling but find it hard, DoNotPay can help you. Equipped with all self-exclusion laws, DoNotPay can do a request on your behalf for you to be placed on casinos' "banned" list, regardless of whether you're excluding yourself from online or land-based casinos.
What Is a "Banned List"?
A banned list is a database that lists your email address, name, and any other identifying characteristics. This ban request will be submitted to the casino servers so they can recognize you as someone who should not gamble with them. You can do this by entering your details into the input-form on DoNotPay's banned list page.
How to Join the "Banned List" to Stop Gambling on Slot Machines?
If you want to stop gambling on slot machines, then join the "banned list". By following a few simple steps, you can help keep yourself from gambling on slot machines at the casino. Remember, if you are feeling tempted to gamble, simply remove yourself from the environment and take a break. Gambling addiction can be very harmful, so it is important to take steps to protect yourself.
Here is a step by step guide on how to join the casino banned list:
Ask casino staff to place you on the banned list.
Inform the casino that you would like to be placed on the banned list.
Fill out a form to have your name added to the casino's banned list.
Keep a copy of the form for your records.
How Long Can I Be Banned For?
This is up to the casino but in most cases, they will ban you for at least 6 months or a year. After that, they will review your case and lift the ban if deemed fit. If you are still on their banned list after several years, you can request to be removed from the list.
Can I Request for a Ban From Multiple States?
Yes, you can request a ban from any casinos in the country. DoNotPay only needs one banned entry to submit to all other casinos on your behalf. This is why it's important to enter your name and email address correctly because if one casino has incorrect information, then DoNotPay would not be able to ban you from other casinos.
As long as the casino is covered by self-exclusion laws where you live, DoNotPay will prevent you from being able to gamble on slot machines at all these casinos found outside your state or country of residence.
What Should I Do if My Loved One Is Addicted to Gambling?
It's easy to stop gambling on slot machines for those who want to quit. However, it can be tough if the person is still struggling and needs help quitting. National Council on Problem Gambling (NCPG) has a hotline that people can call in order to seek help or advice as well as read stories from others who have gone through similar experiences.
DoNotPay can also help in this case. With DoNotPay's gambling exclusion service, you and a loved one who is a compulsive or problematic gambler can get help. This could be a third party exclusion order that just alerts one casino of a potential problem gambler, and then they assess if they should be banned.
How Much Do I Have to Pay For This Service?
This service costs $36 per every three months for everyone who needs it (including the compulsive gambler). DoNotPay's gambling exclusion tool is a helpful, safe, and secure way to protect yourself from gambling addiction to help you save money.
How to Get Banned From Casinos Using DoNotPay?
If you want to stop gambling but don't know where to start, DoNotPay has you covered in 6 easy steps:
1. Search Gambling Protection on DoNotPay.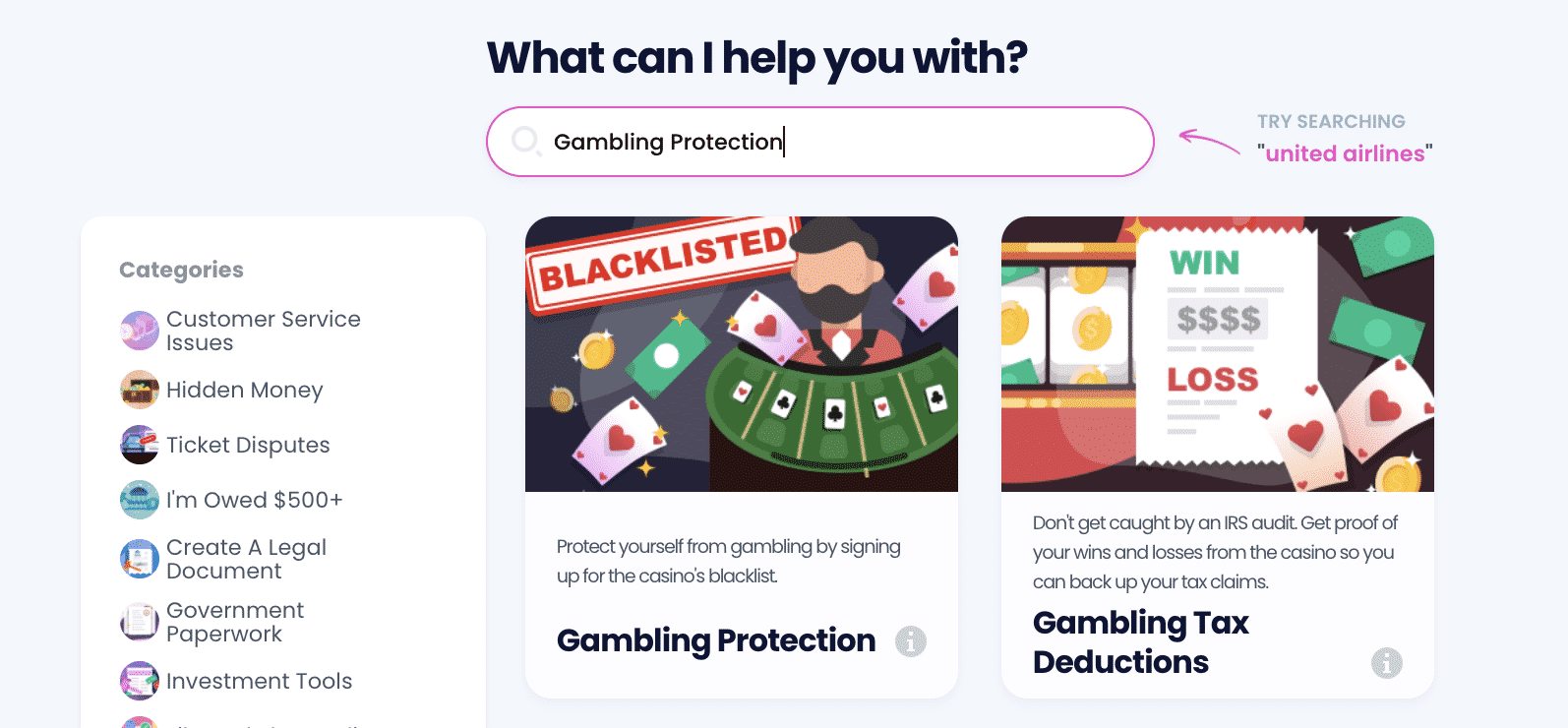 2. Enter the name of the casino and indicate whether it's online or in-person.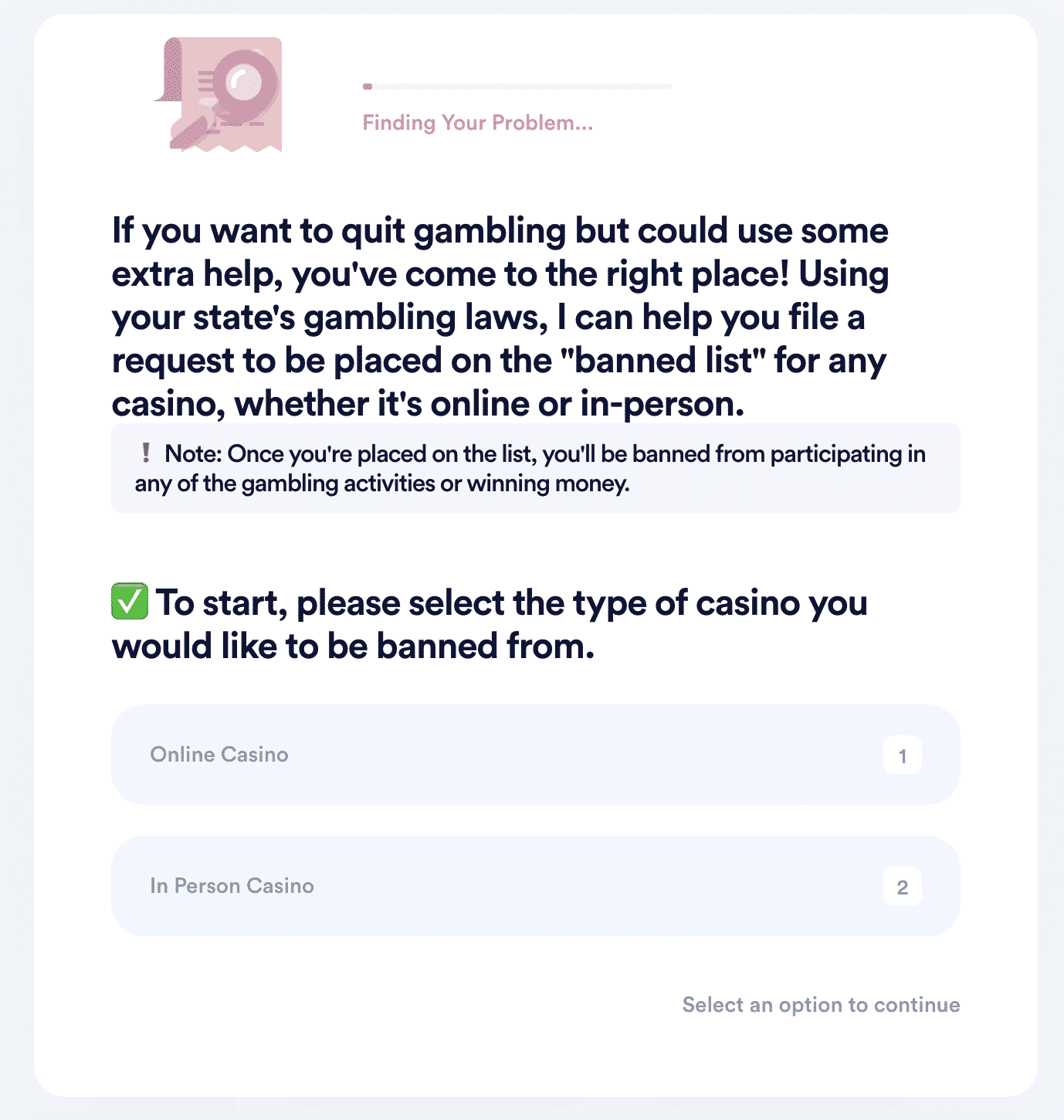 3. Tell us which state the casino is located in, or the state you're accessing the online casino from. DoNotPay will then find your state's self-exclusion laws and reference them in your request.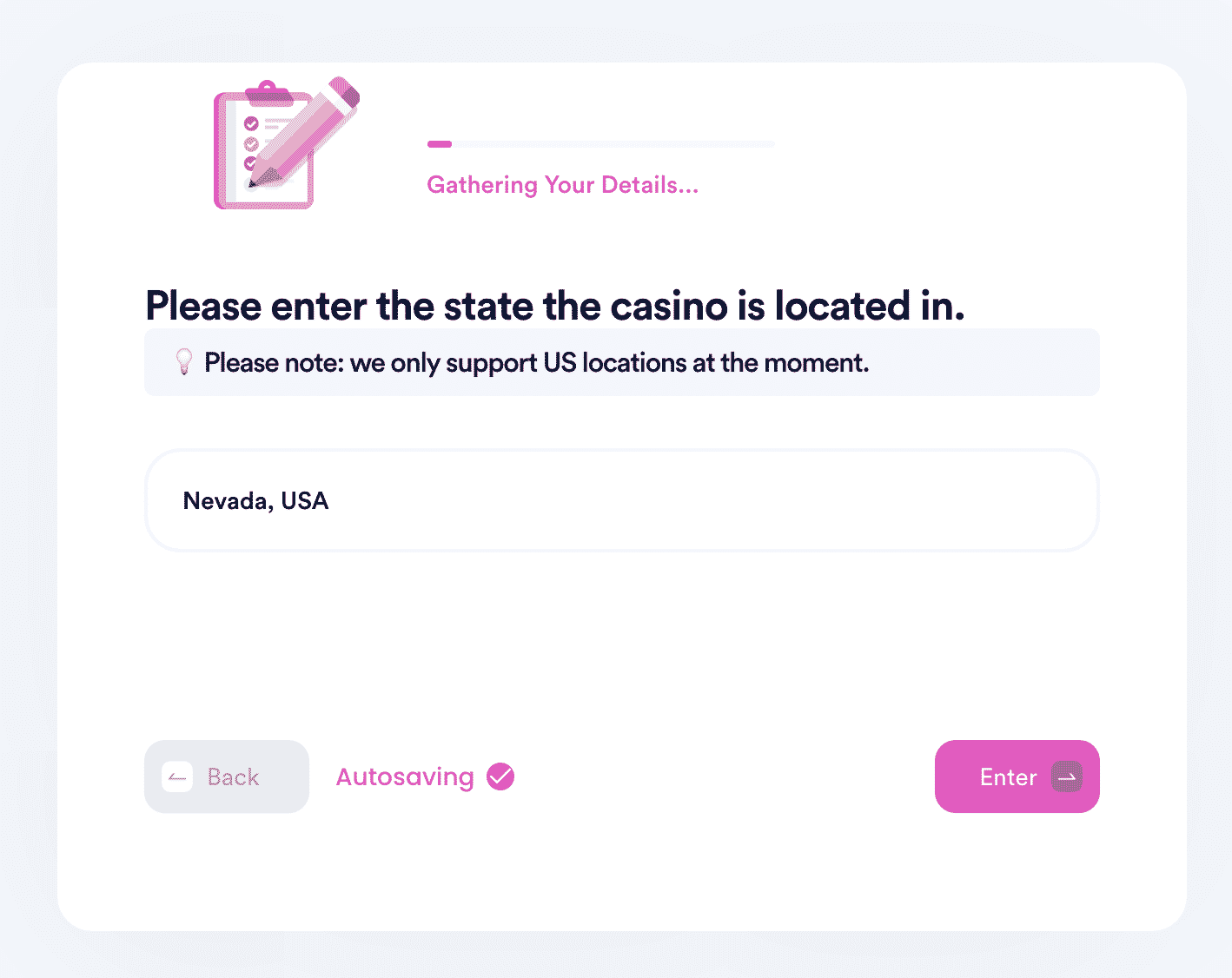 4. Select how long you want to be banned for (you can choose anywhere from 1 year to a lifetime!)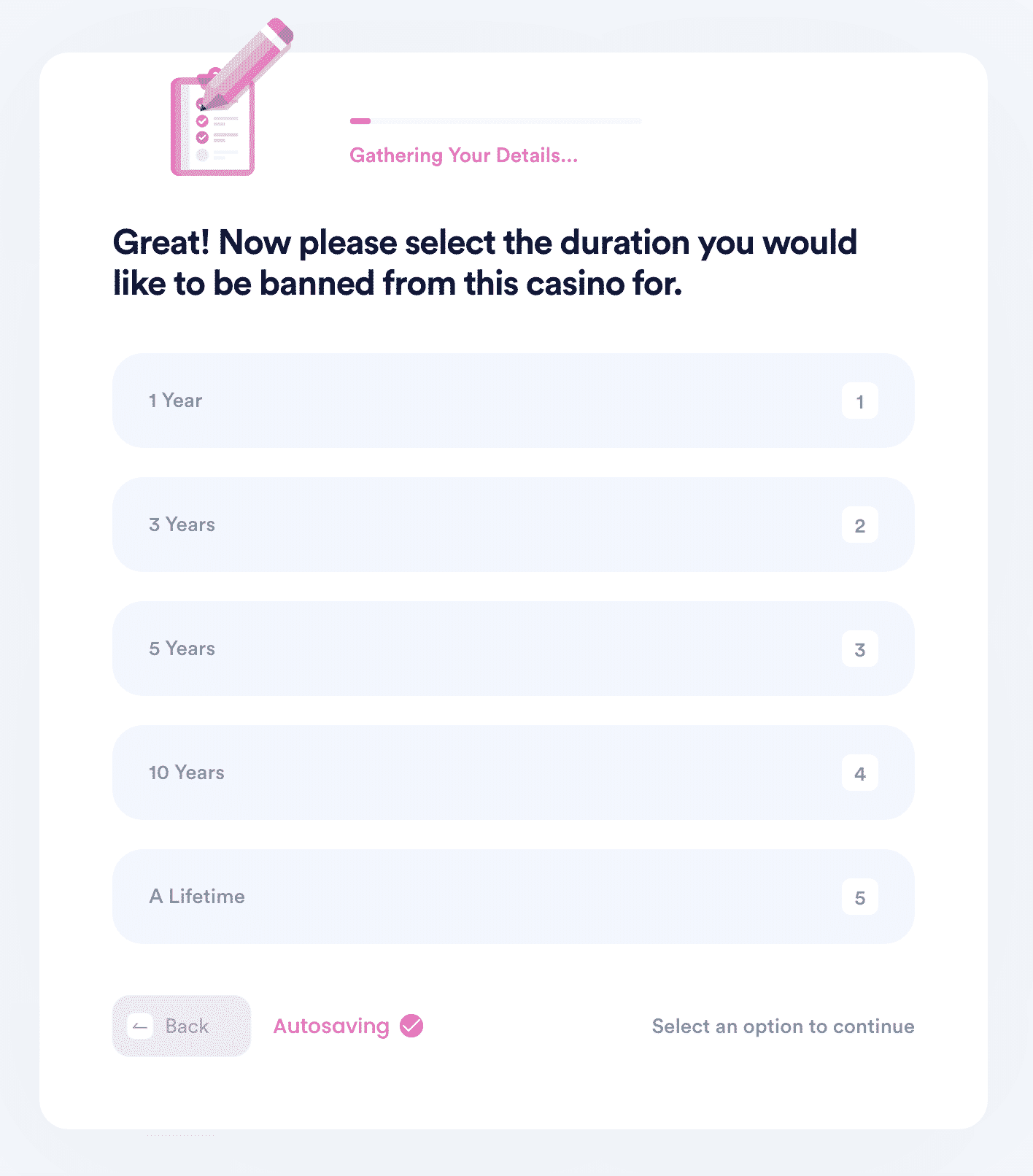 5. Answer a few of our chatbot questions so we can help the casino identify you or your online account. If you want to be banned from an in-person casino, it helps to provide information about your height, weight, race, and other identifying features.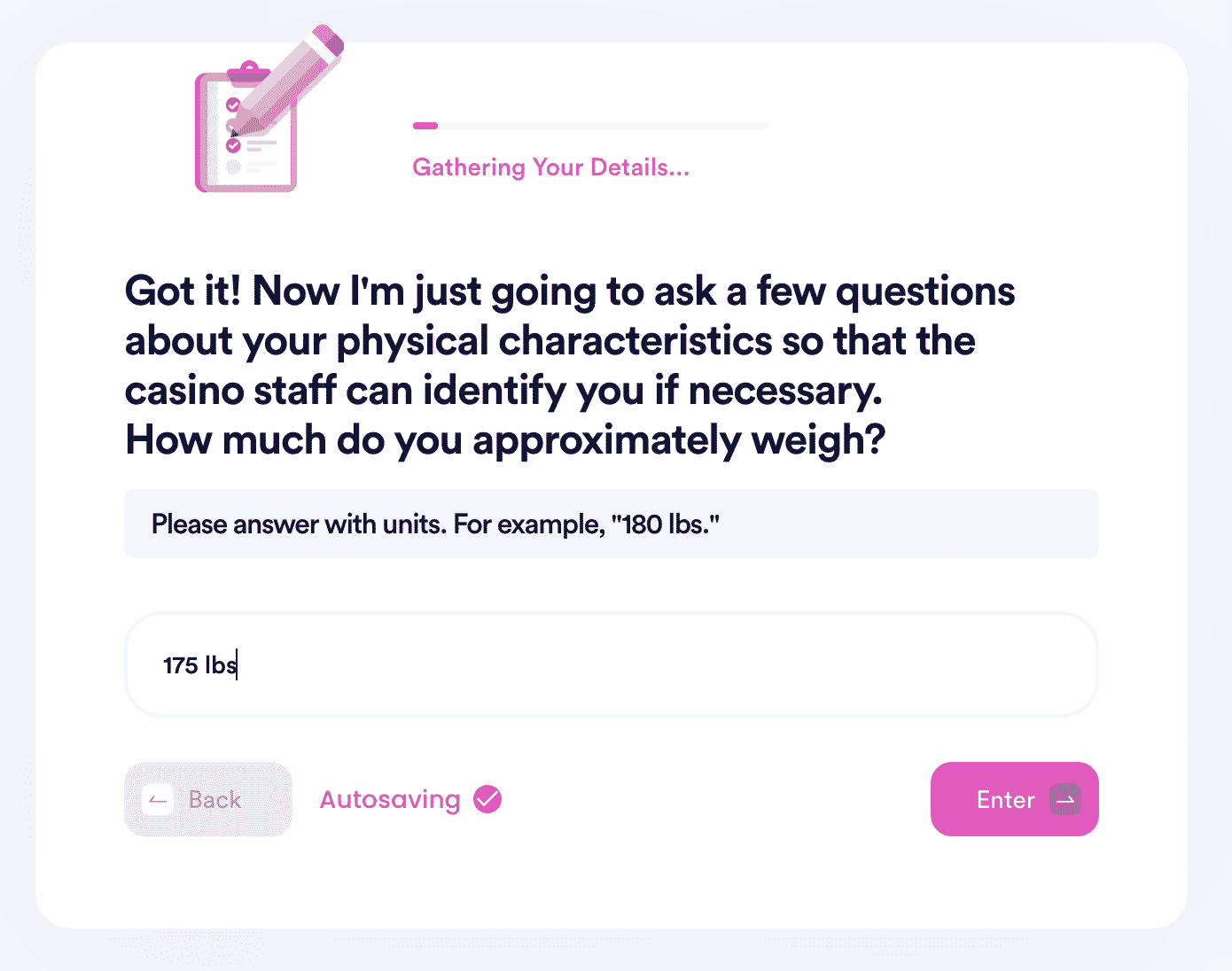 6. Choose whether you want us to email the request to the casino on your behalf. You can also choose to notarize your document to legally verify your identity.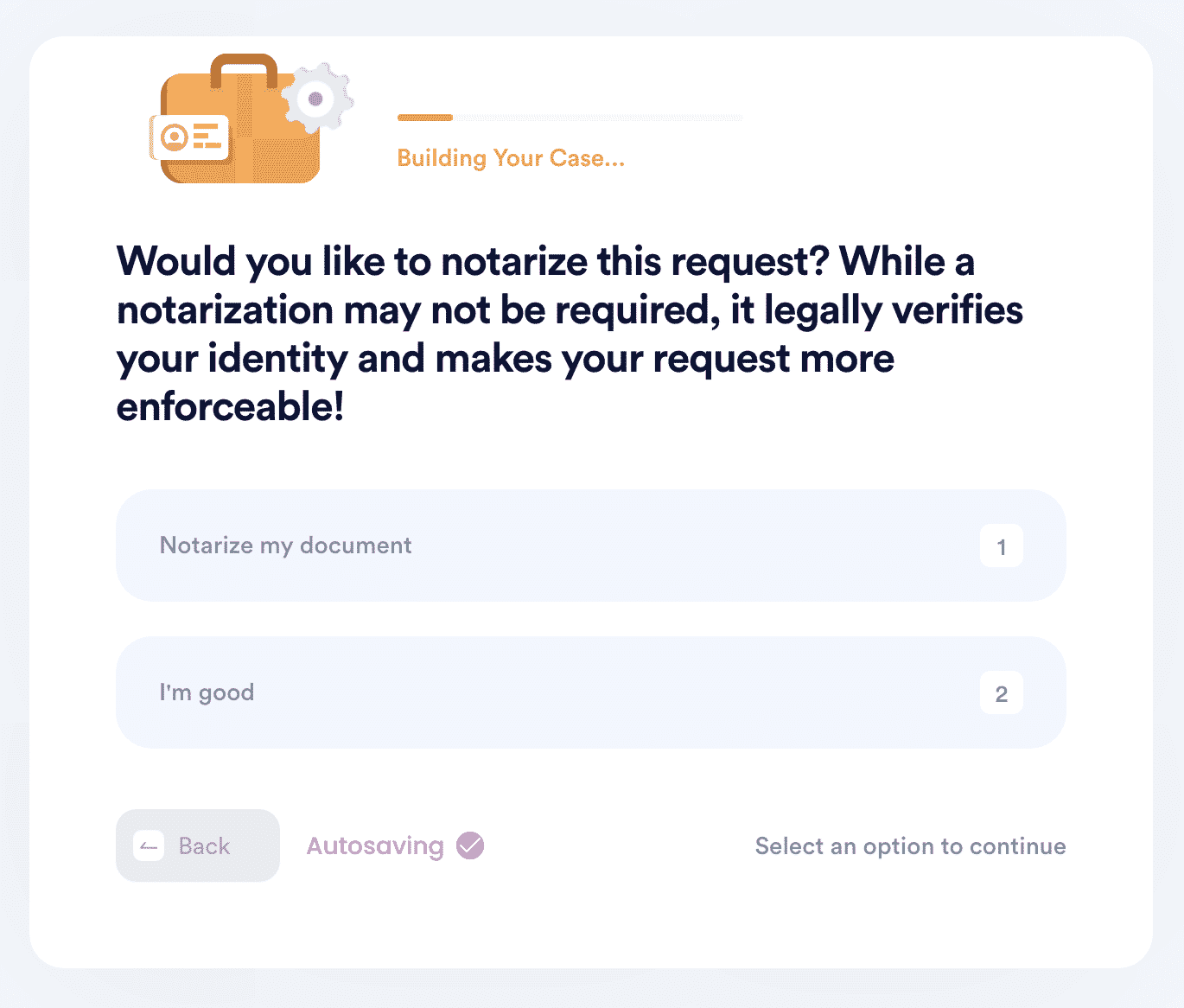 Why Use DoNotpay to Solve the Gambling Problem
DoNotPay supports gambling recovery by providing an easy-to-navigate system with multiple solutions for any problem. The best part about using this service is that it's free and doesn't require any information besides your address in order to get started.
| | |
| --- | --- |
| Fast | You don't have to spend hours trying to apply for self-exclusion from different sites. DoNotPay will do it for you instantly. |
| Easy | You don't have to struggle to fill out tedious forms or keep track of all the steps involved in self-exclusion. With proper details, DoNotPay will do all the work for you. |
| Successful | Rest assured DoNotPay will make the best case for you to ensure your self-exclusion or get a loved one on the banned list. |
Beyond solving the gambling problem, DoNotPay can also help with several other issues, including:
The use of artificial intelligence and machine learning, in this case, has helped to reduce the time taken for solving a claim to just a few minutes. As well as increasing efficiency, it helps individuals who suffer from gambling addiction find solace sooner rather than later. With such fast, efficient, and free results available through this AI-powered service, there's no reason not to try DoNotPay today!