Do You Want to Quit Your Gambling Addiction?
Gambling involves taking a risk or betting with the hope of winning money or other valuables. With increased online casinos and convenient gambling apps, many people have been caught up in the gambling addiction dragnet. While many punters may want to quit, the cost to rehab a gambling addiction makes it difficult, leaving them with hardly any other option.
Fortunately, there is an to help you overcome gambling addiction. Through our DoNotPay , you can submit a self-ban casino request. We can then send a request for your placement on the banned list at any physical or online casino.
The Actual Cost of Rehabilitating a Gambling Addiction
Gambling is considered the most addictive and the most expensive of all addictions. The compulsive urge to gamble is mostly non-stop, which can lead to devastating financial implications. Addicted gamblers spend over 100 dollars daily.
Since most addicts can't stop themselves from gambling, they may end up in debt and financial ruin. The average debt generated by a gambling addict stands between $55,000 and $90,000 annually. More than 20% of addicted gamblers end up filing for bankruptcy.
Most gambling rehab programs are incorporated into the drug and alcohol addiction programs, which generally charge around $14,000-27,000 for a 30-day program. The average cost of an exclusive rehab program can be more than $800-1,000 per day, proving how costly gambling rehabilitation can be. Some patients may have insurance cover to cater for the treatment but the majority may already be broke to even afford the most basic gambling rehabilitation.
However, there is a viable option that gambling addicts can utilize to help them stop gambling and kickstart their rehabilitation journey, a banned list.
What Is a Banned List?
A banned list is a confidential document listing the patrons barred from gambling in a specific casino. The list can only be accessed by the staff in charge of gaming control rooms.
How Do I File a Request to Join the "Banned List"?
The process of filing a request to join the banned list can be time-consuming and tedious. It requires swift action since the patron wishing to stop gambling is already guilty-laden and ashamed of their addiction.
You can complete a request to join the banned list by providing your details such as age, weight, height, and photo identification.
Below are the steps to follow to join a banned list.
1. Casino Identification
You need to identify the gambling casinos or sites you wish to self-exclude to receive a self-exclusion notice.
This will be sent via mail or email and one is required to complete it with the required details. Another document will be the self-exclusion and identification form. You will also be required to submit a copy of your photo identification.
You can follow this painstaking process, but it will mean taking time off from other duties. Sharing your contact information and other information required with DoNotPay can save you time and get the process expedited.
2. Filling in the Order
Complete the self-exclusion order and send it back to the casino.
3. Registration
Here, you are registered by the gambling entity. This requires follow-up to ensure that you are registered promptly. It may require you to make phone calls, email, or perform a physical follow-up. That may, however, not be necessary if you use the DoNotPay gambling protection product as it gets the job done immediately.
4. Gambling Promotional Material Exclusion
Remove the excluded patron from any promotional database. This step is very crucial and must be completed instantly. Constant access to gambling promotions or advertisements can cause a patron to relapse. DoNotPay ensures that your exclusion is completed instantly.
How Long Can I Be Banned For?
The ban period can last for anywhere between 1 year to a lifetime. Once you file for self-exclusion, you will be provided with the guidelines to help you choose wisely.
Upon completing the process and a self-exclusion is in place, it remains in force for the duration chosen. Before then, you have a cooling period of 24 hours.
Can I request a ban from multiple sites?
Yes, you can request a ban on multiple sites. These sites can be online or physical sites. DoNotPay comes in handy when applying for self-exclusion from multiple sites because making individual requests can be very tedious.
You only need to identify the sites you wish to exclude yourself from and DoNotPay will do the rest.
What Should I Do if My Loved One Is Addicted to Gambling?
If you notice that a loved one is addicted to gambling and is suffering consequences of the same, you can file for third-party exclusion. This allows friends and family the right to apply for the exclusion of their loved ones from gambling sites.
It can be time-consuming and follow-up can be frustrating, but DoNotPay can help you complete the request faster and more conveniently. All you need is your loved ones' details and personal information and DoNotPay will complete the request on your behalf.
How to Get Banned From Casinos Using DoNotpay
If you want to stop gambling but don't know where to start, DoNotPay has you covered in 6 easy steps:
1. Search Gambling Protection on DoNotPay.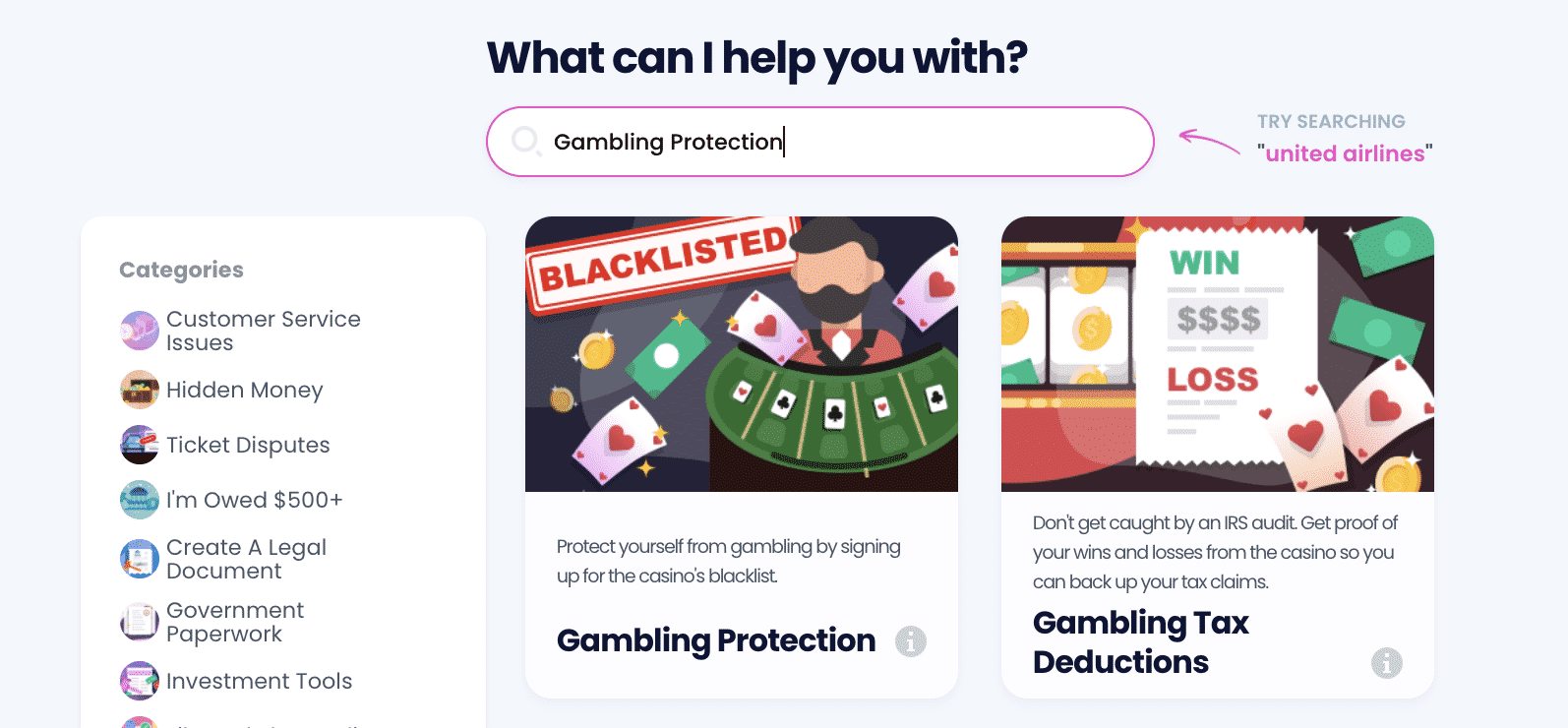 2. Enter the name of the casino and indicate whether it's online or in-person.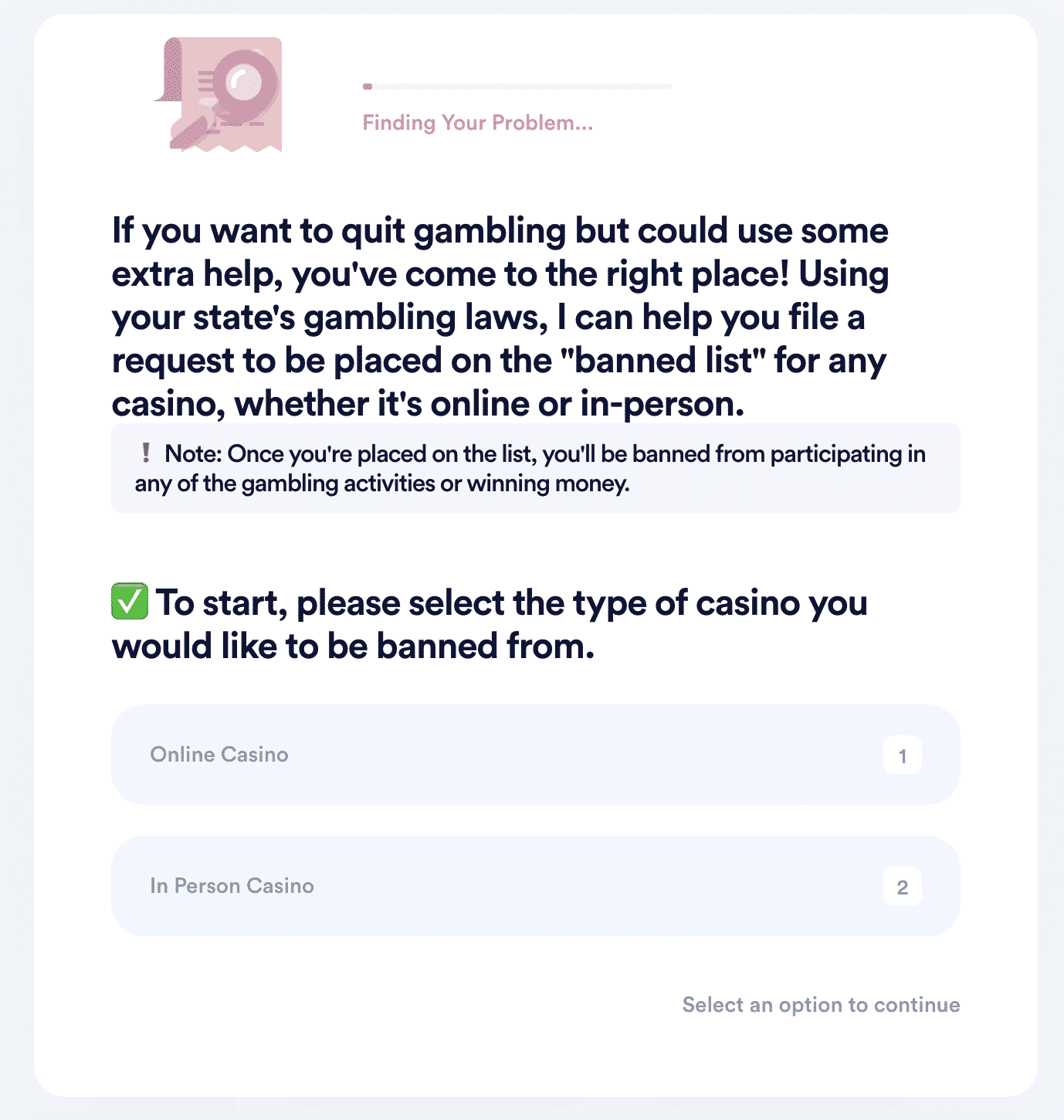 3. Tell us which state the casino is located in, or the state you're accessing the online casino from. DoNotPay will then find your state's self-exclusion laws and reference them in your request.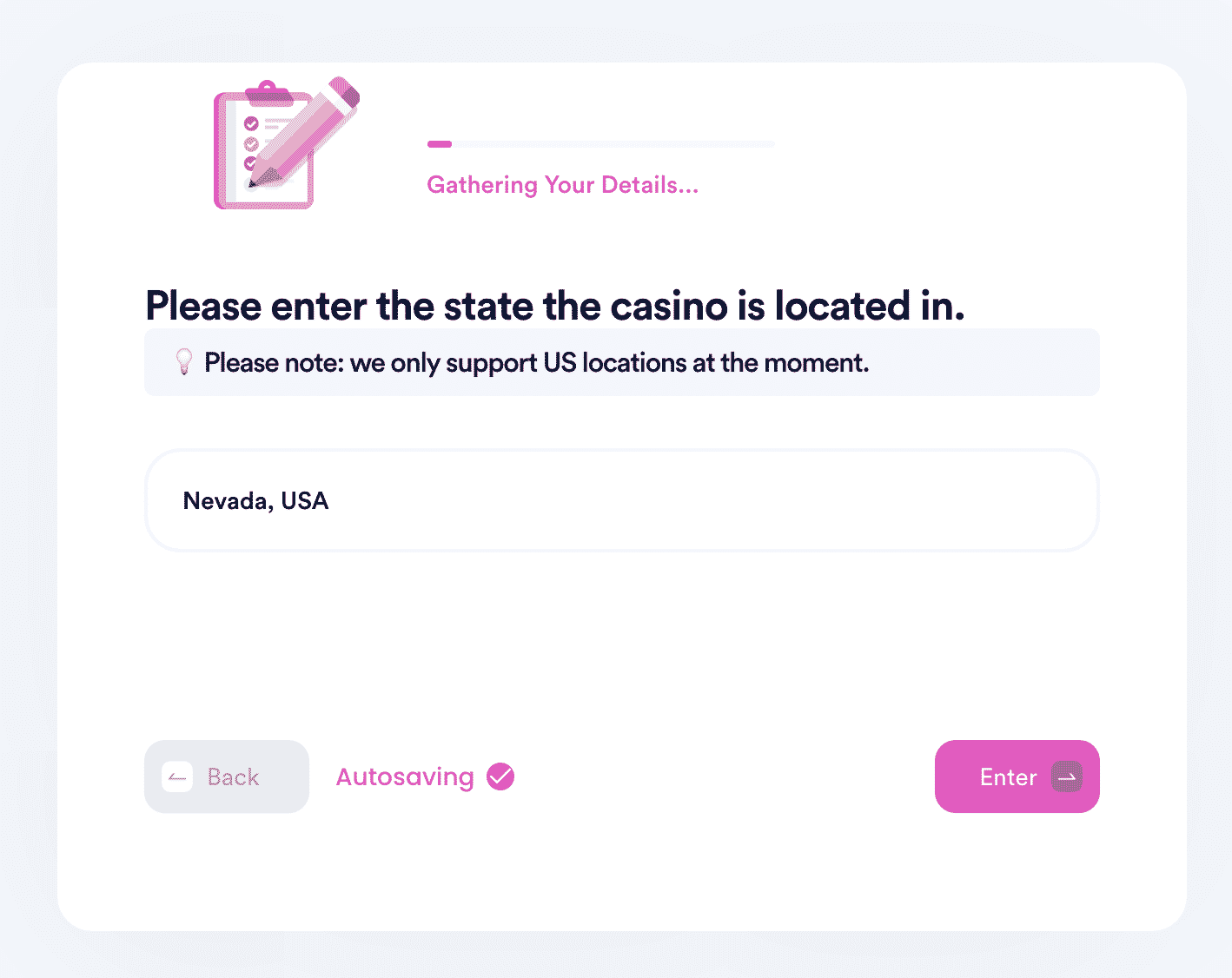 4. Select how long you want to be banned for (you can choose anywhere from 1 year to a lifetime!)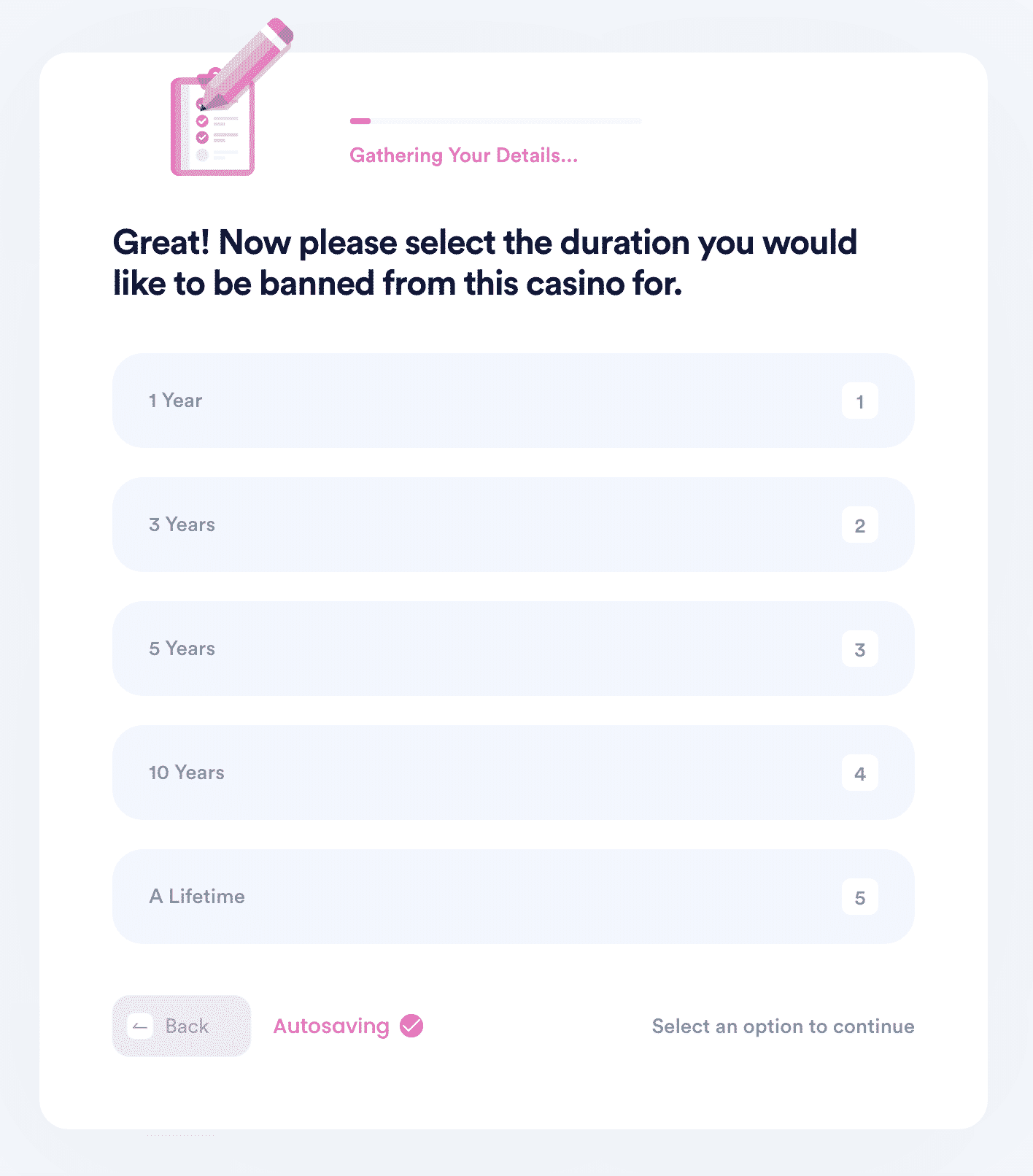 5. Answer a few of our chatbot questions so we can help the casino identify you or your online account. If you want to be banned from an in-person casino, it helps to provide information about your height, weight, race, and other identifying features.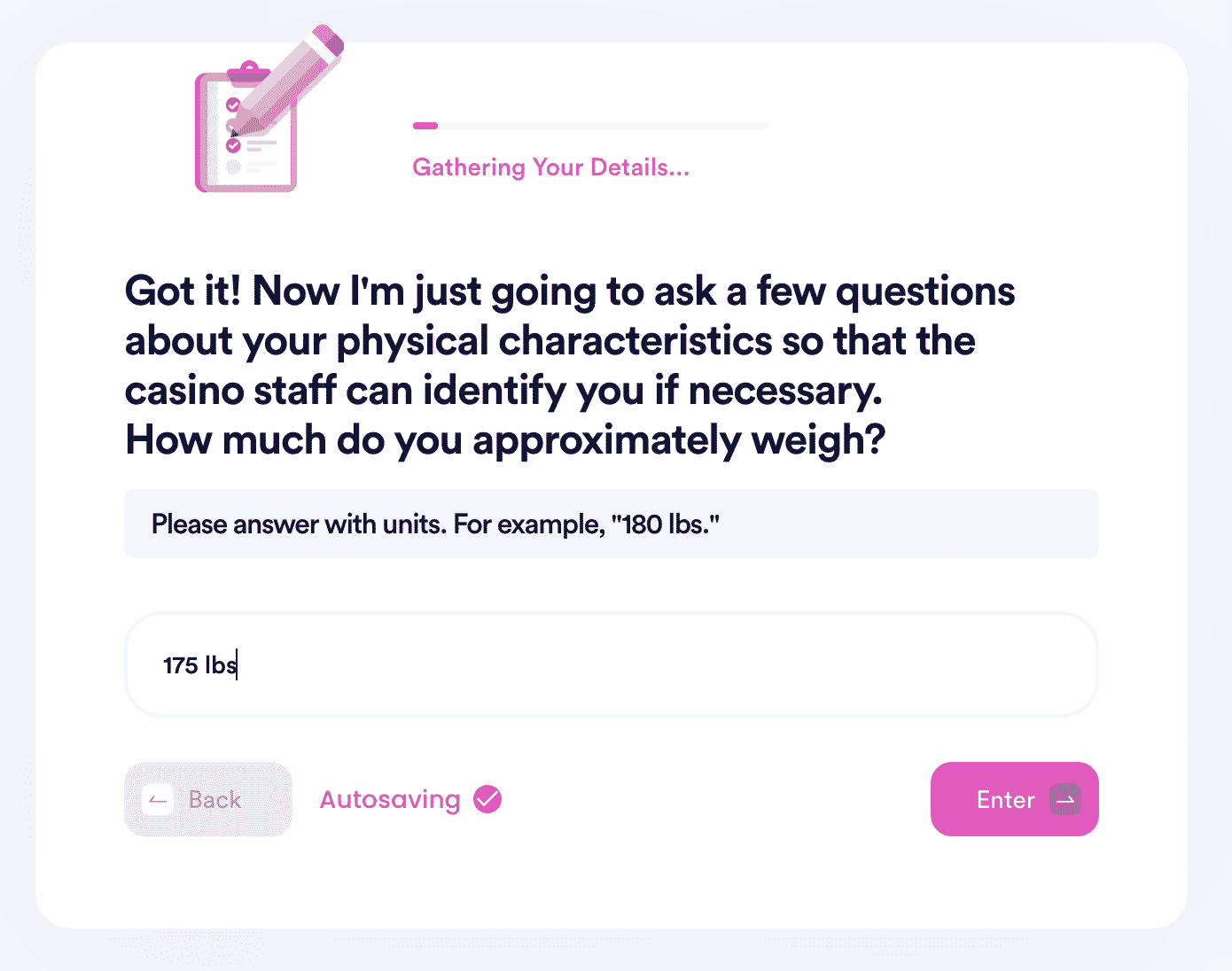 6. Choose whether you want us to email the request to the casino on your behalf. You can also choose to notarize your document to legally verify your identity.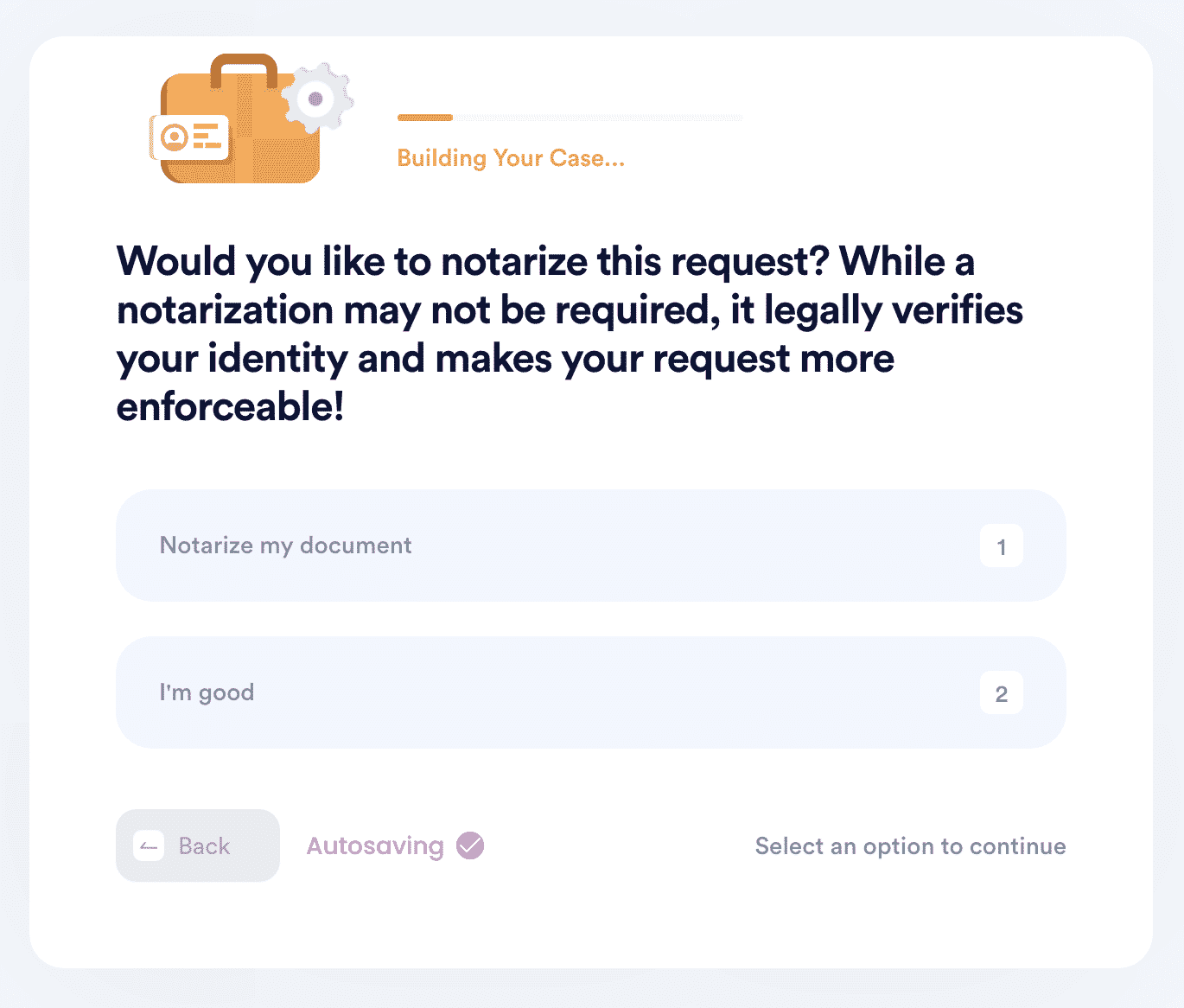 Why Use DoNotpay to Get Banned From Casinos?
| | |
| --- | --- |
| Fast | You don't have to spend hours trying to apply for self-exclusion from different sites. DoNotPay will do it for you instantly. |
| Easy | You don't have to struggle to fill out tedious forms or keep track of all the steps involved in self-exclusion. With proper details, DoNotPay will do all the work for you. |
| Successful | Rest assured DoNotPay will make the best case for you to ensure your self exclusion or get a loved one on the banned list. |
What Else Can DoNotpay Do?
Other than helping you recover from a gambling addiction, DoNotPay can do so much more for you at the click of a button.
Some of the issues we can help you with include:
Gambling can cause untold harm to individuals, friends, and loved ones. With information and help provided, gambling addicts can start the process of reclaiming their lives and curbing gambling addiction. DoNotPay can help you self-regulate against gambling and ultimately assist you to make a recovery. Sign up today to complete a banned list request at any casino or any other service for fast and convenient help at the click of a button.