Got Questions About Online Gambling Addiction? DoNotpay Has Answers!
When compulsive online gambling becomes a serious problem that negatively affects every aspect of your life, you may be dealing with a gambling addiction. Now that you're ready to take the right steps toward self-improvement, you probably have some questions. DoNotPay can help you find answers to your questions about , self-exclusion programs, and taking steps toward recovery, so you can get back to the good things in life.
may feel alone in their struggles with the mental health disorder known as addiction, but the key to healing lies in embracing support from others. The path to recovery can be hard, and DoNotPay can help you along the way. Remember, while we can lighten the load for addicts facing recovery, it's important to take charge of your rehabilitation journey by seeking additional help from a licensed mental health professional.
DoNotpay's FAQ About Online Gambling, Gambling Addiction, Gambling Protection, and More
The first step toward overcoming gambling addiction, whether it is your own or the addiction of a loved one, lies in better understanding the condition. Expand your knowledge with our list of Frequently Asked Questions about online gambling addiction. DoNotPay wants you to know, first and foremost, that recovery is possible!
What Is a Gambling Addiction?
Gambling addiction, also referred to as compulsive gambling or problem gambling, is any gambling, betting, or wagering that causes financial, legal, social, or emotional problems for the individual, their family members, or others around them. Problem gamblers can suffer addictions with online gambling just as easily (or even easier) than those who gamble in person at casinos.
What Are the Risks of Gambling Online?
The dangers of online gambling are greater than that of in-person gambling for a variety of reasons, thanks to its accessibility and lack of regulation. Because the internet is available to gamblers 24 hours a day, it becomes extremely easy for an addict to become absorbed in online gambling any time, undetected, from the comfort of their own home.
Here are some other risks to consider:
Online gambling often uses an accelerated speed of play compared to in-person gambling.
It's too easy to lose track of time while gambling online, leading to compulsive zoning out.
There may be a decreased perception of how much cash you are spending in real life.
You run the risk of stumbling upon an illegitimate gambling website designed to cheat you.
You expose yourself to threats from hackers every time you provide your credit card details online.
What Can I Do to Reduce My Online Gambling?
Trying to kick a serious can be difficult on your own. If you're ready to take steps toward reducing your exposure to online gambling, here are some tips that can help get you started:
Set a time limit for how long you allow yourself to play online and stick to it.
Budget exactly how much money you'll allow yourself to gamble with—if you can't afford to lose it, DON'T SPEND !T!
Remember that every dollar on the screen is REAL MONEY you could put toward more tangible things.
Look for gambling sites that are legitimate and can give you options regarding spending and session limits.
If you are still having a problem, request to be self-excluded from the site.
What is Self-Exclusion?
You can voluntarily request to be banned from legalized online gambling through a process called Self-Exclusion. This prohibits you from collecting any winnings, recovering any losses, or accepting gifts from that particular gambling institution. Self-exclusion is a decision that must be made voluntarily, which means it cannot be forced upon friends or family members unwillingly.
How Do I Get Placed on an Online Self-Exclusion List?
Because online gambling laws vary from state to state, it can be tricky to figure how to sign up for online self-exclusion programs. Ultimately, it involves contacting each website or online casino to request self-exclusion and provide the required information. Depending on how many online gambling sites you frequent, this can be a nightmare to navigate and take a great deal of your time.
Is There an Easier Way to Self Exclude?
Many organizations exist to offer help and support to those with gambling addictions. Some individuals may find assistance in state-sponsored Mental Health and Recovery organizations like Play It Safe Ohio.
How to Get Banned From Online Casinos and Gambling Sites Using DoNotpay
If you want to stop online gambling but are looking for support to better facilitate your recovery, DoNotPay has you covered in 6 easy steps:
1. Search Gambling Protection on DoNotPay.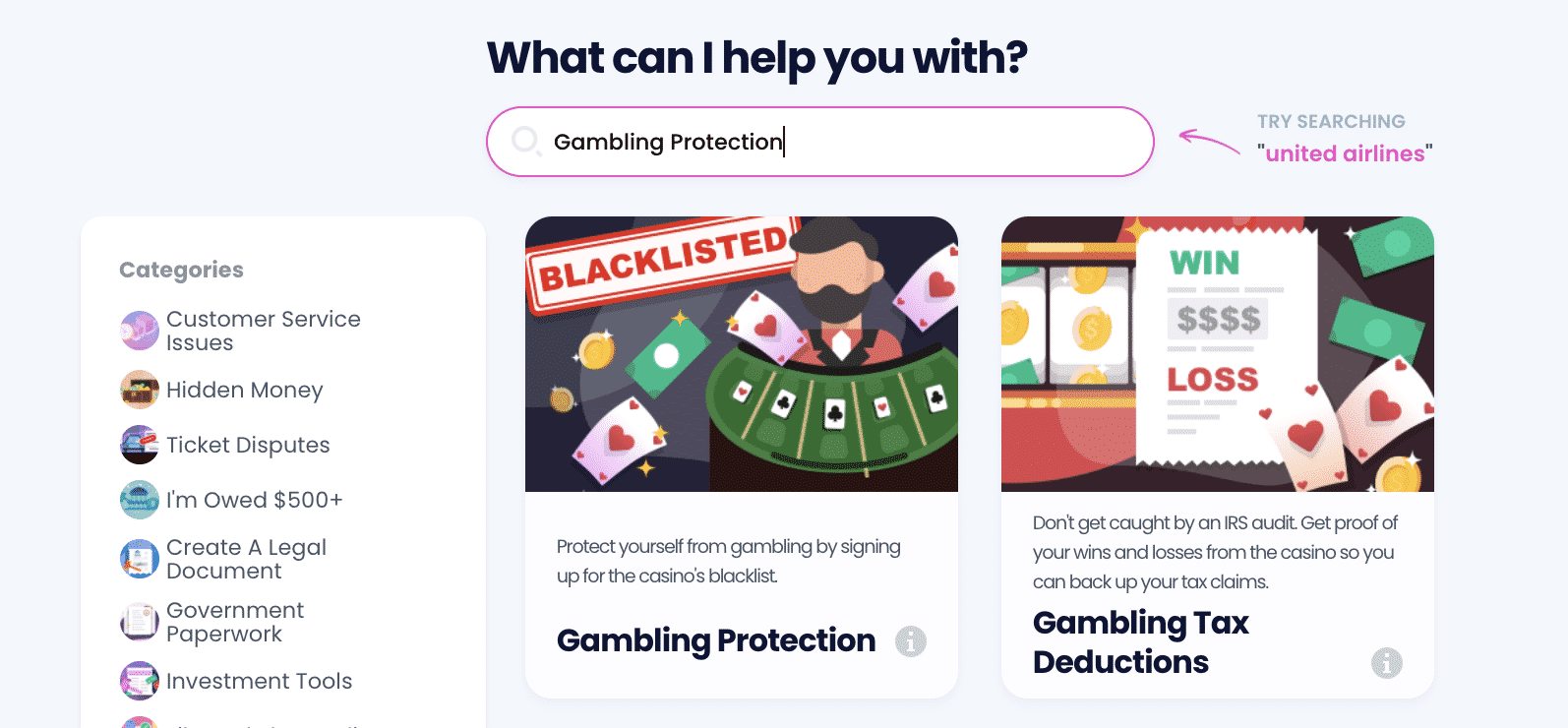 2. Enter the name of the casino and indicate whether it's online or in-person.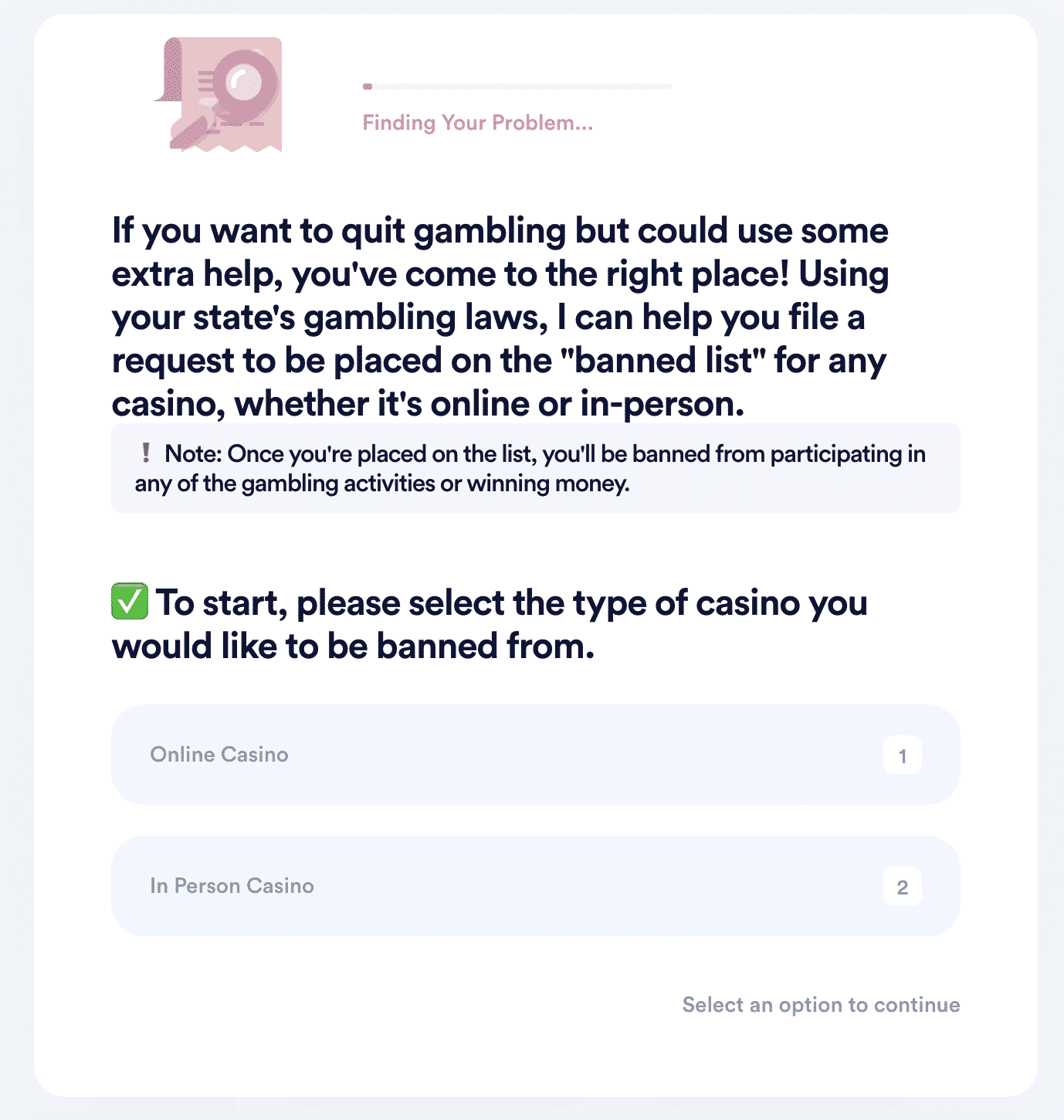 3. Tell us which state the casino is located in, or the state you're accessing the online casino from. DoNotPay will then find your state's self-exclusion laws and reference them in your request.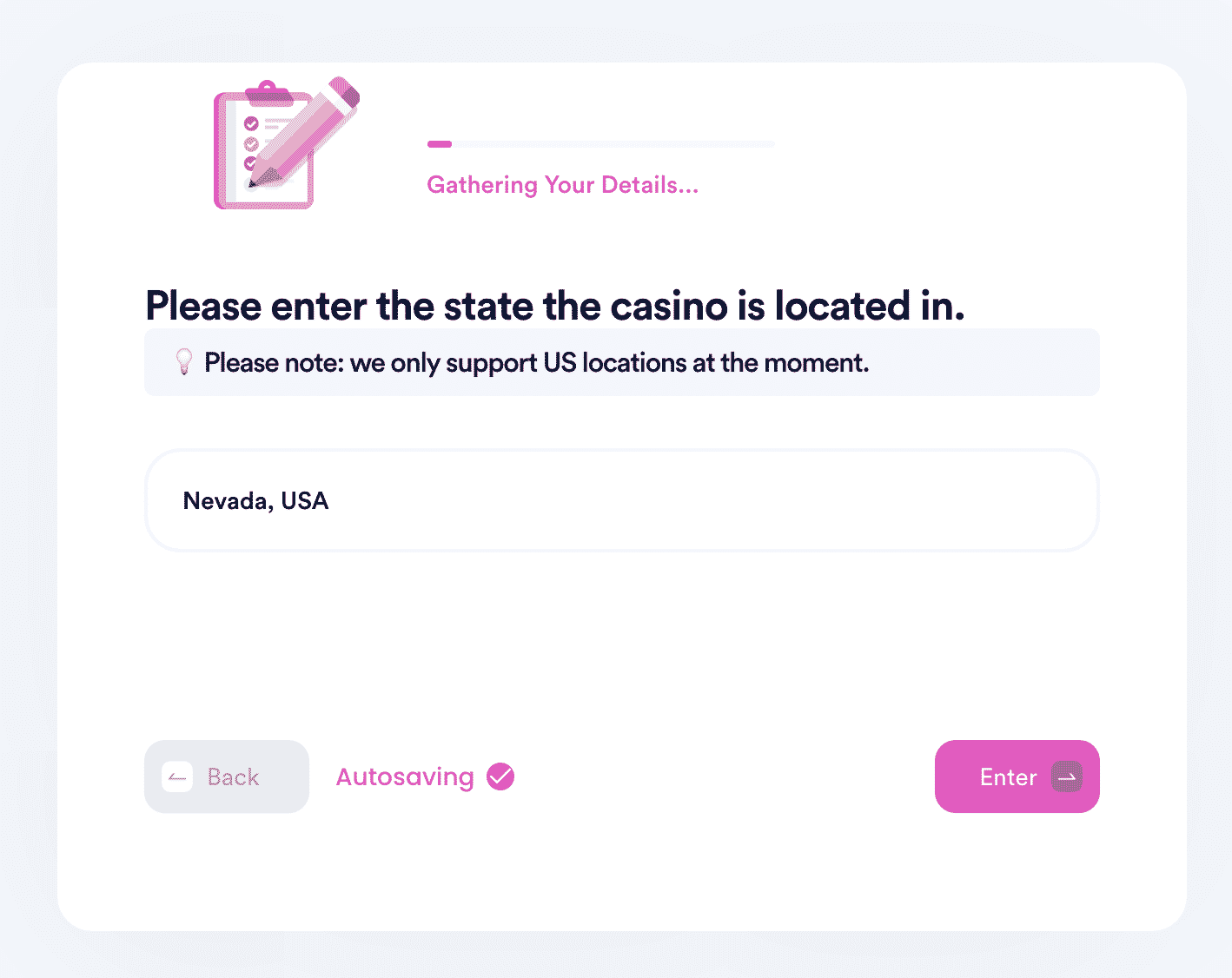 4. Select how long you want to be banned for (you can choose anywhere from 1 year to a lifetime!)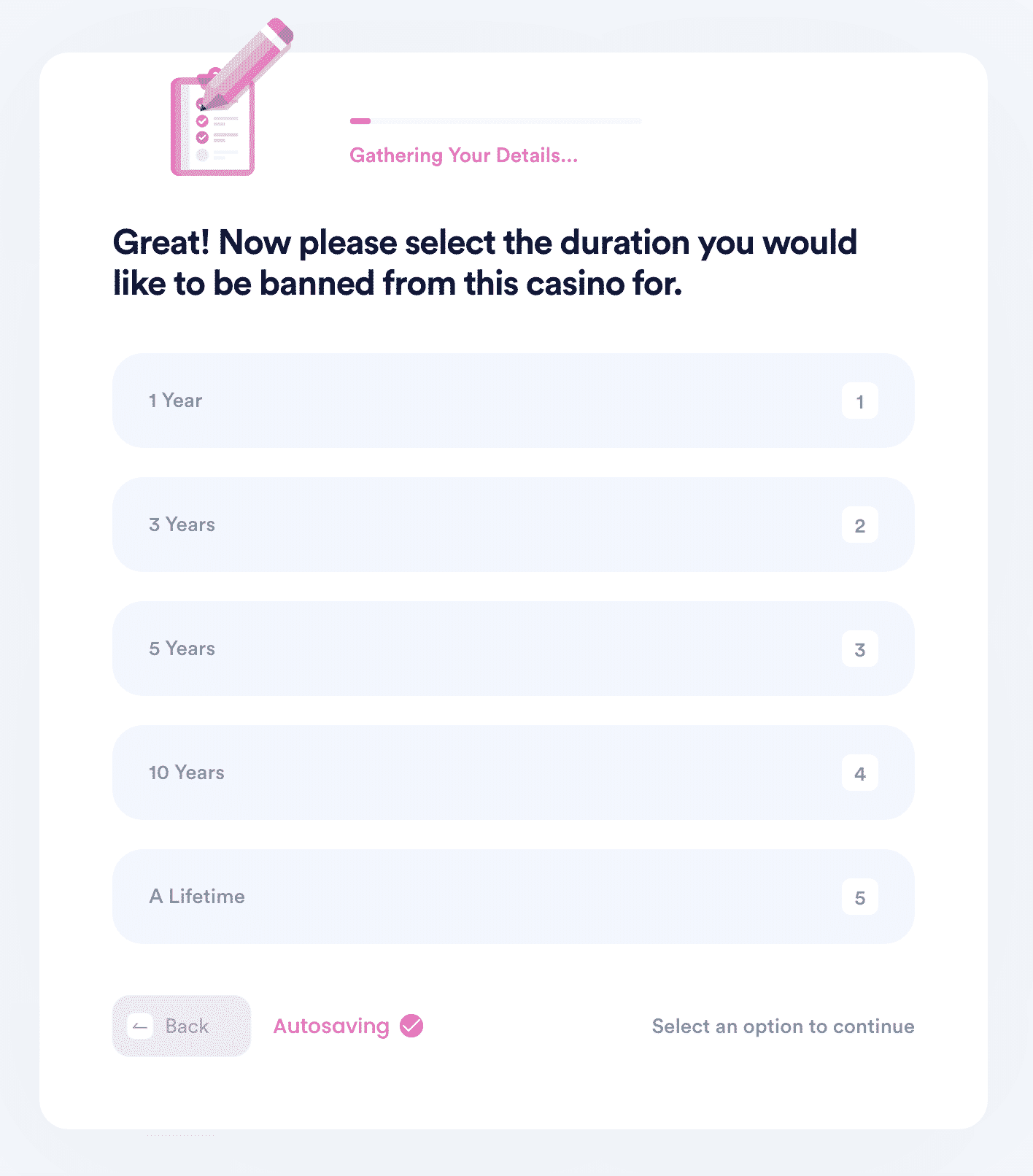 5. Answer a few of our chatbot questions so we can help the casino identify you or your online account. If you want to be banned from an in-person casino, it helps to provide information about your height, weight, race, and other identifying features.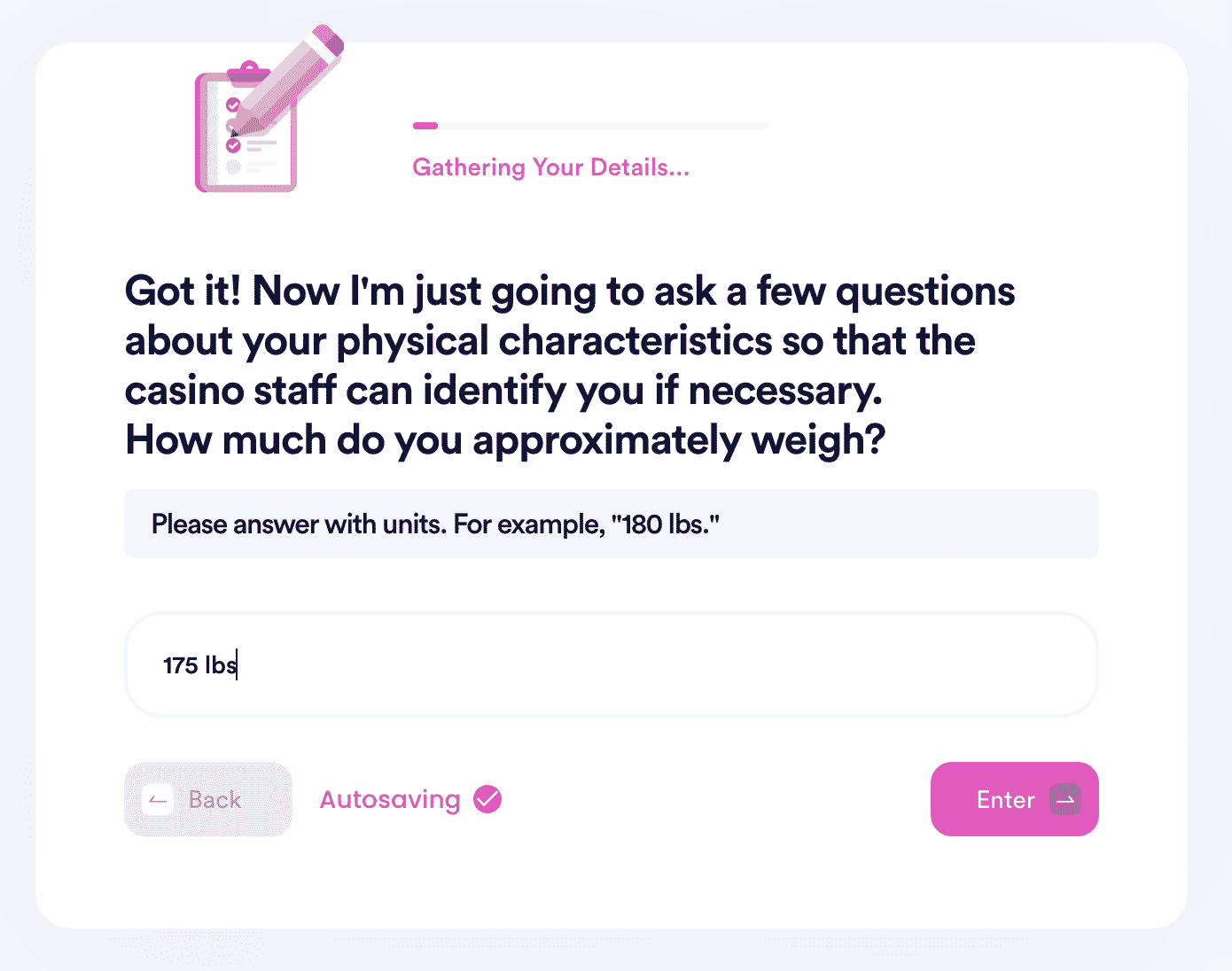 6. Choose whether you want us to email the request to the casino on your behalf. You can also choose to notarize your document to legally verify your identity.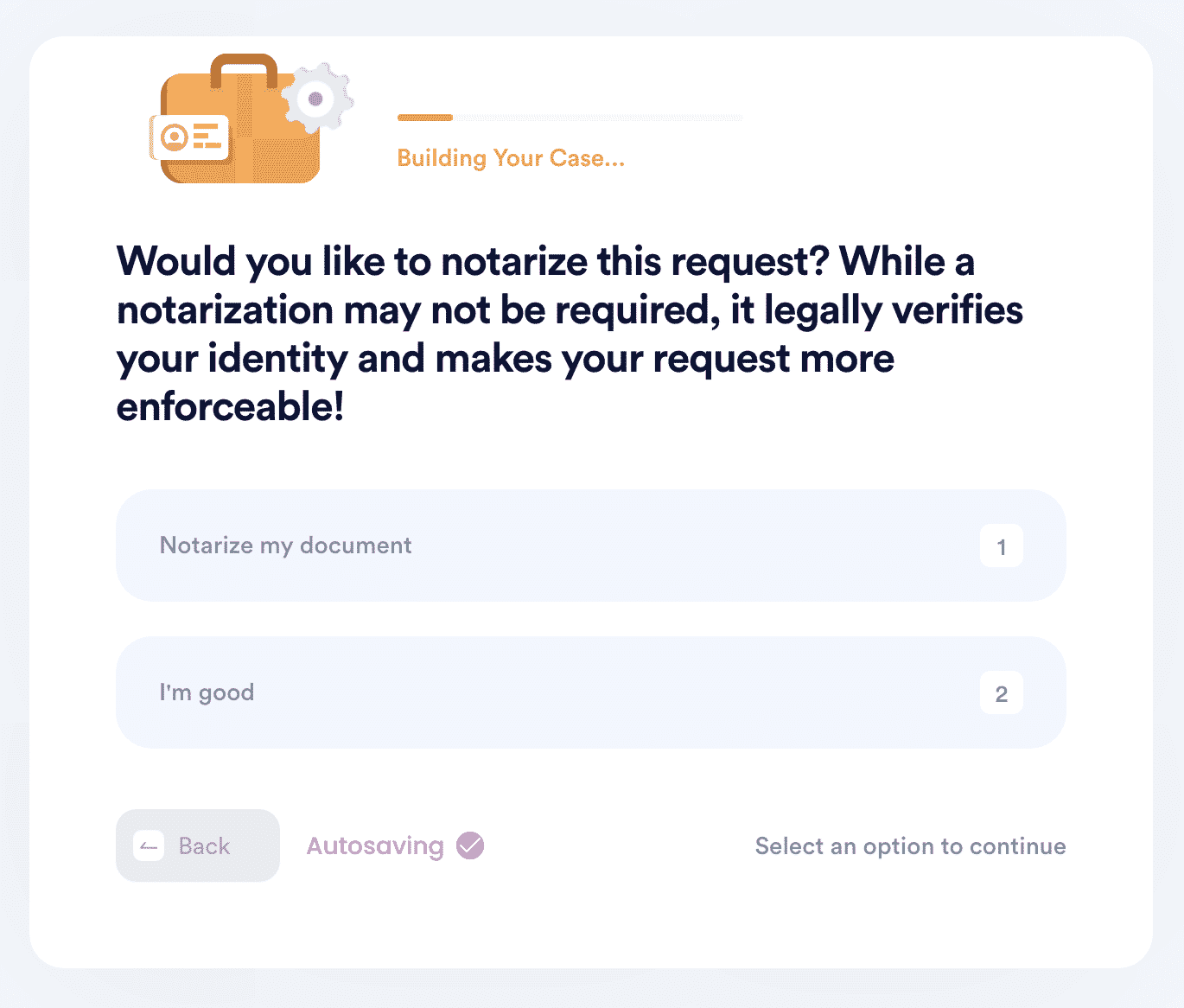 Why Is DoNotpay a Better Answer Than Doing It Myself?
Half the battle of overcoming a gambling addiction is focusing on your mental health and well-being, so that's why letting DoNotPay handle your online self-exclusion requests is a no-brainer.
| | |
| --- | --- |
| Fast | You don't have to spend so much time online to contact all the websites. |
| Easy | You don't have to struggle to fill out tedious forms or keep track of all the steps involved in getting online casinos to approve your self-exclusion request. |
| Successful | We will make the best case for your to help you in your recovery. |
What Other Questions Can DoNotpay Help Me Answer?
If you have multiple hurdles in your life that you need help getting over, DoNotPay may be the answer to more than you know. We can help you streamline a whole slew of life's issues to get you back on your feet for good. For example, DoNotPay can show you:
How to Get a Tourist Visa