Do You Want to Recover From A Gambling Addiction?
Gambling addiction can tear families apart and be hard to endure, but DoNotPay can support your attempt  to stop gambling. If you have a gambling addiction, you may wonder if you can recover from your addiction.
When it comes to gambling, the house always wins. If you gamble for fun and have it under control, that's fine, but some people would like to stop gambling and save money.
It's hard to be a partner to someone with a gambling addiction.. Knowing that your loved one has a gambling problem, trying to get them help, but not knowing where to start can be heartbreaking.
This guide will talk about what to do if you or a loved one has a gambling addiction, how difficult it can be to quit on your own, and how DoNotPay can help you stop gambling for good.
What is a "Banned List"?
A banned list is a list of people unwelcome at a casino. Often, casinos will use face identification technology to alert the casino if someone on the list tries to enter.
How to File a Request to Join the "Banned List"?
Getting yourself on the banned list without having committed a crime is a long and complicated process but DoNotPay can help.
The steps to "self-exclusion from gambling" for those who chose to join the banned list vary from state to state, but certain steps are similar:
Go online to the state gambling website.
Register and create an account with a login and a password.
You need to fill out a complex form; if you fail to fill out the form correctly, you will need to call the state gambling phone number.
If you're online, you'll need to upload a valid ID; on the phone; you'll need to send them a copy of the ID to an address they give you.
You will have to take a live photo of yourself and upload it to the site; if you are on the phone, you will need to mail the photo to the address provided.
You need to choose a length of time to be self-excluded.
You will automatically end your self-exclusion once the time period ends, and the self-exclusion can be undone at any time with a click of the button.
There is a problem with this whole process. Filling out a long, complex form, uploading a copy of your ID, and uploading a recent picture may be too difficult for someone trying to recover from a gambling addiction.
There must be an easier way.
What Should I Do if My Loved One Is Addicted to Gambling?
Sadly there is no way to put someone else on the banned list of a casino in most states.  Let DoNotPay put your loved ones on the banned list and keep them away from the casino.
They may not be strong enough to go through the complex self-exclusion process, but DoNotPay can help.
How to Get Banned From Casinos Using DoNotPay:
If you want to stop gambling but don't know where to start, DoNotPay has you covered in 6 easy steps:
1. Search Gambling Protection on DoNotPay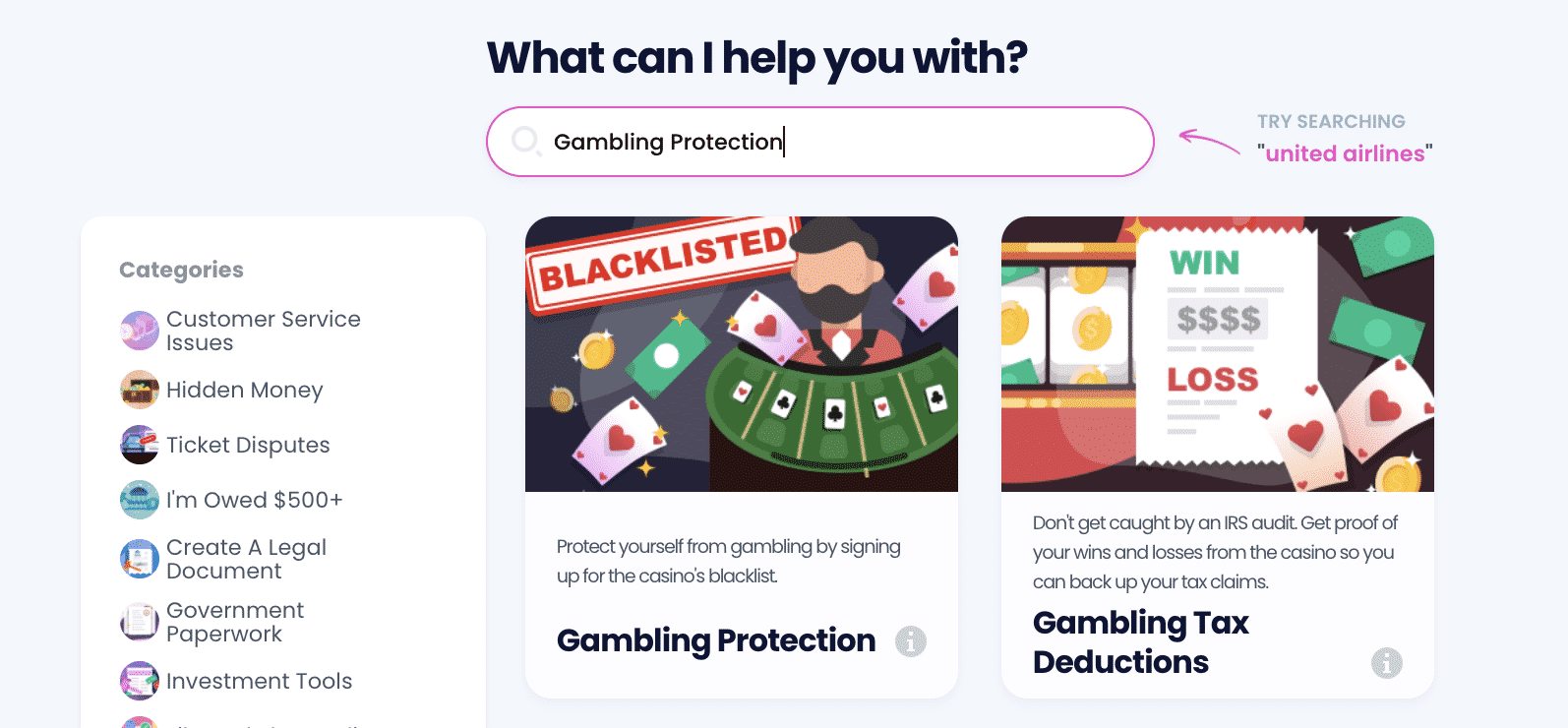 2. Enter the name of the casino and indicate whether it's online or in-person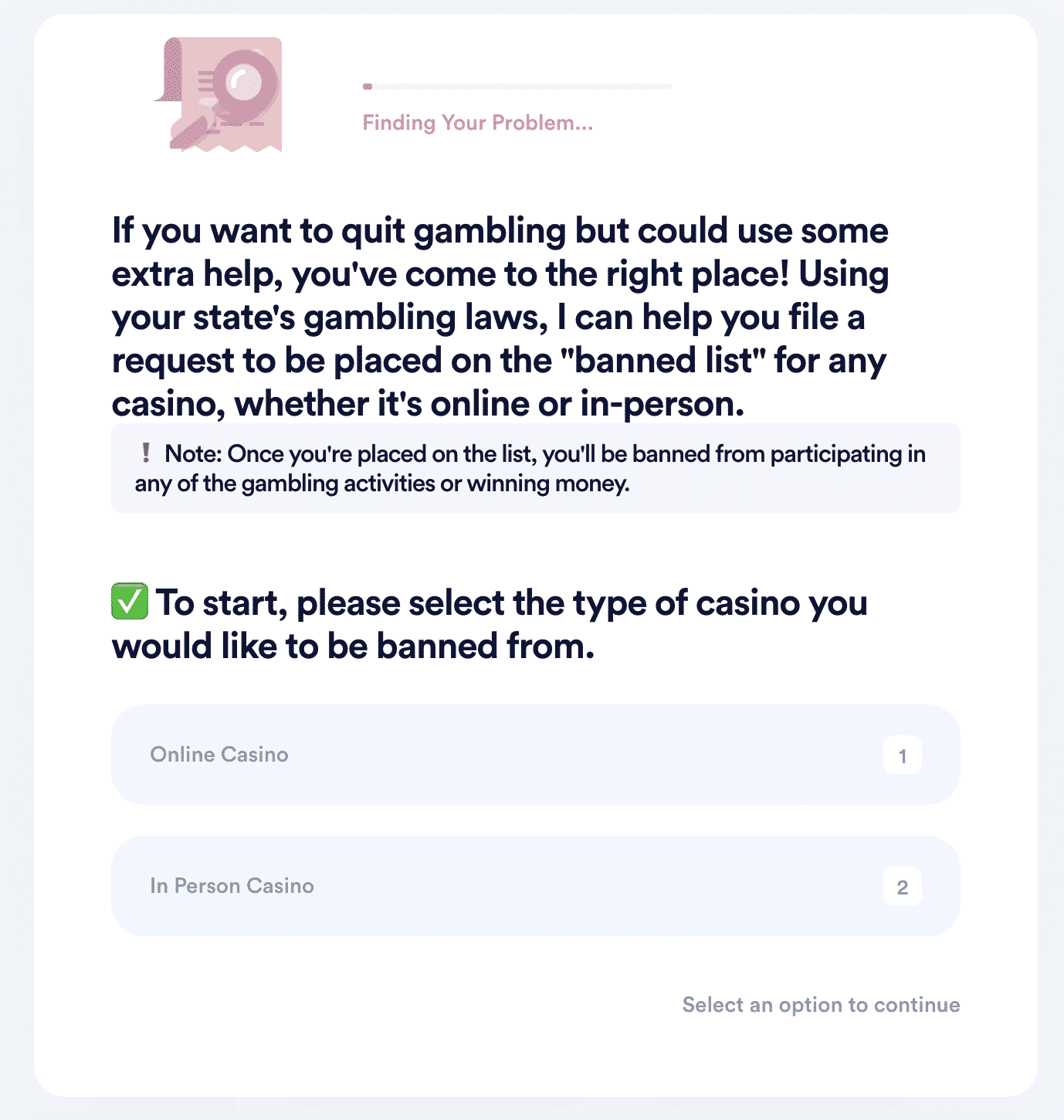 3. Tell us which state the casino is located in, or the state you're accessing the online casino from. DoNotPay will then find your state's self-exclusion laws and reference them in your request.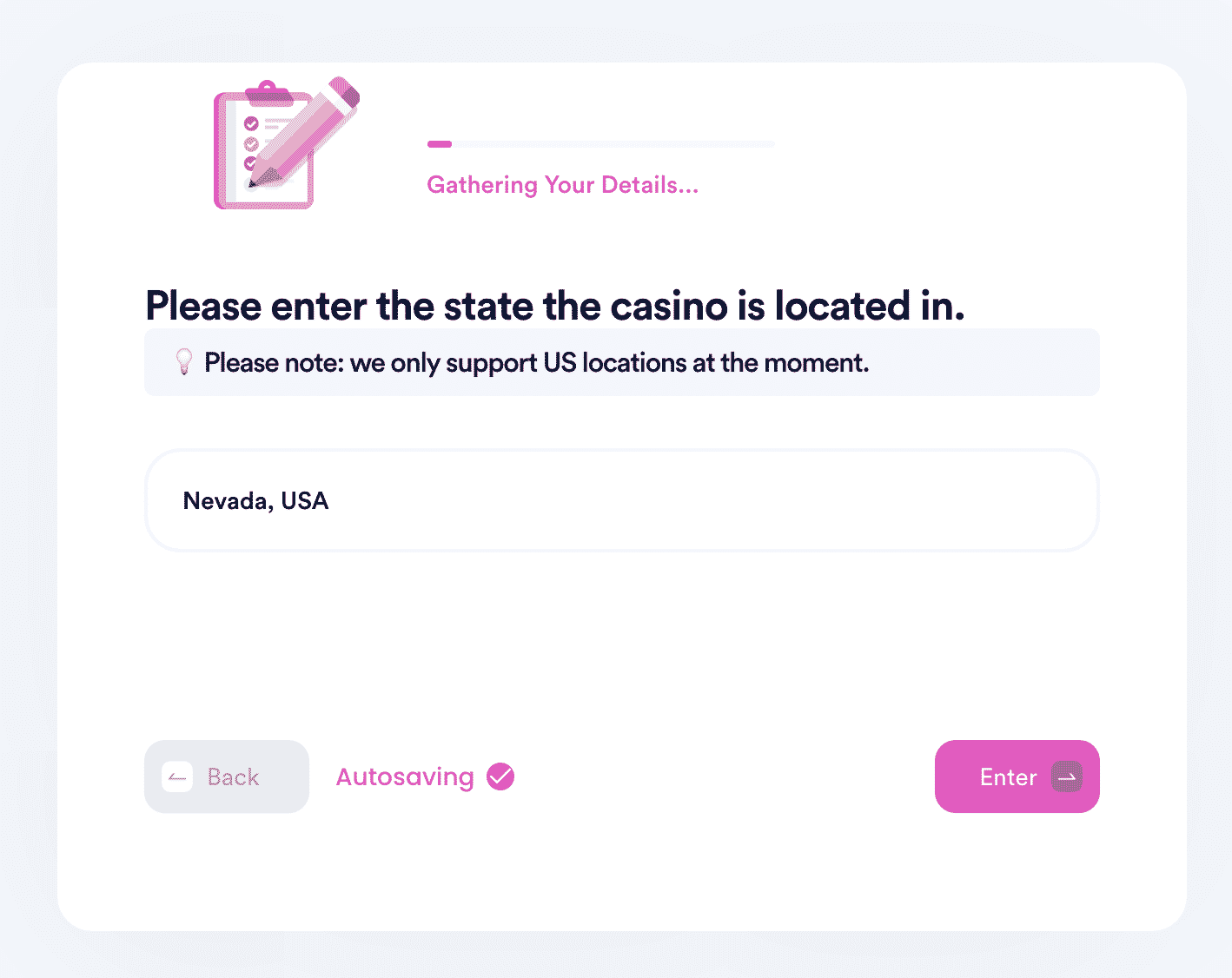 4. Select how long you want to be banned for (you can choose anywhere from 1 year to a lifetime!)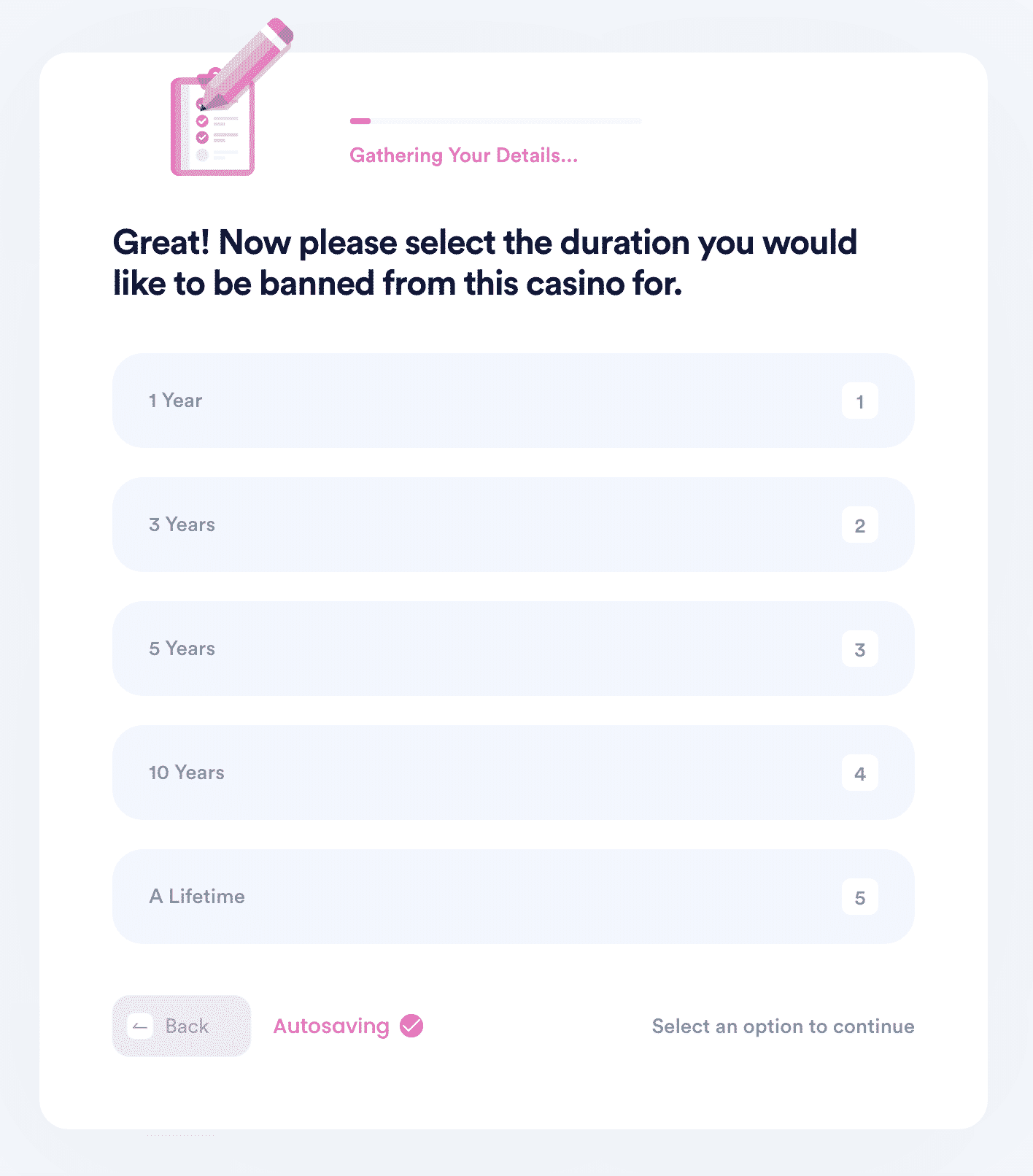 5. Answer a few of our chatbot questions so we can help the casino identify you or your online account. If you want to be banned from an in-person casino, it helps to provide information about your height, weight, race, and other identifying features.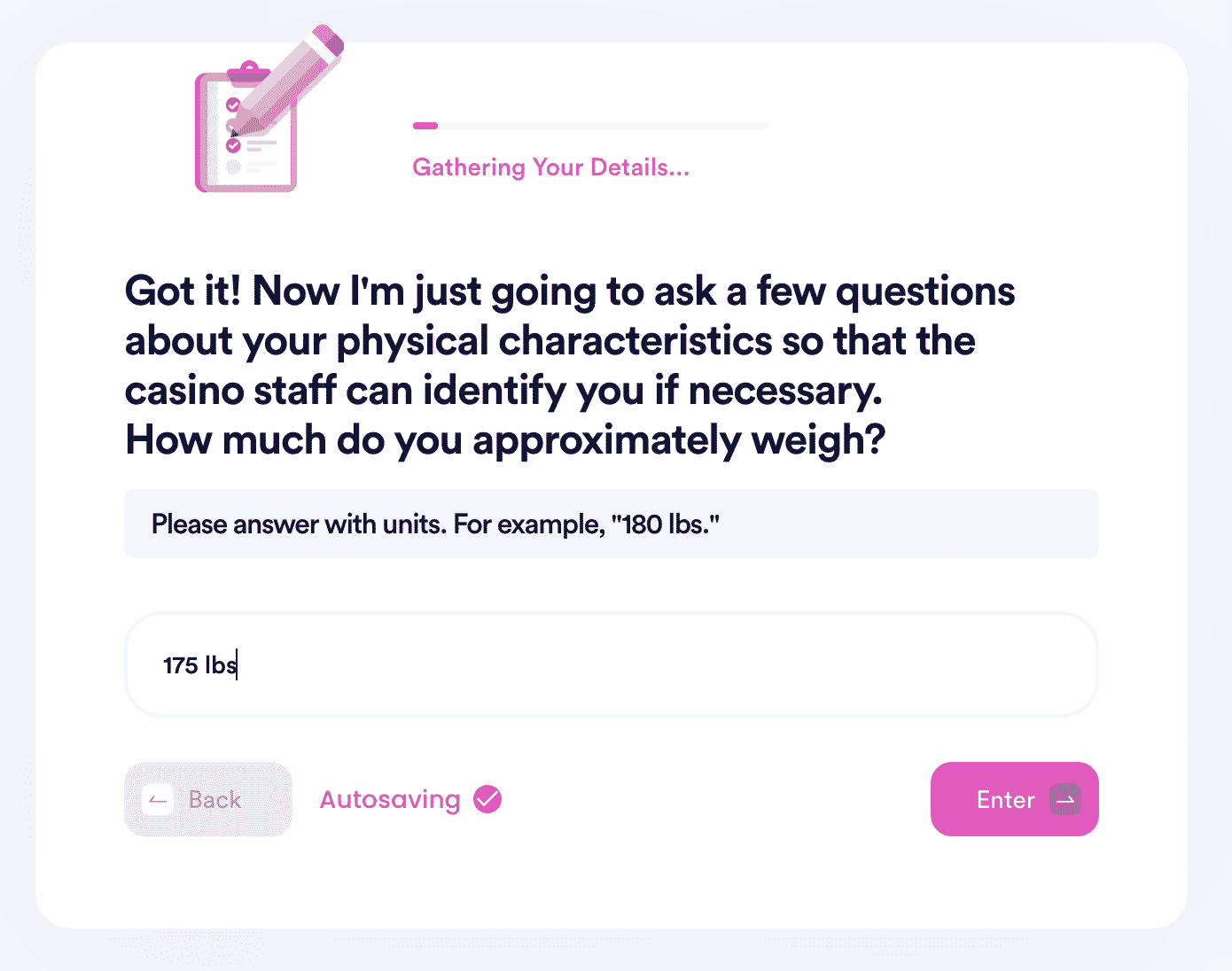 6. Choose whether you want us to email the request to the casino on your behalf. You can also choose to notarize your document to legally verify your identity.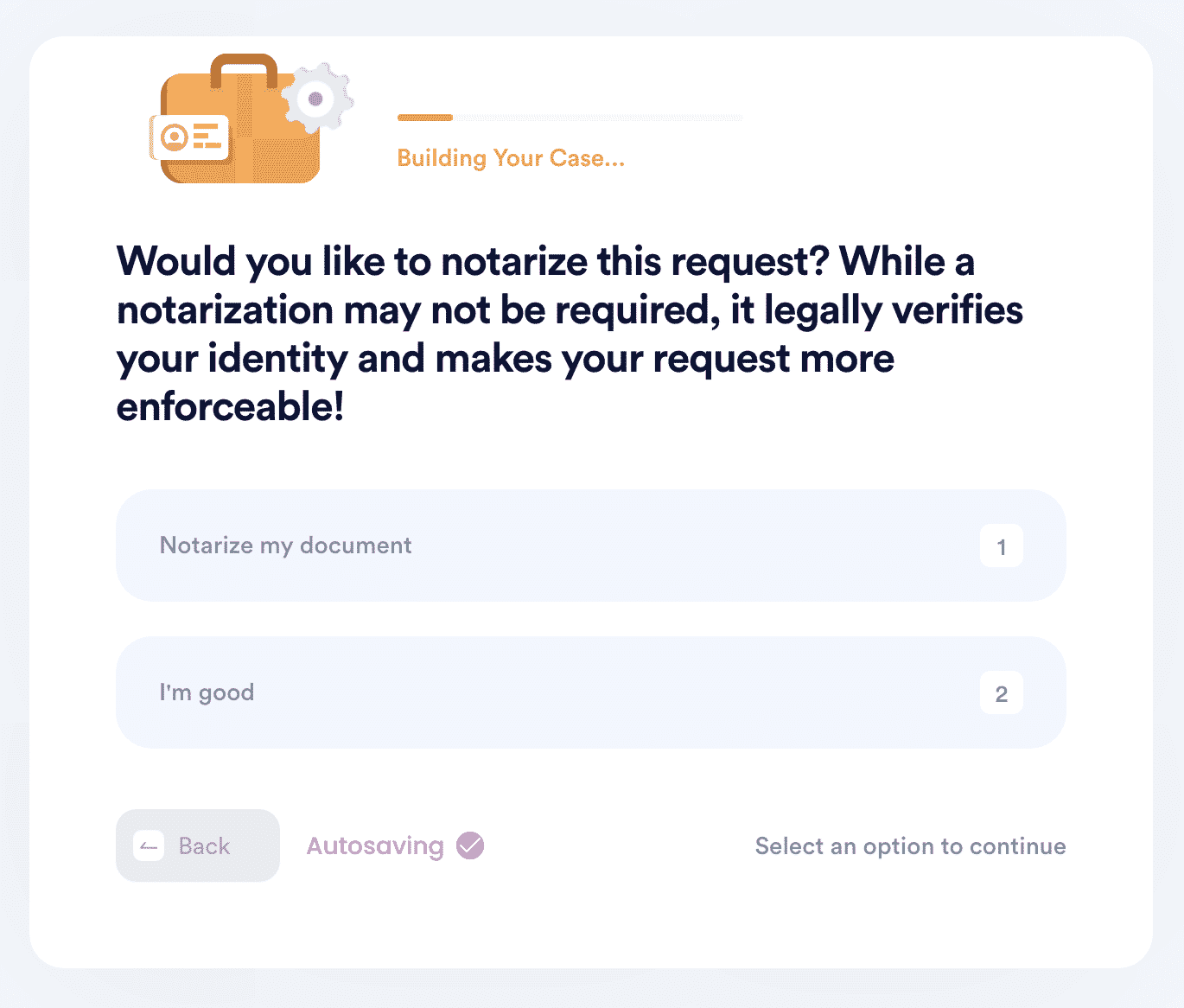 Why Use DoNotPay to Assist With Your Gambling Addiction
Trying to go through the complicated process of putting yourself on the self-exclusion list and being able to undo it so easily is too tempting for a gambling addict. DoNotPay can help!
| | |
| --- | --- |
| Fast | You don't have to spend hours online trying to get on the self-exclusion list. |
| Easy | You just provide the details and we can deal across many states and casinos. |
| Successful | Thousands have put themselves on the self-exclusion list with our help and we can do it for you and your loved ones too. |
DoNotPay Works Across All Companies/Entities/Groups With the Click of a Button
DoNotPay can help with stopping gambling online the same way it can with in-person casinos.
Or it can help you get you into the banned list in California the same way it can for the list in Kentucky.
What Else Can DoNotPay Do?
If you need help with gambling addiction, let DoNotPay help you today.