How to Stop Gambling with the DoNotPay App
Gambling can lead to unhealthy addiction among gamblers. If you are wondering how to stop gambling on an iPhone or how to stop mobile gambling at large, you have to take drastic measures. To mitigate the harmful effects of gambling, casinos keep records of gamblers who are blacklisted mainly through photo IDs and fingerprints. This helps in ensuring that blacklisted gamblers are easily identified once they re-enter the casino. When you discover that a friend or a loved one has a gambling addiction, it is only logical to find a way to help them learn how to stop gambling.
Gambling protection is a unique way to deter compulsive gamblers from helplessly ruining their livelihoods and health. While it seems like the problem is too large to solve, this is not the case. DoNotPay gives you the chance to ban yourself from offline or online gambling if you are looking for a way to overcome gambling addiction.
What is a "Banned List"?
A banned list is a formal request that involves asking a casino, betting shop, or gambling operator, to exclude you from gambling with them for a set length of time. Having a banned list in place means that you won't be allowed to gamble from both offline and online locations.
How Do You File a Request to Join the "Banned List"?
There are many reasons why you should wish to stop gambling-free sites or gambling on an iPhone. For a start, you can try the gambling website Stopper, which is an application designed to prevent access to gambling apps and websites. However, this may not be a deterrent enough to stop gambling addiction, since you can avail yourself in person at a casino. To file a request to join the "banned list":
You have to choose which websites, venues, or casinos to get you to wish to be excluded from
Sign an exclusion deed listing the specific venues which you agree not to go to for a given period
When a venue staff sees you in a casino after you have signed an exclusion deed, they will report you to the program and ask you to leave
When the agreed deed period ends, you can choose whether to self-exclude again for another period. You can also apply to have your gambling account re-opened or have your exclusion deed revoked to enter a venue's gaming area
Self-exclusion is a tedious process that is both time-consuming and cumbersome. DoNotPay, on the other hand, is a simplified and efficient method to have your request to join the banned list approved.
Common Questions About Joining a Banned List
What Information Do I Need to Provide for the Request?
To file for the gambling protection banned list, you must provide relevant information that will be used to identify you should you breach the terms of the gambling protection.

Information about your height, race, weight and other identifying features such as fingerprints and IDs must be provided
DoNotPay will also need to know which state's casino you want to ban yourself from

How Long Can I Be Banned For?
The minimum period you can get banned is six months, while the longest period is five years. However, a 24-hour window is provided for you in case you change your mind. If that is the case, you can apply to cancel your request.
Can I Request a Ban From Multiple States?
DoNotPay can find every state's self-exclusion laws and reference them at your request. This will ensure that your gambling ban is reflected in multiple states, so you won't be able to gamble.
What Should I Do If A Loved One Is Addicted to Gambling?
When a loved one is addicted to gambling, you have to find ways to help them overcome the addiction. One of the proven ways to do that is to file a third-party exclusion list. A third-party exclusion is a process that provides support to third-party members who are concerned about the adverse effects that a gambler is dealing with. Through the process, a gambler will be excluded involuntarily as a direct consequence of their behavior.
How to Get Banned from Casinos Using DoNotPay?
If you want to stop gambling but don't know where to start, DoNotPay has you covered in six easy steps:
1. Search Gambling Protection on DoNotPay.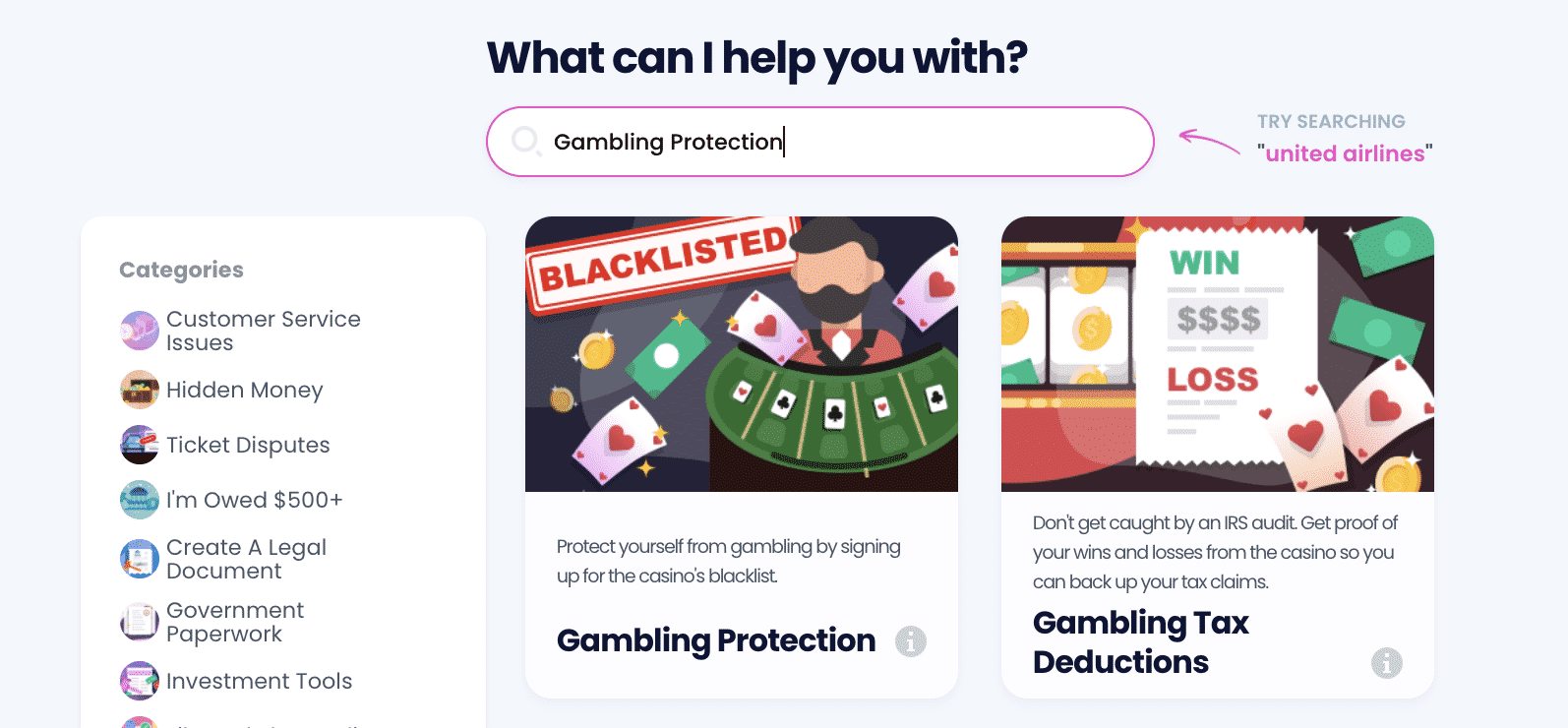 2. Enter the name of the casino and indicate whether it's online or in-person.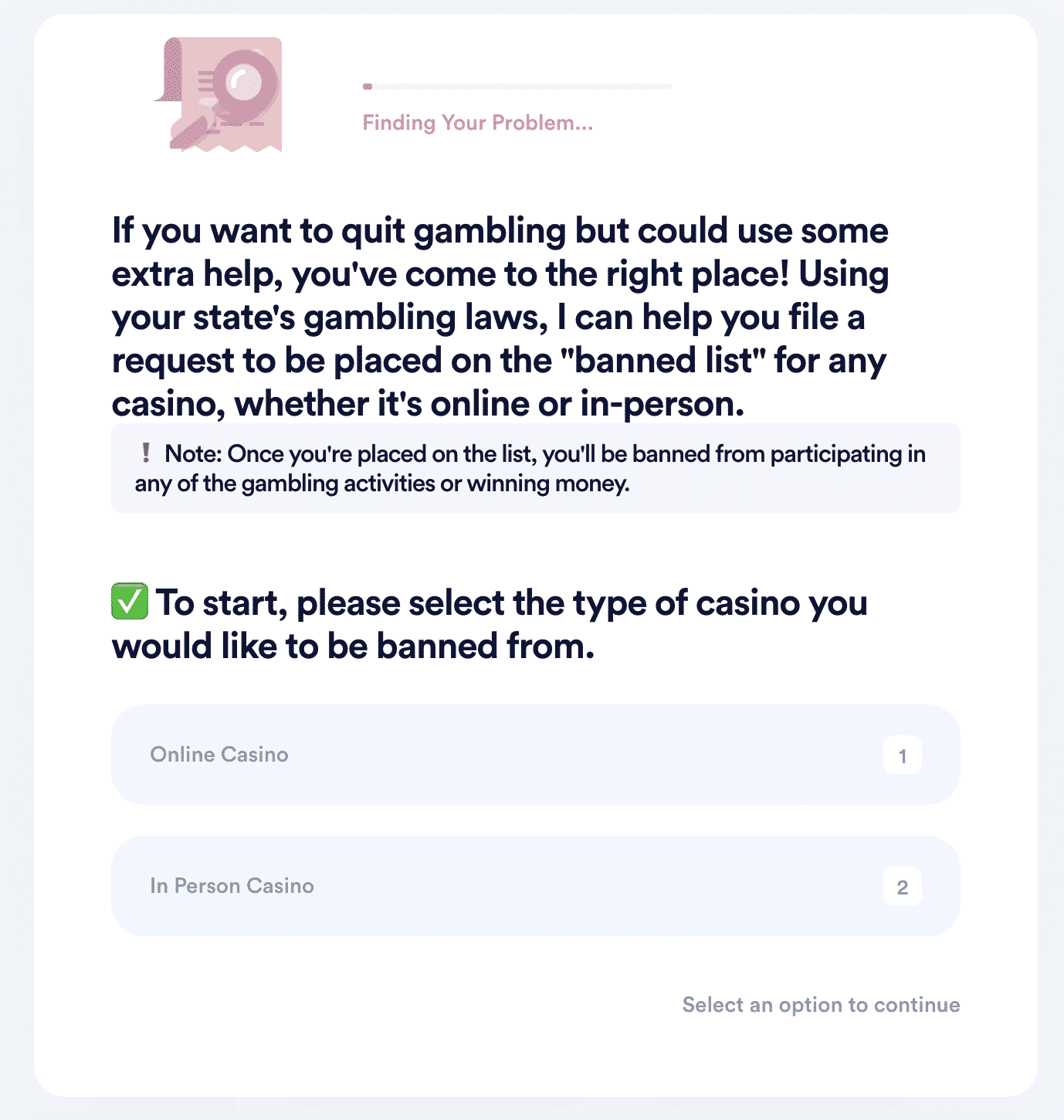 3. Tell us which state the casino is located in, or the state you're accessing the online casino from. DoNotPay will then find your state's self-exclusion laws and reference them in your request.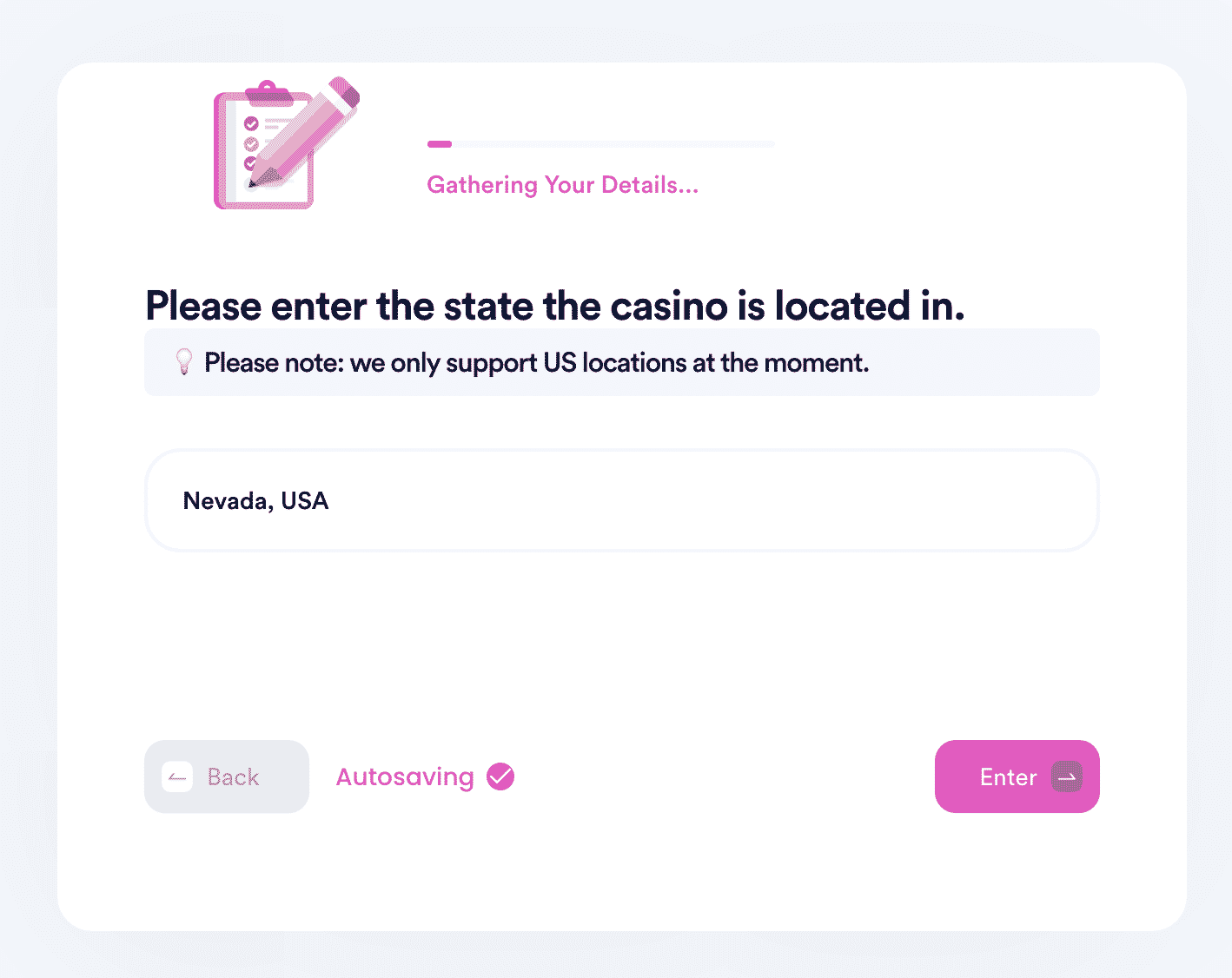 4. Select how long you want to be banned for (you can choose anywhere from 1 year to a lifetime!)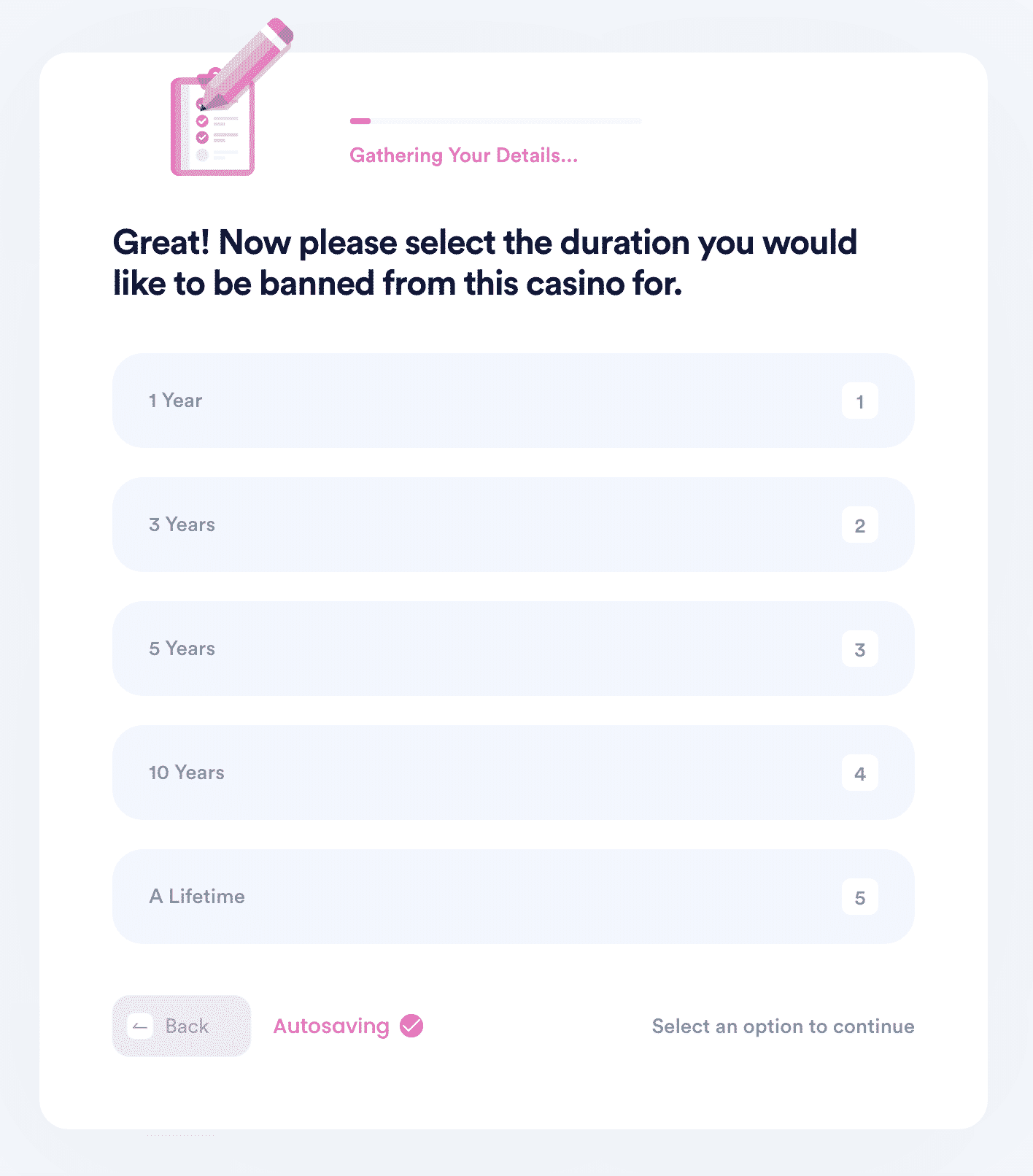 5. Answer a few of our chatbot questions so we can help the casino identify you or your online account. If you want to be banned from an in-person casino, it helps to provide information about your height, weight, race, and other identifying features.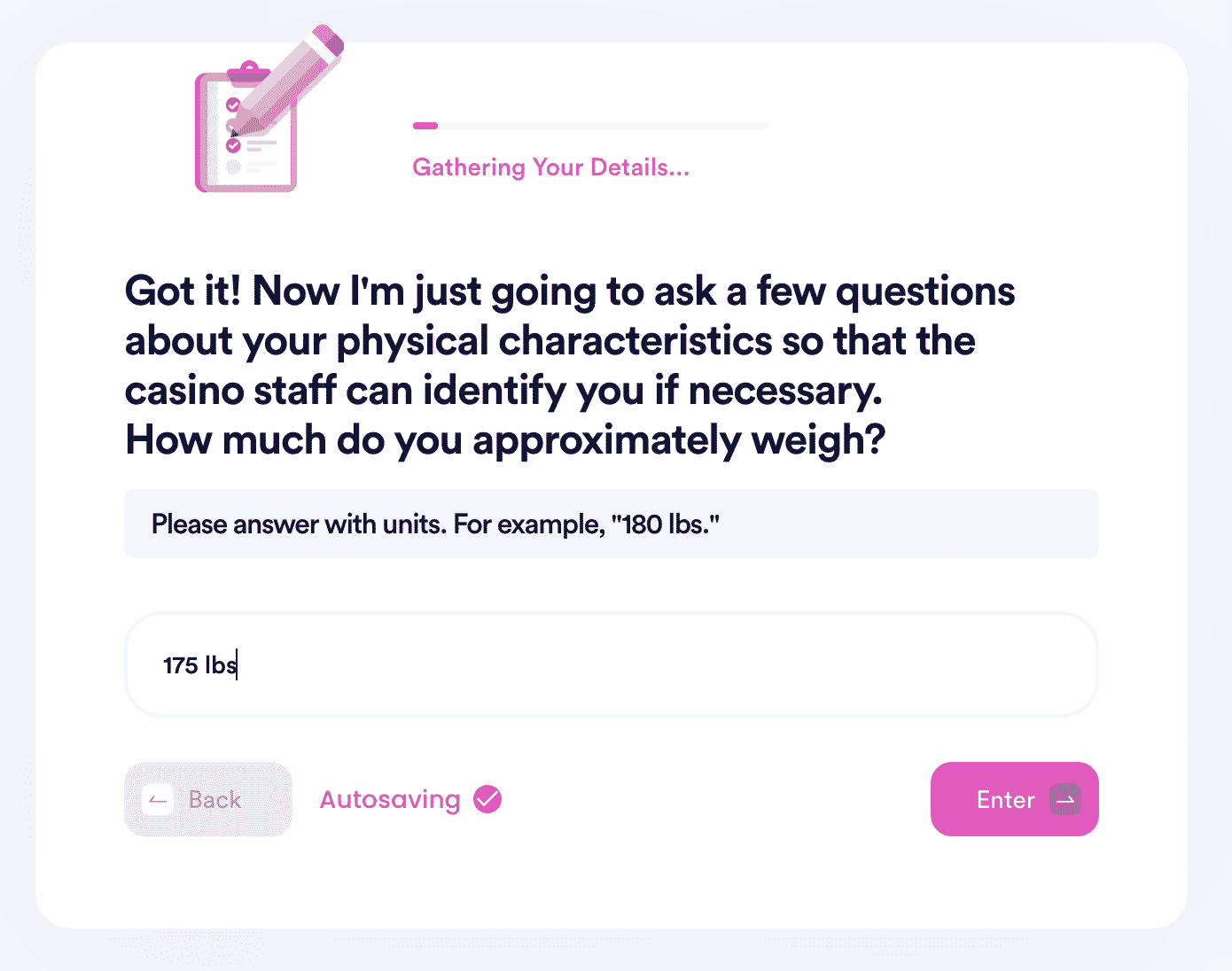 6. Choose whether you want us to email the request to the casino on your behalf. You can also choose to notarize your document to legally verify your identity.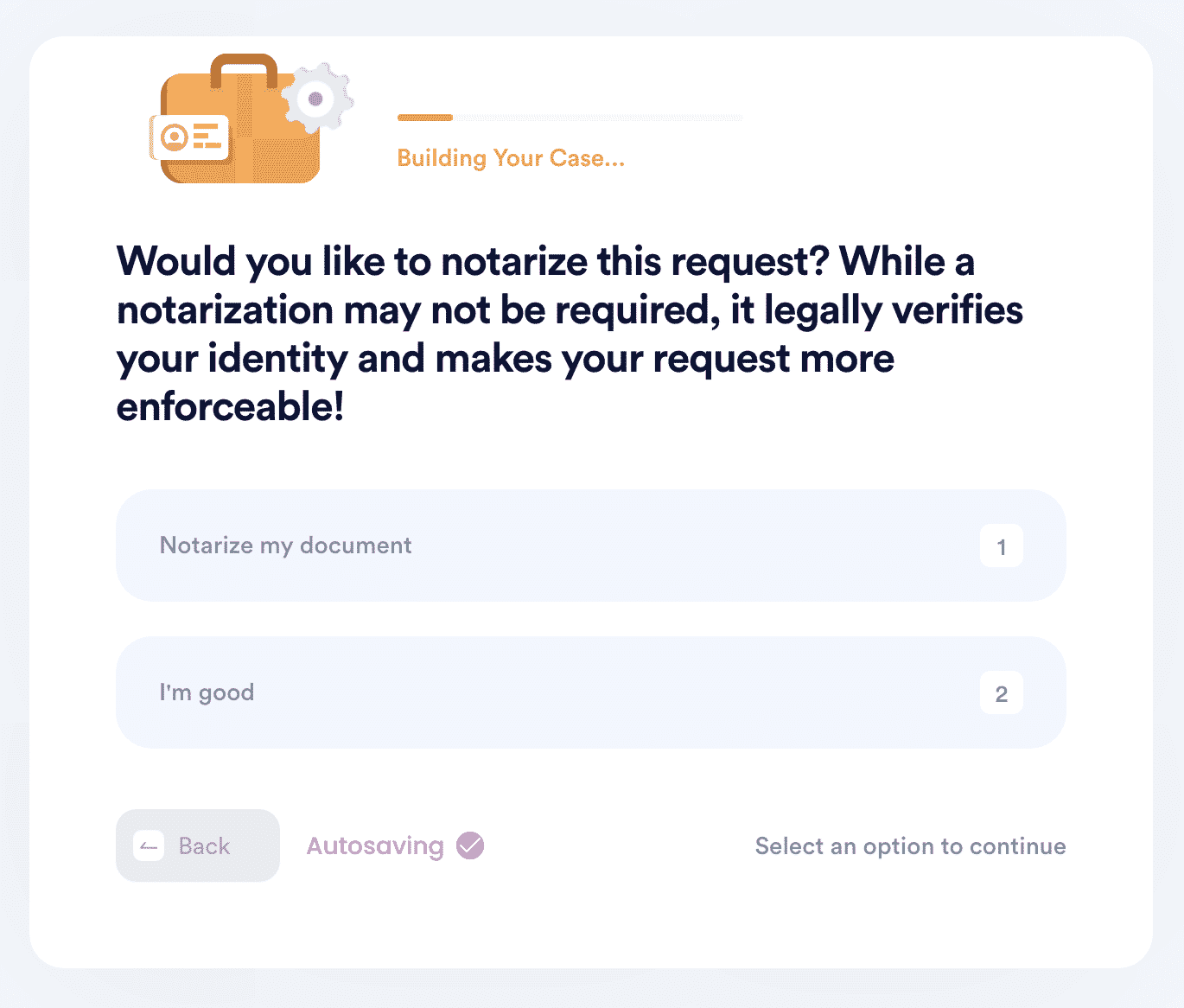 What Else Can DoNotPay Do?
Solving gambling protection for you is one of many things DoNotPay can help you with. DoNotPay also helps you get around a host of other online services including:
Getting a

tourist visa

Learning about free trials
Helping you with gift cards and cash-backs
today to get started!