How to Get Gambling Addiction Help For Families
When someone has an uncontrollable urge to gamble regardless of the impact on everyone around them, you have a situation that can explode and destroy a family. These individuals are ready to risk everything, desperate to catch up and get the big win.
Gambling is a drug, a stimulant that drives the brain to chase the next bet, to recover losses, to live in the shadows. The addicted accumulate debt and watch savings drain away. For the severe gambler, it can lead to criminality. Stealing and fraud are often direct links to addiction.
There can be many victims of an addicted gambler, but the most victimized is often the family. As with drug addicts and alcoholics, having a parent who refuses to stop gambling is heartbreaking. The entire family watches as the gambler races for thrills and, losing, changes. And not for the better.
A compulsive gambling parent destroys lives. The parent fights hard to maintain the lifestyle. Getting treatment is a challenge. But DoNotPay knows how to get help for gambling family members who can't stop. Let's talk about the banned list.
What Is a "Banned List"?
Also called self-exclusion, a banned list consists of individuals who requested banning from casinos. Once on the list, the gambler is prohibited from using any services or privileges attached to a gambling facility. It includes recovering losses or collecting winnings.
The bans come with a time period. During the said period, the exclusion is irrevocable. You cannot rescind or alter the ban.
While banned lists are typically restricted to casinos, some resources extend help beyond gambling facilities. Additional resources entail banned lists that can prevent parents not just from playing at a casino but indulging online. It can also include not being able to use casino ATMs, a resource for many addicted parents.
How Does One File a Request to Join the "Banned List"?
Putting a parent on a banned list is a great way to get gambling addiction help for families. Here is the general process.
Download the exclusion form for your state. Find an example of the form here. Fill out the paperwork, get it notarized, and mail it with a current photograph to your state's Department of Gaming. The state will not process the paperwork without the photo or notarization. You can send the photo electronically, but the form needs delivering or mailing.
You may go into the office to get on the list. It's a more involved process. You'll meet with a self-exclusion administrator. They'll go into detail about the program, notarize the form for you on the gambler's behalf, and even take their picture. You will also have access to additional resources for managing gambling addiction and family. Call ahead to make an appointment.
What Information Do I Need to Provide for the Request?
Each state has its own gaming commission and requirements may vary.
That's the major benefit of utilizing DoNotPay for the job. Acting as advocates for gambling addiction and family, we work across state lines. That means no matter where you need to apply, we'll make sure you follow regional guidelines.
We'll need to have the personal information of the addicted person such as your name, address, phone number. They will need to supply info such as weight, height, race, and identifying features. We also require a current photograph. The gambler needs to disclose which state(s) they want for banning. We'll also have to know what to include in the ban. Casinos? Online activity? ATMs?
Unfortunately, if you're a family member or even spouse of an addict, you need to get the gambler to sign for banning voluntarily. Unless an individual shows legal mental incompetence, no state will allow an addicted person's banning without their explicit permission.
How Long Can I Be Banned For?
Keeping an addicted parent away from gambling is a priority. The extent of gambling addiction help for families includes how long they stay away. The banned list includes the length of time. The parent can request no less than 12 months, fives years, or for the remainder of their lives.
Upon the conclusion of the minimum period, you will have to request removal from the self-exclusion list. You'll remain on the list otherwise. Individuals that ask for a lifetime ban cannot come off the list.
How Do I Help My Spouse With Anxiety and Gambling Using DoNotPay?
Getting addicted parents to the table is going to be hard enough. The last thing you want to worry about is the tedious process of getting them on the list. DoNotPay is the solution for streamlining the ban application and approval with any state gaming commission.
How to Get Banned From Casinos Using DoNotPay
If you want your family member to stop gambling but don't know where to start, DoNotPay has you covered in six easy steps:
1. Search Gambling Protection on DoNotPay.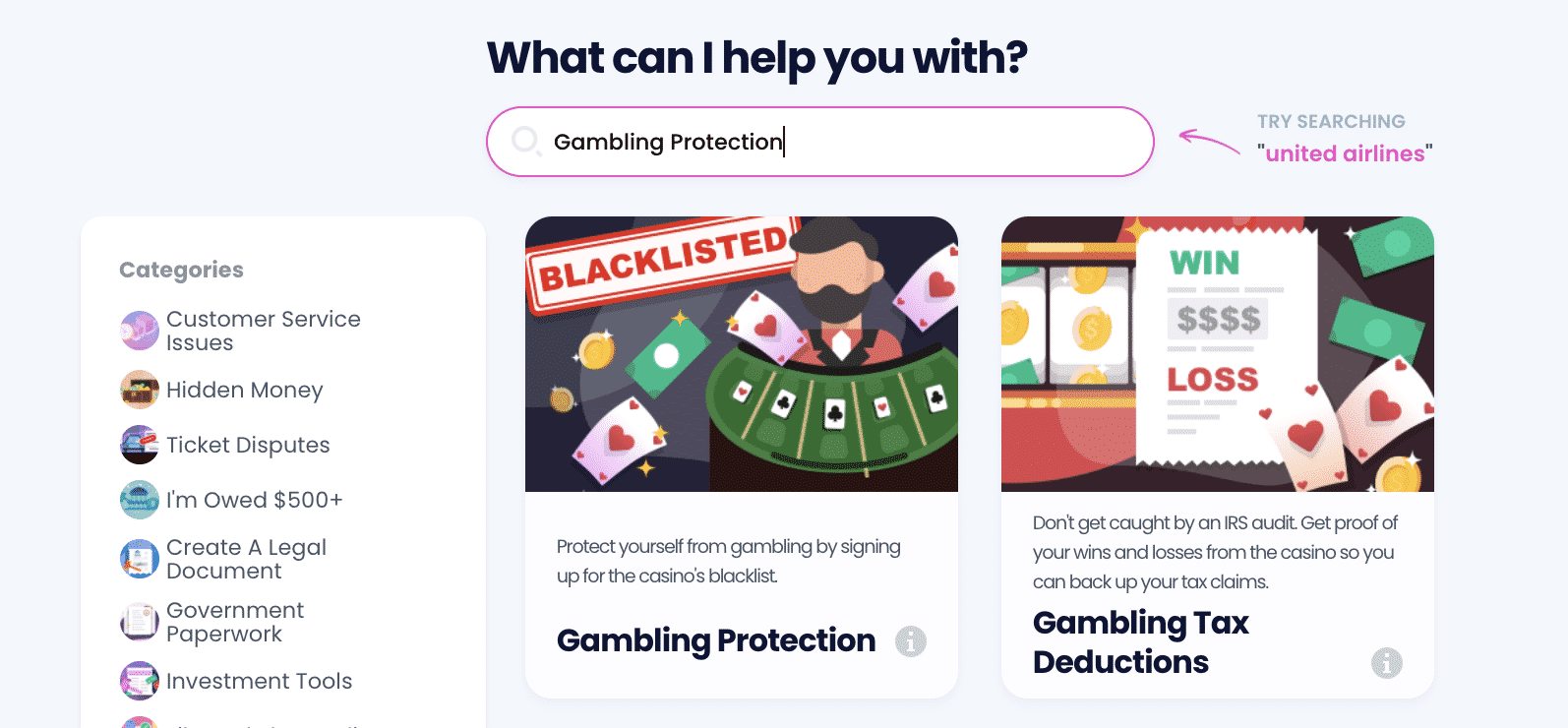 2. Enter the name of the casino and indicate whether it's online or in-person.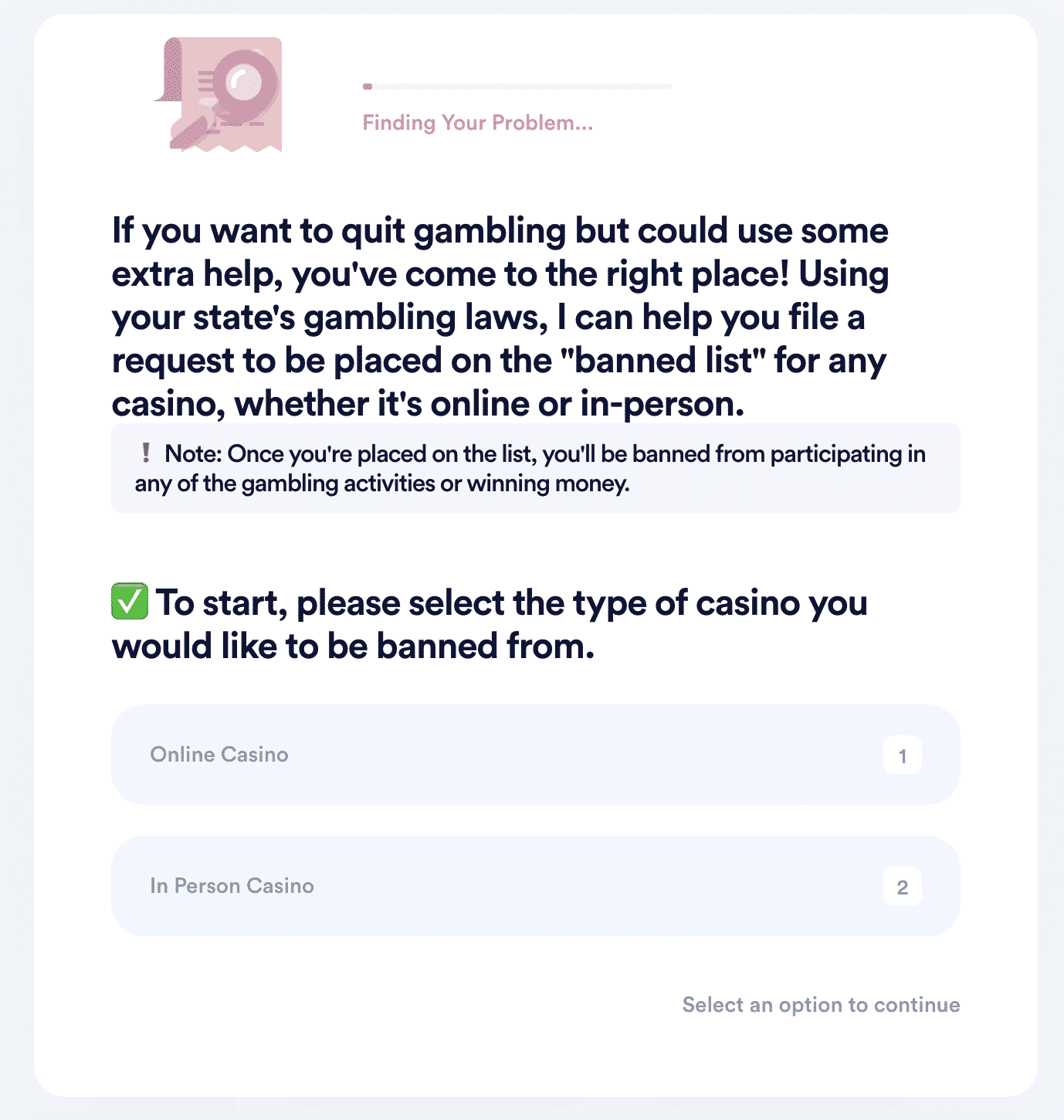 3. Tell us which state the casino is located in, or the state you're accessing the online casino from. DoNotPay will then find your state's self-exclusion laws and reference them in your request.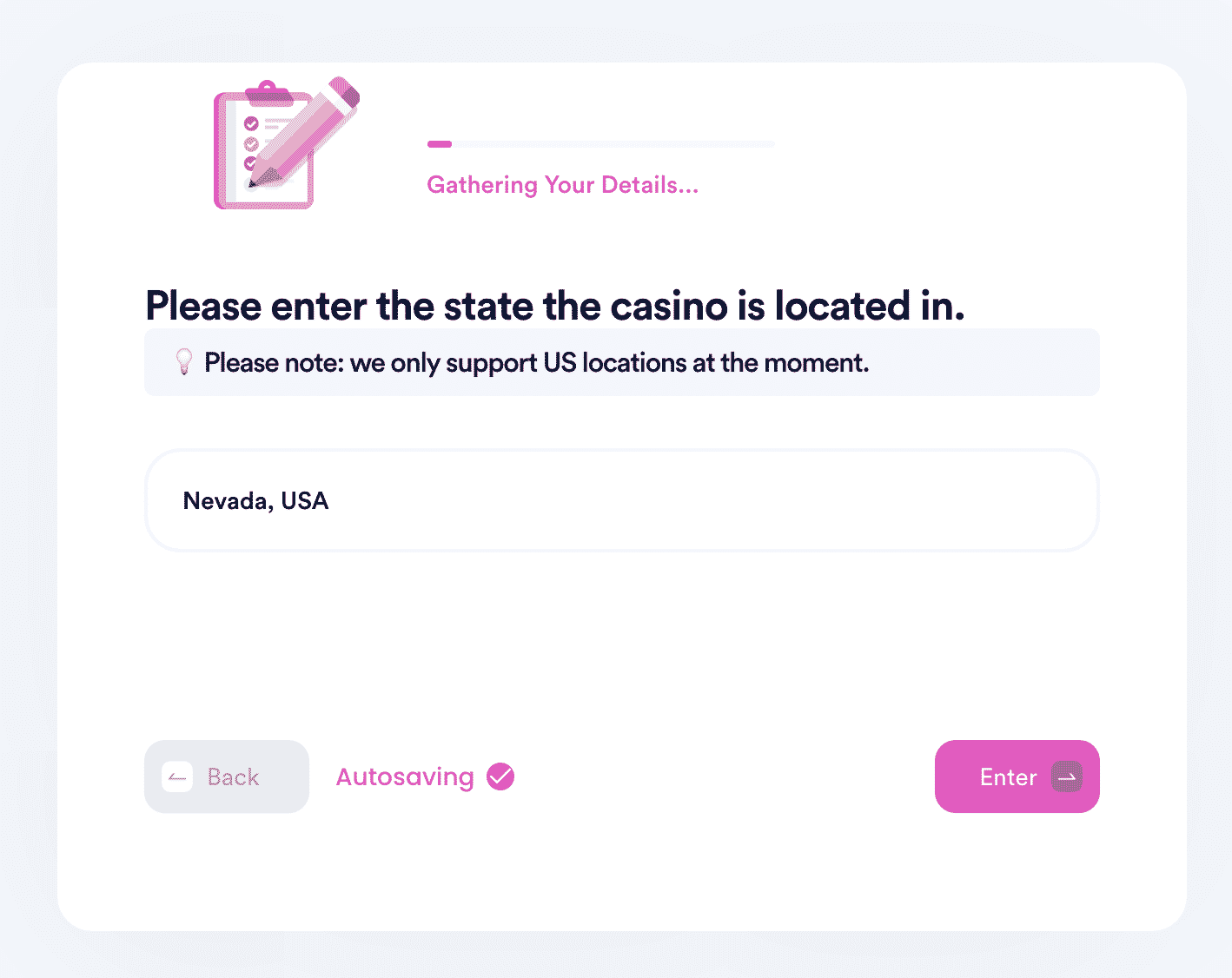 4. Select how long you want to be banned for (you can choose anywhere from 1 year to a lifetime!)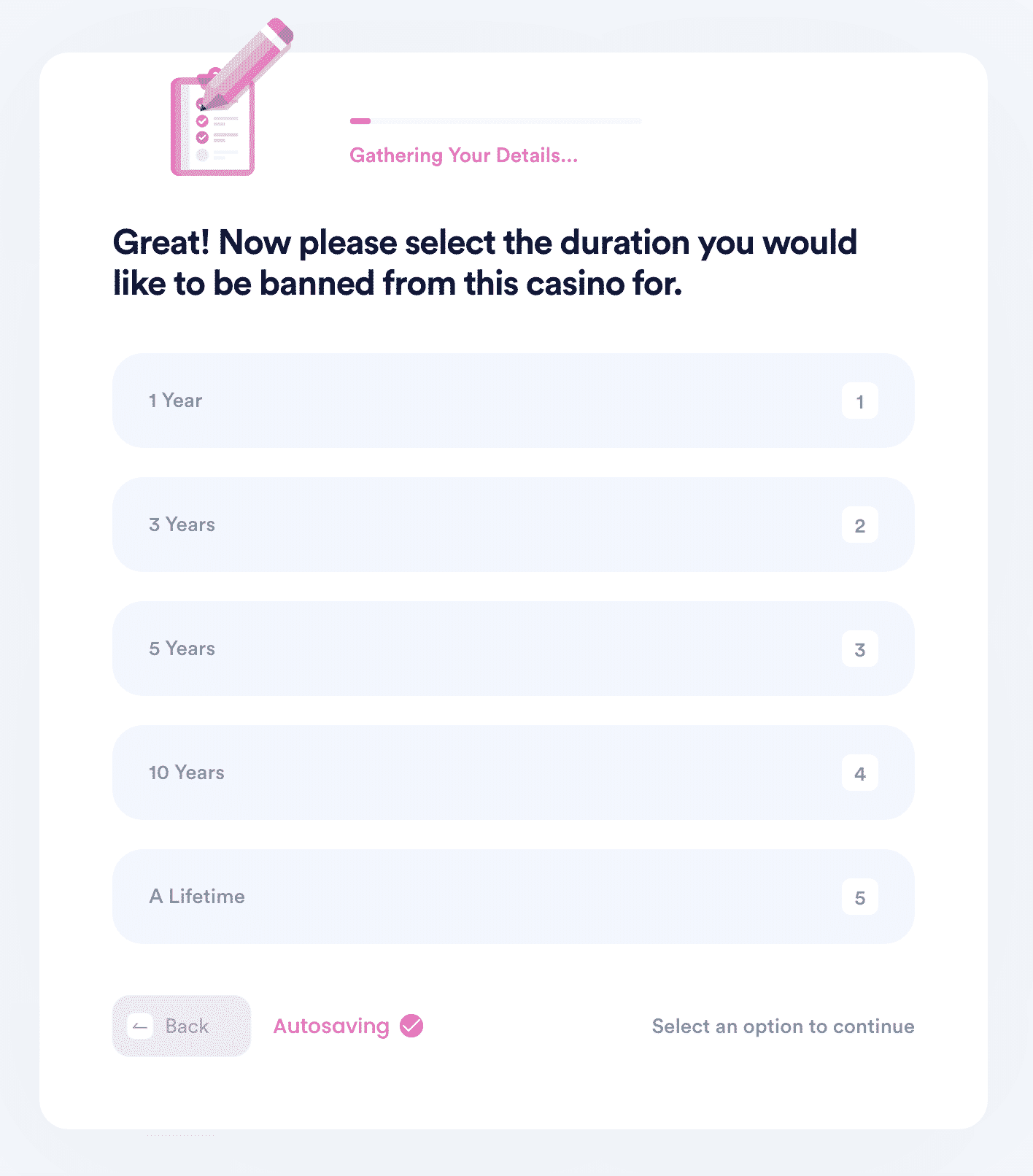 5. Answer a few of our chatbot questions so we can help the casino identify you or your online account. If you want to be banned from an in-person casino, it helps to provide information about your height, weight, race, and other identifying features.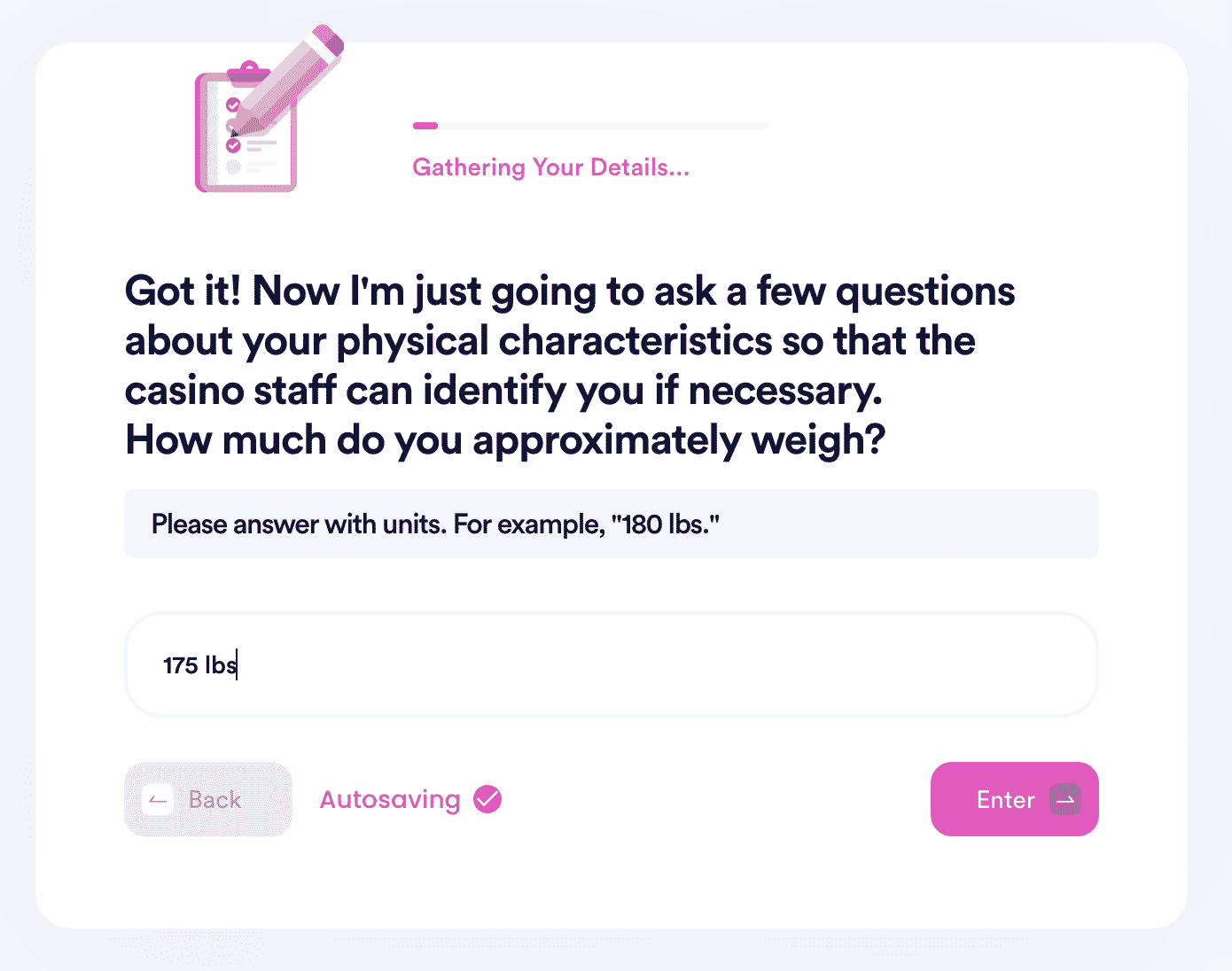 6. Choose whether you want us to email the request to the casino on your behalf. You can also choose to notarize your document to legally verify your identity.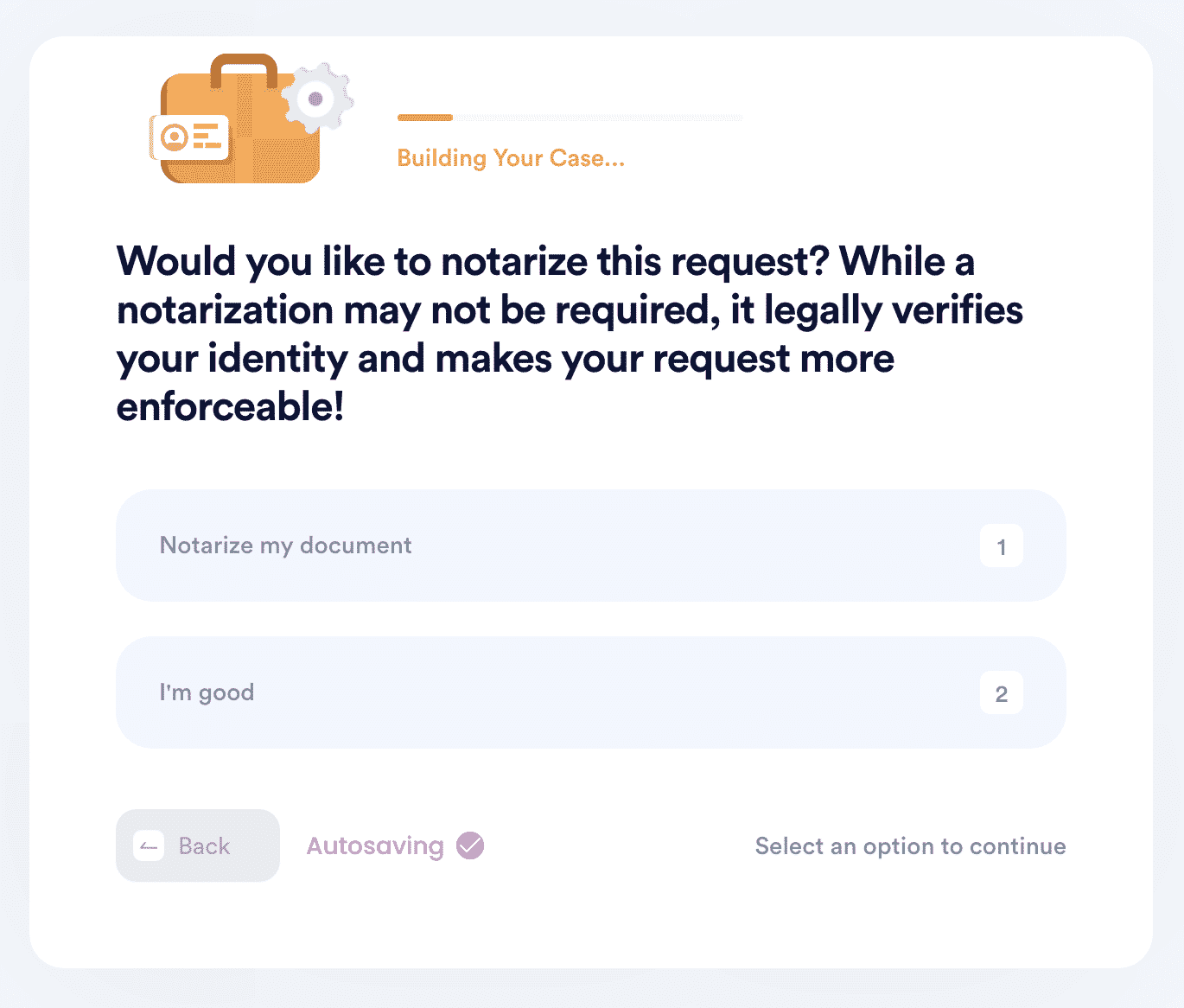 Why Use DoNotPay to Help Your Family?
DoNotPay knows how to get gambling addiction help for families.
| | |
| --- | --- |
| Fast | We take care of the forms and submissions and alleviate stress |
| Easy | DoNotPay tracks the process. With DoNotPay doing the legwork, you get to focus on keeping your family whole. |
| Successful | You can rest assured that we will make the best case for you. |
DoNotPay works across all companies/entities/groups with the click of a button
We manage the process from all angles, ensuring the parent gets the aid they need. Working through multiple platforms from the casinos, online or offline and across different states, you don't have to worry about applying for the ban in California or Kentucky separately. You can focus more on rebuilding your family relationships.