How to Find Financial Assistance for Medical Bills
It's a well-known fact that the U.S. spends more on health care per capita than any other developed country in the world, and does so by a large margin. We spend $3.5 trillion dollars a year on medical costs, or a staggering $10,586 per capita, far ahead of the runner-up Switzerland at $7,317. Apart from actual figures, the key difference between healthcare expenditures of the U.S. and other developed countries lies in the source of funding. While the governments of other affluent nations heavily subsidize the costs of health services, America predominantly funds its healthcare system through expensive, private health insurance plans.
Understanding the sky-high costs of medical treatment in the U.S.
When compared with the costs of various drugs and medical procedures in different countries across the world, U.S. healthcare prices continuously rank as the highest. The difference in cost cannot be attributed to our number of hospitals or because we tend to go to the doctor more often. In fact, research has shown that Americans have fewer hospitals per capita than most European nations, and pay visits to doctors more infrequently than people in other developed countries. In the latest survey by IFHP, the International Federation of Healthcare Plans, the U.S. has emerged as the costliest healthcare provider amongst other developed countries across a variety of different medical categories:
| | | | | |
| --- | --- | --- | --- | --- |
| Drug/service | Cost in the U.S. | Cost in Switzerland | Cost in the U.K. | Cost in Spain |
| Humira drug | $2,669 | $822 | $1,362 | $1,253 |
| Harvoni drug | $32,114 | $16,861 | $22,554 | $18,165 |
| Bypass surgery | $78,318 | $34,224 | $24,059 | $14,579 |
| Cataract surgery | $3,530 | $2,114 | $3,145 | $1,719 |
The main culprit for such regular, exorbitant costs that Americans have to shoulder is the fragmented healthcare system and lack of consolidation. While many other countries have a central, government-operated entity that is able to negotiate prices with hospitals and drug producers and essentially buy these products and services "in bulk," America has no such agency.
Paying your medical bills in the most expensive healthcare system globally
Increasingly, medical debt is becoming a hallmark of the lives of average Americans. Almost a third of working U.S. citizens are currently in some kind of medical debt, with 28% of those owing $10,000 or more, reports CNBC. A survey by Kaiser Health News revealed that one in six Americans received an unexpected, out-of-pocket bill related to their hospital treatment, even though they had medical insurance. The reality may seem grim if you've recognized yourself in the abovementioned figure, but the good news is that there are several ways you can manage and pay off your medical bills without taking detriment to your finances.
DoNotPay provides assistance with medical bills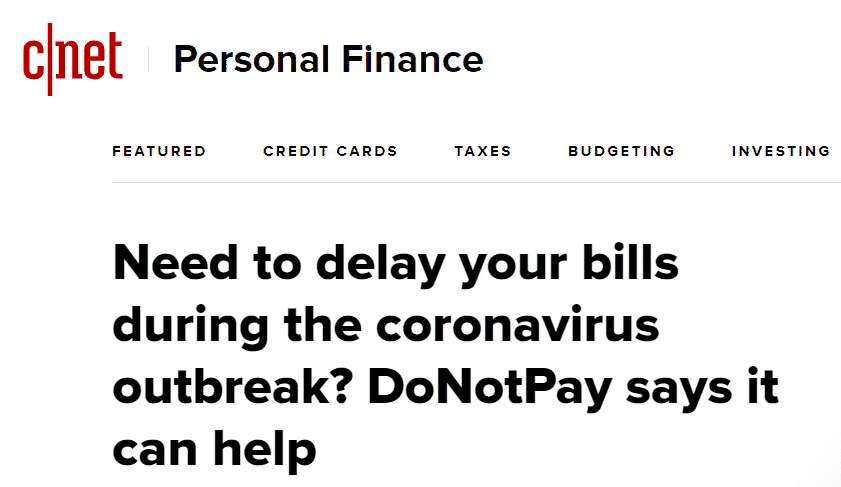 The personal finances of many Americans have been put under unprecedented strain due to the economic fallout in the midst of the COVID-19 pandemic. If you find yourself grappling with your medical and other related expenses and debts in these trying times, know that DoNotPay can assist you. We have created an AI-powered app that helps users sort out their bureaucratic chores, as well as pay, discharge, or dispute their bills and fines.
Requesting assistance with your medical bills through DoNotPay is incredibly easy. Follow these simple steps:
Log in to the app through

Click on the

Corona Relief

option

Let us know us what you need help with (in this case, select

Other bills

)

Specify if you want to waive your late fee or extend your payment due date

Answers to a few questions our chatbot will prepare for you
We take your privacy seriously. The only information we need to know in order to offer assistance are things such as:
Your name

Your residential address

Your email address

Why you're struggling to pay your medical bills
Medical bill errors are common and costly. Check that your bill doesn't have any
If you're a layman, chances are that the contents of your medical bill will look somewhat cryptic and confusing to you. Regardless, you should take time to understand its contents and ask your healthcare provider for any necessary clarifications. The better you understand what you're paying for, the easier it will be for you to identify any billing mistakes.
The Medical Billing Advocates of America believe that up to 80% of medical bills in the U.S. have one or more errors on them. You may wonder how this is possible until you learn that hospital administrators work with over 70,000 diagnosis codes and 71,000 procedure codes when generating bills. Even a simple typo can add hundreds of dollars to your medical bill! To make sure you're not being overcharged or paying for a treatment or product you didn't receive, it's important to scrutinize your medical bill for mistakes.
Ensure you were not charged twice

Check the codes and costs

Verify that all the dates of service are correct

Pay attention to unbundling

Check if your insurance company has paid your healthcare provider accurately

Dispute balance billing from your in-network provider
Ensure you were not charged twice
The practice of double billing happens when one provider charges you twice for a service, or two providers charge you each for the same service—for instance, the doctor and the nurse might both note that you received a certain screening, which may cause the billing department to charge you twice).
Check the codes and costs
Use this Find-A-Code tool to verify that the costs on your medical bill match the actual treatment received. It's also a good idea to research online typical costs of medical drugs and procedures in your area so that you have a ballpark estimate of how much you're expected to pay.
Verify that all the dates of service are correct
Are all the dates of your medical service treatment on your medical bill accurate? This is important because it helps you spot potential charges for services that were never rendered. Another common billing error is a hospital room fee for the day on which you were discharged—you are not supposed to be charged for it.
Pay attention to unbundling
Defined as billing for procedures separately—even though they are normally covered by one comprehensive code—unbundling can be potentially fraudulent. If you have any doubts about the breakdown of costs for a single procedure or treatment you received, do not hesitate to ask your health care provider for clarification.
Check that your insurance company has paid your health care provider accurately
People often get confused by the "balance due" amount on their medical bills. This is the figure you have to pay after the insurance company has reviewed the claim.
Your Explanation of Benefits (EOB) is a document you will receive from your insurance company after they receive a claim on your behalf. Verify the accuracy of your EOB and ensure that your medical bill isn't trying to charge you for something your insurance ought to cover.
Dispute balance billing from your in-network provider
In certain instances, you can be charged an outstanding balance even after you've paid your deductible, copay, or coinsurance, and your insurance has covered its amount. This is something that you should dispute if the cost came from your in-network provider. If, however, the charge came from an out-of-network provider, you may still be able to negotiate on that cost.
If you're feeling overwhelmed by your astronomical medical bills and suspect that you may be overcharged, consider asking a professional bill reviewer (also known as a patient advocate) for help. These professionals have an intimate knowledge of the healthcare industry and are adept at spotting any discrepancies and errors on medical bills. Their services come at a price tag of $100 to $500 an hour, which is undoubtedly expensive. Still, if your medical bill amounts to thousands of dollars, the potential savings can be considerable and far outweigh the cost of hiring an expert patient advocate.
The 101 on negotiating your medical bills
Health care is a service, and as with most other services, there is no reason why you shouldn't try to negotiate on the price. You're likely to be at least somewhat successful at it, too. A Consumer Reports survey found that nearly 40% of people tried to negotiate payment of their medical bill, and 57% of that number succeeded in lowering the cost. The difference of just one in-person visit or phone call can yield a saving of hundreds, if not thousands of your hard-earned dollars.
Before you start the negotiating process, make sure that you:
Have studied the bill thoroughly

Have done your research

Made sure the insurance company paid everything it was supposed to

Stay calm, level headed, and polite

Are ready to compromise
There are plenty of options to make the payment of your medical bill more manageable. Here are the best ones:
Ask for a payment plan

Ask for a discount

Look into Medicaid

See if you qualify for Charity Care
Ask for a payment plan
Most healthcare providers should be able to come up with a payment plan if you find yourself unable to pay the entire amount at once. A good payment plan option should be interest-free and split into monthly installments that are feasible for your budget. Keep an eye out for hidden billing fees and added interests, as they can turn your payment plan into a financial burden rather than a relief.
Ask for a discount
Hospitals and doctors don't generally advertise discounts, which doesn't mean they're not there. While asking for a lowered price may feel uncomfortable, it is a much better alternative than shouldering a bill much larger than what you can afford. Ask open-ended questions to your healthcare providers, such as "What kind of discounts do you offer?". Most providers want to avoid chasing their patients for payment and outsourcing to debt collection agencies. You have a higher chance of securing a discount if you propose a settlement and offer to pay a lump sum on the spot. Even if you don't have any medical insurance, you may be eligible for a discount at certain hospitals.
Look into Medicaid
Medicaid is a federal and state-run program that provides cost-effective healthcare coverage to millions of U.S. citizens of limited income and resources. To find out whether you may be eligible to apply, visit Medicaid's website or check your state's health care Marketplace.
See if you qualify for Charity Care
If you're uninsured or cannot provide the out-of-pocket health care costs, you could be eligible for Charity Care. It's free health care, or health care offered at participating hospitals at a lowered cost, to people with limited resources available. Eligibility criteria vary by state, but in general, you will have to produce proof of limited resources and assets to qualify.
Apply for a loan to cover your hospital bill
If you have exhausted every other option available to cover your hospital bills, you should consider taking out a loan. Before you borrow a single dollar, make sure that you've carefully considered the pros and cons of every option. Your choices will generally involve a/an:
Unsecured personal loan

Secured personal loan

Credit card

Medical credit card

Personal line of credit

401(k) loan
You can learn more about these options in one of our recent blog posts on loans for medical bills.
Is a medical loan the right solution for you?
A medical loan is a personal loan aimed at providing funds to cover medical expenses. Medical loans are offered by different creditors such as banks, credit unions, and online lenders, and can be both unsecured (higher interest rates) and secured (lower interest rates, but can claim your assets if you don't repay the loan).
Only you can determine if a medical loan is a right choice for you, but consider the comparison table below to guide you through the decision-making:
Pros

Cons

Offers a flexible repayment period and other accommodating terms

Takes a short amount of time to access the funds

Can be used for other healthcare-related costs, like travel and accommodation

May not cover the entire cost of your medical bill

Could come at a high interest rate, particularly if you have a less-than-optimal credit score

Can carry the risk of losing personal assets (in the case of a secured medical loan)
What happens if I don't pay my medical bills
If settling your medical bill looks increasingly far-fetched, it's time you have an open conversation with your healthcare provider. Be honest about the financial difficulties you're facing, and try to cooperate as best as you can to come to a mutual solution. This can come in the form of an additional discount or a more lenient payment plan.
Should you still fail to pay your medical expenses, the hospital will probably outsource the task of collecting your debt to a collection agency. It's a common practice, with most debt collections tradelines result from unpaid bills, and over half of those are medical, according to the Consumer Financial Protection Bureau. Another serious consequence of not paying your medical bill can result in a damaged credit score, which can consequently make it harder to apply for a loan to cover your debt. Take swift action and do everything in your power to eventually start paying off your medical debt, because it will not go away by itself.
Request an extension date for your medical bill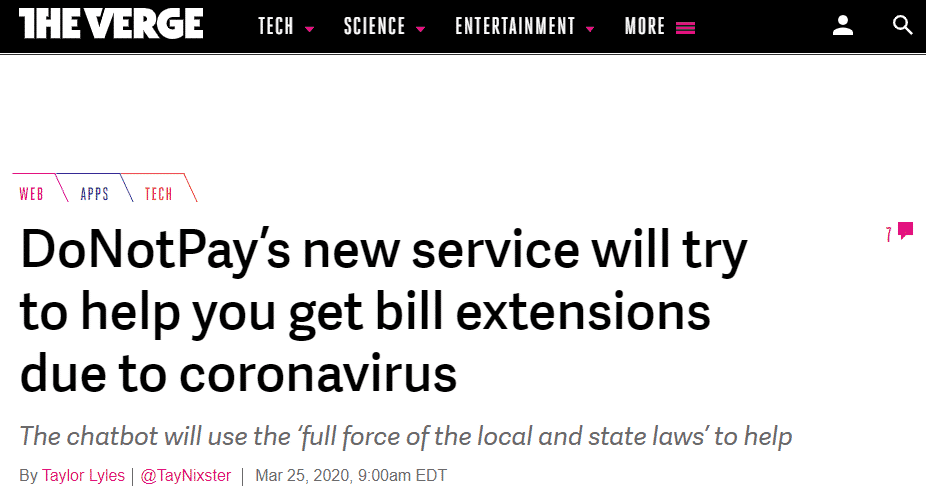 The COVID-19 pandemic has shattered the American economy, but the upside is that numerous health care providers are now offering extensions to their standard payment terms. Contact your health service provider and find out how you can apply for an extension. Some options include:
Calling customer service

Writing an email

Writing a letter

Making a request in person (or through your lawyer)
The great news is that you can also entrust DoNotPay to do it for you. Hand over the bureaucracy to us, and focus on regaining your mental, physical, and financial health. Click on the Corona Relief icon on the DoNotPay app homepage, and start a chat with our capable chatbot about what you need help with. We will collect the vital information we need from you, and quickly generate an extension date request for your medical bill on your behalf. Consider it done!
Ask for a late fee waiver for your hospital bill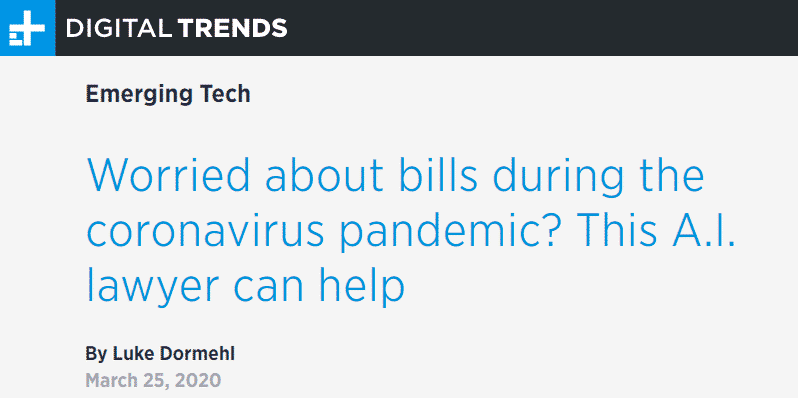 If you've faced circumstances that diverged you from paying your bill on time, you may be able to get a late fee waiver. Your health care provider may accept late fee waiver requests through a/an:
Email

Letter

Phone call

In-person visit
The most convenient way for you, though, is to simply allocate the task to us at DoNotPay. By answering a few questions about your issue, we will be able to automatically create a late fee waiver request for you.
Unlock all the benefits DoNotPay offers
Download DoNotPay on your , and get access to a great number of tasks that our app can conduct:
Disputing traffic tickets

Appealing speeding tickets