DoNotPay provides help for cancer patients to pay bills
If you have been diagnosed with cancer, you are probably familiar with the hardships it has brought not just to your health and emotional well-being, but also your finances. In addition to paying for medical treatments, you're subject to many indirect costs—taking more time off work, traveling long distances to receive the treatment, paying for pricey accommodation and hospital parking, etc.
The consequences can be dire, with a significant number of cancer survivors unable to repay their outstanding debts. It's an issue so prevalent that it has been dubbed "financial toxicity" and refers to cancer patients who are struggling with out-of-pocket costs related to their illness.
The steep price of cancer treatment in America
According to a 2019 survey by the American Journal of Public Health, nearly 60% of people who filed for bankruptcy stated that a medical-related expense "very much" or "somewhat" contributed to their bankruptcy. Looking at the average costs of monthly cancer treatments, and bearing in mind the average monthly income before tax is $3,600, it becomes painfully obvious why cancer takes such a financial toll on most Americans.
| | |
| --- | --- |
| Type of Treatment | Average Monthly Cost |
| Chemotherapy | $1,000–$12,000 |
| Radiation | $9,000 |
| Immunotherapy | $10,000–$12,500 |
*Source: Asbestos.com
The good news is that there are several ways to navigate your way out of your predicament. Start the journey to financial recovery through this detailed step-by-step guide on how to manage your cancer-related bills.
DoNotPay offers cancer treatment bill assistance

About one in six Americans got an unexpected out-of-network medical bill in 2017 after their hospital treatment, despite the fact they had insurance, reported Kaiser Health News. Cancer bills are a heavy burden to bear even during the best financial times, but when a global pandemic such as COVID-19 brings the economy to its knees, the challenges may seem insurmountable. That's why it's of the essence to do your research about every type of financial assistance available, as well as to surround yourself with valuable resources. DoNotPay doubles as a robot lawyer that helps its users pay, waive, or dispute various bills, fines, and loans, and can be of immense help with your cancer-related medical costs. Harness the benefits of DoNotPay's state-of-the-art AI technology and request assistance with your cancer bills through a few simple steps:
Log in to the app through

Scroll down and select the option

Corona Relief

by clicking on "Get protected"

Tell us what you need help with (in this case, select

Other bills

)

Choose whether you need help with waiving your late fee or extending your payment due date

Provide answers to a few personal questions our chatbot will ask you
If you would like to get an idea of the type of information we require from you, it's all basic things such as:
Your name

Your residential address

Your email address

The reason why you're struggling to pay your medical bills
When our app gathers enough information to make an informed call about your issue, we will get in touch and present you with the most optimal solution regarding your cancer bills.
Make sure you understand your cancer medical bill
Don't get discouraged by your seemingly undecipherable cancer bill, because it's all too important to understand what it means. Medical terminology can be intimidating and hard to grasp for those of us without a medical background, so feel free to ask your doctor or health care provider for clarification if you have any doubts or questions about the contents of your bill. Technicalities are particularly important to get right. For example, one frequent cause of confusion is the "balance due" figure on your cancer bill, which, in most cases, is the amount you owe after the insurance company has reviewed the claim.
Check your cancer treatment bill for (the all too common) errors
Billing mistakes are horrifyingly frequent; so much so that the Medical Billing Advocates of America estimated that up to 80% of medical bills in the U.S. have one or more errors on them. It's a small wonder, considering that hospital administrators in charge of generating the bills work with over 70,000 diagnosis codes and over 71,000 procedure codes. What's more, your healthcare provider's lack of transparency about the incurred cost can be extremely frustrating. You should never be afraid to delve deep into your cancer bill breakdown, and:
Look out for charges for medication or services you didn't receive or don't recognize

Ensure you were not charged double

Verify that all the dates of service are accurate (for instance, a hospital room fee doesn't apply for the day on which you were discharged)

Be wary of unbundling (when services that are usually billed under one diagnosis or code are split into individual, additional costs)

Review that your insurance company has paid your healthcare provider accurately
The importance of doing your research when reviewing your cancer medical bill cannot be overlooked. By looking up the average costs of certain procedures and medications online, you will get a closer idea of how much you should be charged for it.
An alternative solution is to hire the services of a professional bill reviewer (sometimes also called a patient advocate), who is trained to look for inconsistencies and mistakes on medical bills. They may charge anything from $100 to $500 an hour. While undoubtedly expensive, the cost of hiring such a professional may very well be worth it if you're dealing with a larger bill that amounts to upwards of $10,000. A trained eye can potentially save you thousands of dollars on your cancer bill.
You can, and should, negotiate your cancer bills
By accepting your cancer bill at face value, you are potentially losing money or making it unnecessarily difficult for yourself to pay in the long run. There are many instances in which you can negotiate the outstanding balance of your cancer bills. According to a Consumer Reports survey, nearly 40% of people tried to negotiate payment of their medical bill, with 57% of them successful in their effort to lower the cost. It costs you nothing to try, and the difference of one phone call can save you hundreds, if not thousands of dollars.
For starters, make sure that your insurance company paid everything it was supposed to. If you're still left with an outstanding balance, explore the following options:
Look into Medicaid
Medicaid is a federal and state-run program that plays a vital role in providing affordable health care to U.S. citizens of limited income and resources. Its benefits may be different based on the state in which you live, so make sure to check on their website or through your state's health care Marketplace.
Ask for a payment plan
If you're unable to pay your cancer bill in full, ask your healthcare provider for a payment plan. This means the full amount will be split into several monthly installments until the total cost is paid off. Some providers may add a sneaky billing fee, so don't hesitate to enquire about that, too. Some hospitals even employ financial counselors that you can get in touch with for assistance related to your payment plan.
Ask for a discount
Don't be shy about asking for a discount. The best approach is to ask open-ended questions to your health care providers, such as "What kind of discounts do you offer?". Some hospitals offer 10% off if you decide to pay by phone, for example. You are also more likely to receive a discount if you pay the outstanding amount in a lump sum. If you don't have any insurance at all, some hospitals may offer you a discount, and that's possible even if you don't qualify for free or reduced-cost care.
Apply for a loan to cover your cancer bill
Should every other option fail, consider applying for a loan to help you pay for your cancer bill.
Not all loans are created equal, so do your research on the ins and outs of every loan option out there. Here are the most popular ones:
Unsecured personal loan

Secured personal loan

Credit card

Medical credit card

A personal line of credit

401(k) loan
Should you apply for a medical credit card?
A medical credit card is a credit card geared at consumers with a medical purpose in mind. If your cancer bill is too high, trying to pay it off with a medical credit card can seriously damage your credit score. This may be a good choice for you, but only if you're certain that you will be able to pay off the debt within the card's promotional period with the 0% annual percentage rate.
Is a medical loan the right solution for you?
A medical loan is essentially a personal loan that you're taking out to pay for your medical expenses. A variety of lenders offer medical loans, including banks, credit unions, and online lenders. A medical loan can be both unsecured and secured, with the latter being a riskier choice (albeit potentially cheaper due to a lower interest rate).
Whether or not this is the right choice for you will depend on the unique circumstances of your situation. Here's a succinct overview of the advantages and drawbacks of getting a medical loan to pay off your cancer bill.
Pros

Cons

Access to funds is usually quick

Normally comes with flexible terms, such as a flexible repayment period

Can be used for other treatment-related costs, such as travel expenses during your treatment

Interest rates can be high, especially for lenders with a poor credit history

May not cover the entire cost

Secured loans (against your assets, like your home) pose the risk of you losing the asset if you're unable to pay back the loan
Request an extension date for your cancer bill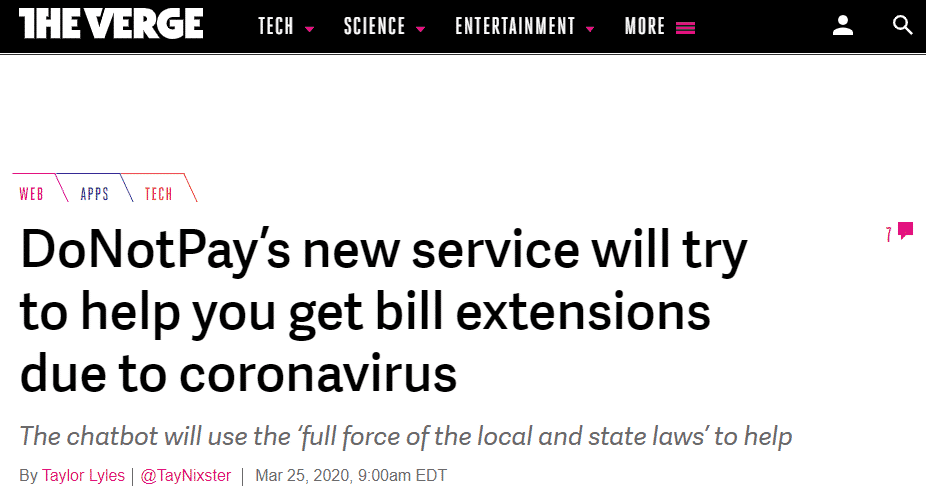 If you're falling behind on a payment, the most immediate step you should take is to ask for an extension. Due to the exceptional circumstances caused by the COVID-19 pandemic, many healthcare providers are now offering extensions to their standard payment terms. By requesting a cancer treatment bill extension, you are essentially asking to buy more time until you're able to pay it off. Get in touch with your health service provider and find out what the best way to submit your extension request. It may be by:
Calling customer service

Writing a letter

Writing an email

Making a request in person

Making a request through a lawyer or financial advisor
You can always get DoNotPay to do it for you. If there was ever a time to focus on yourself and your health, it is now—leave the bureaucracy up to us. By selecting Corona Relief on the DoNotPay app homepage, you will be prompted to provide us with the general information we need to know about your case so that we can easily generate an extension request letter on your behalf and send it to your healthcare provider.
Request a waiver on late fees for your cancer bill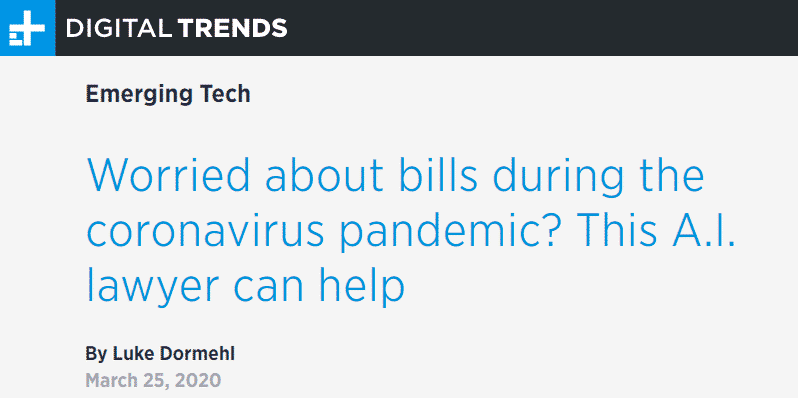 If you have already missed one or several payments for your cancer bill, you may be eligible for a late fee waiver. Depending on your hospital or doctor, this can be done via:
Email

Letter

Phone call

In-person visit

Lawyer request
Still, the easiest (and most inexpensive) way by far is to request the waiver through DoNotPay's robot lawyer services. Medical costs are expensive as it is, so why not let our app retrieve some of your hard-earned money?
What happens if I don't pay my cancer bills
If you're falling behind on your bill payment plan, or have immediately realized that you will not be able to afford it, it is vital that you openly and honestly communicate this to your healthcare provider. They may work towards a compromise and offer you a further discount or a more accommodating payment plan.
If you're still left with an unpaid cancer bill, your doctor or your hospital may, at first, try to collect the incurred debt by themselves. After a while, it's likely they will sell the debt to one of the many collection agencies who are well-versed in obtaining money from medical debtors. Most debt collections tradelines result from unpaid bills, and over half of those are medical, reports the Consumer Financial Protection Bureau. If you get a call or a visit from a debt collector, it's important to keep in mind the following:
Make sure you are calm and collected. Know that debt collectors aren't allowed to harass you but expect them to try to intimidate you.

Don't pay anything immediately, nor agree to pay anything.

Record everything. Take plenty of notes, including the name of the debt collector or the collection agency, date and time of the phone call or visit, the amount of debt, the name of the debtor, as well as any other details related to the debt that you discussed with the agency.

Don't disclose any of your financial information, your bank account details, or any of your other bills and debts.

If you cannot dispute the debt using a debt validation process, start thinking about ways to eventually repay it. You can also make a settlement offer and propose you only pay a part of the debt.
If your case ends up in court, you may end up with wage garnishment. This essentially means the court has ordered your employer to withhold a portion of your paycheck and send it directly to the person or company you owe money.
What else can DoNotPay do for you?
Download DoNotPay on your , and unlock a variety of services we can do for you:
Appeal traffic tickets

Dispute speeding tickets