How to Get Rid of FedEx Spam Email in the Easiest Way
FedEx provides shipping services within the United States. Since plenty of people use their services every day, it isn't surprising that there are lots of scammers that want to take advantage of FedEx users. Every year, millions of people are victims of email scams. To prevent this from happening, you should start using DoNotPay.
Prevent FedEx Spam Emails From Filling Your Inbox Using DoNotPay

If you are tired of spam emails making a mess of your inbox, DoNotPay can take care of that issue effortlessly. With one of our best features, you will never have to worry about being scammed or having your inbox filled with unwanted messages. To get rid of FedEx spam emails, you need to:
Go to your DoNotPay account in your

Click on

Spam Collector

and insert your email to connect it with DoNotPay

Forward the spam email to

spam@donotpay.com

as soon as you receive one
Once you're done, DoNotPay will handle the rest. You will either be automatically unsubscribed or, if the email is illegal, the sender will be added to a class-action lawsuit, and you will see a flag in your Spam Collector tab.
How to Get Rid of FedEx Spam Emails on My Own

FedEx does not send unsolicited emails to their customers. If you happen to come across an email from FedEx that looks suspicious, be sure to report it to the company. To do that, you need to report the email to abuse@fedex.com or contact the Customer Protection Service.
FedEx will look into your case and try to block the sender for good.
Do not click any links or attachments found in the spam email. This is crucial if you want to avoid being scammed. You can also check out how to block spam email on Android to ensure that you have a clean inbox at all times.
How to Get Rid of FedEx Spam Emails Through Email Clients
If you want to block a certain user and stop receiving email from them, the process may vary depending on what domain you use. If you are using Gmail as your domain, you can stop incoming spam messages by:
Going to your Google account

Selecting an unwanted email

Clicking

Mark as Spam
If you use Yahoo as your email provider, then follow these steps:
Open your Yahoo account

Go to your inbox

Click on the email you want to block

Select

More Options

Click

Mark as Spam
Note that not every FedEx spam email has the same address, so you need to make sure to mark every email manually to prevent it from ever appearing again.
How to Know if FedEx Email Is Spam
To protect yourself from spam emails, you first need to learn about them. There are different types of spam emails you could receive:
ATM card delivery scam

Bank draft or check scam

Contact required

Delivery failure

FedEx status
Each email type has a different subject and different form.
ATM Card Delivery Scam
The topic of these emails is usually the new ATM card that is under your name or an ATM card that you misplaced. The scammer is asking for your personal information and payment for a "holding fee" for that card. Most of these emails begin with "Good Day," which makes them easy to identify as scams.
Bank Draft or Check Scam
The senders of these emails will present themselves as businessmen. These emails are usually about a certified cheque which is worth millions of dollars and is meant to go to you. Since they are in possession of that cheque, you need to provide personal information so that they can send it to you. Such emails usually have a generic, impersonal introduction.
Contact Required Email
The purpose behind this scam email is for you to contact the sender regarding a problem with a FedEx shipment. The contents of these emails are usually vague and do not provide any information about the shipment. The scammer's goal is to gather your personal data and defraud you.
Delivery Failure Scam — FedEx Spam Email Incomplete Address
Perpetrators are pretending to be from the FedEx company. This email is about the package that could not be delivered to your address. The sender wants you to click the link in the email to solve the issue. The link usually contains a virus, so we advise you not to click on it and delete the email immediately.
FedEx Status Scam — FedEx Tracking Spam Email
The sender of this email presents themselves as a FedEx worker. The email may be a fake notice about a package that was not delivered since your address was incorrect. There is an attachment added to this email as well, which could contain a virus.
What you should do if you come across these types of emails is to report them and let DoNotPay clean up your inbox.
| | | | |
| --- | --- | --- | --- |
| Type of Spam Email | Subject of the Email | Sender | Attachment Yes/No |
| ATM card delivery | "Good Day" | FedEx Courier Company | No |
| Bank draft or check | "Dear Customer" | FedEx Delivery Agent/FedEx Courier Company | No |
| Delivery failure | "FedEx Delivery Notification" | Unknown | Yes |
| Contact required | "We Need to Talk to You" | Unknown | No |
| FedEx status | "FedEx Tracking Number"/ "FedEx Item Status"/ "FedEx Invoice Copy" | FedEx Manager (random name) / Unknown | Yes |
What to Do if I Click on a Link in a FedEx Spam Email?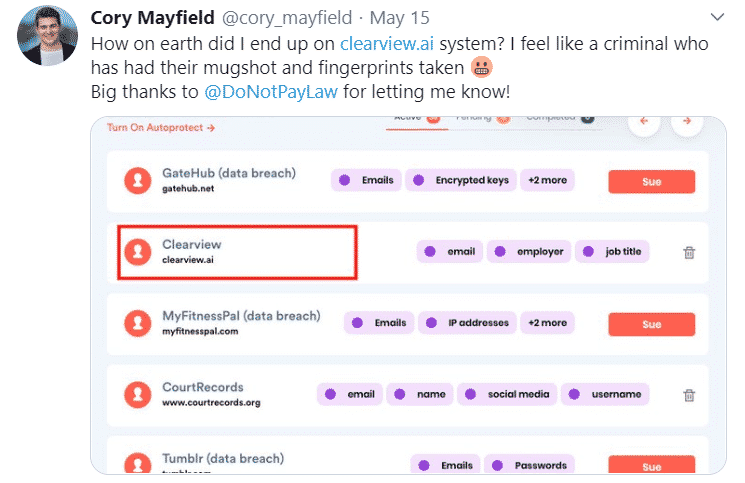 The number of spam and phishing emails has increased over the years. In 2019, there have been 129.9 million phishing attacks detected worldwide. This is a serious problem since perpetrators are hard to catch. Do not hesitate to report email abuse if you believe that an email looks suspicious.
If you happen to click on a link in a spam email, here are some tips to help you avoid being scammed:
Do not provide any personal information

Disconnect your internet connection

Create new passwords

Scan your PC for any viruses

Have your backed-up files stored somewhere safe
Don't Neglect Your Physical Mailbox!

Are you tired of your physical mailbox being filled with coupons, brochures, and promotional letters? DoNotPay can prevent that from happening. By sending us a photo of the persistent letters, the only thing coupons, brochures, and promotional letters are going to fill is the trash. DoNotPay will get rid of your physical junk mail, clean your mailbox, and protect the environment along the way.
Everything You Need Is Here!

DoNotPay is trying to create a place where you can feel safe. You present the problem, and we provide the solution. Do you want to get revenge on spam emails or just stop receiving them? Do you need to block spam on your Android phone? DoNotPay can help you deal with all of these issues easily and effectively!
Just check out what DoNotPay can do using your , and see how we can help you with:
Fighting speeding tickets

Disputing traffic tickets